All colour photographs except the first are by the present author. You may use them without prior permission for any scholarly or educational purpose as long as you (1) credit the photographer and (2) link your document to this URL in a web document or cite the Victorian Web in a print one. W. F. Millar kindly provided the first photograph, having previously submitted a smaller version of it to the Geograph Project. With his permission, the perspective has been corrected. This photograph too can be reused with a copyright attribution under the Creative Commons Licence. Click on images for the largest available sizes, and for exxtra information where available.
The Church of England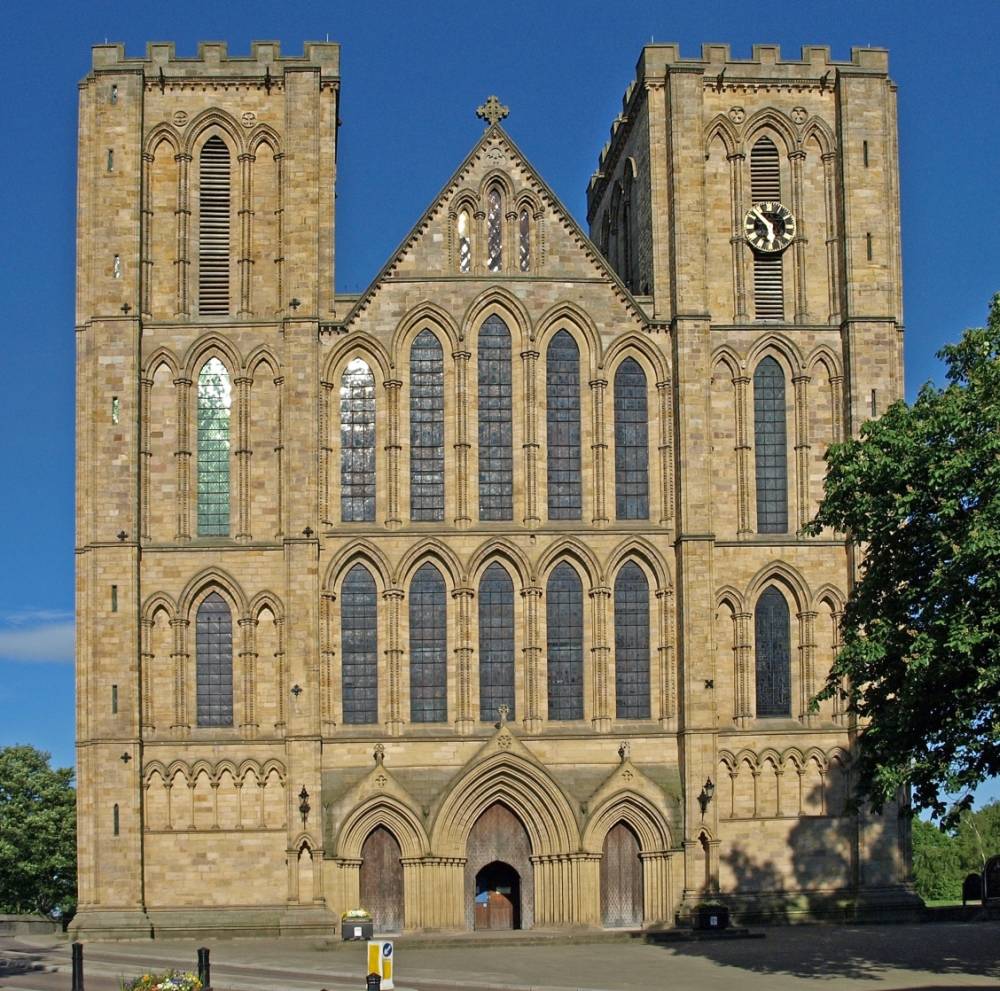 Ripon Cathedral, Yorkshire, west front, © W. F. Millar.
In 1836 a new diocese was created at Ripon, on the eastern side of Nidderdale. It extended (and currently still extends) from Teesdale in County Durham through North Yorkshire and into West Yorkshire, including Leeds. All the Anglican churches in these areas came within its ministry. Consequent on its creation, the collegiate church of St Peter and St Wilfrid in Ripon became a Cathedral. This is an ancient foundation, and, as such, has a long architectural history. Edward Blore and William Railton had made some early nineteenth-century contributions, but it was George Gilbert Scott who undertook the "comprehensive programme of restoration" starting in 1862. This was one of his "least controversial" restoration projects (Leach and Pevsner 641), and he himself expressed his pleasure in having saved the western towers, which were "imminently threatened with destruction" (Scott 416). The west front is sometimes described as austere, but Pevsner quite rightly appreciated its beautiful "clarity and balance" (qtd. in Leach and Pevsner 17).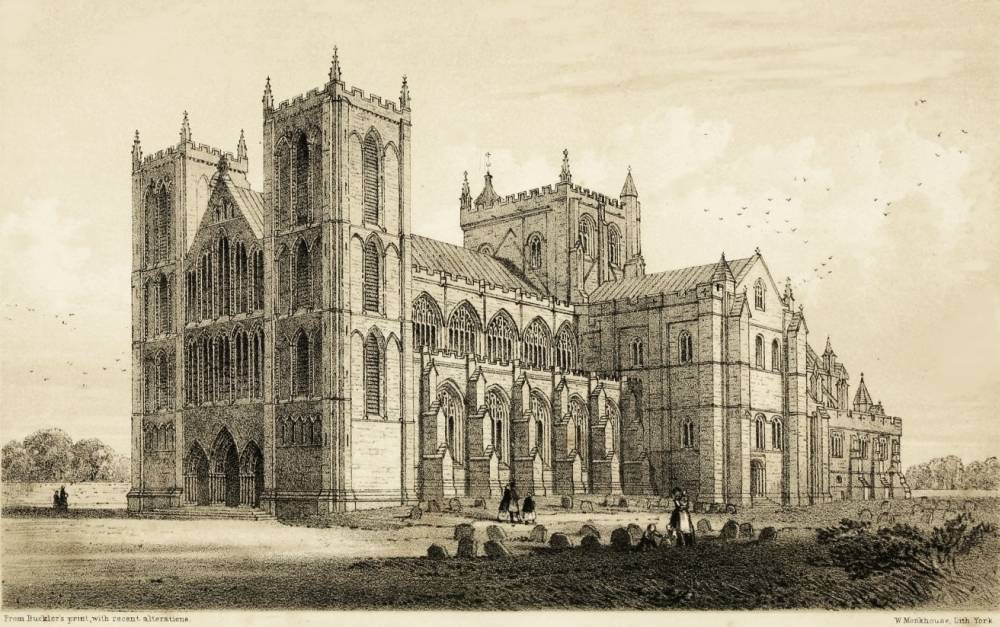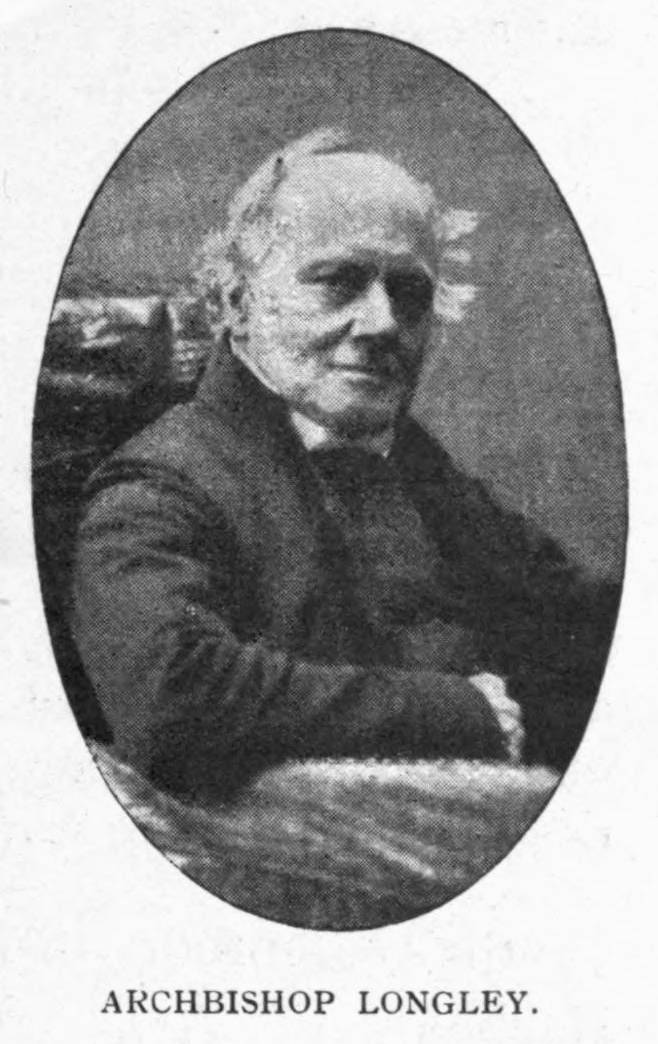 Left: Another view of the newly designated Cathedral "from Buckler's print, with recent alterations," in Walbran, facing p.24. Right: Charles Thomas Longley, first Bishop of Ripon, from a photograph by Charles Dodgson (Lewis Carroll), in Collingwood 57.
The first bishop of the new diocese, Charles Thomas Longley (1794-1868), was a personable, enthusiastic and energetic churchman, well known to and several times photographed by Charles Dodgson, whose father, Archdeacon of Richmond and Rector of Croft on the Yorkshire border, served as a canon at Ripon from 1852-68. Dodgson's first biographer wrote of Longley: "His charming character endeared him to the Archdeacon [of Richmond] and his family, as to every one else who saw much of him. He was one of the few men whose faces can truly be called beautiful; it was a veil through which a soul, all gentleness and truth, shone brightly" (Collingwood 56-57). Longley quickly set to work and almost doubled the number of curates in the diocese — one of those appointed being Arthur Bell Nicholls, who in 1845 took up duties at Haworth on the Yorkshire Moors, and married Charlotte Brontë in 1854.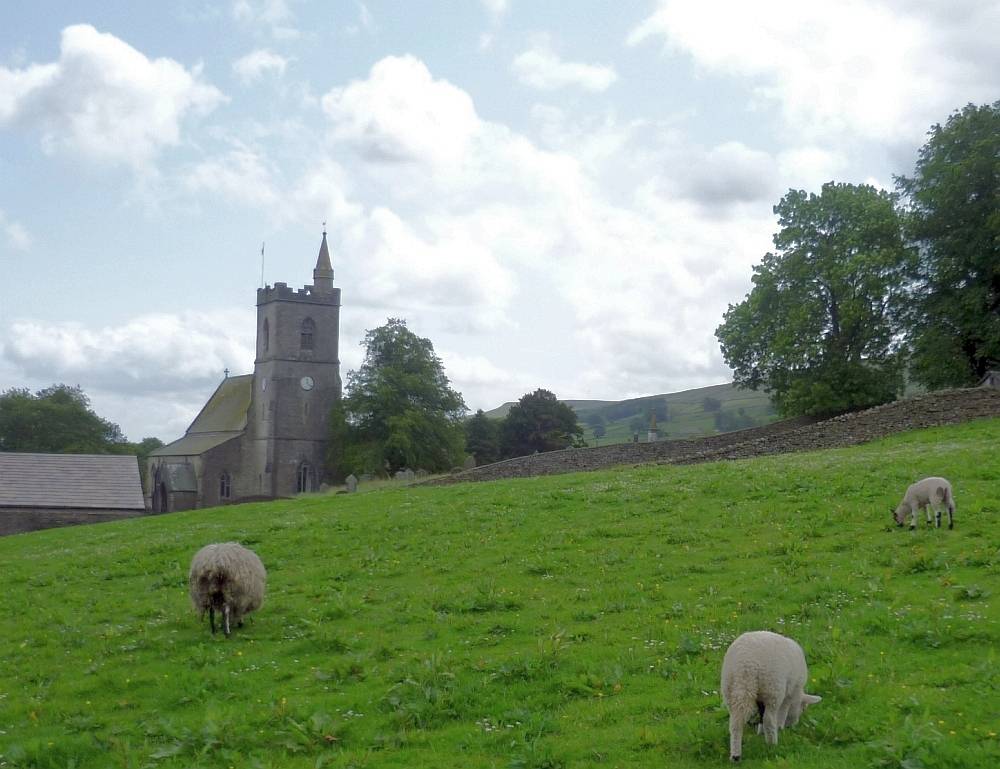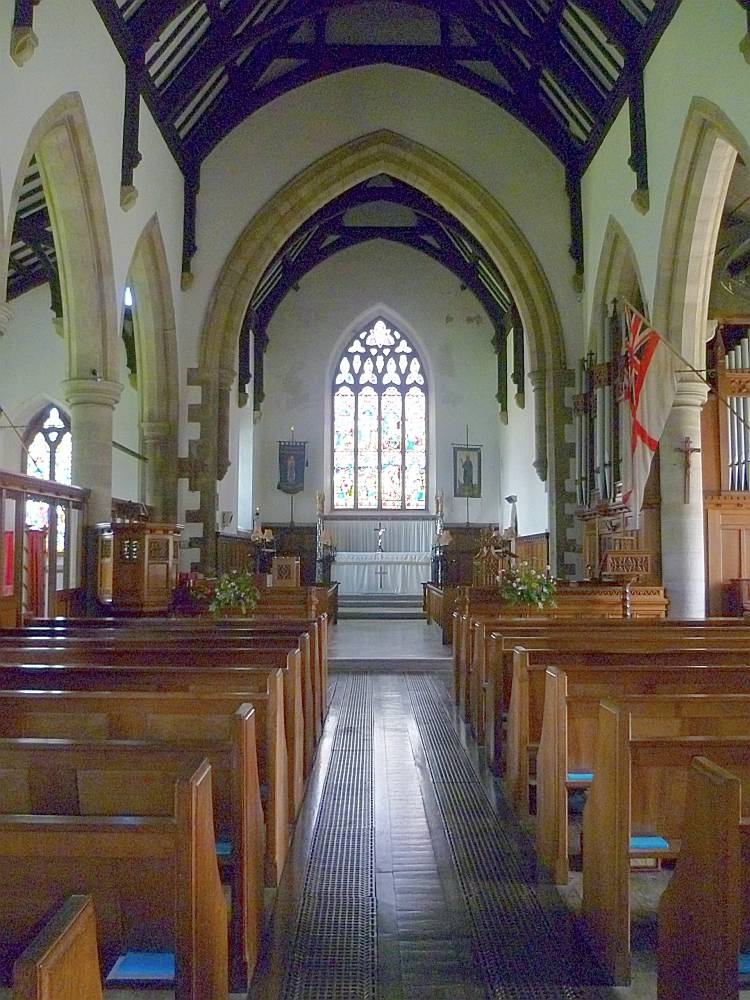 Left: St Margaret of Antioch Church, Hawes, Wensleydale, by A. B. Higham of Wakefield, 1851. Right: Interior of St Margaret's.
Many of the Church of England churches in the Dales have Norman elements, but during Longley's time as Bishop of Ripon there was a positive boom in church-building in the diocese, and this is one of around 125 dating from that period (Garrard). The neo-Gothic structure replaced an older, smaller church that stood further down the graveyard and closer to the road. St Margaret's is in the Decorated style, complete with embattled parapet on the three-stage tower, and corner pinnacle. Seen from below, it makes a perfect focal point for the busy market town. On his approach to it, one early visitor recorded his view "of the wet roofs of Hawes shining in dazzling light," adding, "The modern church-tower, with a pinnacle at one comer only, stands out conspicuously" (Home 80). As for the interior, this has a chancel with two bays, and the nave has tall piers with double-chamfered arches (see listing text for more details). A. B. Higham worked over a wide area and was responsible for a variety of different types of buildings; but perhaps church architecture was his forte: his Holy Trinity Church, Whitfield, in Northumberland (1859-60) has been descrribed as "ambitious" (Pevsner et al. 624). His interest in churches is also shown by his publication of A Plea for the Restoration of the Tower and Spire of the Parish Church of Wakefield in 1853, which includes his own engravings.
Nonconformity
One of the reasons for Bishop Longley's efforts to restore and build churches in the Dales was the prevalence of dissent there (see "Out oif Oblivion"). This seemed to have a particular appeal for the independently-minded people of these separate little communities. All denominations were catered for. The Quakers were the first Nonconformists to establish themselves here: there are still a number of Meeting Houses and Quaker graveyards. The celebrated Baptist preacher Charles Haddon Spurgeon drew enormous crowds when he preached in nearby Bradford: "All the roads leading to the town were thronged with eager pilgrims," throwing the "whole town in commotion" (Stevenson 69). A Sandemanian Chapel, used by the Protestant adherents of John Glass and his son-in-law Robert Sandeman, still stands in Gayle in Wensleydale. That too had its old graveyard, though the building itself is now used as the Village Institute.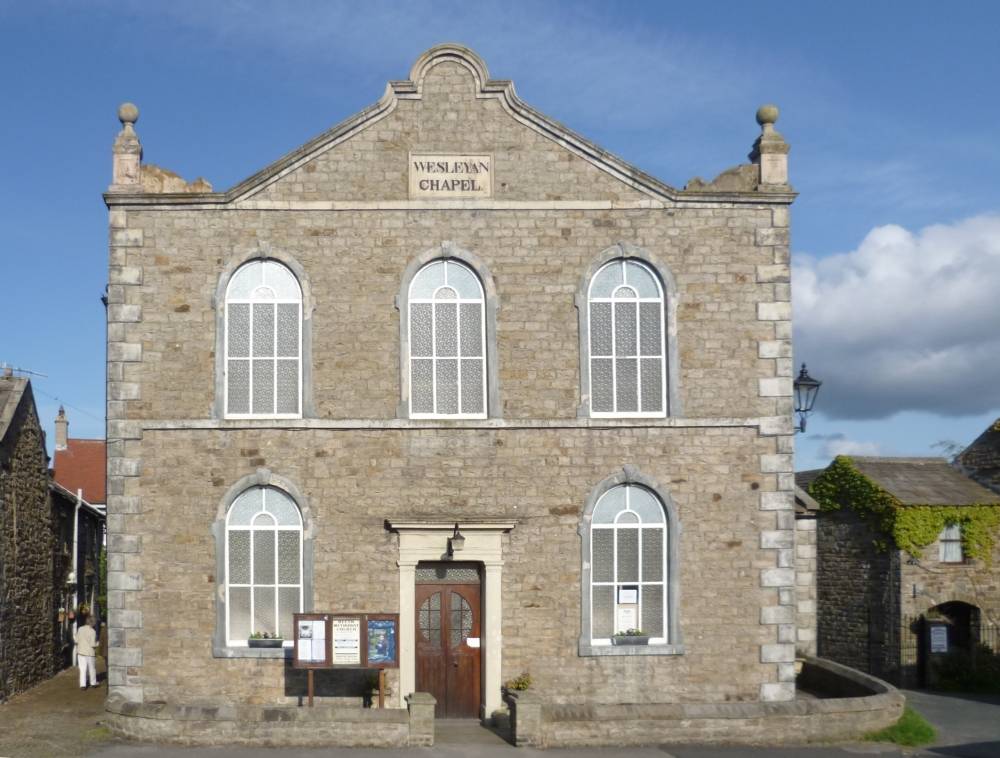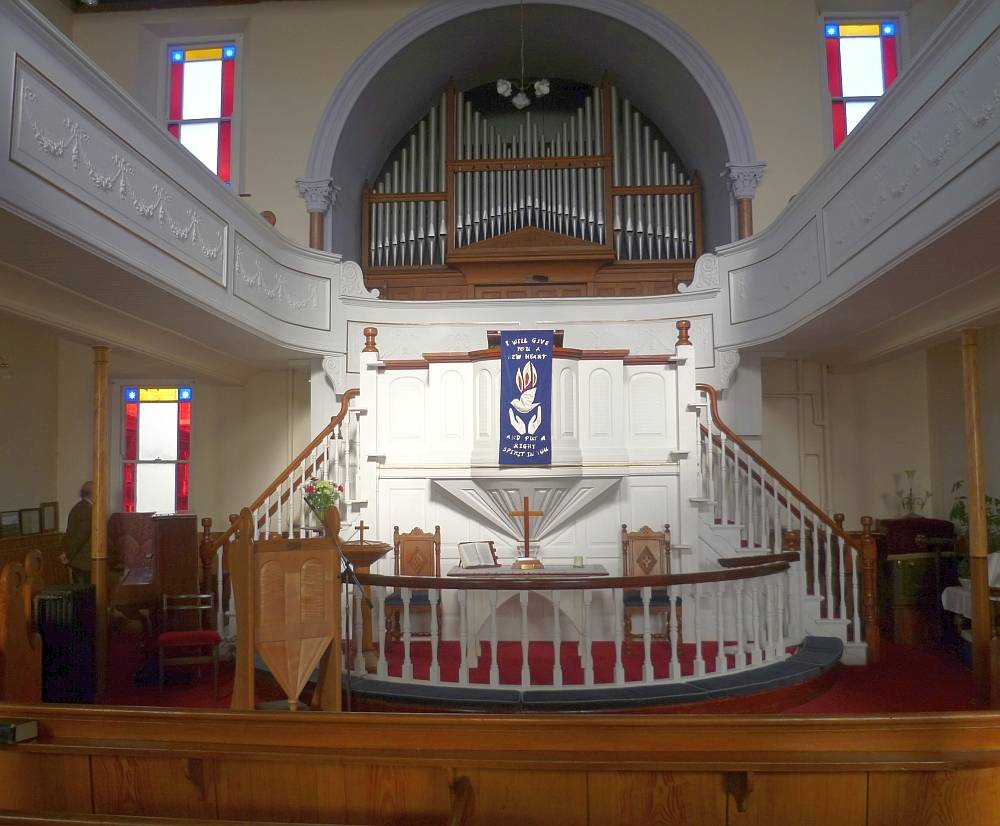 Left: Wesleyan Chapel, Reeth, Swaledale, on the north-east corner of the green. Right: Interior of the chapel.
Methodism in particular had a big following in the Dales. This rather distinctive Methodist Chapel was built, like several other local Methodist chapels, "under the architectural management of the Rev. John Rawson" who "possessed a good knowledge of building and architecture" (Speight 264-65). Although there seems to have been an existing building, the listing text gives the completion year of the chapel as 1840, and explains that it had to be rebuilt after fire damage in 1887. The rebuilding was in two phases, and was followed by later additions, including the Jacobean-style ball finials (see also "Reeth, Swaledale"). The materials used were a pleasantly light watershot stone, with stone slate for the roof. The interior is bright and attractive, with the focus on the central pulpit, with the organ behind and above it. The arch over the organ is supported by Corinthian columns, and the white-painted semi-circular gallery is decorated with swags.
William Dawson, the "Yorkshire Farmer and Eloquent Preacher," moves a peddler to break "his cheating yard-stick," from Keeling 73.
John Wesley had visited Leeds in the summer of 1742, and later preached regularly in Yorkshire on his evangelistic travels, first visiting Swaledale in 1761. A Methodist presence was established in Reeth within the next couple of years. Wesley's own work there was never forgotten. At the opening of the chapel in 1841, ministers were served tea at a table that he used to stand on when preaching (see Speight 264). J. Jackson Wray's Nestleton Magna: A Story of Yorkshire Methodism (1881) and Annie Keeling's William Dawson: The Yorkshire Farmer and Eloquent Preacher (1894) testify to the strength of Methodism in the Dales in the later eighteenth and nineteenth centuries. Wray talks of its revival in the nineteenth century, and is full of praise for powerful local Methodist preachers: "The enrolment of this glorious army was one of Wesley's grandest inspirations," he says (220). As for William Dawson (1773-1841), who was one of the most eloquent of these preachers, and who came down on saints and sinners alike as "a might rushing wind" (qtd. in Everett 283), miners and others in the Dales would walk twenty miles to go and hear him.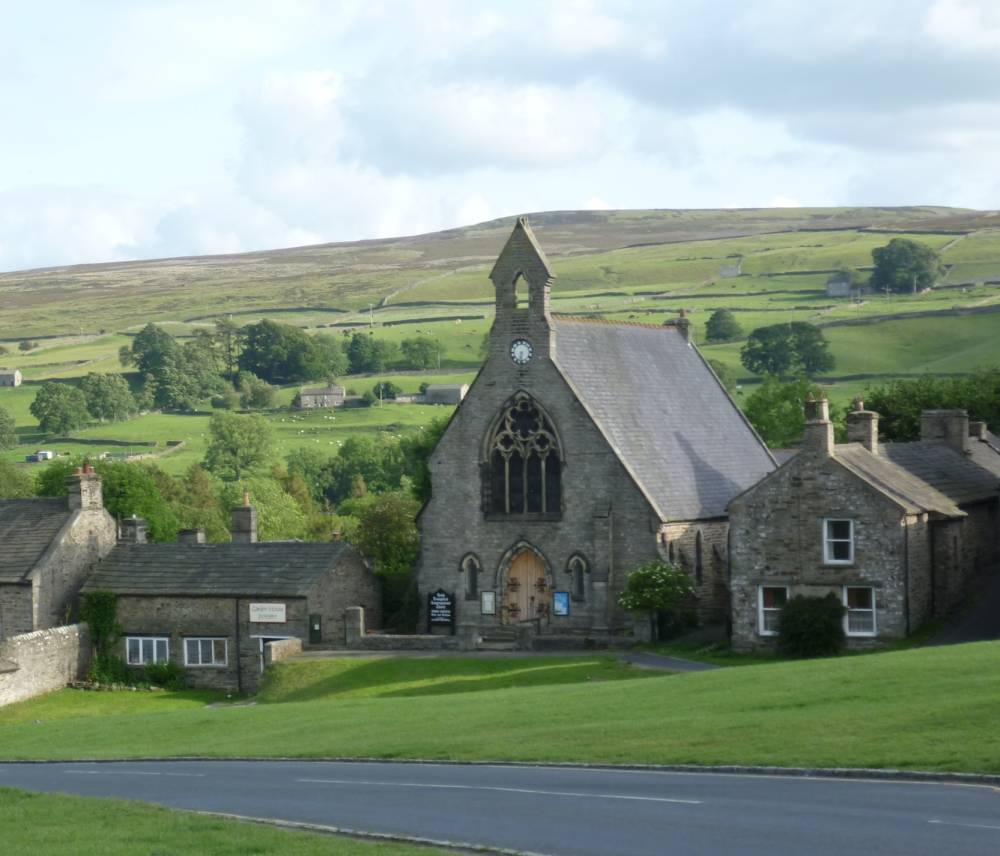 Reeth Evangelical Congregational Church, Swaledale, 1866.
Constructed of hammer-dressed stone with a steeply pitched Welsh slate roof (a fashionable choice for the period, uncommon in this area), clock and bellcote, this church stands in a beautiful and prominent setting looking across at the large sloping green opposite, perhaps on the site of an older church (see "Reeth, Swaledale"). The Congregationalists too had a strong presence in the Dales. They had been established in Reeth since 1787, and the new church was paid for by public subscription.
Some Roman Catholics had continued to practice their faith after the Reformation, and after Catholic Emancipation new Catholic churches sprang up in bigger towns like Keighley, largely to serve the Irish immigrants who came searching for work in the mills during the Potato Famine. A prime example is Pugin's St Anne's, Keighley (1840), although it was greatly altered in the early twentieth-century. Jewish settlers too headed for Yorkshire looking for opportunities in the more urban areas — Bradford, in particular, has a strong Jewish heritage. But these conurbations are to the south-east of the Yorkshire Dales National Park. The usual pattern in the rural Dales themselves would seem to be a parish church with its tower or steeple marking the approach to a village or market town; a Wesleyan chapel perhaps on the high street or village green — and a Congregational church somewhere else prominent nearby. Down-to-earth and strong-minded they might have been, but people here were known for their religious zeal.
Links to related material
Bibliography
Bulwer's History and Directory of North Yorkshire (1890). Excerpted in "Grinton: Geographical and Historical Information from the Year 1890." Genuki. Web. 1 September 2011.
"Church of St Margaret of Antioch, Hawes." British Listed Buildings. Web. 1 September 2011.
Collingwood, Rev. Stuart Dodgson. The Life and Letters of Lewis Carroll. London: T. Fisher Unwin, 1899. Internet Archive. Web. 1 September 2011.
"Congregational Church, Reeth, Fremington and Healaugh, 1868-70." British Listed Buildings. Web. 1 September 2011.
Everett, James. Memoirs of the Life, Character, and Ministry of William Dawson. London: Hamilton, Adams & Co. 1842. Internet Archive. Web. 1 September 2011.
Garrard, J. R. "Longley, Charles Thomas (1794-1868)." Oxford Dictionary of National Biography. Online ed. Web. 1 September 2011.
Home, Gordon Cochrane. Yorkshire Dales and Fells. London: A & C Black, 1906. Internet Archive. Web. 1 September 2011.
Keeling, Annie E. William Dawson: The "Yorkshire Farmer" and Eloquent Preacher. London: Charles H. Kelly, 1894. Internet Archive. Web. 1 September 2011.
Leach, Peter, and Nikolaus Pevsner. Yorkshire West Riding, Leeds, Bradford and the North. The Buildings of England series. New Haven & London: Yale University Press, 2009.
"Out of Oblivion: A Landscape Through Time: Places of Worship." Yorkshire Dales National Park Authority. Web. 1 September 2011.
Pevsner, Nikolaus, et. al. The Buildings of England: Northumberland. 2nd (revised) ed. London: Penguin, 1992..
"Reeth, Swaledale: Conservation Area, Character Appraisal" Web. 1 September 2011.
Scholes, Ron. Yorkshire Dales. 3rd ed. Ashbourne, Derbyshire: Landmark, 2008.
Scott, Sir George Gilbert, R.A. Personal and Professional Recollections, edited by his son, G. Gilbert Scott, F.S.A.. London: Sampson Low, Marston, Searle, & Rivington, 1879. Internet Archive. Web. 3 September 2011.
Speight, Harry. Romantic Richmondshire: Being a Complete Account of the History, Antiquities and Scenery of the Picturesque Valleys of the Swale and Yore. London: E. Stock, 1897. Internet Archive. Web. 1 September 2011.
Stevenson, George John. Sketch of the Life and Ministry of the Reverend C. H. Spurgeon. New York: Sheldon, Blakeman, 1857. Internet Archive. Web. 1 September 2011.
"Wesleyan Chapel, Reeth, Fremington and Healaugh, 1868-70." British Listed Buildings. Web. 1 September 2011.
Walbran, John Richard. A Guide to Ripon, Harrogate, Fountains Abbey, Bolton Priory, and Several Places of Interest in their Vicinity. 5th ed. Ripon: A. Johnson & Co., 1856. Internet Archive. Web. 1 September 2011.
---
Last modified 11 September 2011