These letters graciously have been shared with the Victorian Web by Eunice and Ron Shanahan; they have been taken from their website. The letters give an insight into the daily lives and concerns of 'ordinary' people without whom history would not exist. The letters are a wonderful example of how much history may be gleaned from such sources.
Click on thumbnails for larger images.]
This letter is addressed to Charles de Coetlogon Esqr, Ashford, Staines, Middlesex. I noticed it on a dealer's table, because I was born and brought up in Ashford Middlesex, (but not in 1824!), and have never seen an early marking for my home town. The addressee was a complete mystery, as it sounds European, possibly Flemish, and as far as I was aware, Flemish weavers were scarce in our area. I checked with the Family History Society website for West Middlesex on the internet and Geoff Pick, the Manager — Reader Services Division e-mailed me this information.
"Our index to personal names appearing in the archives here has been consulted but no reference to Charles de Coetlogon has been found. Ashford was, in the early nineteenth century, a small village whose population was not included in the contemporary Post Office directories. This was a largely agricultural community which would not appear specifically to have attracted immigrant members."
So I was right about that anyway.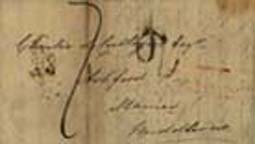 Click on the image for a larger view
Postal markings, on the front :
manuscript 7 — cost for a single -sheet letter over a distance of between 30 and 50 miles.
faint T.P. Beckenham stepped London twopenny post mark in red. This was a Receiving House — and Sorting house, in the Country area of the London TwoPenny Post, and this type of stamp was in use from 1819 till about 1836. The Town Receivers sent their letters 6 times daily to the Principal Office to which they were attached — in this case the Westminster Office. They were paid an annual salary of two pounds plus one penny for every 10 letters they took in.
"2" handstamp for the Twopenny Post applied by the Principal office. This charge was introduced in 1801 for all letters in the London area whether received or for delivery, or for transmission to the General Post
and then on the back of the letter :
Octagonal transfer datestamp Night 7 OC 30 1824 of the type in use from 1823 until 1831, applied at the Westminster Office (day before month).
London General Post 3-ring evening duty date stamp with month at the top, date (30) in the middle, and the year in four-figures, in a curve at the bottom. The letter F at the left of the stamp identifies the actual handstamp used.
The letter was written by Emma Bertie. There is no indication of whether Charles is a friend or relative, because of the formality of the form of address, but it seems too friendly and informative to be written to a casual acquaintance.
The Bakery, Beckenham,
30th October, 1824
My dear Sir,
I hope you are quite recovered from your late illness. Louisa in her last letter did not tell me, but as she would have paid you a Visit if you had not been better than when the Nurse was at Ashford and she did not think it necessary afterwards (unless she has been this week), I conclude she had favourable accounts. Here I have been since I left Brighton — the uncertainty I have been in respecting the Cox's movements has kept me. I think I shall go for the Winter to Southampton, but it is my wish to be with the Cox's if they can lett Harwood in preference. I have not had a letter since last Saturday from Louisa, I should be truly rejoiced to hear they have got a Tenant for my sake as well as theirs, as I should prefer Brighton if they were there to another place alone, though Brighton is much dearer and therefore is objectionable to my limited finances. I should be very glad to be able to determine my fear in that I may go to Southampton and then have the vexation to find if I had waited a little while I might have been of Louisa's part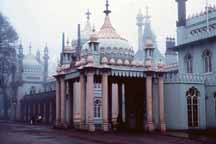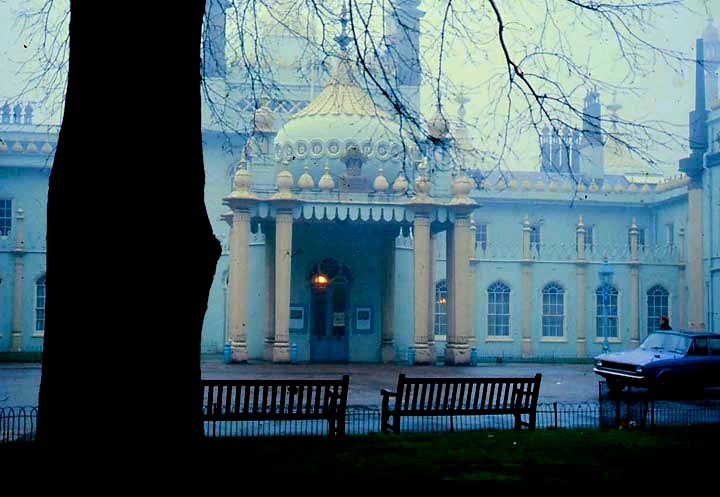 Brighton Pavillon in fog. The photographs, which date from 1977, are © George P. Landow but may be used without written permission for any academic or educational purpose.
Note: Southampton at this time was making a come-back as a health Spa, but Brighton was the fashionable place for sea-bathing and the spa waters — and therefore much more expensive. The Prince Regent had made it popular, and his Royal Pavilion, built by Nash and completed in 1822, was the main attraction. Worthing was just along the coast about 15 miles, and much cheaper again, but within reach of all the delights of Brighton by horseback, or horse and carriage.
The post is not come in, but I am afraid the Cox's have not much chance of leaving Essex if they intend to wait till they have some person to take their place, but I expect that scheme will be obliged to be given up if the Child does not get better soon.
Note: This was a Saturday, and note that she writes "the post has not come in" — so it was expected on a Saturday.
I suppose you heard that Peter has an offer to go to India with Mr Palmer who is an old Friend of John Cators and is appointed a Judge at Madras, when he is to set off is uncertain — at one time he was in such a hurry he bought an immense quantity of things, now he hesitates and talks of next year, but as another young man is ready (if Peter is not) to go, I shall not be astonished to hear he and his Wife and Child are not to lose the opportunity that offers by Ships that will soon sail — Of course it worries my Aunt a little as she must form different plans in what way to dispose of herself when they leave her.  
Note: East India judges are listed in the annual East India Register from 1800 to 1857 held in the India Office Library at the British Library in London. Mr Palmer does not rate an entry in the CD-rom edition of the Dictionary of National Biography. However, work is being done on updating this — so maybe he will turn up there later. If only we were nearer to London — the records are all held there, but the staff are too busy to look things up, and check their records to see if Peter did travel over to Madras with Judge Palmer.
Bertie Cators House is still full of Workmen of all sorts, I have not been there, but I understand it is in the utmost confusion — I have seen her only once. John and his Family are at Worthing and I have not been any where which will I hope be a sufficient excuse for the stupidity of this letter — but believe me my dear Sir,
Yours truly
Emma Bertie

[Click on the thumbnail for a larger image.]
The letter is sealed with a beautifully clear impression of a head of a man, I wonder why she used this seal, as it seems obvious from the letter that she is living alone.
See also this page, which contains information on the people mentioned in the letter.
Sources
The History Today Companion to British History
The Local Posts of London by George Brumell.
---
3 December 2002