These letters graciously have been shared with the Victorian Web by Eunice and Ron Shanahan; they have been taken from their website. The letters give an insight into the daily lives and concerns of 'ordinary' people without whom history would not exist. The letters are a wonderful example of how much history may be gleaned from such sources.
The letter from Emma Bertie is addressed to Charles de Coetlogon Esqr Ashford Staines Middlesex.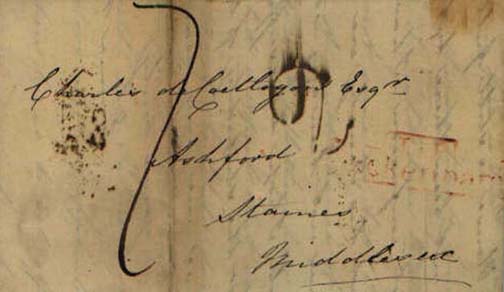 manuscript 7 — cost for a single -sheet letter over a distance of between 30 and 50 miles.
faint T.P. Beckenham stepped London twopenny post mark in red. This was a Receiving House — and Sorting house, in the Country area of the London TwoPenny Post, and this type of stamp was in use from 1819 till about 1836. The Town Receivers sent their letters 6 times daily to the Principal Office to which they were attached — in this case the Westminster Office. They were paid an annual salary of two pounds plus one penny for every 10 letters they took in.
"2" handstamp for the Twopenny Post applied by the Principal office. This charge was introduced in 1801 for all letters in the London area whether received or for delivery, or for transmission to the General Post
and then on the back of the letter :
Octagonal transfer datestamp Night 7 OC 30 1824 of the type in use from 1823 until 1831, applied at the Westminster Office (day before month).
London General Post 3-ring evening duty date stamp with month at the top, date (30) in the middle, and the year in four-figures, in a curve at the bottom. The letter F at the left of the stamp identifies the actual handstamp used.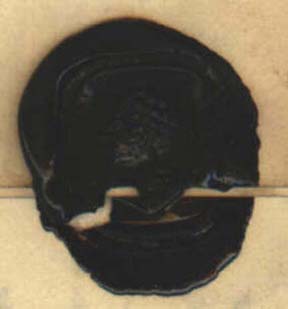 The letter is sealed with a beautifully clear impression of a head of a man, I wonder why she used this seal, as it seems obvious from the letter that she is living alone.
---
3 December 2002