These letters graciously have been shared with the Victorian Web by Eunice and Ron Shanahan; they have been taken from their website. The letters give an insight into the daily lives and concerns of 'ordinary' people without whom history would not exist. The letters are a wonderful example of how much history may be gleaned from such sources.
Click on thumbnails for larger images.]
This letter is written by G. Hathorn of Finsbury Square London, addressed to David Cathcart Esqre Advocate, Edinburgh. Considering it is 200 years old, the language is still relatively modern, with just an occasional phrase that is no longer in use. I could find nothing about G Hathorn the writer of the letter, and the only information I have been able to find out about David Cathcart, Advocate of Edinburgh is that he was one of the subscribers to the publication in 1792 of the poetical works of Janet Little — 'The Scotch Milkmaid' (1759-1813).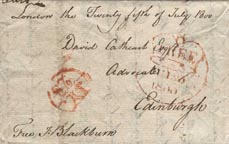 It has two postal markings
FREE in a crown within a dated circle which was applied in London. Because the letter was allowed to be sent free of postage, the rules of the time had to be observed — the town, the date and year had to be written at the top of the letter, written by the person claiming the free frank, who had to sign at the bottom left of the address panel. This particular FREE mark was only in use for about 7 months from 3rd January 1800.
In his book 'Herewith my Frank', J.W. Lovegrove notes the following :-
3.1.1800 to 23.7.1800 — A basic 38mm ring is indented at the top to contain an orb surmounted by a cross. These are the upper features of a crown which is otherwise wholly inside the large circle, and occupies almost half the upper part. On the body of the Crown is the word FREE and it is without any decorative features. Beneath the Crown is a three-letter month code followed by the day figure. In the bottom sector in one line horizontally the whole four-figure symbol of the year. Both date and year symbols are 3 1/2 mm high. The year figures 1800 are 13mm wide including a serif on the first figure.

Checking the impression on my letter against this description it all matches, except that the cross has not been clearly struck. Apart from this, my letter is clearly dated 25th July, so it extends by two days the known dates of use, which is always interesting.

a Scottish Bishop mark JY. 28. applied in Edinburgh. This type of mark with a full stop after the month was in use towards the end of the period 1778-1806, and my reference books link the dot after the month with a broken or missing dividing line between month and day, (as shown here) as being from 1799. Although a stamp with the year was introduced in 1801, this undated type was still in use in 1806. The Edinburgh office used a different kind of stamp from that in use in London, in that it was made up of two halves, one semi-circle with the names of the months and one with the days, and the diameters of the two halves did not always match up. This impression shows it quite clearly. The three days difference in the stamps from London JUL 25 and JY 28 of Edinburgh was the time taken to cover the distance of almost 400 miles.

So now to the letter which was written by G. Hathorn, but franked by T. Blackburn. It begins with matters of business, mentioning a Power of Attorney, which seems to be receiving a lot of publicity 200 years later.

My dear David,

I recd your letter and I feel very grateful for your remembrance of me as a man of business — I enclose a power of attorney for you to sign and return to me — as to expences this power has cost 11/6 — Merchants charge 1/2pcent on the amount of the dividend received but friends charge nothing.

You may even command me freely in any way I can be useful to you — only observe when you draw on me, to make your bill payable some days after sight — one will do, which obliges the holder to present it for acceptance, otherwise to save themselves trouble they don't call till due when it may happen that you are not in the way or are detained at home on that occn. [occasion]

He then continues with comments on family and friends — and suggests a way around the expenses of travelling to London:

I congratulate you on the late addn to your family & I hope Mrs C and her little one have recovered. We are now all hearty and well — Mrs H was anxious to nurse but she is too delicate for it.

I have no hope of visiting Scotland this year — Moir is now thereabouts & you will probably see him — Higham I presume is also with you at this time — He will speak for himself & will I know be most happy to see you — a better fellow does not live — are you never to see us here — can't you get some body to pay your expences according to the Scotch law fashion?

The next paragraph shows how well informed these people were of events happening in the Capital and overseas.

What's your opinion of Publick matters — more remote from the vicissitudes of trade and ye Stock exchge you may judge more impartially — are our ministers still determined on war & have they secured ye Austrian aid — I require six months notice of a Peace so give me your best advice — some say Pitt must fall before we treat with the first Consul, if so I fancy we shall fight some time yet — But if a change were to take place I doubt if <Mr Tod?> would head ye party — are you expecting some advancement on the occasion?

He then continues with family news :

I hear all your family are stout and well — my good old mother gets rather frail & perhaps more so than is described to us — Tell me what you observe — compt as due.

Mrs H remembers ye attention of all yr family, and desires her kindest wishes & a kiss to your youngest — I make join yours affectionately G Hathorn

13 South St Finsbury Square London ye 24 July 1800.

I have been waiting a frank several days and if not got today it shall go unstamped

This is a classic example of the abuse of the Franking system, as the person who signed the frank — T. Blackburn — did not write it, and the letter was not on his behalf, so he should not have franked it. However, there was nothing in law to say that the letter had to be written by the person claiming the frank, so although the Franking system was abused, it was not actually criminal to claim a free postage for a letter you had not written. From 1795 the number of letters permitted free was limited to ten letters sent and fifteen received in a week, so providing T Blackburn was within his quota, it would have been accepted by the postmaster. The interesting thing is that it was a felony to forge a signature to obtain a frank, for which the penalty was seven years transportation if found guilty.

On the outside of the letter is a note written by David Cathcart (or maybe his clerk) noting when it was received and the action taken.

25 July 1800 Fm Hathorn Wts Power of Attorney
Ansd wrote him inclosing power executed and also £20 5pcents

As a background to this letter, Europe in the last years of the 18th century was in a state of turmoil, with constant wars. Pitt was the British Prime Minister and he had organised a new coalition with Austria and Russia against France. In 1799 Napoleon Bonaparte had dismissed his parliamentary government and instituted a new Constitution, making himself the "First Consul".

I am always surprised when I read these old letters, that the writers were so informed about these affairs (there was no radio/television/internet to keep them informed, only the newspapers). Pitt resigned as Prime Minister in 1801 as a point of honour, over the Catholic Emancipation question, as the King would not give the Royal Assent to Pitt's Bill. The man who took his place was Henry Addington, who was still Prime Minister when the Peace was signed at Amiens in 1802. So Mr Hathorn was right about the fighting continuing for a while yet, but would probably have had his required six months notice of a peace.

However, these old letters always raise more questions for me.

What kind of Scottish law enabled them to claim expenses to go to London?
Why would a Scottish advocate expect advancement following a change of Prime Minister in London?

---

16 April 2005<! -- #EndDate -- >