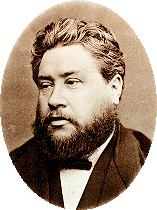 Charles Haddon Spurgeon (1834-1892) was the foremost Baptist preacher in Victorian England. His career began in Waterbeach, near Cambridge, in 1852, when he was just 17 years old. Two years later, he moved to London, where he became famous as the pastor of the New Park Baptist Church and the Metropolitan Tabernacle.
Spurgeon's preaching was not directed toward an academic or scholarly audience. He spoke extemporaneously; he addressed his working-class congregations in their own "market language" (Hervey 302); and he drew his illustrations from everyday human experiences. His style alienated some reviewers, who condemned it as "clumsy," "theatrical," and even blasphemous (Drummond 281; Spurgeon, Autobiography 1:311; "sermons and sermonizers" 86). Others, however, admired his "high order of pulpit oratory," his "daring homeliness," and his "fresh and striking" illustrations (Spurgeon, Autobiography 1:348; Merivale 179; Drummond 236). These qualities attracted over 5, 000 worshipers each week for more than thirty years, many of whom listened to the great preacher in large secular buildings, such as London's Exeter Hall and the Surrey Gardens Music Hall.
Spurgeon did not use manuscripts in the pulpit, but he had no objection to having his sermons printed. He was, in fact, one of the most widely-read preachers of his time. Beginning in 1854, he published a sermon every week, selling an average of 25,000 copies in Britain (Drummond 324); audiences abroad could read his sermons in languages such as French, German, Urdu and Arabic (Spurgeon, Autobiography 2:335).
Many of Spurgeon's discourses also appeared in collections such as The New Park Street Pulpit (London: Passmore and Alabaster, 1855-1860) and The Metropolitan Tabernacle Pulpit (London: Passmore and Alabaster, 1861-1917). These sermons sold well and received some critical acclaim; W. Robertson Nicoll, for example, called them the nineteenth century's "greatest contribution to the literature of experimental Christianity" (Spurgeon, Autobiography 2:350). He is one of the few Victorian preachers whose sermons are still being published; according to Lewis Drummond, Spurgeon has more religious works in print than any other English-language writer (25).
Bibliography
[Adapted from Chapter 1 of The Victorian Pulpit: Spoken and Written sermons in Nineteenth-Century Britain.]
Additional adaptations of the
Victorian Pulpit

available on the

Victorian Web
---
Last modified 1998

Last modified 11 April 2018