ary Anning (1799-1847), a fossil collector and dealer, was born in 1799 in Lyme Regis, Dorset. As children, she and her brother Joseph (1796-1849) joined their father, the carpenter Richard Anning (c. 1766-1810), on walks where they found fossilized remains of the area's most ancient inhabitants. Their unusual and evocative discoveries soon found a brisk market among the many fossil-hunters who came to Lyme Regis, lured by the promise of wonders hidden in the area's fossil-rich "lias," or deposits of liassic rock. After her father's death in 1810, Anning helped to support the family by continuing to sell fossils at Lyme. Anning's skill at finding, identifying and preparing fossils, coupled with her development of a network of prominent buyers, eventually secured her reputation among Victorian geologists and paleontologists.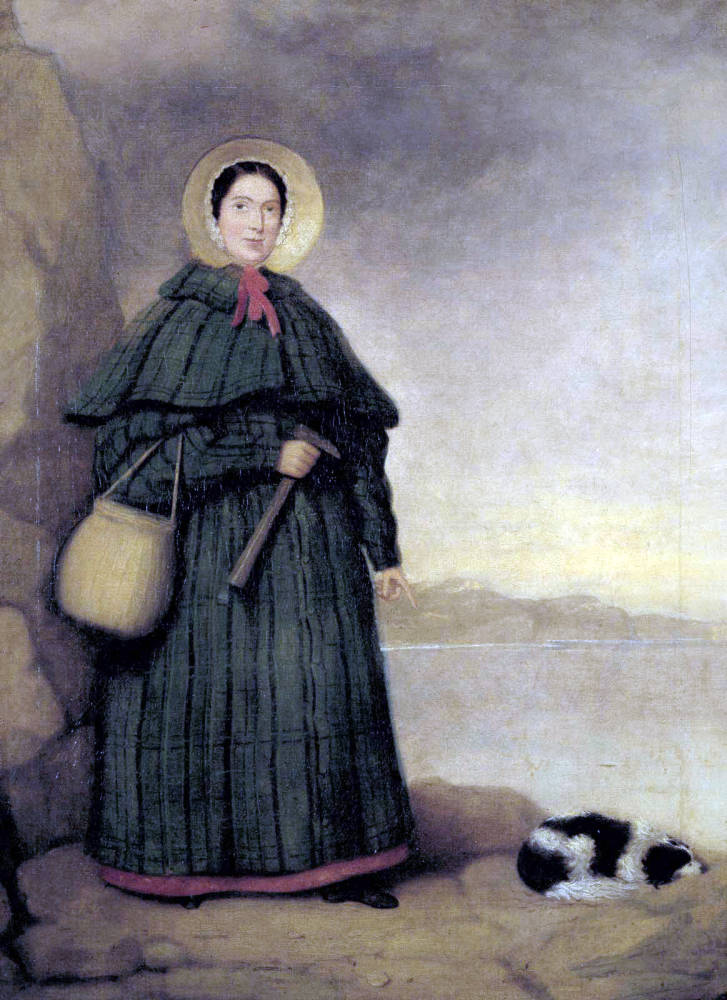 Mary Anning, attributed to "Mr. Grey" by Tickell 1996. Click on image to enlarge it.
In 1812, Anning and her brother discovered an ichthyosaur fossil that they sold to William Bullock, a London collector. This fossil later became a cause célèbre among London's naturalists. In 1814, Sir Everard Home, a surgeon and fellow of the Royal Society, dubbed Anning's find a "Proteosaurus" and provocatively claimed to see morphological similarities between its anatomy and that of certain fish. Auctions of fossils discovered by Anning attracted attention in Britain and France, becoming part of a growing controversy about the relationship of scientific knowledge to religious belief.
In 1823, Anning found the first complete Plesiosaurus; she followed this find with a series of discoveries of substantially complete ichthyosaurs. Although the Plesiosaurus was well-received in London, its appearance so astonished Georges Cuvier that he insisted the fossil was a fraud. His accusation was shown to be groundless, and this high-profile triumph cemented Anning's reputation. She shortly became an important participant in William Buckland's research on coprolites, and other major discoveries followed, notably of a fossilized Squaloraja, which promised to provide an evolutionary link between sharks and rays. In 1830, the geologist Henry de la Beche painted Duria Antiquior (A More Ancient Dorset), a watercolor showing an ancient landscape conjectured from Anning's findings. Lithographic reproductions of the watercolor proved popular, and de la Beche ensured that Anning received part of the proceeds from sales of this work.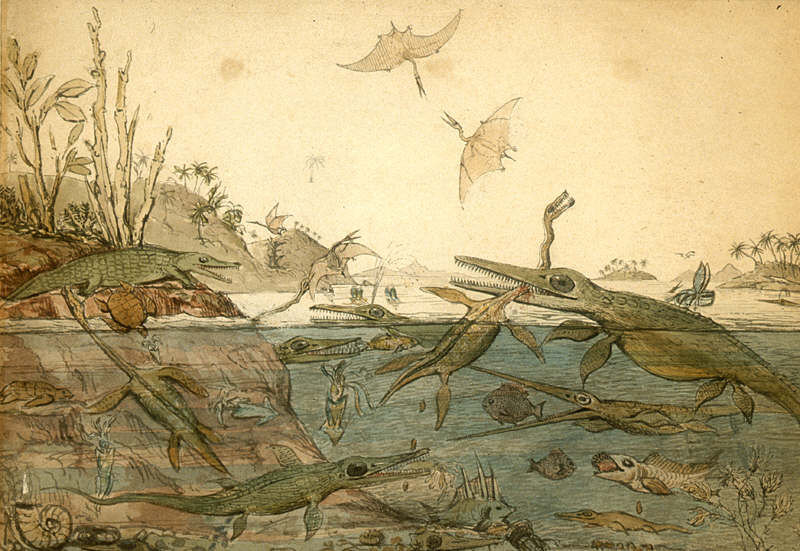 By the late 1830s, Anning's contributions were attracting official recognition and institutional support. In 1838, the British Association for the Advancement of Science awarded her an annuity; eight years later, Anning received additional support from members of the Geological Society of London. Anning died in 1847. She is buried at Saint Michael's Church, Lyme Regis, where the Geological Society commissioned "Mary Anning's Window," an assemblage of four large stained-glass panels decorated with scenes that recall her services to the parish and to geology.
Henry de la Beche, Duria Antiquior (A More Ancient Dorset), 1830.
Materials related to Mary Anning on the Victorian Web
Anon. "Mary Anning, The Fossil Finder." All the Year Round (February 11, 1865): 60-63.
Anon. "The Fossil-Finder of Lyme-Regis.." Chambers's Journal of Popular Literature, Science, and the Arts (December 12, 1857): 382-84.
Reference
Tickell, C. Mary Anning of Lyme Regis. Lyme Regis: Lyme Regis Philpot Museum, 1996.
Torrens, Hugh. "Anning, Mary (1799-1847)." Oxford Dictionary of National Biography. Online ed. Web. Viewed 13 March 2015.
Torrens, Hugh. "Mary Anning (1799-1847) of Lyme: 'The Greatest Fossilist the World Ever Knew.'" The British Journal for the History of Science 25.3 (1995): 257-284.
---
Created 22 April 2015; updated 18 May 2015