Biography
The eldest son of a German piano-maker and his English wife, William Behnes was born in London, possibly in 1791 (baptismal records at St Mary's, Marylebone, include one for a William Bennes born in the December of that year). He grew up and went to drawing school in Dublin, but entered the Royal Academy Schools in 1813, turning to sculpture and winning several medals there. He became "second only to Francis Chantrey as England's most prolific and successful portrait sculptor" (Stocker). In the opinion of Henry Weekes, who worked with both, Behnes was actually the better sculptor, his heads having "greater freedom of handling, less mannerism, more variety and greater difference of character" (qtd. in Stocker). But he lacked Chantrey's personal attributes (Chantrey, for example, became friends with sitters like James Watt), and after spending a great deal of money adapting premises in Soho into a studio, he spiralled down, apparently into drink as well as debt. Benedict Read paints a sad picture of him, "found one night literally in the gutter with threepence in his pocket," and dying in the nearby Middlesex Hospital (50). One of his problems had been to make a studio high enough for him to work on very large statues — such were the demands of this particular art.
Still, Behnes was both an influential and an innovative sculptor. He had some famous pupils, including George Frederic Watts and Thomas Woolner, and amongst his assistants were John Henry Foley and Musgrave Lewthwaite Watson, as well as Weekes himself. In 1819, when still in his twenties, he had won a gold medal from the Society of Arts for "inventing an instrument for transferring points to marble" (qtd. in Stocker), and several of his works are groundbreaking in some way. For example, his statue of Sir Robert Peel in Leeds (1852) is important because it was one of the very earliest monuments to the statesman, and also (again according to Stocker) "the first large-scale bronze cast in one piece in Britain." However, he is better known for some fine busts, his statue of William Babington in St Paul's Cathedral (1837), and his statue of Sir Henry Havelock in Trafalgar Square (1861). Stocker describes this last rather half-heartedly as "a stolidly competent example of realism," but because of its position it is still probably his most famous work. Perhaps it is "stolidly competent" because it was also groundbreaking: it was the first statue to be sculpted from a photograph (Bullus and Asprey 236). — Jacqueline Banerjee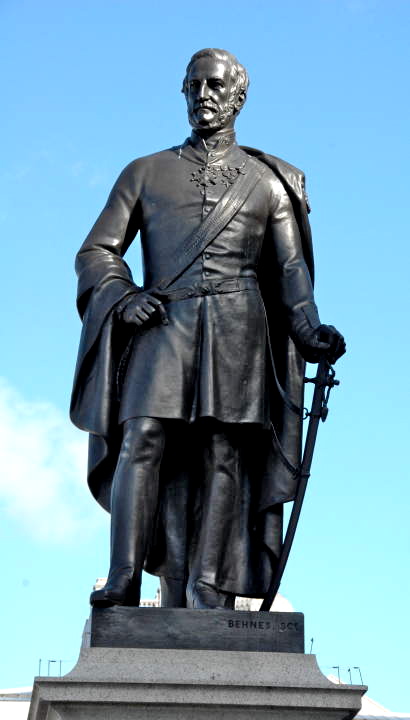 Works
Bibliography
Bullus, Claire and Robert Asprey. The Statues of London (Photography" by Dennis Gilbert.) London & New York: Merrell, 2009.
Read, Benedict. Victorian Sculpture. New Haven & London: Yale, 1982.
Stocker, Mark. "Behnes, William (1791x7-1864)." Oxford Dictionary of National Biography. Online ed. Viewed 24 January 2010.
---
Last modified 21 May 2012