The Falconer by John Carew (c.1782-1868). 1827/8-1829. Marble. Height: 2260 mm. North Gallery, Petworth House, Sussex. This ideal figure has a falcon on the wrist of his gloved hand and arm [Detail], and holds a dead goose (prey already bagged by the falcon) by the neck in his other hand. The figure does not seem to have any mythological meaning besides being an emblem of sturdy, yet graceful youth, perhaps of noble English manhood in general.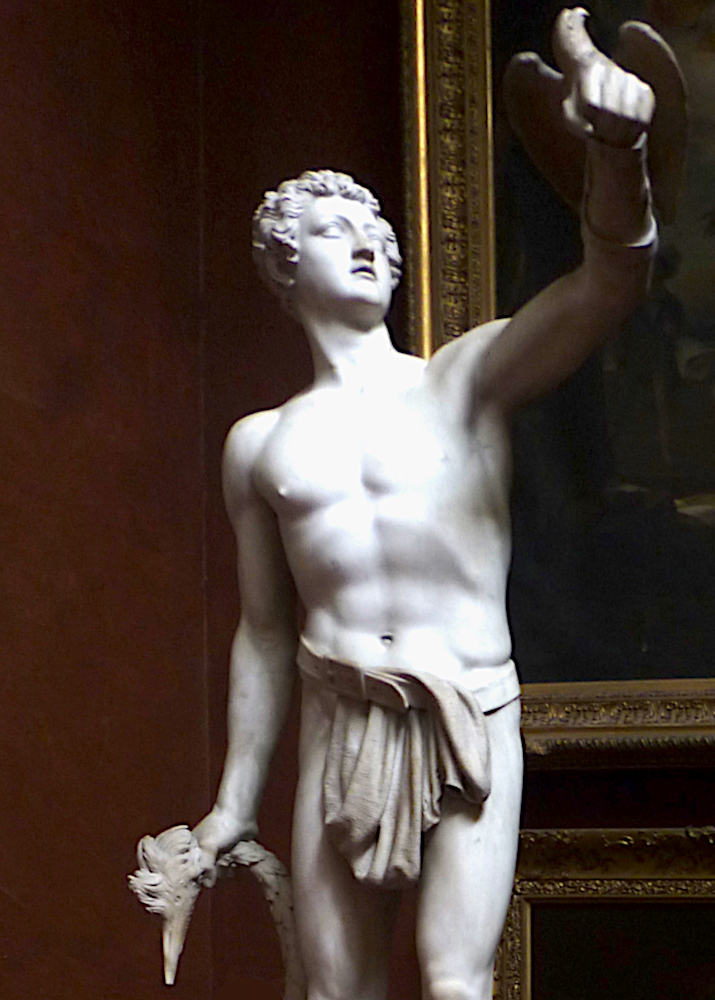 Ben Read sees the drapery he wears as a loincloth an example of "modesty preserved in an almost laughable manner" (201). The work suffers from its corner spot in the gallery, with paintings on both sides and a bust lower down just beside it(digitally removed in the photograph on the left).
This was another contentious work, with Carew arguing that it had been commissioned by the Duke of Egremont before his death. Fortunately,it was bought from Carew by Egremont's successor.
Text and photographs by Jacqueline Banerjee, the latter reproduced here by kind permission of the National Trust (no. 486406). The distracting background of the photo on the right has been digitally removed. [Click on the images to enlarge them.]
Other works by Carew nearby
Bibliography
Carew, John Edward. Report of the Trial of the Cause Carew against Burrell, Bt. and Another, Executors of the Late Earl of Egremont. London: William Nicol, 1840. Free Ebook. Google Books. Web. 20 July 2020.
"The Falconer." National Trust. Web. 20 July 2020.
Read, Ben. Victorian Sculpture. New Haven and London: Yale University Press, 1982.
---
Created 20 July 2020