Directions: (1) Click on image to begin rotation. (2) To control the statue's rotation, place your cursor on the image and move it in the direction you want it to turn.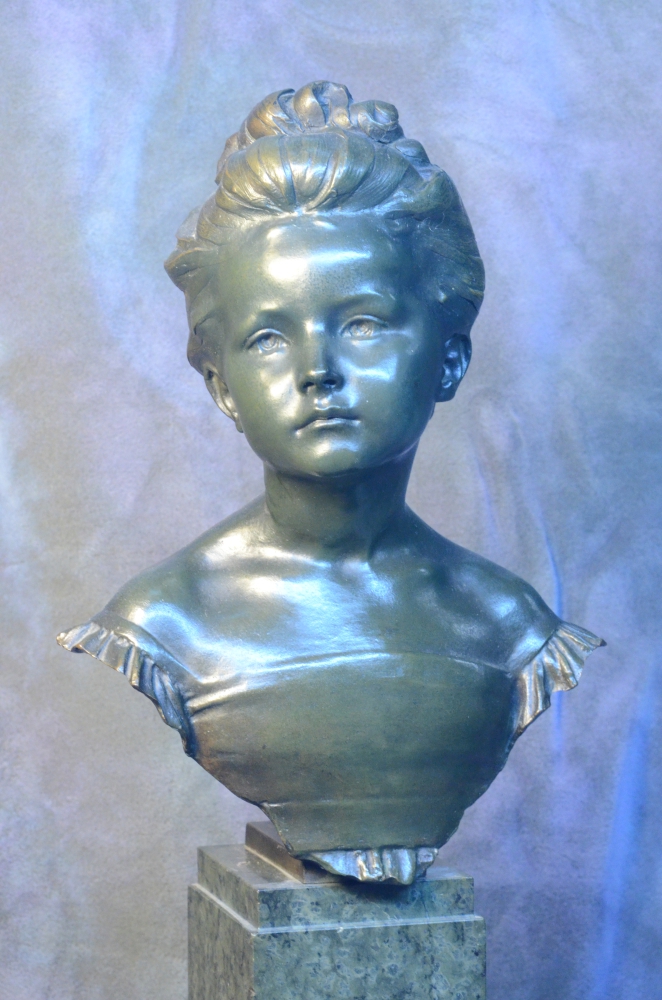 Elsie Doncaster by Bronze, dark brown patination on dark green marble base, 12 inches (31 cm.); with base 18 inches (47 cm.). Private collection. According to Robert Bowman, "the subject of this work is the daughter of the Doncasters who were friends with Drury. He used each of the daughters as the inspiration for one of his works. Clarrie was the model for the scuptures of Morning and Evening in the city square Leeds, Gracie was the model for the bust known as The Age of Innocence, but for this, his most charming work, he gave no allegorical title, just a simple portrait title" (22).
Photograph, VR image, and text by George P. Landow. The sculpture was rotated on a Kaidan Pixi manual turntable (model 0037), and photographed 36 times with a Nikon D7000s with a 60 mm. Macro Nikkor lens. GPL created the VR image using Photos, Gimp, and Buckshot VR.
Bibliography
Bowman, Robert. Sir Alfred Gilbert and the New Sculpture. London: The Fine Art Society, 2008. Pp. xxx.
Dorment, Richard. Alfred Gilbert. New Haven and London: 1985. Pp. 128-30.
---
Last modified 8 June 2019