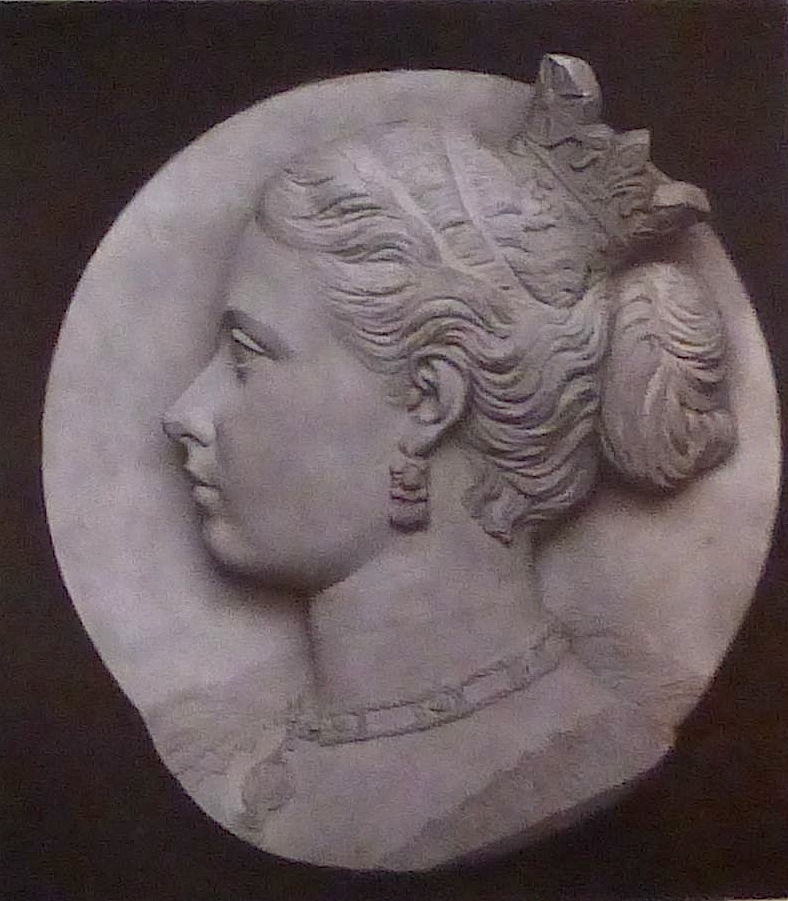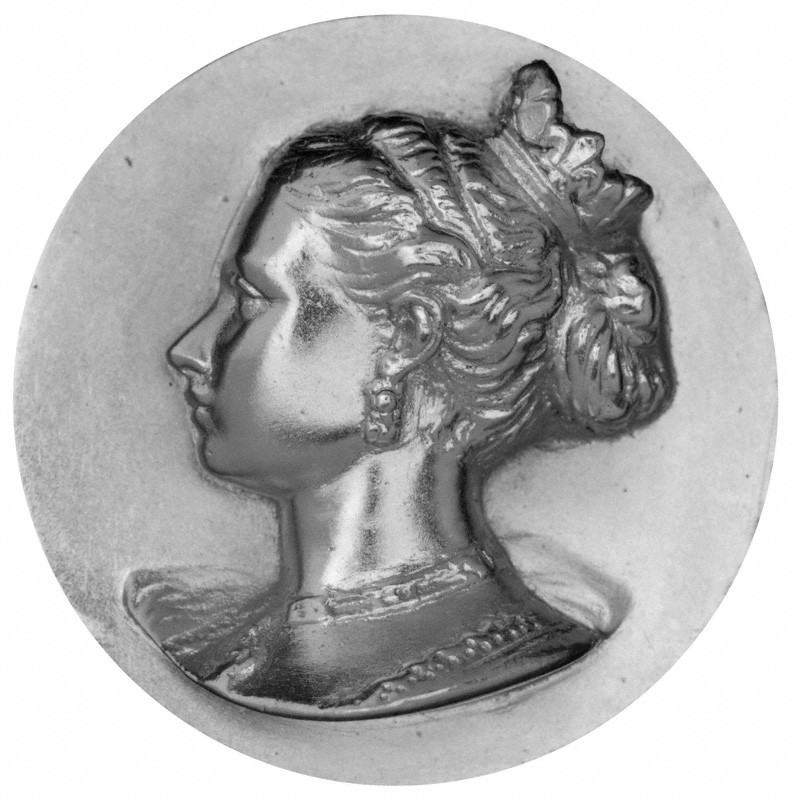 Victoria, Empress of Germany and Queen of Prussia (1840-1901), by Susan Durant (1827-1873). Left: marble medallion as part of the Triqueti Marbles in the Albert Memorial Chapel, Windsor, c. 1866. Right: metal medallion, c. 1864-66, just 1" (24 mm) in diameter, in the National Portrait Gallery collection, NPG 2023a(6), given by Sir Henry Paul Harvey (Susan Durant's son" by Triqueti) in 1924.
Queen Victoria commissioned the work in the chapel and had other versions made of Durant's portraits of the royal family. Victoria was her eldest child, known as Vicky, and it was probably her influence that secured the commission for Triqueti (see Martin 230). Although very similar, these two works are not identical: the reduced metal version is crisper, and the very slight tilt of the head gives the subject a more regal air. It is as if the former is a indeed a softer family portrait, and the latter a more formal, official one.
Text by Jacqueline Banerjee. Photograph of the marble version, cropped from a photograph of Plate XLVIII of the Davisons' book, reprduced by kind permission of the British Library. Metal Medallion, courtesy of © National Portrait Gallery.
Bibliography
Davison, Jane and Margaret. The Triqueti Marbles in the Albert Memorial Chapel, Windsor. A series of photographs executed by the Misses Davison. With a preface" by Jane Davison (1876). Available at the British Library. General Reference Section 1762.d.3.
Martin, Eoin. Queen Victoria, Prince Albert and the Patronage of Contemporary Sculpture in Victorian Britian, 1837-1900. Vol. I. Ph.D. thesis. Department of the History of Art, University of Warwick. Web. 20 May 2016.
---
Created 20 May 2016