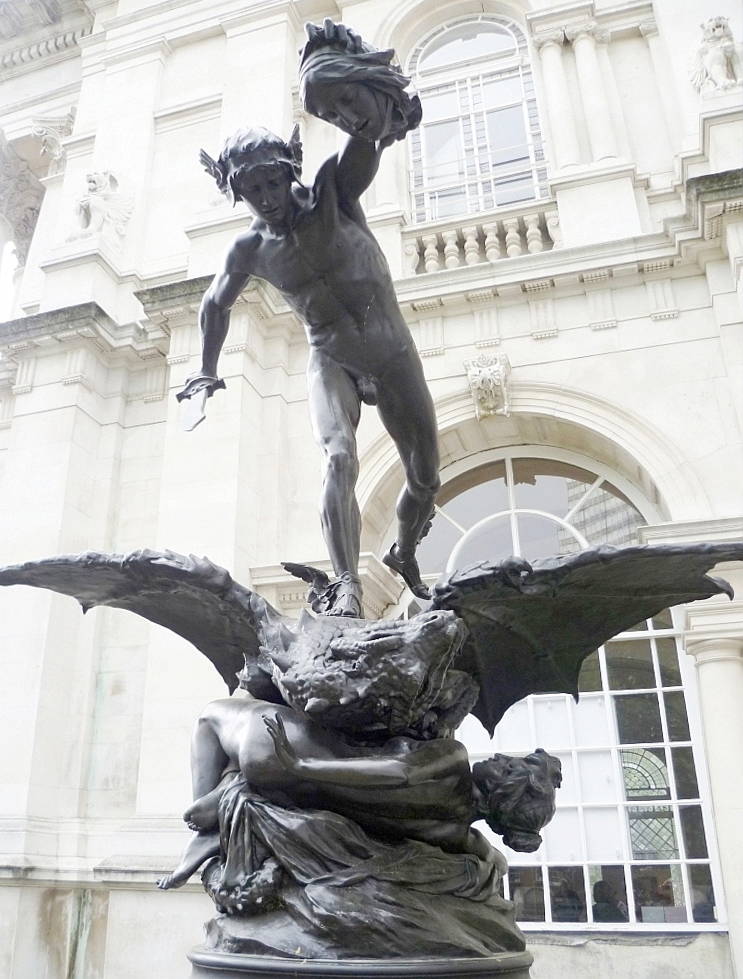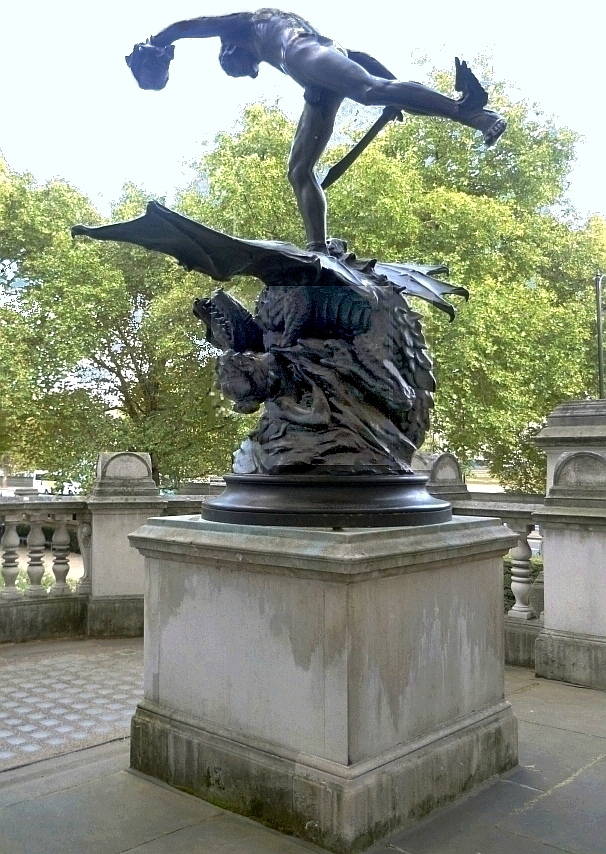 Left: The Rescue of Andromeda by Henry Charles Fehr (1867-1940). 1894. Bronze. To the right of the Tate Britain entrance, Millbank, London. Right: The sculpture in its setting. [Click on these photographs and those below to enlarge them.]
This was Fehr's break-through work, produced in plaster in 1893, cast in bronze in the following year, and bought by Lord Leighton and the council for the Chantrey Collection for the then considerable sum of £1,200. The work was first placed inside the Tate Gallery, then, to Fehr's great dismay, moved to the outside in 1911, where it is rather hidden away to the right of the entrance. Fehr was right to complain that it was not made to be "swamped by heavy masonry" (qtd. in Birchall). Still, it is a powerful, vital and complex ensemble, and a beautifully balanced composition.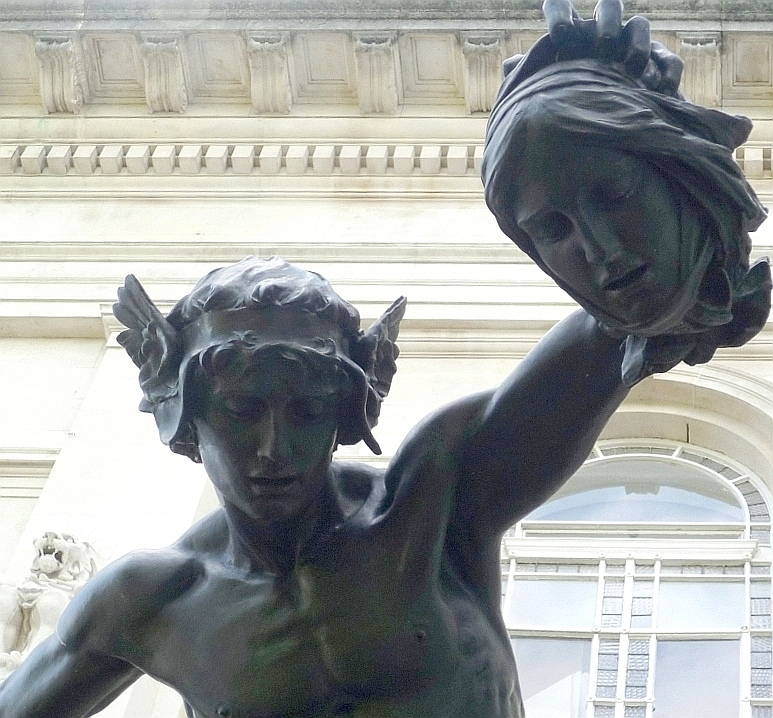 Perseus holding the Medusa's head. Fehr's statue differs in two obvious ways from usual representations of this popular subject in nineteenth-century painting and sculpture, the first of which is that unlike traditional versions of the Perseus and Andromeda story, such as that found in Thomas Bulfinch's The Golden Age of Myth & Legend, Medusa is beautiful rather than an ugly monster. She looks more like one of Frampton's or Fehr's Art Nouveau maidens than a Gorgon.
The sculptor here perhaps follows William Morris and Sir Edward Burne-Jones. In The Finding of Medusa, the fourth panel in the painter's Perseus Series, Medusa has a face much like that of a typical Burne-Jones character. In William Morris's version of the tale that inspired Burne-Jones — the Perseus series grew out of drawings for a unfulfilled plans for an illustrated Earthly Paradise -- the cursed woman has writhing snakes that Burne-Jones doesn't depict in her "golden tresses," and the poet also makes her death an act of mercy.
Andromeda beneath the sea-monster. The contrast between the monster's scaly, rubbery-lookin skin and the smooth and curvaceous limbs of his victim is particularly fine.
The second and most obvious way Fehr's statue differs from usual representations of the story appears in its depiction of the nude Andromeda. As we see in sculptures" by Stanley Nicolson Babb and Alfred Turner and in The Rock of Doom, the sixth panel in the Perseus Series by Sir Edward Burne-Jones, Andromeda most commonly stands chained to a rock awaiting the dragon or sea monster that will soon devour her. Frequently, as in the sculptures by Babb and Turner, and Ingres's Ruggiero and Angelica, chains around her wrists pull her arms back to the rock, thereby preventing Andromeda from using her hands to protect her breasts and belly from the eyes of the spectator. The manacles thus provide a culturally approved means of gazing at a beautiful, terrified, naked girl. (Chains apparently also hold the right wrist of Burne-Jones's Andromeda — the left appears unfettered — but the sight of the handsome young man doesn't prompt any modest action, just as it doesn't in François LeMoyne's eighteenth-century version of the subject.
In Morris's version of the tale that inspired Burne-Jones, "The Doom of King Acrisius," the young hero "made invisible by Pallas' aid," finds
a woman standing lonely there,
Naked, except for tresses of her hair
That o'er her white limbs" by the breeze were wound,
And brazen chains her weary arms that bound
Unto the sea-beat overhanging rock,
As though her golden-crowned head to mock.
But nigh her feet upon the sand there lay
Rich raiment that had covered her that day,
Worthy to be the ransom of a king,
Unworthy round such loveliness to cling. . . .
And . . . she midst fear beheld his kind grey eyes,
and then, as hope came glimmering through her dread,
In a weak voice he scare could hear, she said,
"O Death! If though hast risen from the sea,
Sent" by the gods to end this misery,
I thank them that thou comest in this form,
Who rather thought to see a hideous worm
Come trailing up the sands from out the deep.
Fehr's unusual portrayal of the rescue scene moves us closer to a terrible end — this is a real cliff hanger! — for the monster has already landed on beautiful young woman, who bends back cowering beneath it just as Perseus arrives. A bit of incoherence appears in the way the young hero holds Medusa's head, which will turn anyone who looks at it to stone, as Andromeda gazes upward (here probably protected from that fate by the monster's wing). In most versions, Perseus carries the head, which he uses later in the story, stored safely in a sack or bag and slays the monster with his sword, which Fehr places in his hand but hardly ready to strike.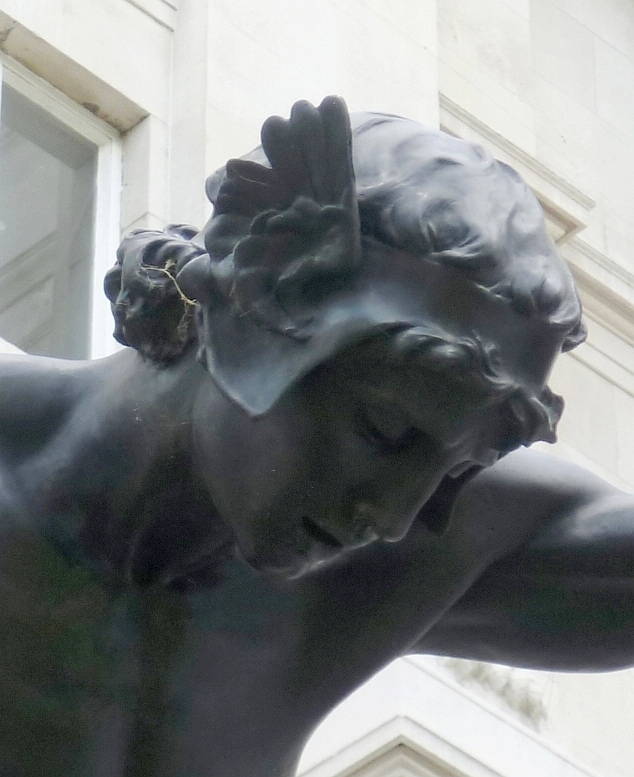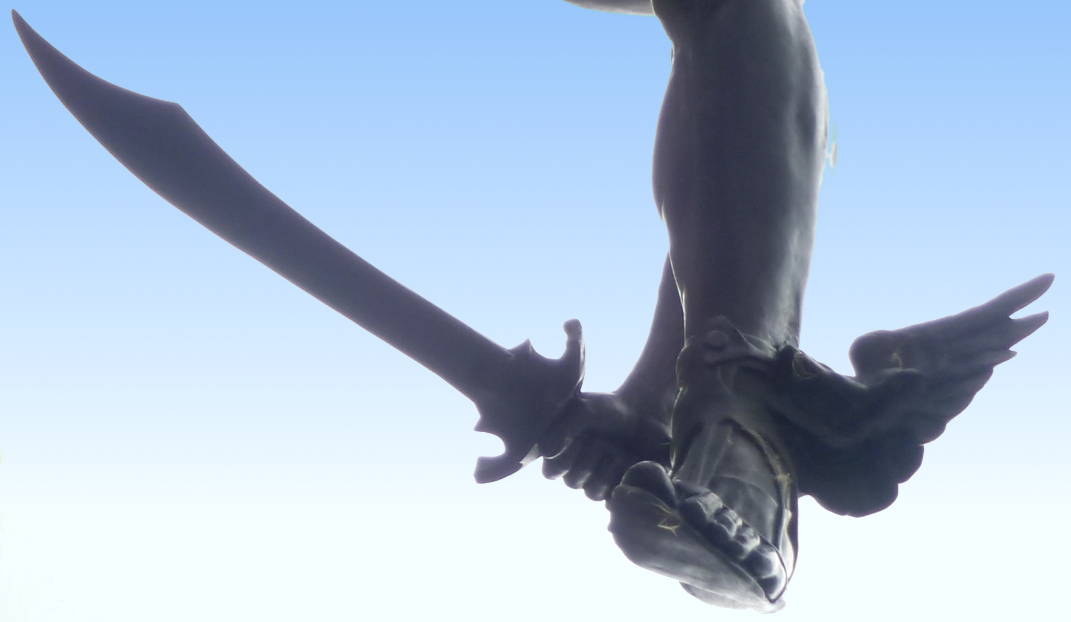 Left to right: (a) Perseus frowns with concentration as he seeks a passage for his sword. (b) Perseus's winged sandals, lent to him" by Mercury, help balance him as his sword flies to its mark.
Photographs and captions by Jacqueline Banerjee. Commentary by George P. Landow. You may use these images without prior permission for any scholarly or educational purpose as long as you (1) credit the photographer and (2) link your document to this URL in a web document or cite the Victorian Web in a print one.]
Bibliography
Birchall, Heather. "The Rescue of Andromeda, 1893". Tate Collection. Web. 13 October 2011.
Bullfinch, Thomas. The Golden Age of Myth & Legend. Ware, Herts.: Wordsworth Editions, 1993.
Löcher, Kurt. Der Perseus-Zyklus von Edward Burne-Jones. Stuttgart: Staatsgallerie Stuttgart, 1973.
Morris, William. "The Doom of King Acrisius" in The Earthly Paradise. 5 vols. London: Longmans, Green, 1896.
---
Last modified 13 October 2011