Biography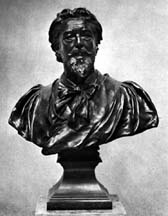 (Left) Frederic Leighton by Thomas Brock. c. 1892. Bronze. 32 1/2 inches.
(Right) Statue on the façade of the Victoria and Albert Museum. London, near the Brompton Avenue entrance. [Photograph by George P. Landow, December 1999.]
Born at Scarborough. Studied in Florence, 1844 and from 1849 for more than two years at Frankfurt. In Rome, 1852-55; contact with John Gibson, sculptor, and the painter/sculptor Gerome. Settled in London1860. In 1866 settled in Holland Park Road near G. F. Watts. Chief works in sculpture include: Athlete and Python, The Sluggard and Needless Alarms. Like Holman Hunt and Watts, Leighton made small models to assist him in the composition of certain pictures, e.g. The Daphnephoria.
A.R.A., 1864, R.A. 1868, P.R.A. 1878, subsequently knighted. Created Baronet 1886 and Baron (under the title Lord Leighton of Stretton), 1896. [British Sculpture 1850-1914, p. 27.]
Miscellaneous
Sculpture
Medals
Paintings and drawings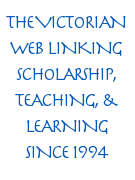 Book Illustrations
Bibliography
Beattie, Susan. The New Sculpture. New Haven: Yale University Press, 1983.
British Sculpture 1850-1914. A loan exhibition of sculpture and medals sponsored by The Victorian Society. London: Fine Art Society, 1968.
Ormond, Léonie and Richard. Lord Leighton. New Haven: Yale University Press, 1975.
Newall, Christopher. The Art of Lord Leighton. London: Phaidon, 1990.
Wood, Christopher. Olympian Dreamers: Victorian Classical Painters. London: Constable, 1983.
---
Last modified 14 April 2021