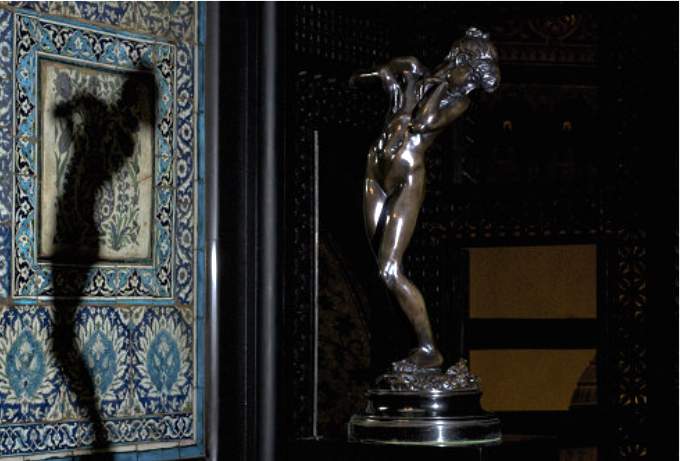 Needless Alarms by Frederic Lord Leighton, P. R. A. (1830-1896). c. 1877. Bronze, rich dark brown patination on original ebonised wood socle, 19 3/4 inches (50.2 cm.); with base 23 inches (58.4 cm.) including base. Inscribed "Pubd" by Arthur L. Collie / 39B Old Bond Street / London, November 11 1897." Collection: Leighton House Museum.
"After his large-scale sculptures Athlete Struggling with a Python and The Sluggard, Needless Alarms is Leighton's third and most unusual sculpture but which which had a remarkable influence on young contemporary sculptors such as Onslow Ford and Goscombe John. The New Sculptors enjoyed experimenting with the youthful naked form in strong contraposto, twisting around something in fright or shock. Needless Alarms may have been the first of these experiments. Another is Henry Pegram's The Bather of 1895, while the supreme example is Gilbert's Comedy and Tragedy." — Sir Alfred Gilbert and the New Sculpture, 74
Bibliography
Beattie, Susan. The New Sculpture. New Haven: Yale University Press, 1983. Pp. 175, 199 (another cast illustrated).
Bowman, Robert. Sir Alfred Gilbert and the New Sculpture. London: The Fine Art Society, 2008. Pp. 70-71.
Robert Bowman and the Fine Art Society, London, have most generously given their permission to use information, images, and text from Sir Alfred Gilbert and the New Sculpture in the Victorian Web. Copyright on text and images from their catalogues remains, of course, with them. [GPL]
British Sculpture 1850-1914. A loan exhibition of sculpture and medals sponsored by The Victorian Society. London: Fine Art Society, 1968. no. 101.
Ormond, Léonie and Richard. Lord Leighton. New Haven: Yale University Press, 1975.
---
Last modified 7 June 2008