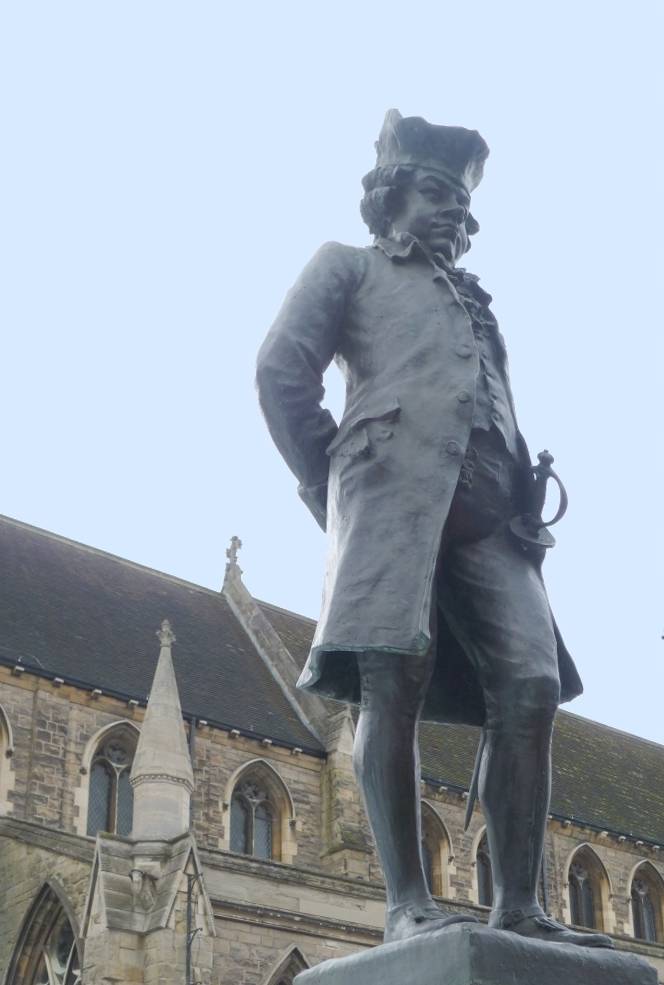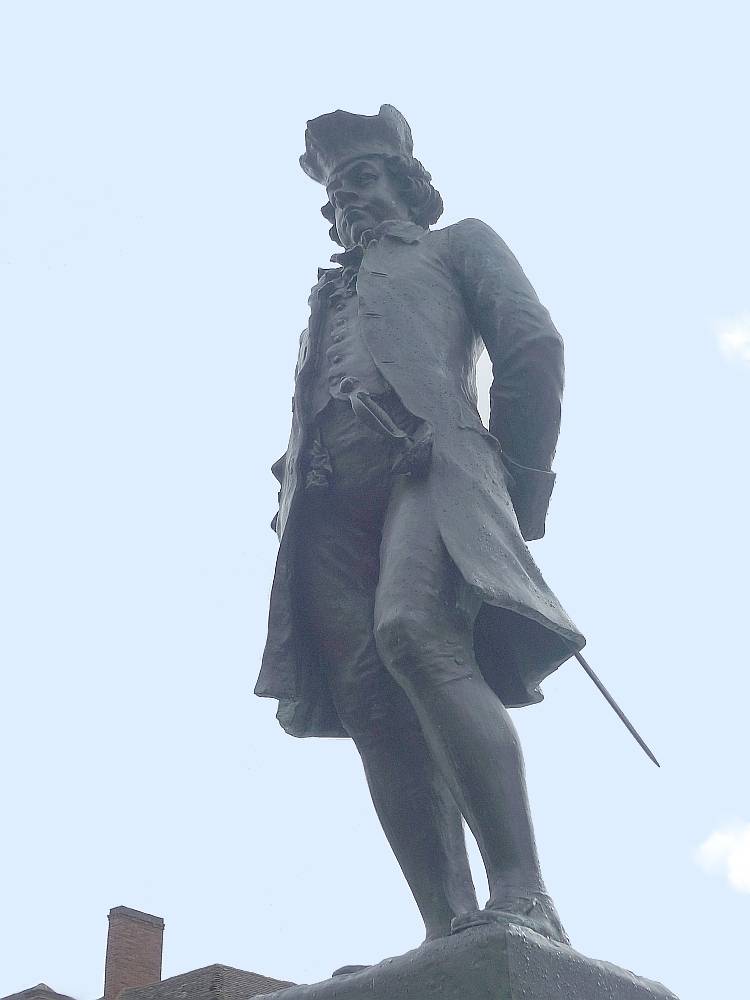 Boswell (1740-1795)" by Percy Hetherington Fitzgerald (1834-1925). 1908. Market Place, Lichfield, Staffordshire.The more than life-size bronze figure shows a jaunty, fashionably dressed Boswell, sword at his side. He stands on a black marble base with a Portland stone plinth, with three bronze reliefs showing him with Johnson in scenes from their friendship: travelling together in the Hebrides; "At the Club" — being introduced" by Johnson to the Literary Club in London, and "At Three Crowns" — dining with him at the Three Crowns Inn in Lichfield, during his visit there (see Noszlopy and Waterhouse 85-86). Boswell's name and dates are inscribed on the front, along with the family crest. There are also portrait medallions as a frieze, showing his contemporaries, Boswell, Garrick and Burke. On the east side there is a medallion of Reynolds, and Mrs Thrale appears on the west side.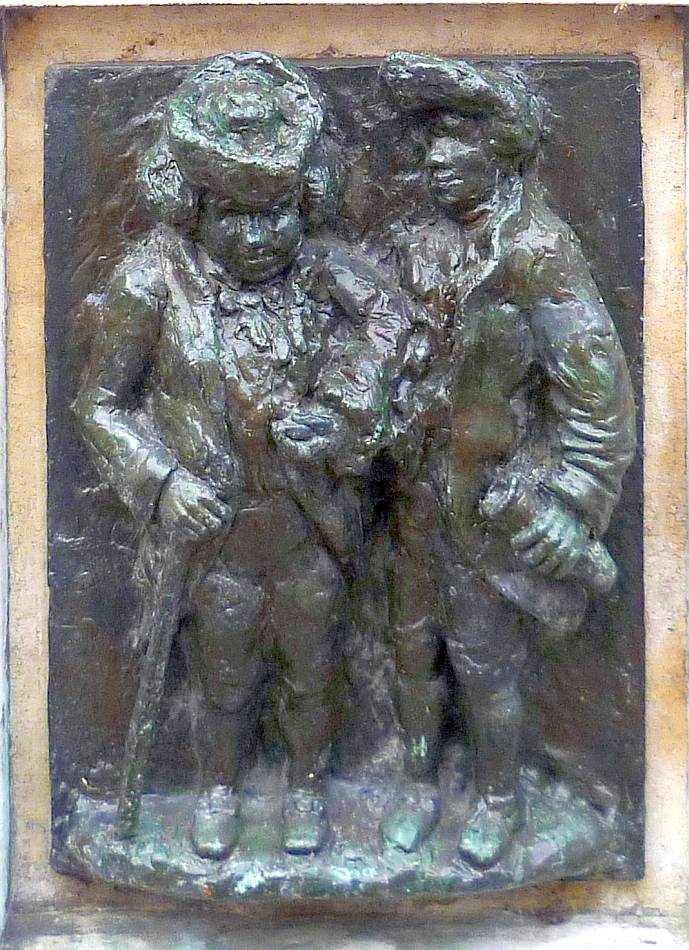 Boswell and Dr Johnson, travelling companions in the Hebrides. The bronze panel on the front (north) side of the monument has Boswell's dates either side, 1740 / 1795.
At first, there may seem to be something of a caricature about this likeness of Boswell, but perhaps this is appropriate enough. On the occasion of the bi-centenary of Dr Johnson's birth, a year after this statue was unveiled, Dr Roseberry commented in his address,
He [Boswell] is universally acknowledged as the prince of all biographers, chief in a department of literature which is perhaps the most popular and appreciated of all. And yet until last year, so far as I know, there existed no memorial, no bust, no statue of him anywhere, whereas second-rate poets, third-rate statesmen, fourth-rate soldiers would have their effigies in suitable places. This was not from want of recognition, but from the complexity of his character. On one side of him he was the most preposterous of human beings, of an eccentricity which partook of insanity, but which was always grotesque. In his youth he aimed only at notoriety, and was content to exhibit himself in any capacity so long as he could obtain attention. In his intimate correspondence with his bosom friend Temple he displays a childish vanity, a volatile self-sufficiency, a total insensibility to ridicule which makes the collection some of the most amusing reading on record, until it ends in piteousness and tragedy. And yet all this time he must have had the root of the matter in him. Such a biographer as he is, is born, not made. And so we realize him as a strange compound of incredible vanity, fatuity, and absurdity, in which, as precious and unexpected as radium, is amalgamated enough of genius to leaven and redeem the whole. (qtd. in Raby 37).
After all, then, Fitzgerald seems to have reflected the character of Boswell quite accurately in this jaunty likeness.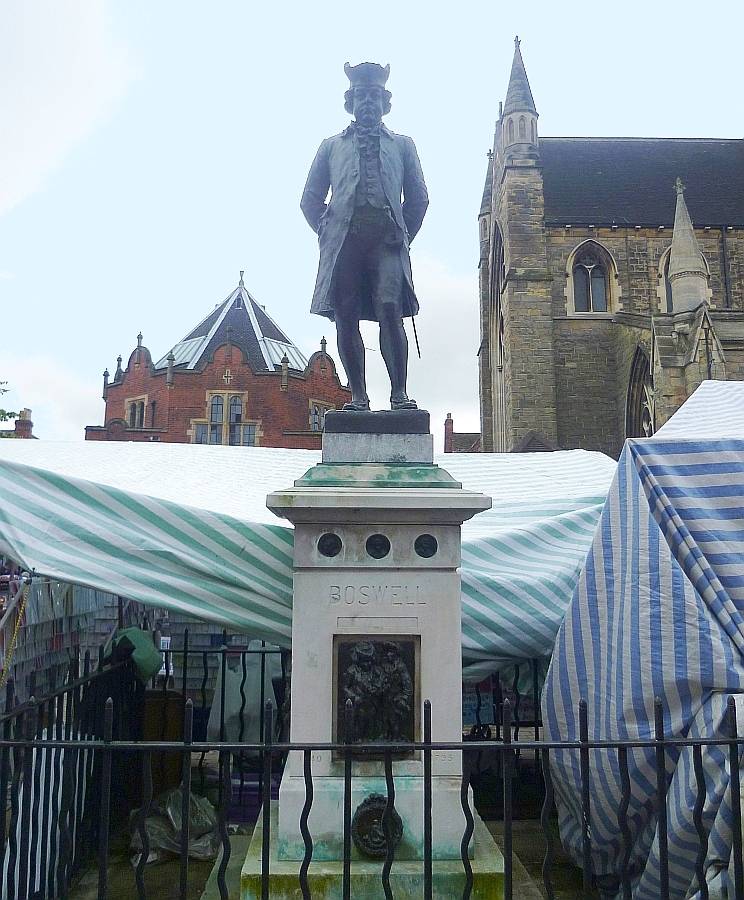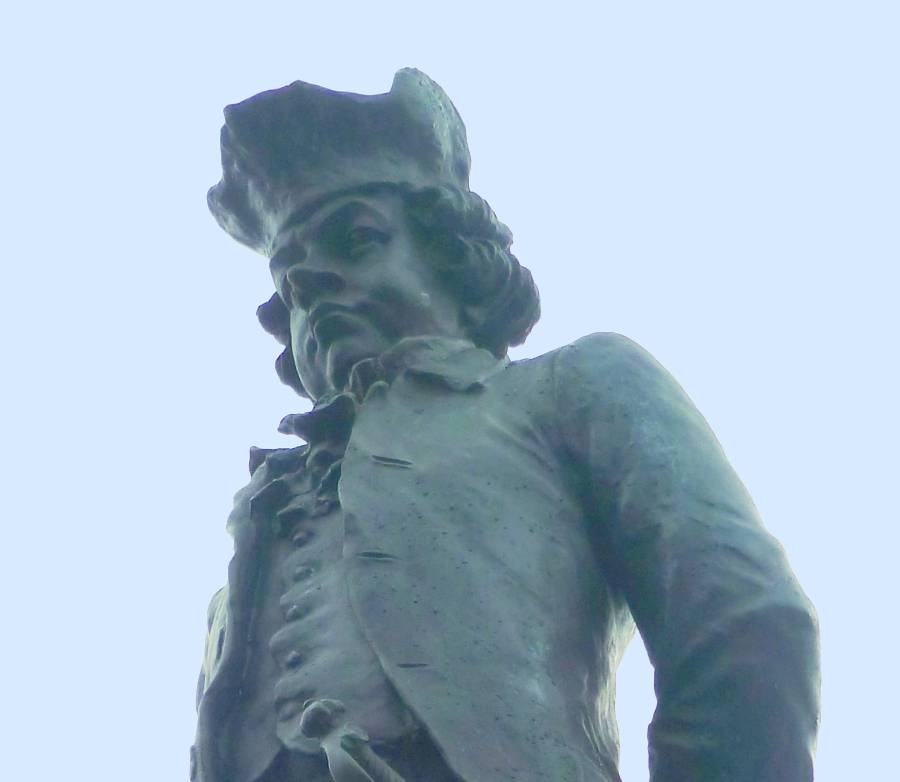 Left: Whole statue. Right: Closer view of Boswell's face.
Boswell is shown in contemporary costume, looking rather comical in a crown-like hat and with a turned-up nose. Fitzgerald, a friend of Dickens, was multi-talented: a writer as well as a sculptor, he had written a biography of Boswell, and was well qualified to catch his subject's essence. The inscription on the rear or south side reads: THE WORK/ OF/ PERCY FITZGERLAD M.A. F.S.A./ BIOGRAPHER OF BOSWELL/ ALSO EDITOR OF BOSWELL'S JOHNSON/ PRESENTED" by HIM/ TO/ THE CITY OF LICHFIELD/ W.R.COLERIDGE-ROBERTS. MAYOR/ HERBERT RUSSELL TOWN CLERK/ 1908. Fitzgerald was also responsible for the equally quirky statue of Johnson behind St Clement Danes Church in the Strand, London, unveiled in 1910 (see Bullus and Asprey 70).
Related Material
Photographs and formatting by the author, 2012. [You may use these images without prior permission for any scholarly or educational purpose as long as you (1) credit the photographer and (2) link your document to this URL in a web document or cite the Victorian Web in a print one. Click on the images for larger pictures.]
Bibliography
Bullus, Claire, and Ronald Asprey. Statues of London. With Photographs by Dennis Gilbert. London &amp: New York, Merrell, 2009. Print.
"Boswell Statue, Lichfield". British Listed Buildings. Web. 19 September 2012.
"Monument to James Boswell, 1745-1795." National Recording Project (PMSA database). Web. 19 September 2012.
Noszlopy, George T., and Fiona Waterhouse. Public Sculpture of Staffordshire and the Black Country. Liverpool: Liverpool University Press, 2005. Print.
Raby, Joseph Thomas. Bi-Centenary of the Birth of Dr. Samuel Johnson. J & C. Mort, 1908. Internet Archive. Web. 19 September 2012.
---
Last modified 29 January 2020