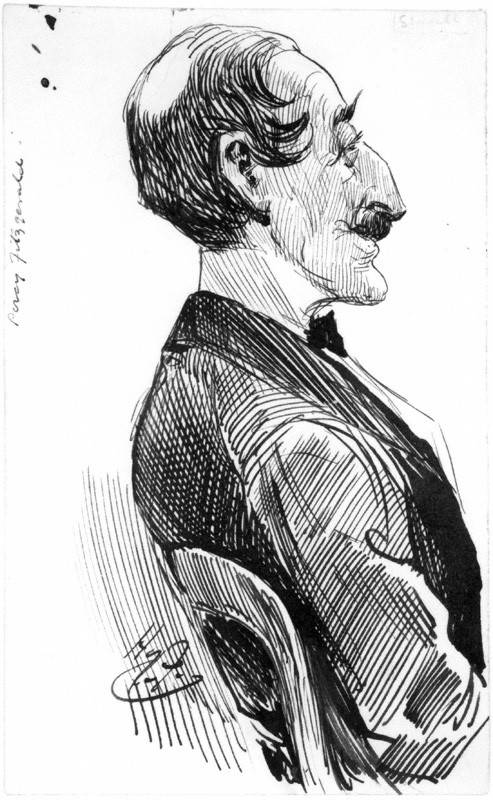 Harry Furniss's caricature of Fitzgerald, 1880s-1900s, © copyright, National Portrait Gallery, London, and licensed for reuse under this Creative Commons Licence. Click on the image for a larger picture.
Percy Hetherington Fitzgerald (1834-1925) was a man of many talents. Of Irish birth, he was educated at Stonyhurst College in Lancashire, and Trinity College, Dublin. In his professional life as a barrister, he rose to become crown prosecutor on the north-eastern circuit in Ireland. But he left his legal career, and was soon better known as an author: Dickens's biographer John Forster encouraged him to write, introducing him to Dickens in 1856. This is how Fitzgerald himself remembered it:
I was plodding on contentedly at the Bar without getting "no forrarder," with slender meagre prospects, but with a hankering after "writing," when I came to read [Forster's] Life of Goldsmith ... which filled me with admiration. The author was at the moment gathering materials for his Life of Swift, when it occurred to me that I might be useful to him in getting up all the local Swiftian relics, traditions, etc. I set to work, obtained them, made the sketches, and sent them to him in a batch. He was supremely grateful, and never forgot the volunteered trifling service. To it I owe a host of literary friends and acquaintance with the "great guns," Dickens, Carlyle, and the rest; and when I ventured to try my prentice pen, it was Forster who took personal charge of the venture. (11)
By the time of his death, Fitzgerald had "some 200 published volumes to his name" (Sutherland 227), including novels, histories and biographies. He wrote some plays as well, and was a reviewer and editor. Among his many shorter pieces was the Foreword to Dickens's Dream Children (1895) by Mary Angela Dickens and others.
Fitzgerald was also an artist, illustrator, and sculptor. In the latter capacity, he was responsible for the quirky statues of James Boswell in Lichfield, and Dr. Johnson, in the Strand. On the former, he describes himself in the inscription as "Biographer of Boswell and editor of Boswell's Johnson." Both statues were his own gifts, and he unveiled the Johnson statue himself after Edward VII's death caused the original date for the unveiling to be postponed (see Baker 84). Fitzgerald also produced, amongst others, the bust of Dickens that can still be seen in the Pump Room at Bath, and in the courtyard of the Prudential Assurance building, Holborn, London; and a bust of Charles Reade, the plaster cast of which is in the National Portrait Gallery. — Jacqueline Banerjee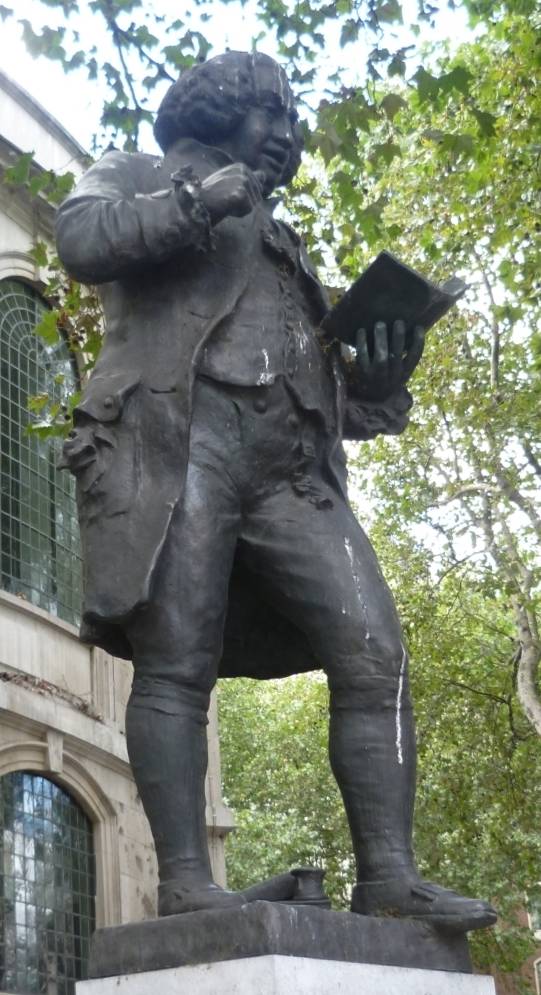 Works
Bibliography
Baker, Margaret. London Statues and Monuments. 4th ed. London: Shire, 1995. Print.
Bullus, Claire, and Ronald Asprey. The Statues of London. London & New York, Merrell, 2009. Print.
Fitzgerald, Percy Hetherington. John Forster, 1812-1876. London: Chapman & Hall, 1903. Internet Archive. Web. 22 September 2012.
Sutherland, John, The Longman Companion to Victorian Fiction. London: Longman, 1990. Print.
Weinreb, Ben, et al. The London Encyclopaedia. 3rd ed. London: Macmillan, 2008. Prinbt.
---
Last modified 22 September 2012