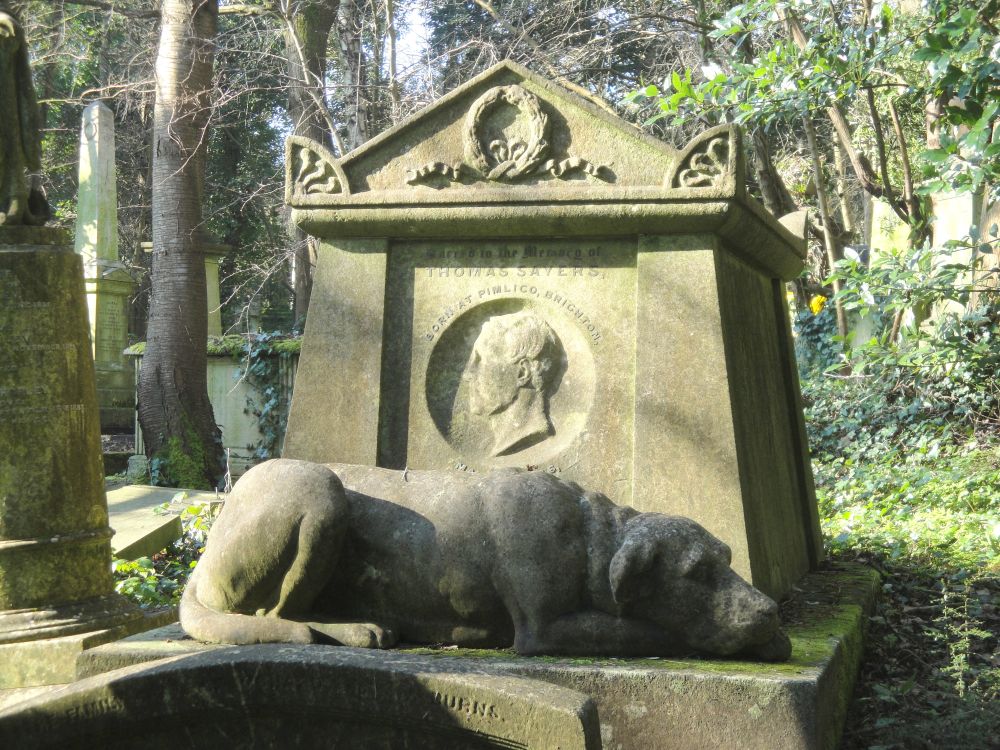 Monument to the famous Victorian bare-knuckle boxer, Thomas Sayers (1826-1865). This Grade II listed marble structure is considered "one of the jewels of London's best-known necropolis" (Sweet). It has a pedimented tomb-chest with ornamental edges to the corners of the sloping "roof" and a pedimental relief depicting a beribboned wreath. Below that is a portrait medallion of Sayers. In front rests a life-size sculpture of Sayers's loyal and much-loved dog Lion, keeping guard over his master's grave. Peaceful as it all seems now, according to a breathless and disapproving account in Lloyd's Weekly Newspaper, thirty-nine-year-old Sayers was buried in 1865 amid extraordinary scenes of "irredeemable blackguardism, brutal levity, and barbaric ferocity" the like of which surely "never disgraced the hallowed precincts of that most hallowed of spots — an English graveyard" before. The grave is in the Western part of Highgate Cemetery, Swain's Lane, London N.6. [Click on this and the following images for larger pictures.]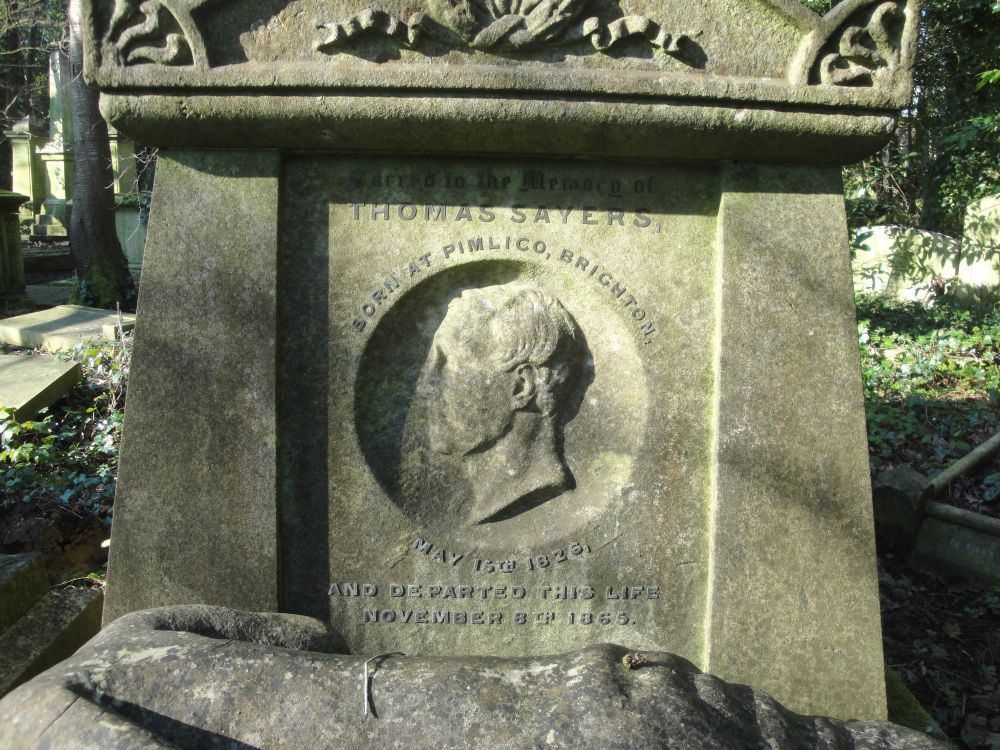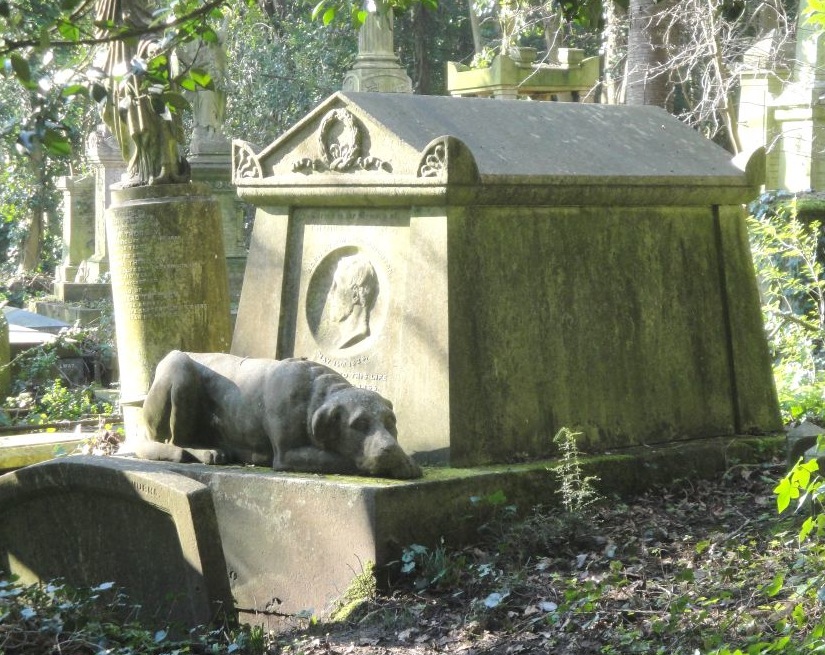 The funeral of Thomas Sayers, the last of the bare-knuckle prizefighters, was sure to attract crowds. He had been hugely popular in his lifetime, having vanquished many a more formidable-looking opponent in a career lasting over ten years. He had, famously, only lost one of his sixteen big contests, and drawn (though questionably) the last one, over the American champion, John Camel Heenan, in April 1860. That had been a a great event: "Parliament shortened its hours in order to allow MPs to attend; Queen Victoria asked to be informed of the result. Thackeray [always game for a show] was there to watch the fists fly" (Sweet).
The funeral procession on 15 November 1865 had passed" by closed shops and milling crowds, with people dressed in anything but black, and all trying to get a glimpse of the carriage. The coffin was followed, in "the well-known gig of the deceased," by Sayers's dog, "whose familiar face stood high above the apron." Behind this "chief mourner" came a motley line of other vehicles of all descriptions. The dog, with "a band of crape" around his neck, behaved impeccably. Not so the other spectators at the cemetery, who "danced and screamed, yelled and hooted, whistled and shrieked, like demons...." As many as 10,000 turned up for the burial, rushing ahead to the top of the hill where it was to take place, swarming into the trees for a view, breaking branches, damaging tombstones and the railings round the graves, and generally causing mayhem. Order was restored in time for the burial itself to take place in a decent, orderly fashion, the police having been "throughout ... obliging and good-tempered under some very trying circumstances" ("Funeral of Tom Sayers").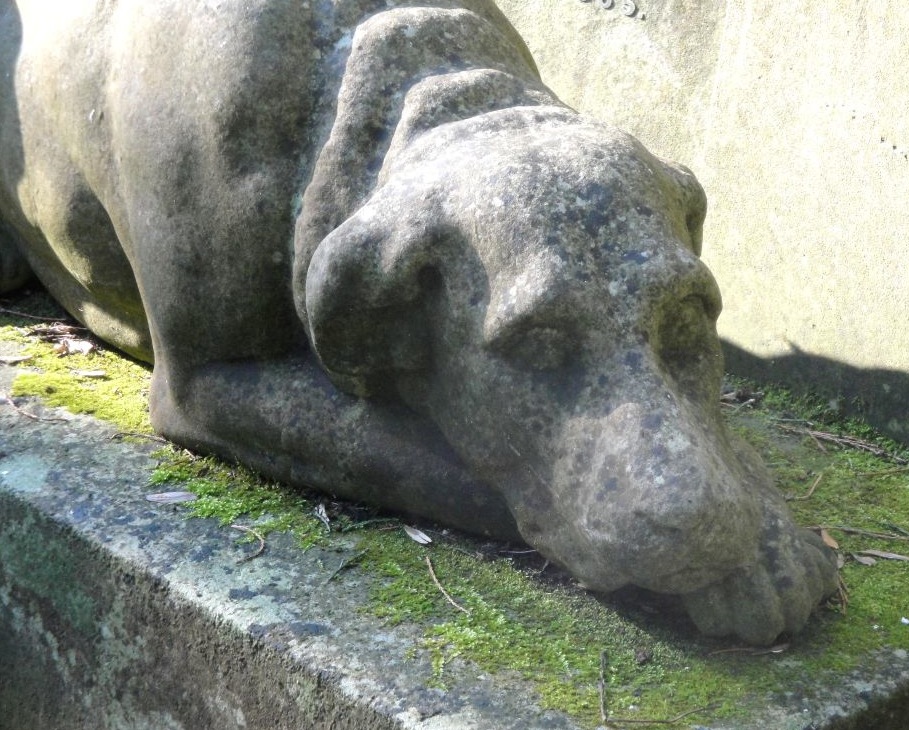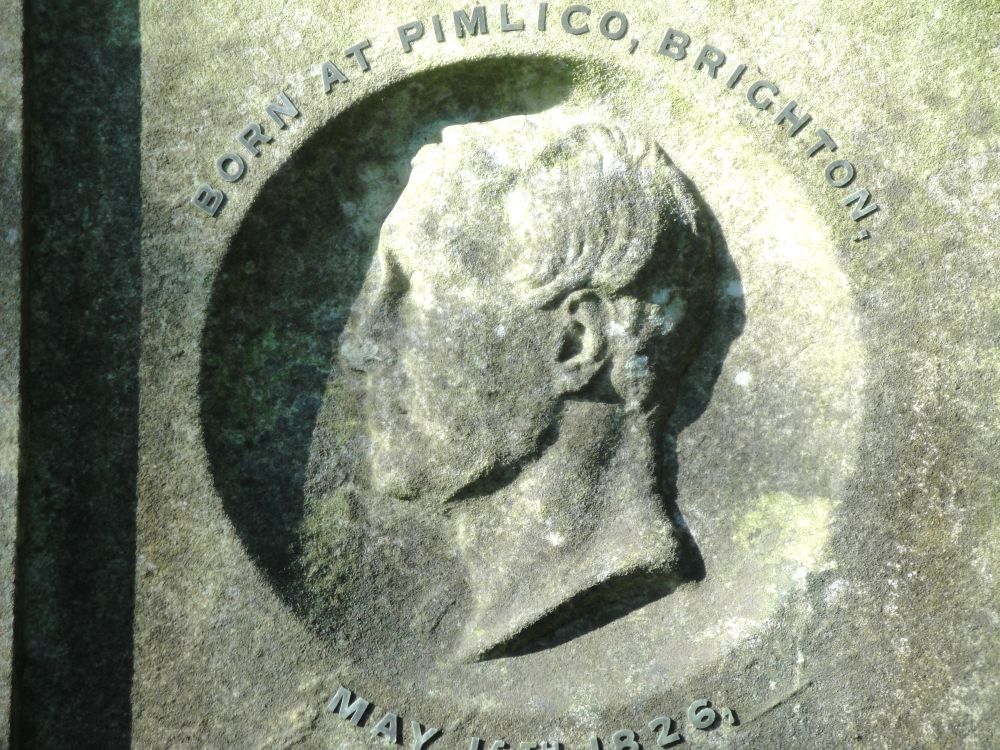 In our own times, too, Sayers is considered one of the great English boxers, a "skilful pugilist who struck stiff blows and was tough and game"; he was "inducted into the Ring Boxing Hall of Fame in 1954 and the International Boxing Hall of Fame in 1990" ("Tom Sayers").
Photographs by Robert Freidus, reproduced here by kind permission of Highgate Cemetery. Formatting by the author. [See the index for the cemetery for many more views of the cemetery and its monuments.]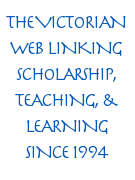 Related Material
Bibliography
"The Funeral of Tom Sayers." Lloyd's Weekly Newspaper. 19 November 1865. 19th Century British Newspapers. Web. 23 May 2014.
Sweet, Matthew. "Statues and Plaques: Lest we forget." Independent on Sunday. 16 January 2005. "Lifestyle," p. 3. Gale Document no. A127141120. Web. 23 May 2014.
"Tom Sayers (the 'Brighton Boy')". Cyber Boxing Zone. Web. 23 May 2014.
"Tomb of Thomas Sayers in Highgate (Western) Cemetery, Camden." British Listed Buildings. Web. 23 May 2014.
---
Last modified 23 May 2014