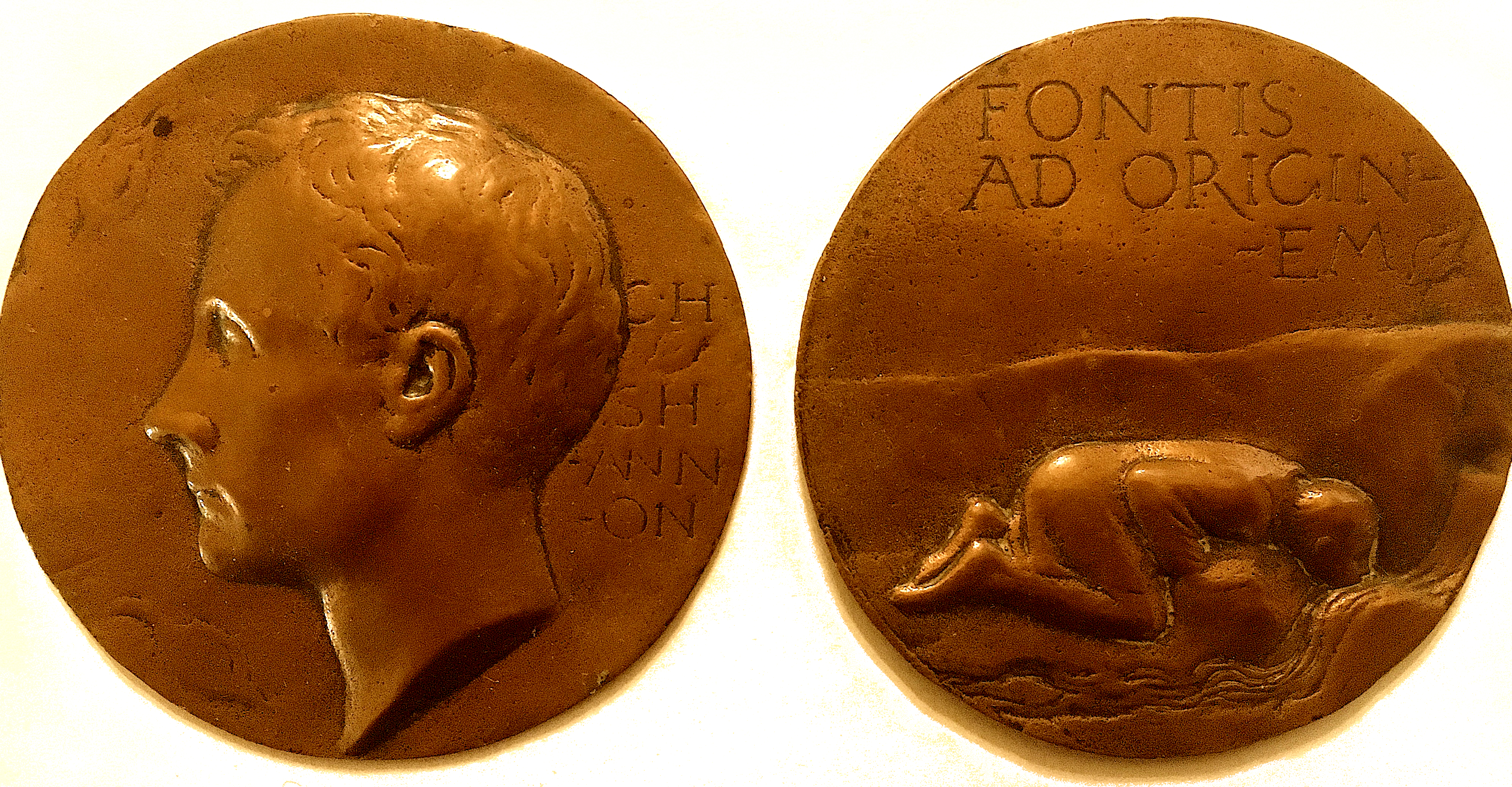 Charles Shannon. Two-sided bronze medallion, c.1892. Diameter 2 ¾ inches (7.0 cm). The verso of the medal shows a figure drinking at a spring and is inscribed FONTIS AD ORIGIN-EM. Click on image to enlarge it.
Charles Shannon (1863-1937) and Charles Ricketts (1866-1931) met as fellow students in 1882 at the Lambeth School of Art, Miller's Lane. The two subsequently became life-long partners. They admired and befriended the older artist Legros. Legros's medal of Shannon was shown at the first exhibition of the Society of Medallists held in 1892, cat. no. 2. In 1898 the Society of Medallists was reformed with Legros as its president. Shannon served on its committee and Ricketts was also a member. It is therefore not surprising that Legros would execute medals of both his valued younger colleagues and close friends. In 1897 Legros made a medal of Ricketts with an image of a woodcutter on the reverse. Both the medals of Ricketts and Shannon were exhibited together, along with others, in 1898 (Pall Mall Gazette, 47). The cast bronze medal of Shannon was reproduced in The Studio Magazine, Vol. XIII, in 1898 on page 262.
A Catalogue of Mr. Shannon's Lithographs with Prefatory Note by Ricketts was issued by the Vale Press in 1902. The book had a wood engraved portrait of Shannon by Ricketts as a frontispiece after the medal by Legros. Although Shannon apparently liked his image on the Legros medal, Ricketts thought it a little dull or quiet and so reworked the portrait somewhat for his wood engraving. In this portrait Shannon looks a bit older with a more stern expression. In 1904 Ricketts, Shannon and Legros were part of a group that formed the Society of Twelve, a small group of draughtsman, etchers, wood-engravers and lithographers. Legros also did portrait drawings of both artists.
Links to Related Material
An example of the bronze medal of Shannon is in the Musée d'Orsay, Paris, and another is in a private Canadian collection.
Bibliography
>Pall Mall Gazette XIV, (February 7, 1898): 47.
---
Last modified 14 November 2022