Introduction
Belfast-born Patrick McDowell (sometimes spelt MacDowell) was a neo-classical sculptor of the early- and mid-Victorian period. Largely self-taught, he achieved prominence in his own times, though he is now chiefly remembered for the Europe group at the Albert Memorial, which earns a full-page illustration in Benedict Read's Victorian Sculpture (fig.199).
Having lost his father in infancy, McDowell had to struggle to develop his artistic talents. His first schoolmaster was an engraver, who noted his ability and lent him prints to copy, but when he was twelve, his mother moved to England. Here he completed his schooling under a Hampshire clergyman, and was then apprenticed to a coach-maker in London, only to have his indentures cancelled when his master became bankrupt. Then, crucially, he took lodgings in the house of a French sculptor, Peter Francis Chenu, spending his free time sketching the casts in his studio, and trying his hand at modelling. At length, he "attempted to make a reduced copy of a 'Venus,'" by Donatelli, which he showed to Chenu, who was so pleased with it that he bought it from him. Thus encouraged, he persevered, and made other models for which he also found purchasers" (Sandby 195). In 1830 he finally became a student at the Royal Academy Schools.
Subsequently, he won the patronage of a widow for whose husband he had modelled a public monument (even though the monument was never executed), and began to get commissions and exhibit at the Royal Academy. His first ideal work was from Thomas Moore's poem, The Loves of the Angels, and a later work, a model of A Girl Reading, was exhibited in 1837. This attracted the attention of a new patron — Sir J. E. Tennent, who also came from Belfast. Tennent not only commissioned a bust of himself and another of his wife, but introduced him to another important patron, Mr. W. T. Beaumont, M.P. for Northamptonshire. For Beaumont, McDowell executed A Girl Reading in marble. The marble figure was much admired and a copy was made for the Earl of Ellesmere. Other works in this period include the marble group Procris and Cephalus (1834) at Markree Castle, Co. Sligo (see "MacDowell, Patrick" for this and other works in Ireland) and A Girl Going to the Bath (1840).
In 1841 McDowell was elected an Associate of the Royal Academy, making it clear in an autobiographical piece in the Art Journal in 1850 that he was elected entirely on merit and not because of any connections to its members. Beaumont now encouraged him to spend eight months in Rome at his expense. Subsequently, in 1846, he became a full member of the R.A. Among many later works were the marble A Girl at Prayer for Beaumont, exhibited in 1842; a statue of Viscount Exmouth for the former Greenwich Hospital (1846, the year in which he attained the rank of R.A.); statues of Georges Cuvier and Linnaeus for the former University of London building behind the Royal Academy; statues in bronze for the House of Lords of Waryn, Earl of Pembroke, and Almeric (Master of the Knights-Templars in England, and party to the Magna Carta); and statues in marble for St. Stephen's Hall at the Palace of Westminster of the Earl of Chatham (William Pitt the Elder) and his son, Pitt the Younger (see Read 84). He was responsible for many marble busts as well.
McDowell was married. His only son, also called Patrick McDowell, died in 1876 aged 39 ("Births, Marriages, and Deaths").
According to William Sandby:
All [McDowell's] works evince careful study, and are executed in so masterly a style as to leave no traces of their author being a self-taught artist. Grace of form, and characteristic expression of the particular sentiment he desires to impart, are found in all his impersonations of female beauty; and his male figures, if not always so striking and vigorous, are nevertheless of great excellence..... His busts are truthful and simple portraits, carefully and artistically executed. His mind is thoroughly imbued with the graces of Greek sculpture; and while he is an exquisite modeller, he throws over all his works an elevated feeling of chastity and refinement. (197)
Sandby's account was written while McDowell was still living, and before his last and deservedly most acclaimed work, for the Albert Memorial — Jacqueline Banerjee.
Note
McDowell is listed amongst the sculptors whose painted maquettes for the six-foot-tall House of Lords statues have been discovered in basement of Westgate Towers Museum, Canterbury ("Mystery Statues").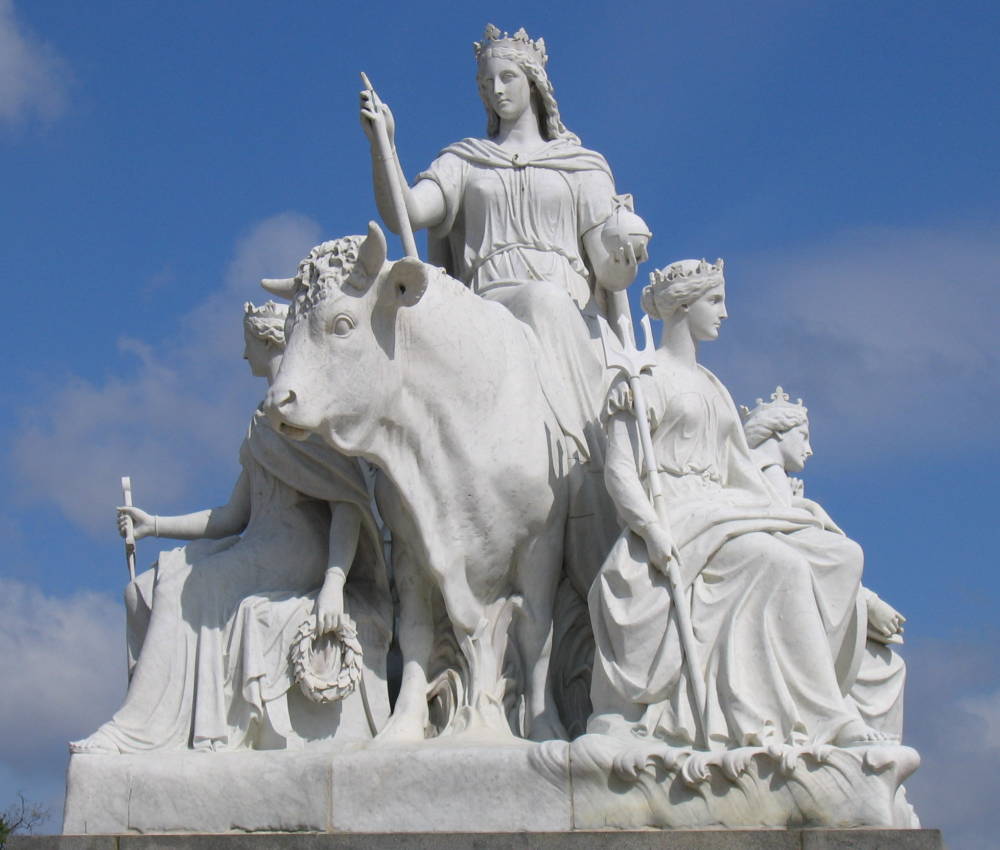 Works
Bibliography
Births, Marriages, and Deaths. Freeman's Journal and Daily Advertiser, Dublin. 22 April 1876. 19c. British Library Newspapers.. Web. 5 October 2011.
"MacDowell, Patrick." Dictionary of Irish Sculptors. Web. 5 October 2011.
"Mystery Statues Found at Canterbury's Westgate Towers Museum." This is Kent. Web. 5 October 2011.
Read, Benedict. Victorian Sculpture. New Haven: Yale University Press, 1982.
Sandby, William. History of the Royal Academy From Its Foundation in 1768 to the Present Time., Vol 2. London: Longman, Green, 1862. Internet Archive. Web. 5 October 2011.
Speel, Bob."Patrick McDowell." Web. 5 October 2011.
---
Created 5 October 2011

Last modified 14 February 2020