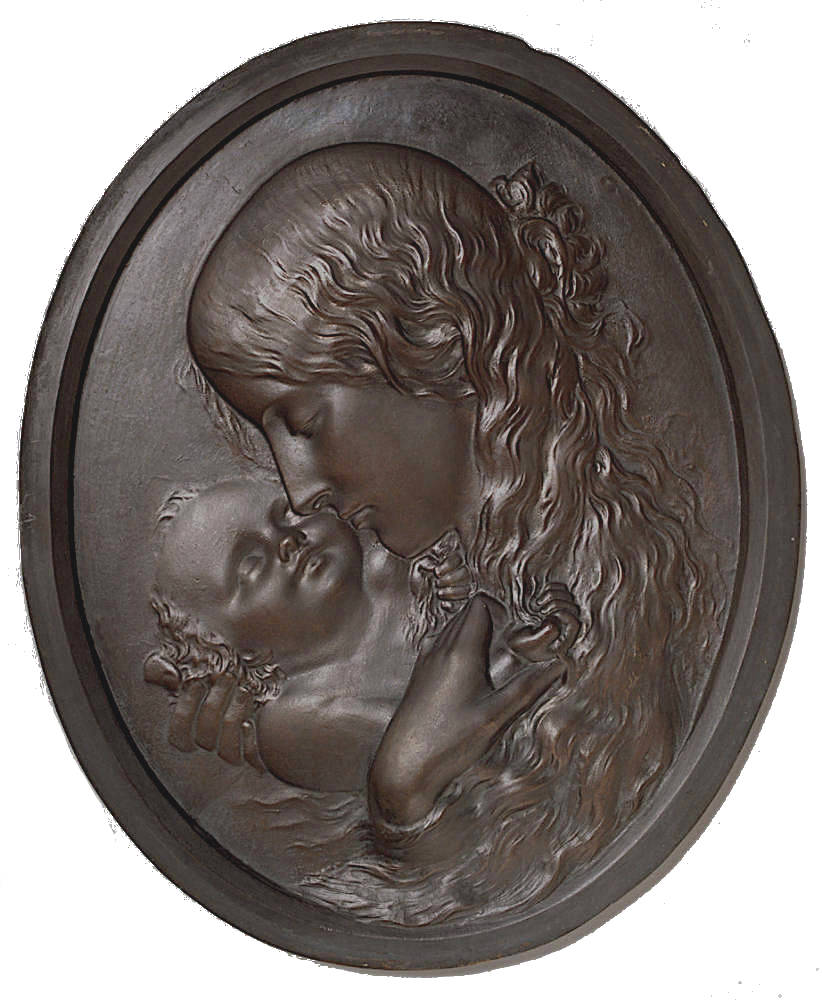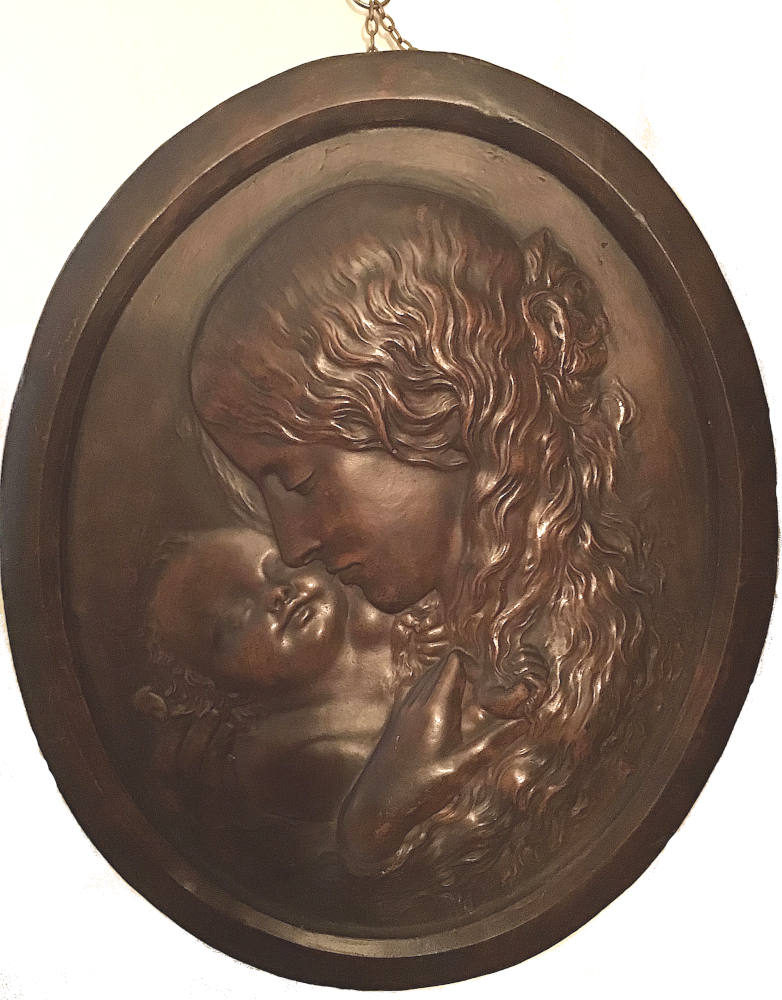 Left: Mother and Child. 1864. Bronze low relief sculpture medallion, 20 ½ inches (52 cm) high. Signed with AM monogram lower right. National Museum of Wales, accession no. NMW A580. Right: Mother and Child. Painted terracotta low relief sculpture medallion. Signed with AM monogram lower right, 20 ½ inches (52.1 cm) high. Private collection. [Click on images to enlarge them.]
Munro was well known for both his high relief and low relief sculptures. There is no doubt that the mother portrayed in this relief is Alexander Munro's wife. On September 30, 1861 Munro had married Mary Carruthers, the daughter of Robert Carruthers who was the owner and editor of the Inverness Courier and the co-editor of Chambers' Cyclopedia. Mary was younger than her husband, having been born in 1834. On February 24, 1864 the first of their two sons, John Arthur Ruskin Munro, was born. The baby was named for Alexander's friends John Ruskin and Arthur Hughes. Katharine Macdonald, Munro's grandaughter, felt that the infant portrayed in this sculpture was her father and not her uncle Henry Acland Munro. John Arthur Ruskin Munro later became Rector of Lincoln College, Oxford, and died in 1944.
In a small photographic album of Alexander Munro's work that has descended in the family other versions of this sculpture are illustrated. The album includes a photograph of a rectangular framed relief of this subject, an oval white plaster or marble version with no surround, and a relief in white marble or plaster in an oval frame. The rectangular framed relief might possibly be the bronze cast now at the National Museum of Wales. Munro's grandaughter Katharine Macdonald owned a version in unpainted red terracotta. The terracotta reliefs were likely executed by Munro's friend, the potter Clement Massier, at his studio in Valluris, France. Massier had been given casts of Munro's earlier works to be reproduced in terracotta or pottery (Macdonald, Pre-Raphaelite Sculpture, 65). It is impossible to know the date of the various casts because Massier likely continued to produce them after Munro's death in 1871. Katherine Macdonald did not think many casts of this subject were made, however. She was uncertain if Munro would have painted casts himself to look like bronze, or even if he would have sanctioned casts being painted in this fashion. Munro also did a marble bust of his wife, c.1861, now in a private collection.
You may use these images without prior permission for any scholarly or educational purpose as long as you (1) credit the photographer and (2) link your document to this URL in a web document or cite the Victorian Web in a print one.
Bibliography
Macdonald, Katharine. "Alexander Munro: Pre-Raphaelite Associate," Eds. Benedict Read, and Joanna Barnes. Pre-Raphaelite Sculpture: Nature and Imagination in British Sculpture 1848-1914. London: Lund Humphries, 1991.
Macdonald, Katharine: personal communication, phone call of October 9, 2005.
---
> Last modified 22 May 2021