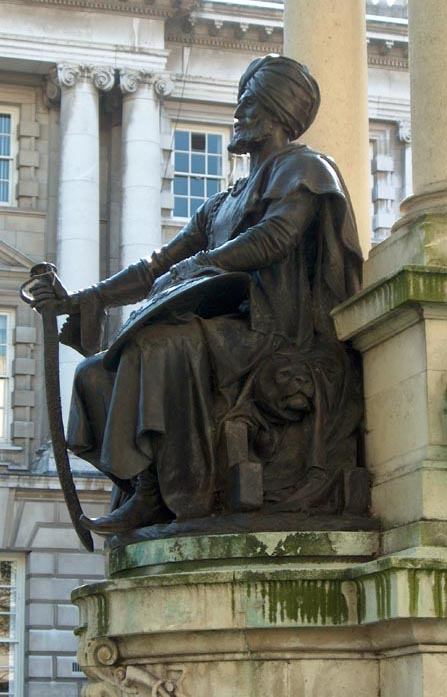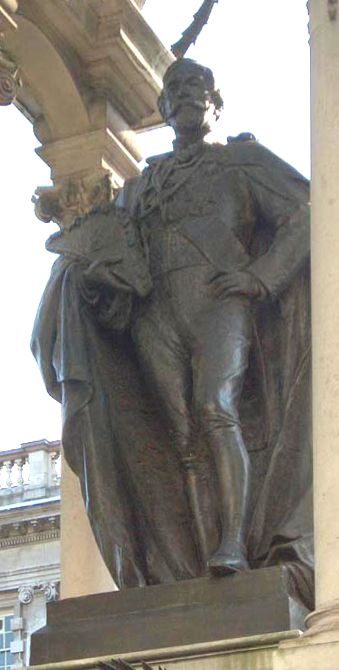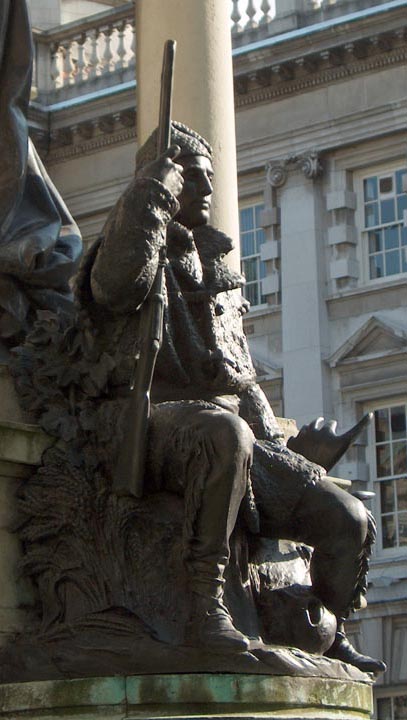 Left: Turbaned warrior representing India. Middle: Lord Dufferin. Right: The Fur-clad Voyageuer representing Canada. [Click on images to enlarge them.]
The bronze and granite Lord Dufferin Memorial, which stands before Belfast's City Hall, Pomeroy pays tribute to the man whom Charles Brett describes as "local baron-made-good" (55) with a monument that represents him "enshrined in a miniature version of City Hall, his guardian figures represent[ing] his posts at either end of the Empire": the turbaned and sabred Indian sits on a cannon while the Canadian voyageur sits on a dead moose. Charles Brett, author of Buildings of Belfast, 1700-1914, points out that that the magnificently self-confident statue of the Marquis "typifies the imperial pretensions of Edwardian Belfast" (Facing 63).
The Most Honourable Frederick Temple Hamilton-Temple-Blackwood, 1st Marquess of Dufferin and Ava, KP, GCB, GCSI, GCMG, GCIE, PC (21 June 1826-12 February 1902) was a British public servant and prominent member of Victorian society. In his youth, he was a popular figure in the court of Queen Victoria , and became well known to the public after publishing a best-selling account of his travels in the North Atlantic. He is now best known as one of the most successful diplomats of his time. His long career in public service began as a commissioner to Syria in 1860, where his skillful diplomacy maintained British interests while preventing France from instituting a client state in Lebanon. After his success in Syria, Lord Dufferin served in the Government of the United Kingdom as the Chancellor of the Duchy of Lancaster and Under-Secretary of State for War. In 1872 he became the third Governor General of Canada, bolstering imperial ties in the early years of the Dominion, and in 1884 he reached the pinnacle of his diplomatic career as eighth Viceroy of India. — Quickseek.com
The name Dufferin is well known to Ontario residents, for scarcely a major city or town in the Canadian province does not have either a "Dufferin Street" or "Dufferin Avenue," owing to his having served as Governor-General of Canada from 1872 to 1878. That his statue is flanked by both a turbaned Indian and a Canadian voyageur reminds us that he also served the British crown as Viceroy of India (1884). Dufferin, who was born in Florence, was not in fact a native of Belfast. He succeeded his father as the fifth baron Dufferin in 1841, was educated at Eton and Oxford, and from 1860 served the British government in various capacities, including under-secretary for India (1864-66) and secretary of war (1866), and chancellor of the Duchy of Lancaster (1868-72).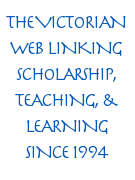 Related Material
Photographs by the author 2006. These images may be used without prior permission for any scholarly or educational purpose as long as (1) credit the photographer and (2) link your document to this URL in a web document or cite the Victorian Web in a print one.
Bibliography
Brett, Charles Edward Bainbridge. Buildings of Belfast, 1700-1914. London: Weidenfeld & Nicolson, [c1967].
"Frederick Hamilton-Temple-Blackwood, 1st Marquess of Dufferin and Ava."Quickseek.com; accessed 6 September 2006.
---
Created 8 September 2006

Last modified 20 February 2020