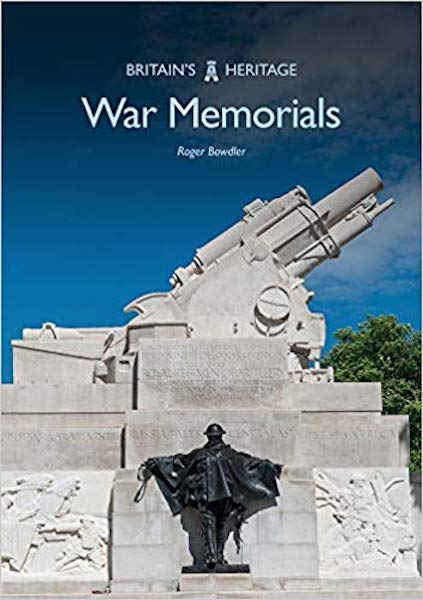 "With proud thanksgiving.... We will remember them," wrote Robert Laurence Binyon (1869-1943), in his poem "For the Fallen" (1914). But he could never have imagined the number and variety of ways in which this remembrance would be marked, in every town and village across the country. Roger Bowdler's slim but informative book, with its numerous and often very moving illustrations, is a memorial in itself. Organised into seven chapters (including the introduction), it ranges from medieval memorials all the way up to the recent, more inclusive monuments of the modern age.
Bowdler makes it clear from the start that the changing focus over the years says as much about our social as our political history. Ancient stones or medieval grave markers honour warriors cut down in the thick of battle, but twenty-first century memorials remember also women who contributed to the war effort, civilians who became casualties of war, deserters shot at dawn, and even the hapless animals drawn into human conflict. Along this route, the emphasis has shifted from mere involvement in battle to military prowess (peaking with the great leaders, Nelson and Wellington), to heroic endeavour, and then again to the widespread suffering caused by war — the common factor in all kinds of remembrance, the pain endured by both the combatant and the bereaved.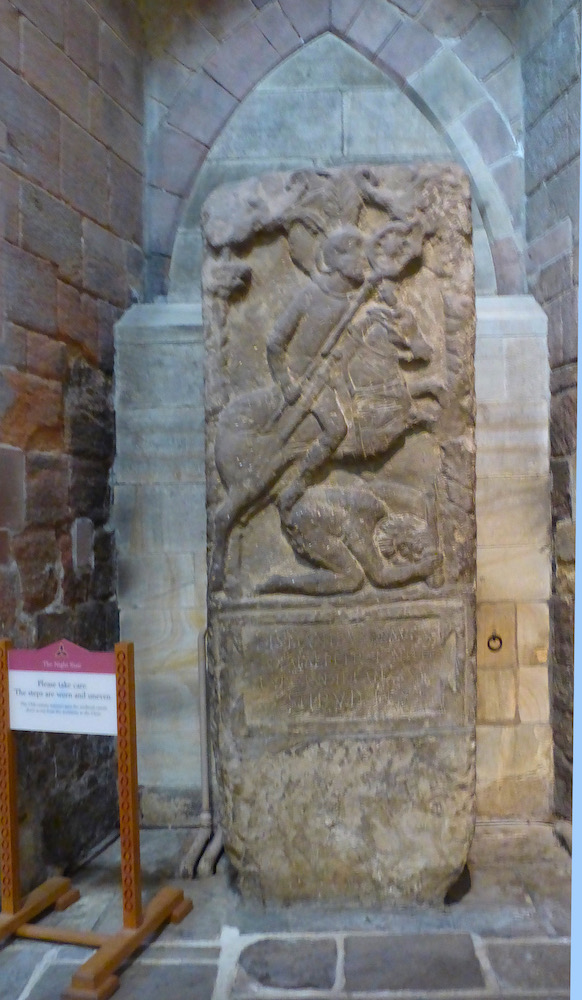 Twelfth-century tombstone of a Roman Standard Bearer called Flavinus, showing him advancing in the heat of battle, rediscovered in 1881, now standing near the door of Hexham Abbey. It is thought to have come from the military cemetery at the fort near Corbridge, on Hadrian's Wall.
The first military monument on these isles, suggests Bowdler in Chapter 2, was the triumphal arch of c. AD 85 at Richborough in Kent, celebrating the Roman conquest. Soon, the names of individual soldiers began to appear on Roman tombstones. The Norman Conquest also inspired memorials, some in the shape of things to come — that is, churches, and effigies inside them. Henry IV supported the building of Battlefield Church in Shrewsbury, for example, so that prayers could be offered for those who died in the Battle of Shrewsbury (1403). Many a church with medieval origins still has its armoured effigies, as indeed do post-Reformation ones, notably Westminster Abbey. The later ones explicitly convey an appreciation of valour. With this development, inscriptions assumed more significance: Bowdler gives the example of the monument in the Abbey to Colonel Popham and his wife. Popham was a naval and army officer on the Parliamentarian side in the Civil War. When his epitaph was removed after the Restoration, along with it went much of his monument's force and meaning.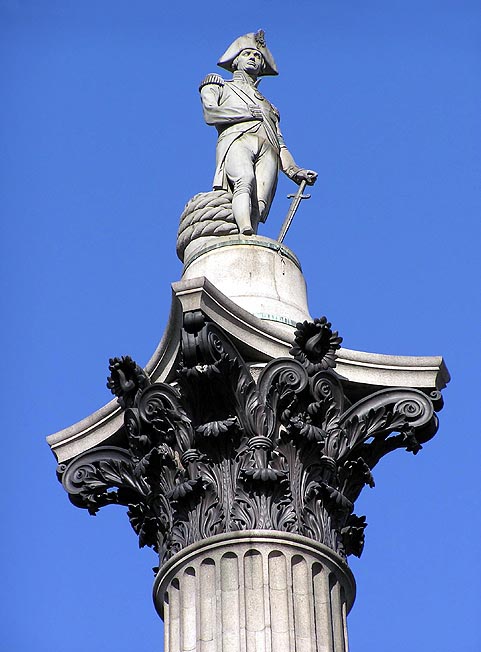 Left to right: (a) The church of St John the Evangelist, the "Waterloo church" opposite Waterloo Station in south London, designed by Francis Octavius Bedford (1822-24). (b) Sir Richard Westmacott's Achilles statue in Hyde Park (1822). (c) E. H. Baily's statue of Nelson, on the column designed by William Railton (1843).
The "Did You Know?" boxes which punctuate Bowdler's text grab attention just as they do in social media. A typical info-bite comes in the next chapter, about the ways of honouring victorious commanders in the eighteenth and early nineteenth centuries. It explains that four so-called "Waterloo Churches" in south London were built for a double purpose — to serve as monuments to the famous victory, and to meet the needs of the expanding population. Unnamed here, the churches are St Matthew's, Brixton; St Mark's, Kennington; St John the Evangelist, Waterloo (shown on the left above); and St Luke's, Norwood. As for sculpture, Sir Richard Westmacott's Achilles statue in Hyde Park, unveiled in honour of Wellington in 1822, is a particularly distinctive example here. But the best-known monument to a celebrated war hero comes just outside the scope of this third chapter ("Admirals and Generals: The Age of the Great Commanders 1700-1840). Nelson's Column in Trafalgar Square, with the Admiral's major victories in relief panels round the base, was only completed in 1843. Sir Edwin Landseer's lions, which proclaim Nelson's courage — and Britishness, of course — at every approach, took even longer to arrive. They were finally installed in 1867.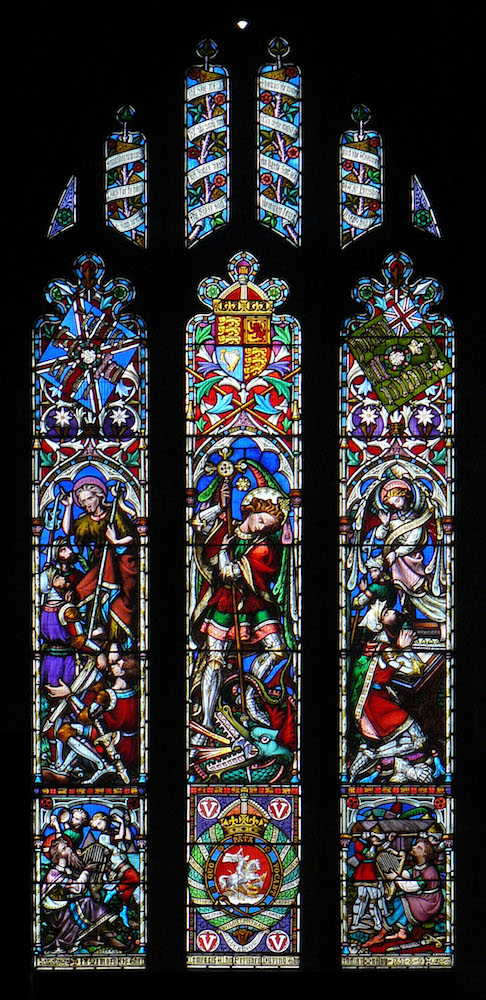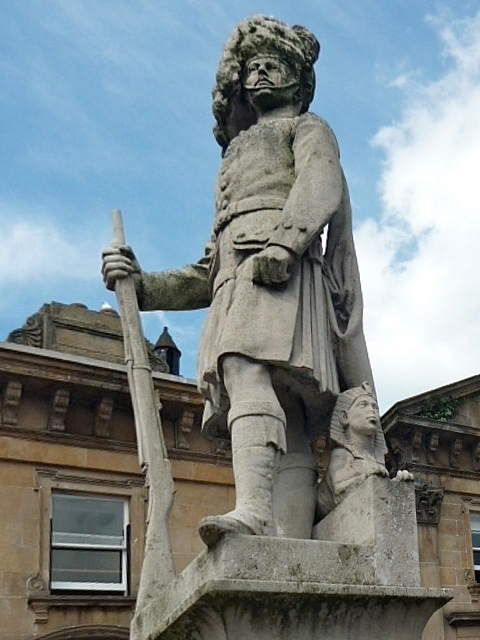 Two nineteenth-century war memorials. Left: "Indian Mutiny" memorial window in Newcastle's St Nicholas Cathedral, by William Wailes (1859). Right: Cameron Highlander War Memorial, Inverness, for those who died in campaigns in Egypt and the Sudan, 1822 to 1887, by George W. Wade (1893).
Now we are into the age of Empire, and the familiar memorials to the Crimean and Boer Wars. Bowdler's choice of illustrations widens appreciably at this point: "It was above all the Second Boer War of 1899-1902 that promoted the emergence of the modern war memorial — a nation-wide series of locally raised monuments to the dead, which named the individual soldiers and sailors who had lost their lives on active service" (27). Examples are drawn from all over the country, and for the first time stained glass memorial windows in churches made an appearance, with an Indian Mutiny memorial window in Newcastle's St Nicholas Cathedral (shown on the far left). How did this new prevalence of war memorials come about? Bowdler's insights are useful. He posits "the ascendancy of nationalism ... a growing popular historical consciousness" as well as "a civic desire to beautify the fast-expanding modern city" (27). He also points out that there was now a closer connection between the civilian and the soldier: as many as 25,000 reservists joined in the war effort. He might have mentioned too the new phenomenon of war reporting, with newspapers and magazines like The Illustrated London News giving vivid, pictorial accounts from the front line.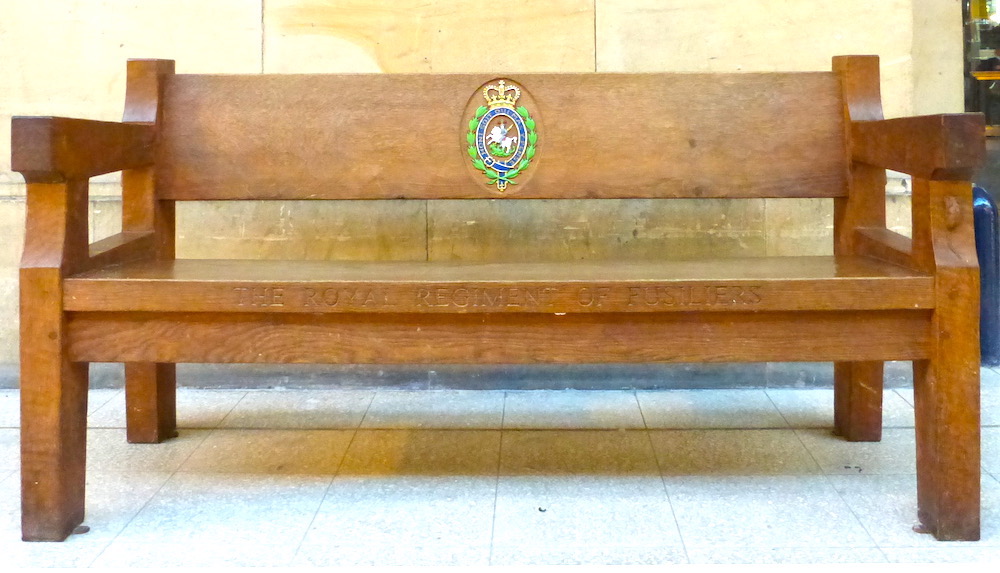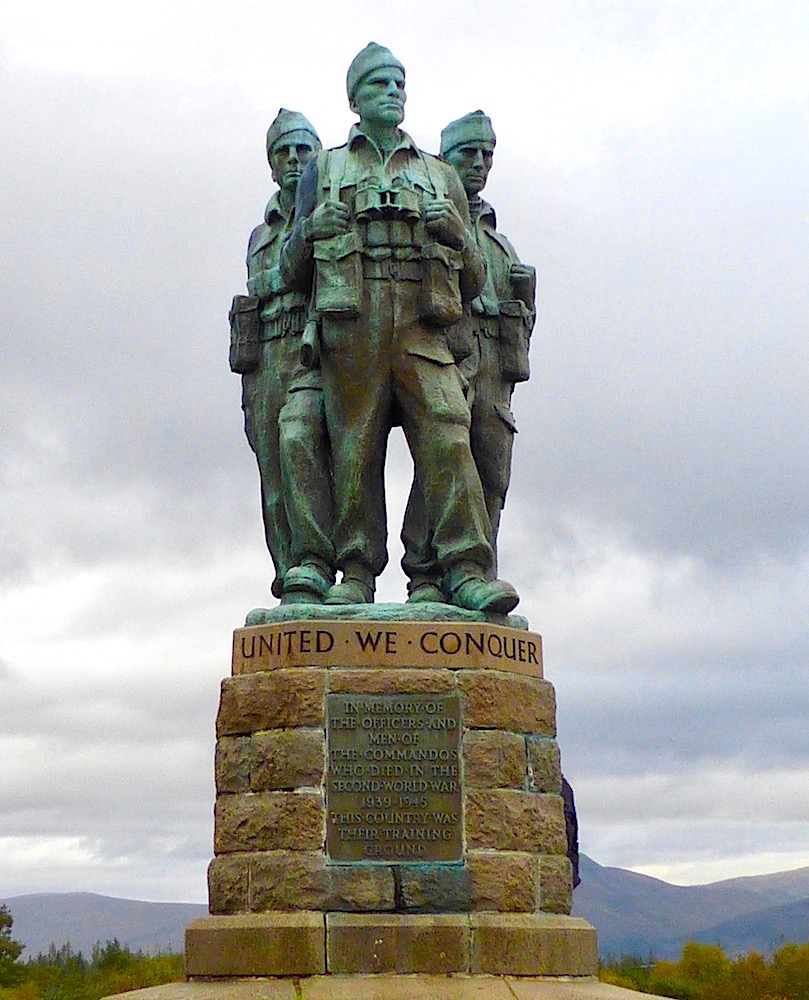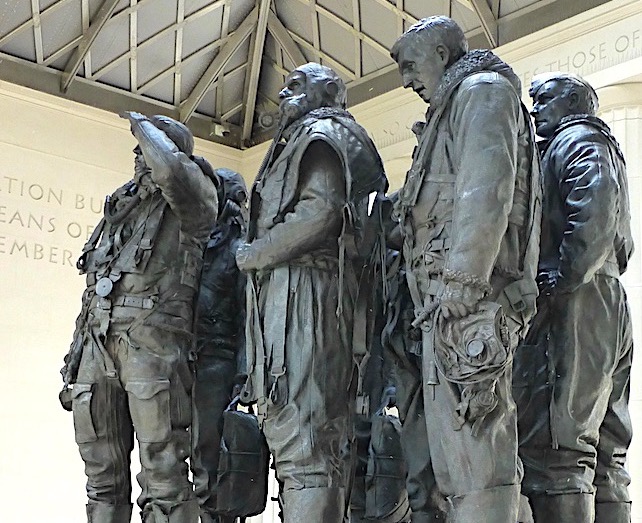 Twenty- and twenty-first century memorials. Left to right: (a) An oak bench at Newcastle Railway Station by Robert Thompson (1876-1955), inscribed "The Royal Regiment of Fusiliers." It can be identified by his trademark mouse "signature," just below the arm-rest on the right. (b) Sean Sutherland's Commando Memorial at Spean Bridge, a landmark in the Scottish Highlands (1952). (c) The bronze figures of a returning aircrew, in the popular Bomber Command Memorial by Philip Jackson (2012).
But, of course, the Great War with its unimaginable losses produced an enormous surge in the number and range of war memorials, from grand city monuments by famous sculptors, often imaginative and highly individualistic, to simple village crosses, no less moving, with inscriptions carrying the names of several members of the same family. Chapter 5 also deals with the setting up of the Imperial War Graves Commission; memorials for cemeteries, schools and companies; regimental memorials; and memorials that took different forms – natural amenities, institutions, stadiums, street names and so on. Names were often added to plaques and inscriptions to include the fallen of the next war. However, there have still been some important new sculptural ones, and Chapter 6 ("Modern Times") includes such landmarks as the two shown above: Sean Sutherland's Commando Memorial at Spean Bridge (1952) — a magnificent sight to come across in the misty Scottish Highlands — and the Bomber Command Memorial at the edge of Green Park beside Hyde Park Corner, unveiled as recently as 2012. In this impressive work, Philip Jackson's bronze figures, an aircrew returning from a mission, stand in a classical portico of Portland stone designed by Liam O'Connor. Their postures and expressions range from alert look-out to weariness, giving a variety of human faces to the heroic type.
Sir George Frampton's monument to Edith Cavill in St Martin's Place, London (unveiled in 1920).
On the whole, and as might be expected from their late entry into the active participation in war, women are under-represented in this body of work. Well-known exceptions are the monuments to George Frampton's Edith Cavill in St Martin's Place, London, and John W. Mills's much more recent monument to the women of World War II in Whitehall (2005): "There are no bodies, only empty garments: a reversal of the muscular heroics which were long a mainstay of the heroic form of monument" (63). As mentioned above, and discussed in Bowdler's last chapter, other categories are being remembered now too, and some have probably still to come. Not mentioned here, the very touching World War II Children Evacuees Memorial, by sculptor and holocaust survivor, Maurice Blik, was unveiled only a couple of years ago, in the National Memorial Arboretum at Alrewas, Staffordshire.
This is not an academic book, so there are no footnotes, bibliography or index. But it is a brilliant introduction to the subject, providing a useful context for, and new ways of looking at, the memorials that we see around us every day — including those designed by the great Victorian and early twentieth-century sculptors. Many more are discussed and illustrated than the ones mentioned in this brief review. Despite its sobering subject, the book's high quality production, with glossy paper, an excellent layout, and numerous high quality illustrations, make it a pleasure to read.
Photo Credits
Apart from the image the book jacket, the those accompanying this review come from our own website or were taken by the present author. Click on them for larger pictures, and sometimes for additional information. [You may use the images without prior permission for any scholarly or educational purpose as long as you (1) credit the photographer and (2) link your document to this URL in a web document or cite it in a print one.]
Book under review
Bowdler, Roger. War Memorials. Stroud, Glos.: Amberley, 2019. 64pp. £8.99. ISBN 978-1-4456-9101-5.
---
Created 20 October 2019