Rupert Hill's pocket guide to London's statuary ticks all the right boxes. It is compact and eminently portable; it is printed on good quality paper; it is well- researched and comprehensive; and it includes works as recent as the 7/7 Memorial in Hyde Park by the architects Carmody Groarke and Philip Jackson's Queen Elizabeth the Queen Mother in Carlton Gardens, both unveiled in 2009.
But do we need another guide to London's statues and monuments? The answer is a resounding "Yes." More than thirty major works have appeared in London in the last ten years, so any book produced before 2002 is bound to be out of date.. The new arrivals fall into three main categories. First, there are those relating to the 1939-45 war, such as the Australian War Memorial (2003) by the Australian architects Tonkin Zulaikha and Greer; Paul Day's Battle of Britain Memorial (2005); and Frank Meisler's Children of the Kindertransport (2006). Not all are great works of art: according to Hill, the Women in War monument by John Mills (2005) resembles "a fossilized and untidy outdoor cloakroom."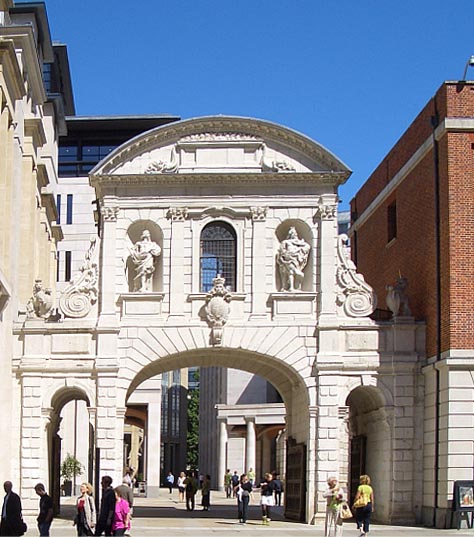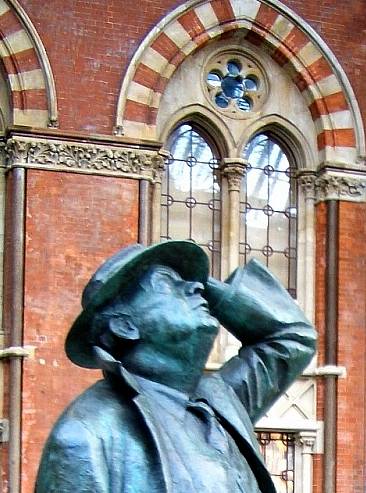 Left to right: (a) Temple Bar, re-erected in Paternoster Square beside St Paul's. (b) Detail of the statue of John Betjeman by Martin Jennings, on the concourse of St. Pancras Sation. [Click on these and other thumbnails for larger images.]
The second group honours individuals, most notably the Princess Diana Memorial Fountain by the American Kathryn Gustafson (2004) described by Hill as "possibly the most ill-starred monument in London" and Nelson Mandela (2007) by Ian Walters. Martin Jennings' John Betjeman (2007) is praised as "a fine work of sculpture," but Gwyn Williams' David Lloyd George reminds Hill of an eccentric professor or a benign magician (the "Welsh Wizard"?). The surprise in some cases is that the subject has not been commemorated years ago — like James Whistler (2005) by Nicholas Dimbleby, Virginia Woolf (2004) by Stephen Tomlin or Prince Henry the Navigator (2002) by Simoes de Almeida.
The third group are statues making an unexpected comeback, like the Memorial fountain to the Royal Naval Division by the redoubtable Sir Edwin Lutyens, banished to Greenwich in 1951 and reinstated on the north-west corner of Horse Guards Parade (2003); and the original Temple Bar, dismantled in 1880, re-erected by St. Paul's Cathedral in 2004 and acclaimed by Hill as "a wonderful rescue and restoration."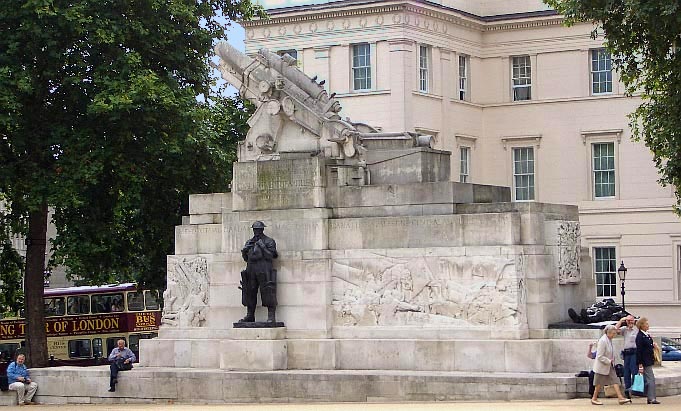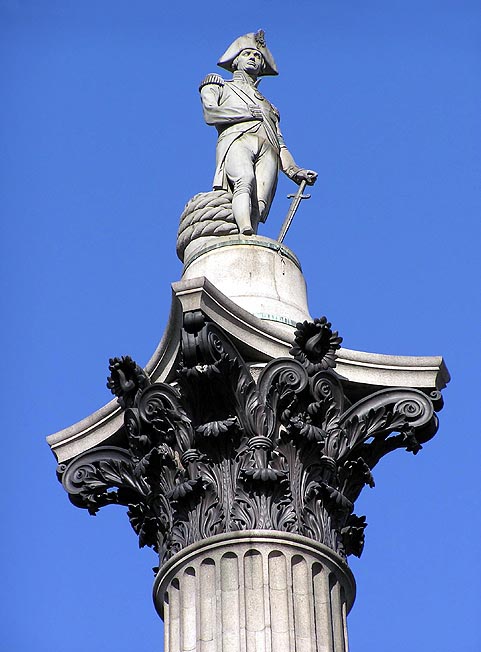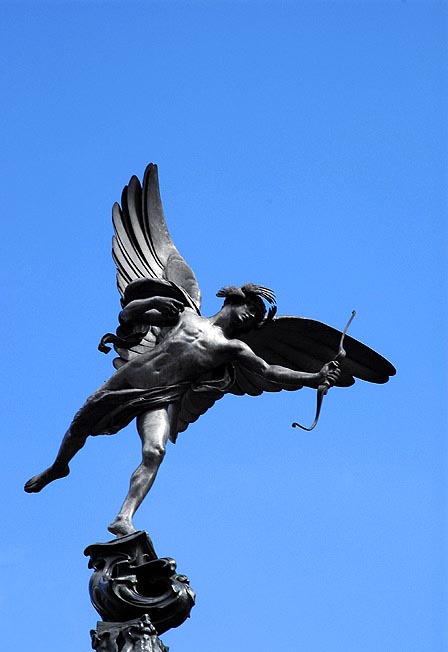 Left to right: (a) Charles Jagger's monument to the Royal Artillery at Hyde Park Corner. (b) Nelson on his column in Trafalgar Square. (c) Eros at Piccadilly Circus.
In addition to these more recent additions to the London scene, Hill gives full and clear descriptions of the more familiar monuments, often with incisive comments. The figures in the (waterless) Joy of Life Fountain "gambol in a rather surprisingly joyless manner"; the overall concept of the Animals in War Memorial is "inescapably mawkish"; and the New Zealand Memorial, while expressing impeccable sentiments, is wrongly sited. However, praise is also given where due: Charles Jagger's Royal Artillery Monument is "perhaps the most powerful and moving of all London's war memorials" and the Nelson Monument is one of those quintessential London icons (Eros is another) which is "now beyond any sort of aesthetic criticism."
Hill organises his guide into sensible walks of about one hour (give or take 15 minutes) except for the first and the last. The first walk (Hyde Park and Kensington Gardens) is a challenging six miles (2 hours 30 minutes), and I suggest that it could easily be divided into two easier walks by tackling Hyde Park and Kensington Gardens separately. The other long walk is the fascinating combination of Canary Wharf and Greenwich — well worth the effort, book in hand.
Bibliography
Hill, Rpert. Walking London's Statues. New Holland, 2010; ISBN9781847735997; £12.99.
---
Last modified 19 October 2010