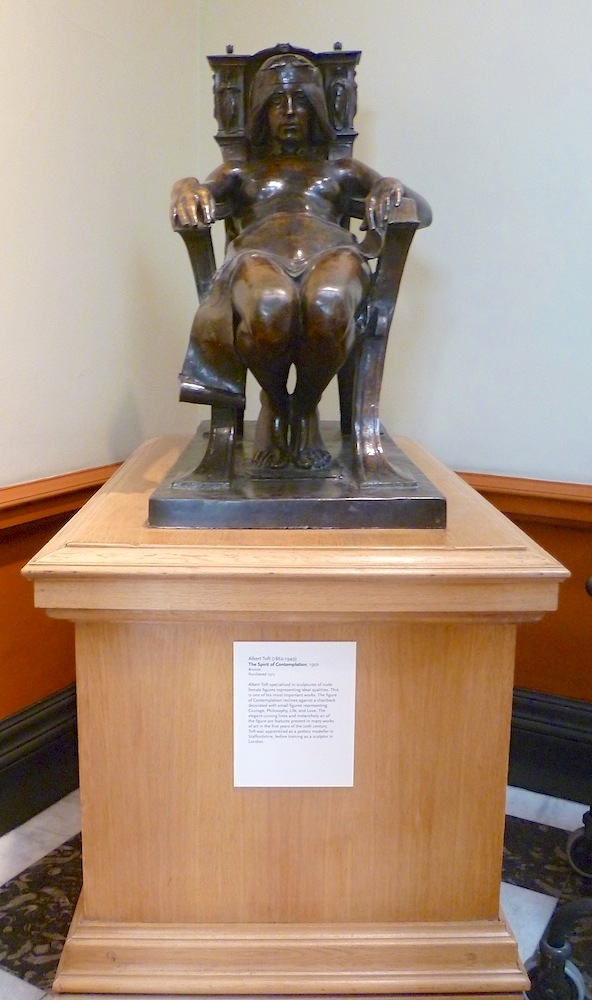 The Spirit of Contemplation by Albert Toft. 1901. Bronze. 38 in. Collection: Laing Art Gallery, Newcastle-upon-Tyne. Purchased by the gallery in 1915. This is one of Toft's most celebrated works. Typically melancholic and fin de siècle in feel, it seems to emanate from "that strange collective impulse which led many sculptors to produce their most intensely symbolist works at the turn of the century" (Beattie 174). [Click on images to enlarge them, and, in the case of the scanned image below, for another detail.]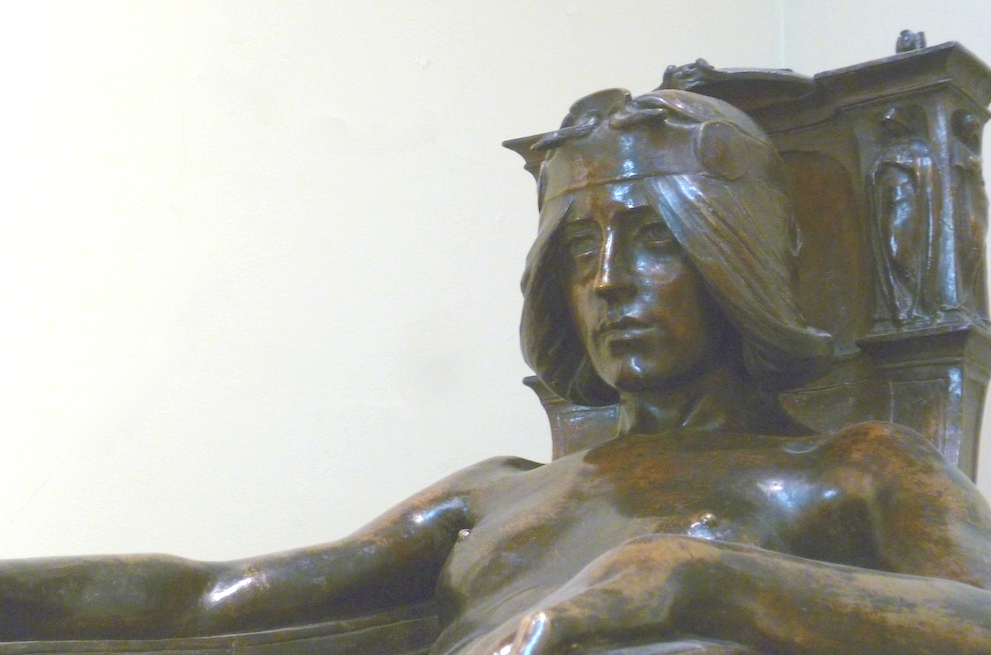 The contemplative female figure has a scroll spread out across her lap, loosely held in two fingers of the left hand. She leans back, lost in thought, in a chair with four small figures carved in niches at the top of it, in the front and side of each upright, flanking her head: these, according to the gallery's label, represent Courage, Philosophy, Life and Love.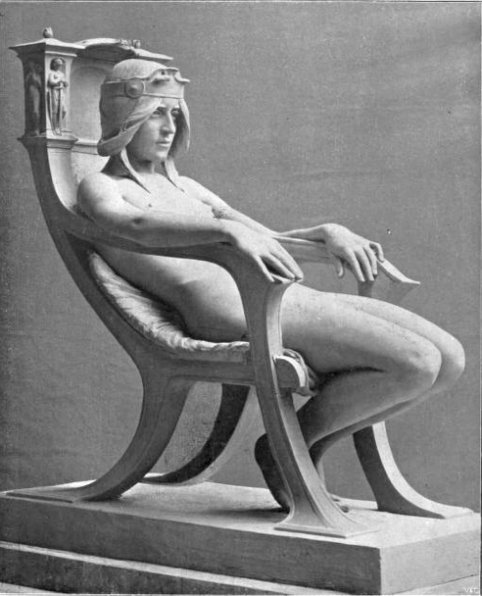 Plaster version. Source: "Academy Architecture — Sculptures," 122.
Benedict Read quotes Marion Spielmann's high praise of the work: Speilmann found it the "most complete" of Toft's sculptures, "a beautiful representation of the female form, original, almost daring, in its simple arrangement, decorative with praiseworthy self-restraint, dignified and refined" (qtd. in Read 352). Interestingly, in the original source Spielmann continues, "It would be a loss to British sculpture if this work were to be allowed to remain only in the plaster" (122), and the illustration in Speilmann's book, like the one shown on the left here and published in the Academy Architecture journal of the same year, shows the figure in that medium. The bronze version acquired" by the Laing Art Gallery must have been made after these two were published. Note that the strategically placed unfurled scroll makes its first appearance here. Presumably it was added to the bronze for modesty's sake.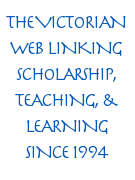 Photographs, taken by kind permission of the Laing Art Gallery in July 2014 by the author. Scan by George P. Landow. You may reuse the scanned image without prior permission for any scholarly or educational purpose as long as you (1) credit the person who obtained the scans, and (2) link your document to this URL in a web document or cite the Victorian Web in a print one.
Related Material
Bibliography
"Academy Architecture. — Sculptures." Academy Architecture and Architectural Review. 19 (1901). Internet Archive. Contributed by Robarts Library, University of Toronto. Web. 18 May 2017.
Beattie, Susan. The New Sculpture. New Haven and London: Yale University Press, 1983.
Read, Benedict. Victorian Sculpture. New Haven and London: Yale University Press, 1982.
Speilmann, M. H. British Sculpture and Sculpture of Today. London: Cassell, 1901. Internet Archive. Contributed by Cornell University Library. Web. 18 May 2017.
---
Created 18 May 2017