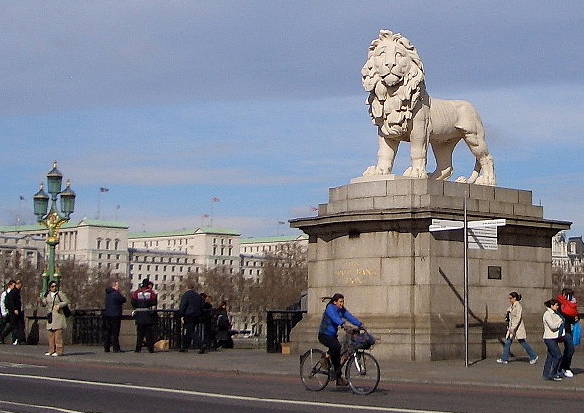 The Coade Lion, Westminster Bridge. William Frederick Woodington (1806-1893). 1837. 3.66m high x 3.96m long; plinth: 4.23m high x 5.49 wide x 2.74m long (Ward-Jackson). One of the lion's paws is inscribed "W.F.W. Coade 24 May 1837."
Coade Stone was an artificial stone popular during the eighteenth and early nineteenth centuries, especially durable in the form produced at Mrs Eleanor Coade's factory in Lambeth. A kind of ceramic which required lengthy firing at a very high temperature (see "Mrs Coade's Stone"), it was used, for example, for Flaxman's work on the front of the Royal Opera House, Covent Garden, in 1809. This lion, made at the Coade factory and originally painted red, once crowned the parapet above the Thames frontage of the Lion Brewery beside the Hungerford Bridge. Here Emile Zola was amused to see it "poised in mid-air," making a special trip to revisit it during his exile in England in the late 1890s. He referred to it fondly as "my lion" (qtd. in Vizetelly 50).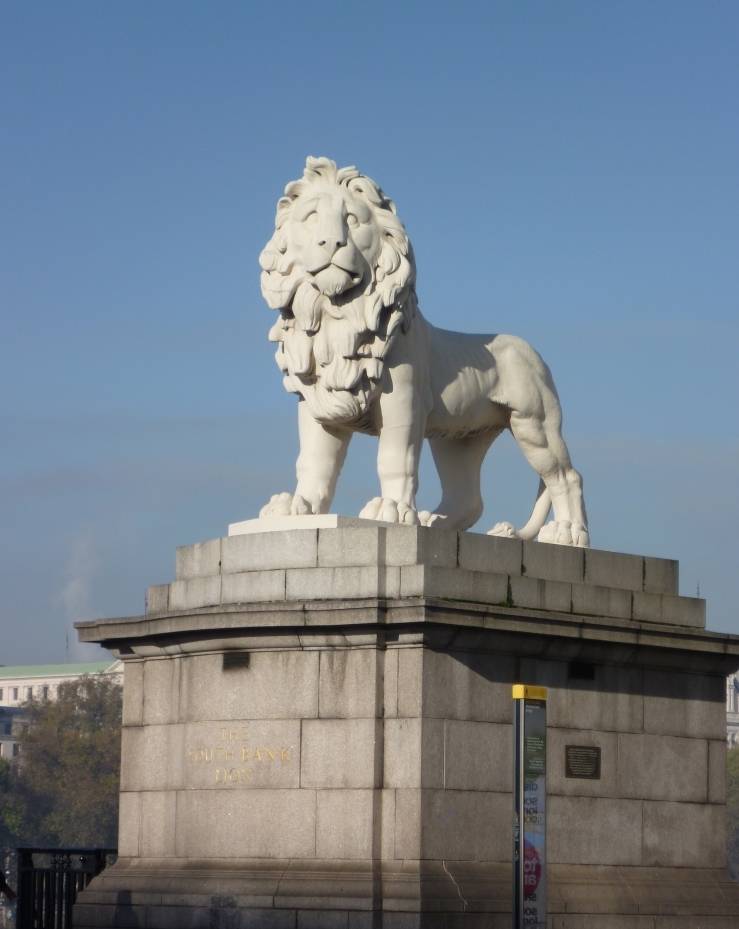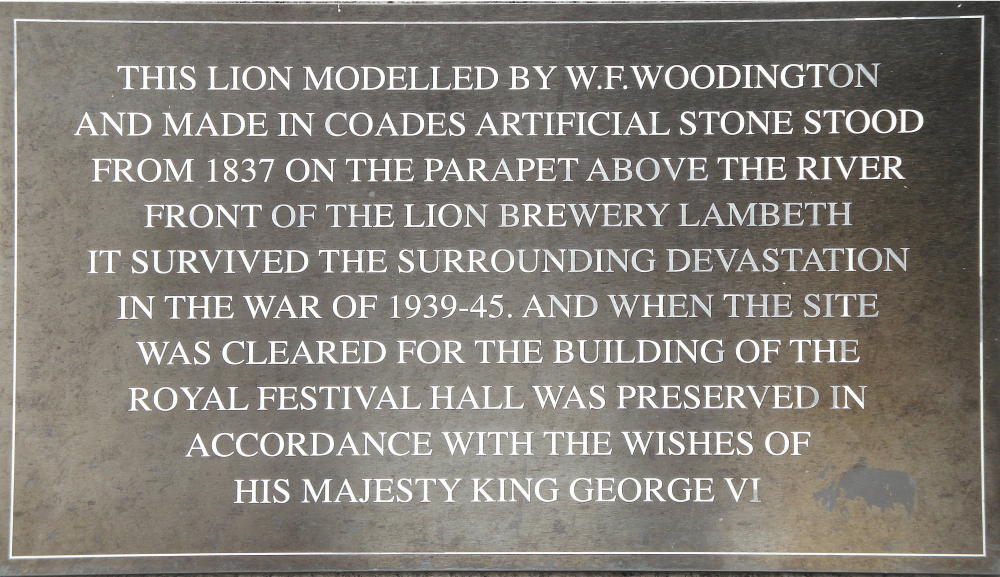 As the inscription on the south side of the plinth explains, the 13-tonne sculpture survived World War II; it was taken down before the brewery was demolished, and "preserved in accordance with the wishes of His Majesty King George VI." It finally arrived at its present commanding site at the south end of Westminster Bridge in 1966 (see Weinreb et al. 197). A similar but smaller lion, with its mouth open, which stood elsewhere on the old brewery building, is now at Twickenham at Gate 3 of the All-England Rugby Football Club. These two" by Woodington (a third was destroyed, unfortunately) are not to be confused with a quite different, couchant Coade lion, commissioned in 1821 and designed by Thomas Hardwicke, which crowns the Lion Gate at Kew (see "Lion Gate and Lodge").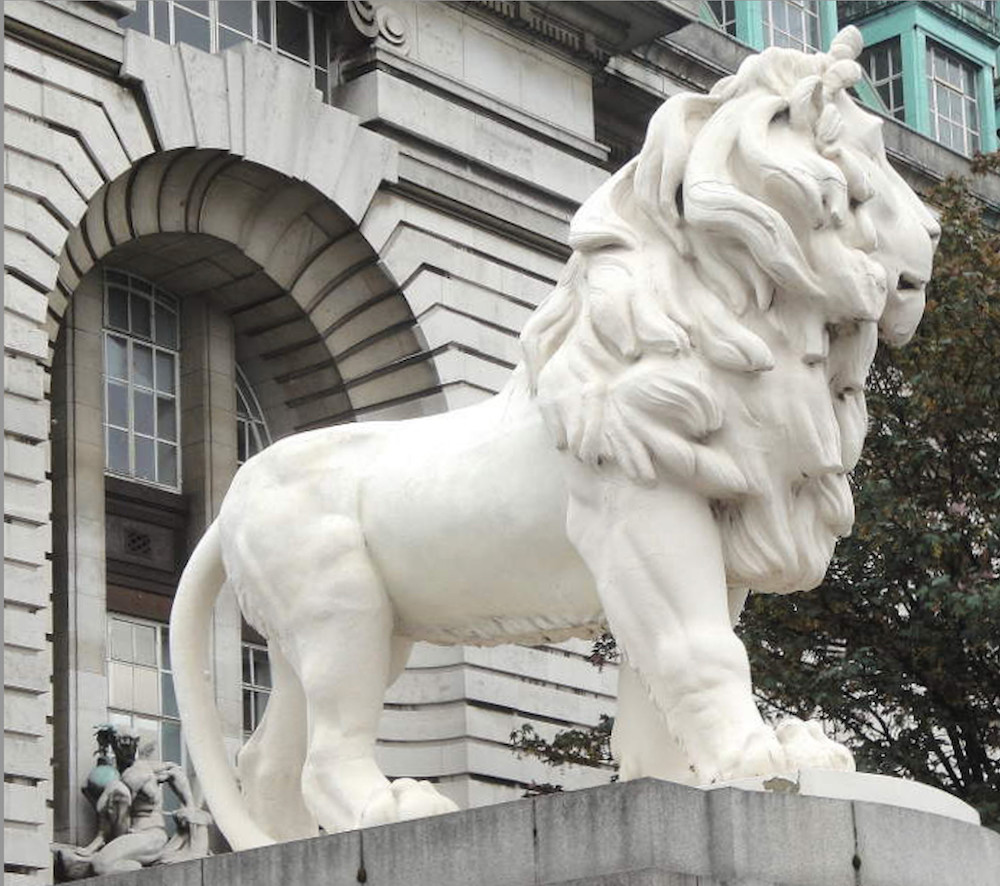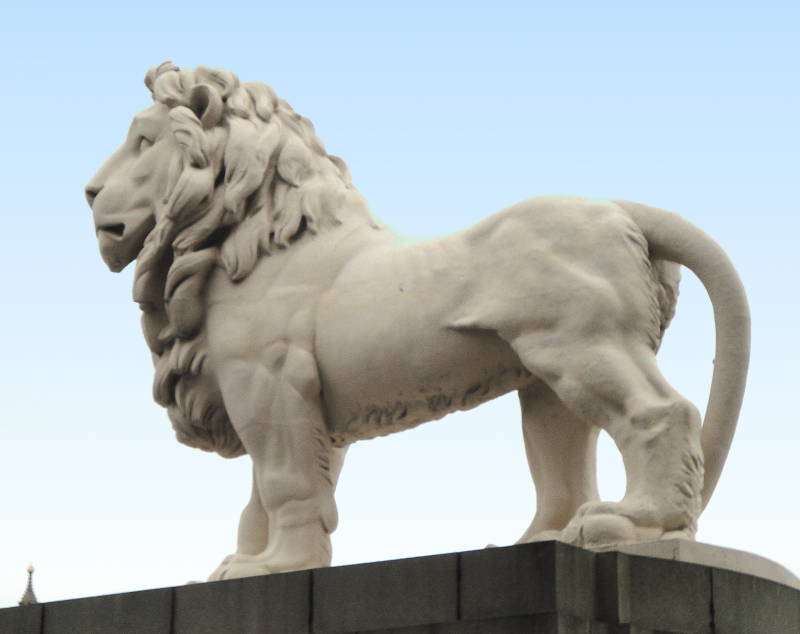 Thanks partly to its setting near the seat of government, the lion on Westminster Bridge seems the most splendid of all these. It may be appropriate that this quintessential symbol of Englishness should once have adorned a brewery!
The top and two following photographs by the author, 2009. Remaining photographs by Robert Freidus. by [You may use this image, and the related ones, without prior permission for any scholarly or educational purpose as long as you (1) credit the photographer and (2) link your document to this URL.]
Bibliography
"Mrs Coade's Stone." ntlworld.com. Viewed 7 April 2009.
"Lion Gate and Lodge." Kew Gardens website. Viewed 7 April 2009.
Vizetelly, Ernest Alfred. With Zola in England: A Story of Exile. London: Chatto & Windus, 1899. Available offsite here.
Ward-Jackson, Philip. Public Sculpture of the City of London. Liverpool: Liverpool University Press, 2003.
Weinreb, Ben et. al. The London Encyclopaedia. 3rd ed. London: Macmillan, 2008.
---
Created 17 May 2013

Last modified 27 February 2020