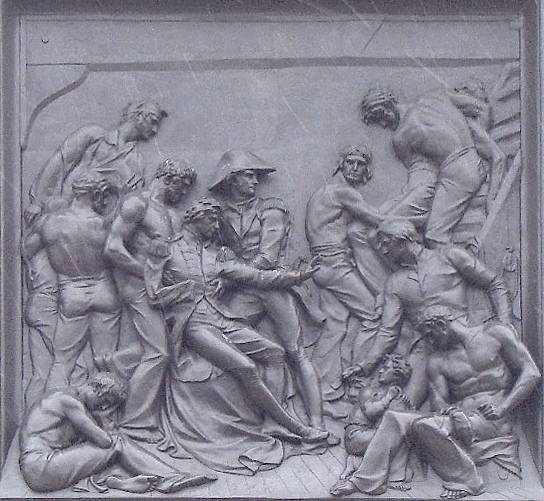 The Battle of the Nile, at the base of Nelson's Column. W. F. Woodington. Bronze (from cannon). 1850.
The four bas-reliefs at the foot of Nelson's Column were cast from cannon captured in Nelson's famous battles, and commemorate his four great victories. The first panel, The Battle of Trafalgar (sometimes called The Death of Nelson)" by John Edward Carew, was put in place in December 1849. The others followed, between 1850 and 1852 (see Read 90). Woodington not only designed The Battle of the Nile, but also carried through The Battle of Cape St Vincent (facing the National Gallery), originally designed by Musgrave Lewthwaite Watson. Watson had died after making a small model for it. The remaining one was The Bombardment of Copenhagen by John Ternouth.
Woodington's composition is very fine, capturing a moment of great intensity. He depicts the scene on the quarter-deck where Nelson is supported, wounded in the head," by Captain Berry and another sailor. On the right-hand side, a sailor carrying down another wounded man looks anxiously over his shoulder, while on the left-hand side, in the upper corner, another sailor looks down in consternation too. In the lower corners, a similar balance is kept. The small figure crouching towards the right, perhaps the ship's boy, also looks round anxiously, while a sailor on the other side clasps his head in despair. Nelson himself extends his good arm, probably in a gesture representing his refusal to be attended to before other wounded men (like the one being brought down the ladder; see Holme 136).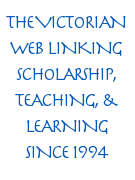 Related Material
Photograph and text by Jacqueline Banerjee, 2009. [You may use this image without prior permission for any scholarly or educational purpose as long as you (1) credit the photographer and (2) link your document to this URL.]
Bibliography
Holme, Richard H. Horatio Nelson: England's Sailor Hero. London: Walter Scott Publishers, 1903. Available in the Internet Archives here.
Read, Benedict. Victorian Sculpture. New Haven & London: Yale University Press, 1982.
---
Last modified 17 April 2009