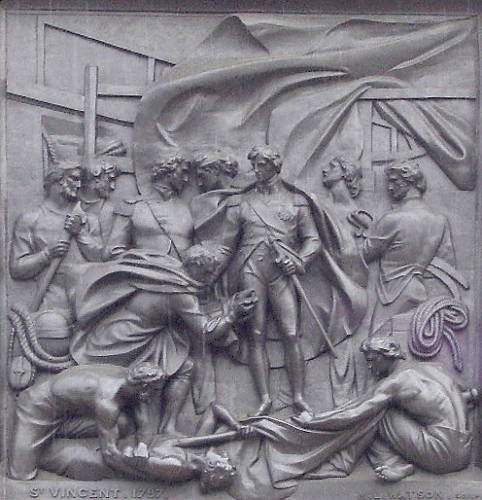 The Battle of Cape St. Vincent. Musgrave Lewthwaite Watson and William Frederick Woodington (1806-1893). 1850-52. Bronze (from cannon). The base of Nelson's Column.The four bas-reliefs at the foot of Nelson's Column were cast from cannon captured in Nelson's famous battles, and commemorate his four great victories. The first, The Battle of Trafalgar (sometimes called The Death of Nelson)" by John Edward Carew, was put in place in December 1849. The others followed, between 1850 and 1852 (see Read 90). Watson, who was to execute this one, died of heart trouble after making the preliminary model for it. The composition, generally regarded as Watson's best, was therefore worked up" by Woodington, who had once been a fellow-pupil with him in the studio of Robert William Sievier. Notice, however, that Watson's name appears at the bottom edge, on the right.
Watson's design shows a dashing, heroic Nelson, still looking young, at the "brilliant crowning of the day" (qtd. in Holme 74). Having daringly boarded a Spanish ship, he graciously receives the enemy's surrender. To his right, a sailor holds swords given up" by the defeated Spaniards. In the foreground, a Spanish sailor is still being held to the deck (see Holme 136). Although Nelson had disobeyed orders to seize his opportunity, he was knighted for this victory. Besides Nelson himself, the most dramatic features in the composition are the various drapes: what looks like a fallen sail in the background, Nelson's swirling cape, the surrendering Spaniard's garb, and (perhaps) the lowered colours in the foreground, signifying the ship's withdrawal from combat. The coils of ship's rope also catch the eye. Compared with this, Watson's marble seated statue of John Flaxman seems rather bland, though here too the face is very fine.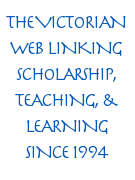 Related Material
Photograph and text by Jacqueline Banerjee, 2009. [You may use this image without prior permission for any scholarly or educational purpose as long as you (1) credit the photographer and (2) link your document to this URL.]
Bibliography
Holme, Richard H. Horatio Nelson: England's Sailor Hero. London: Walter Scott Publishers, 1903. Available in the Internet Archives here.
Read, Benedict. Victorian Sculpture. New Haven & London: Yale University Press, 1982.
---
Last modified 17 April 2009