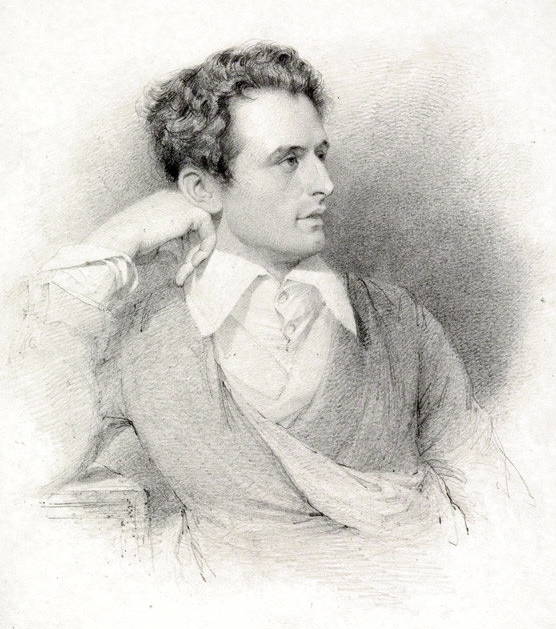 John Partridge's pencil sketch of R. J. Wyatt, 1825, © copyright, National Portrait Gallery, London, and licensed for reuse under this Creative Commons Licence. Click on the image for a larger picture.
Richard James Wyatt (1795-1850) was born at 360 Oxford Street, London, next door to the celebrated Pantheon. He was the son of Edward Wyatt, a carver and gilder who had worked for both George III and George IV, and who was related to the important Wyatt dynasty of architects: Edward was a first cousin once removed of James Wyatt (1746-1813), who had designed the Pantheon., and a second cousin of Jeffry Wyattville (see Goodman 15). The young Richard James soon showed artistic talent too. Having trained first with his father and then shone at the Royal Academy Schools, he was still in his twenties when invited to work in Rome at the studio of Antonio Canova. Here he honed his skills alongside John Gibson, moving on with Gibson to the studio of Bertel Thorvaldsen when Canova died. He opened his own studio in Rome, settling permanently there, returning to England only once, in 1841.
Despite living in Rome, Wyatt "continued his family's tradition of royal patronage" (Marsden 149), producing four life-size marble statues for Queen Victoria, starting with Penelope with the Bow of Ulysses (1844). This had been commissioned by Prince Albert. Gibson, a lifelong friend as well as competitor, was full of praise for these works: "no sculptor in England had produced female statues to be compared to those of Wyatt" (qtd. in Marsden 149). Wyatt also exhibited regularly at the Royal Academy and was well represented at the Great Exhibition. Indeed, next to Gibson he had the most works on display in the Courts of Modern Sculpture, with ten works to Gibson's fifteen (see Read 37). For some of these he won silver medals, and in addition "was awarded one of the four first-class gold medals retrospectively" ("Details of Sculptor").
Wyatt's obituary in the Art-Journal suggests that his life was uneventful: "The incidents of his life were the works which he perfected on his own account as he advanced in experience, and each according to its degree of merit was one of the greater or less landmarks of his career" (249). Walter Bell Scott too described him "unobtrusive, retiring and studious" (70), prodigiously industrious, and totally committed to his art.
Wyatt seemed strong and resilient, and his unexpected death in his mid-fifties occasioned some debate:
It was difficult to determine the cause of Wyatt's decease. The woman who paid a daily visit to attend to his rooms, entering by her own key at six in the morning of the 28th of May, 1850, found him lying insensible on the floor of his bedchamber. She ran for Mr. Freeborn, the consol, and he, with Dr. Pantaleone and his brother-sculptor, Spence, were soon there; but he never spoke again, and at ten o'clock he ceased to breathe. He was still strong, and in excellent health; but it has never been thought that his death was occasioned by himself. It was said he had no cares whatever, but it was found he had received notice to leave his studio, which was to be taken down; and this passing trouble to a man of his temperament had afflicted him greatly. (Scott 72)
However, other accounts are more prosaic: "He died from a neglected cold, which led to a throat infection and subsequent suffocation" ("Details of Sculptor"); or he "died suddenly, of a stroke" (Goodman 16). Whatever the cause of death, in a well-attended ceremony, Wyatt was buried in the Protestant cemetery in Rome, better known as the final resting place of Keats and Shelley.
Much admired in the early Victorian period, and even into the twentieth century (Arthus Mee calls him "the famous Richard Wyatt," 217), Wyatt makes an interesting contrast with another sculptor in the Wyatt family, his more showy and often disparaged distant cousin, Matthew Cotes Wyatt. But he gradually faded from the artistic scene. The hallmarks of his work are purity of line, warmth and delicacy of finish, and a general, subtle poeticism, and this kind of highly refined neo-classicism came to seem dated beside the work of the New Sculptors and their successors. — Jacqueline Banerjee
Works
Bibliography
The Art-Journal. 1 June 1850: 240. Google Books (free book). Web. 1 January 2013.
"Details of Sculptor." A Biographical Dictionary of Sculptors in England, 1660-1851 (The Henry Moore Foundation). Web. 1 January 2013.
Goodman, Judith. "Richard James Wyatt — 'Accomplished Sculptor and Excellent Man.'" Merton Historical Society Bulletin No. 166 (June 2008): 15-16. Web. 1 January 2013.
Marsden, Jonathan. Victoria & Albert: Art & Love. Ed. Marsden. London: Royal Collection Publications, 2010. Print.
O'Donoghue, F. M., rev. John Martin Robinson. "Wyatt, Richard James (1795-1850)." The Oxford Dictionary of National Biography. Web. 1 January 2013.
Online Catalogue. Fitzwilliam Museum. Web. 1 January 2013.
Read, Benedict. Victorian Sculpture. New Haven & London: Yale University Press, 1982. Print.
Robinson, John Martin. The Wyatts: An Architectural Dynasty. Oxford: Oxford University Press, 1979. (This discusses Wyatt in a section on "Carvers, Sculptors, and Painters"). Print.
Scott, William Bell. The British School of Sculptors. London: Routledge, 1872. Internet Archive. Web. 1 January 2013.
---
Last modified 1 January 2013.