Photographs and text by the author. [You may use these images without prior permission for any scholarly or educational purpose as long as you (1) credit the photographer and (2) link your document to this URL in a web document or cite it in a print one.]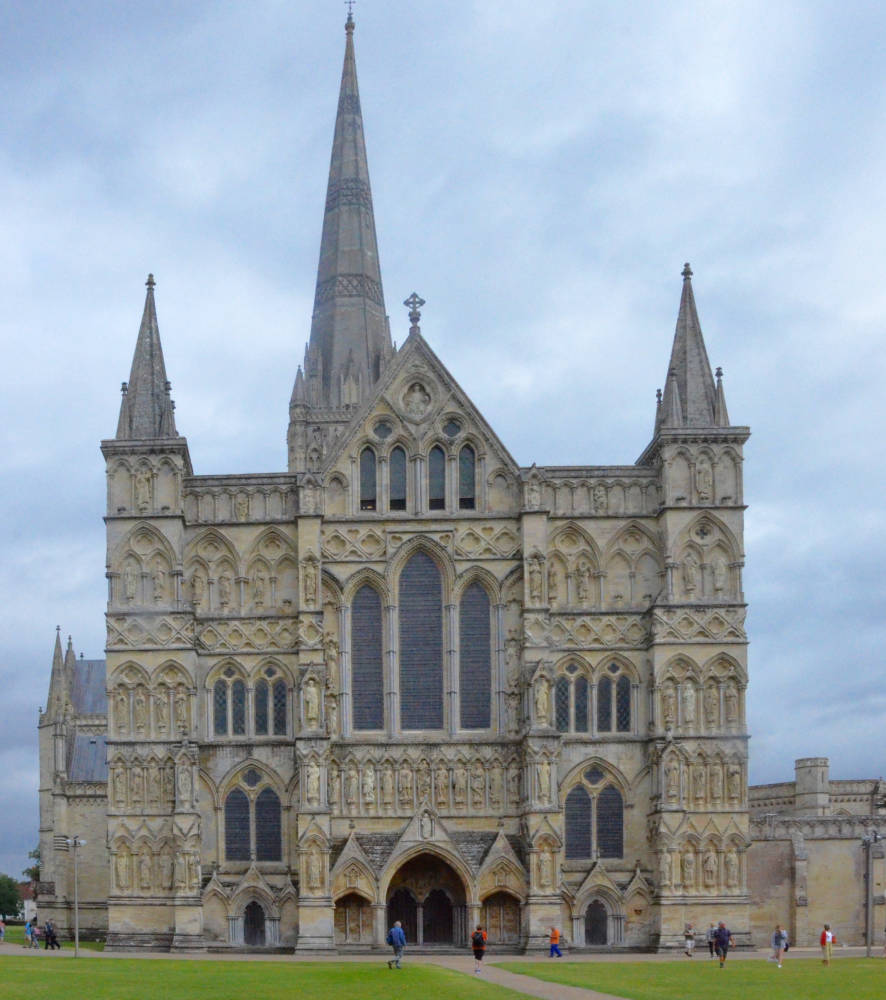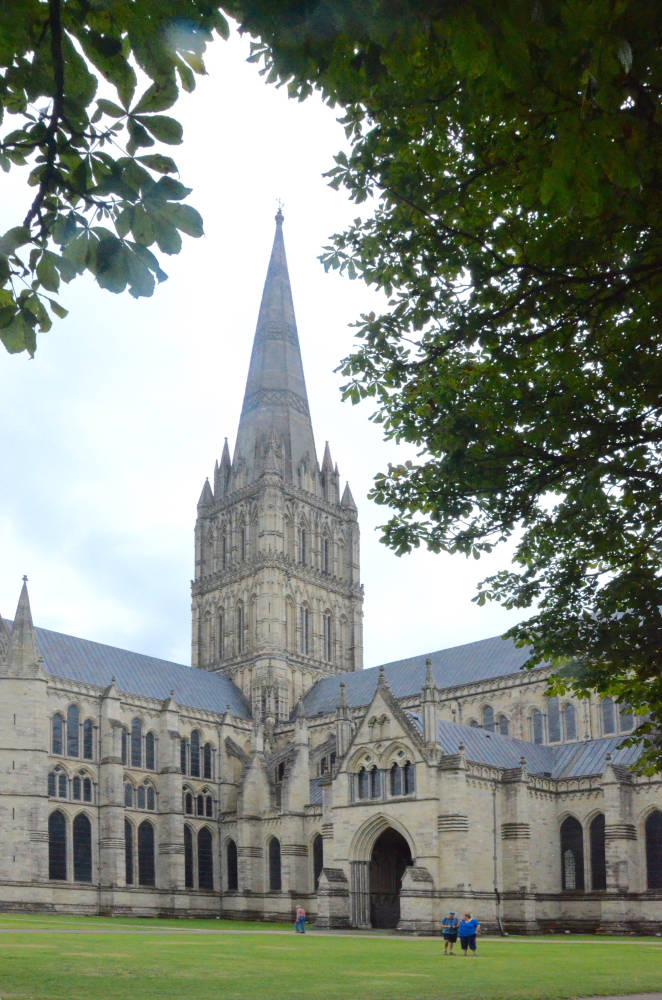 The cathedral, which Constable painted so many times, hosts an original copy of the Magna Carta in its Chapter House. Bannister Fletcher, who includes a drawing of the cathedral spire, uses it to exemplify those with "parapet angle turrets & crockets." The 1855 Imperial Gazetteer published by William Blackie includes the following description of the cathedral: "At the head of its public buildings stands its magnificent cathedral, begun in 1220, and completed in 1258, one of the finest and most interesting specimens of Gothic architecture in the kingdom. It is in the form of a double cross, with a highly enriched tower, 404ft. in height; the interior is exquisitely beautiful from the loftiness of its elevation and the delicacy and lightness of its structure. [IV, 809]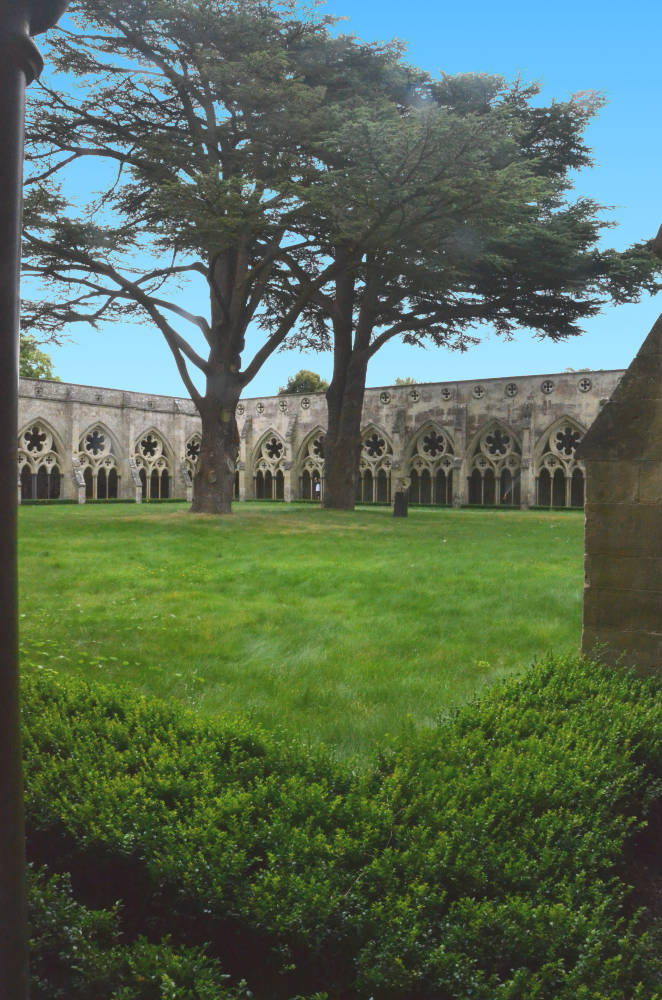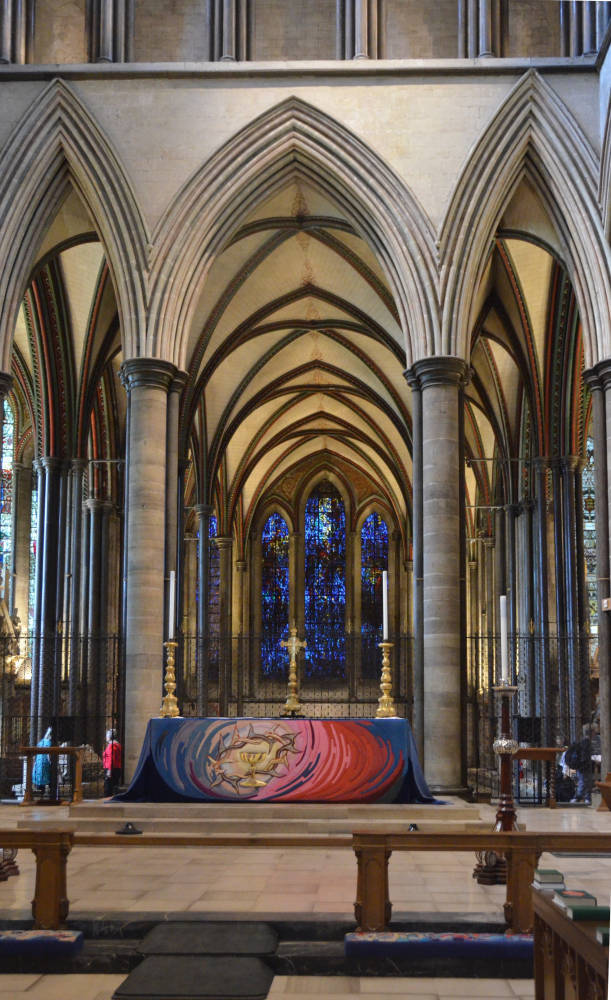 Two pictures of the cloisters and, moving inside the church, the modern high altar coverings.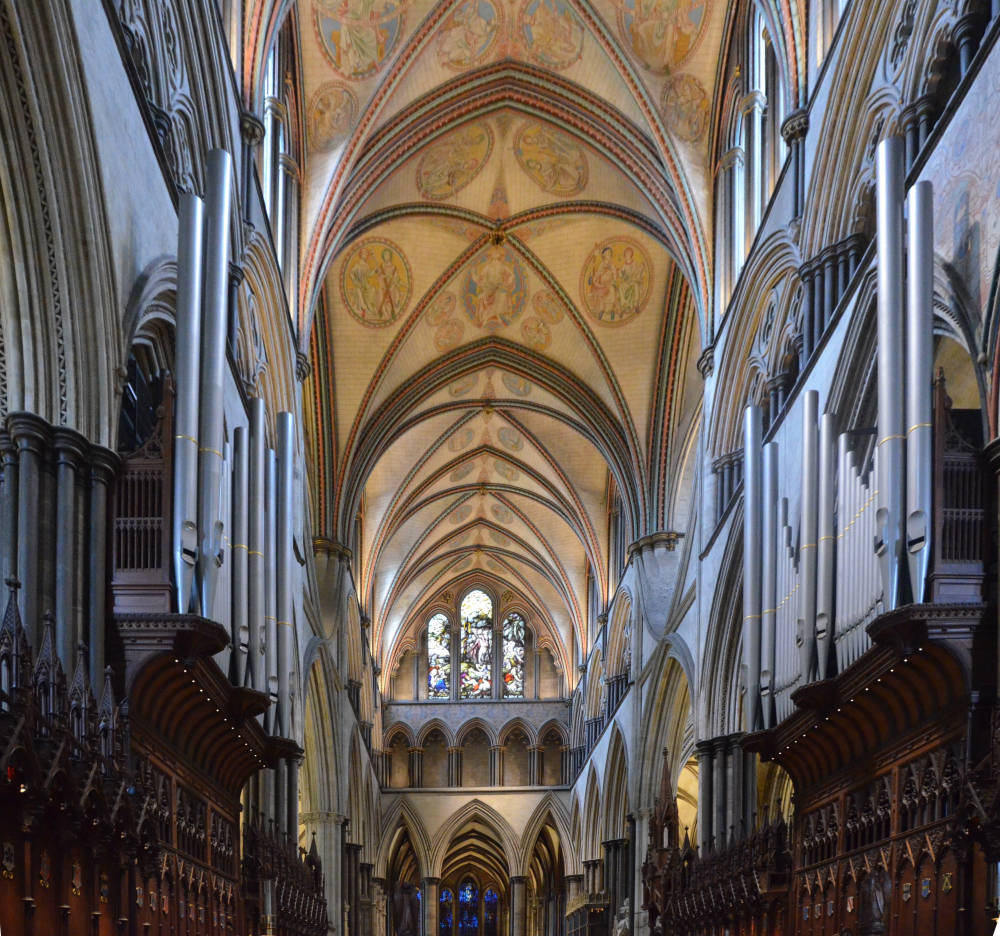 Two pictures of the choir.
Victorian Stained Glass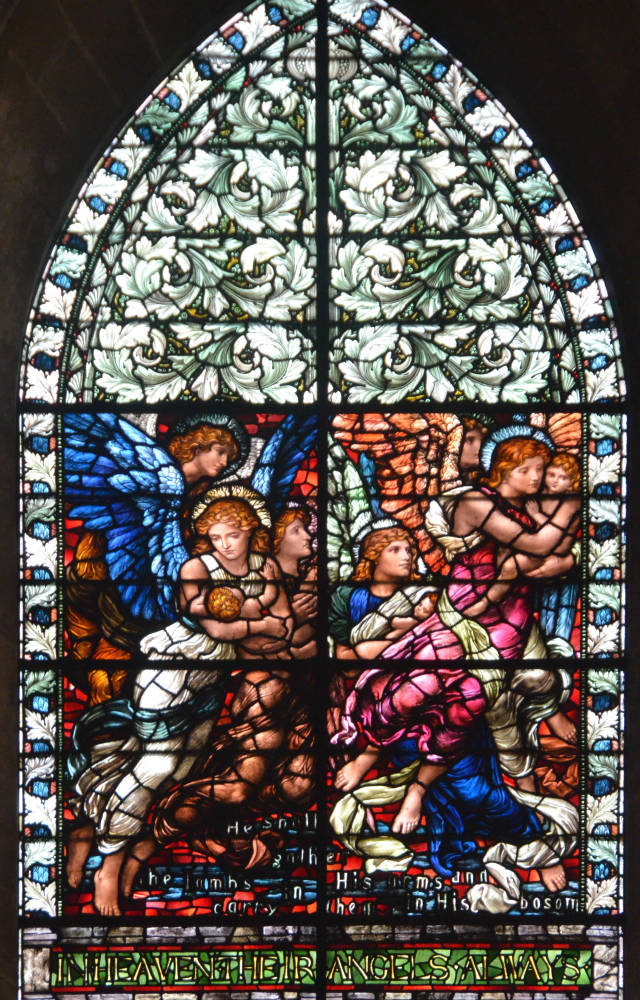 Left: Suffer little children to come unto me for such is the kingdom of heaven. Beneath both windows the reads "To the honour & glory of God / in memory of John Henry Jacobs & /Henrietta Sophia his wife this window / is given by their children. 1870." Right: Upper left light: Angels bearing dead infants and children to heaven.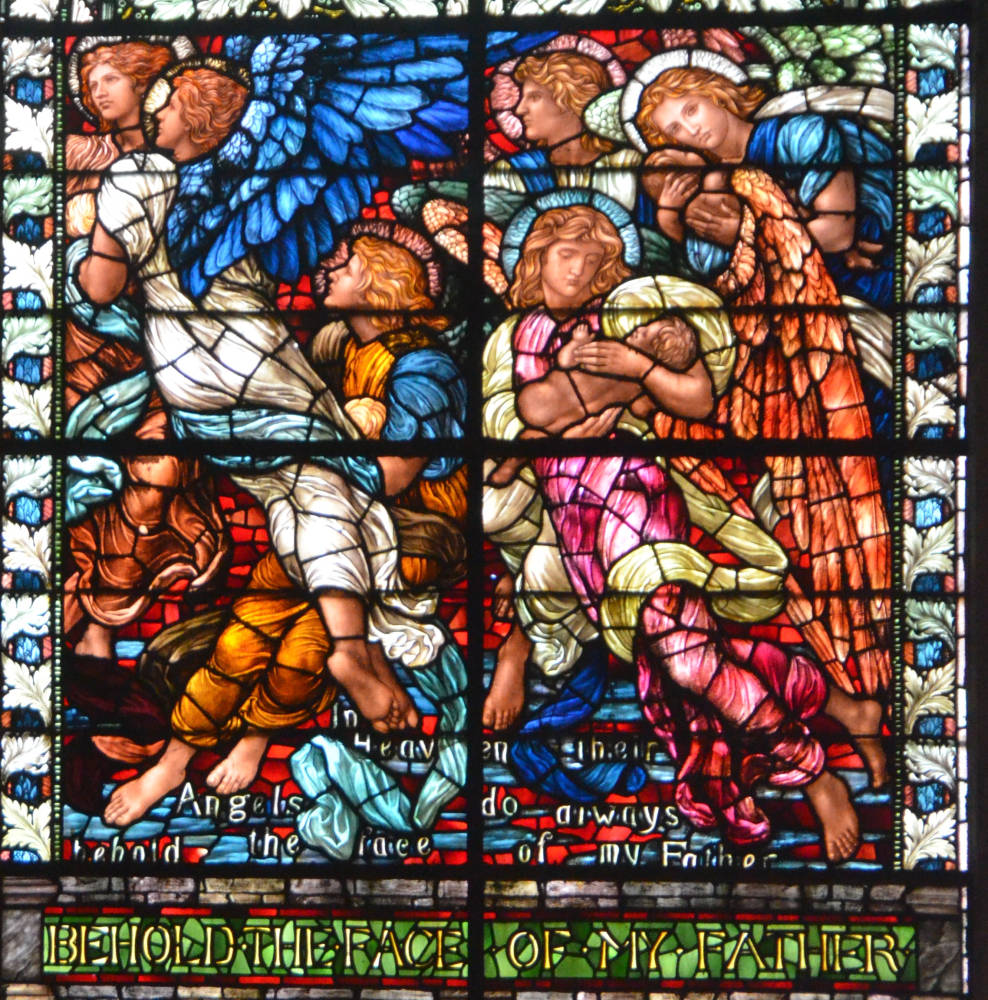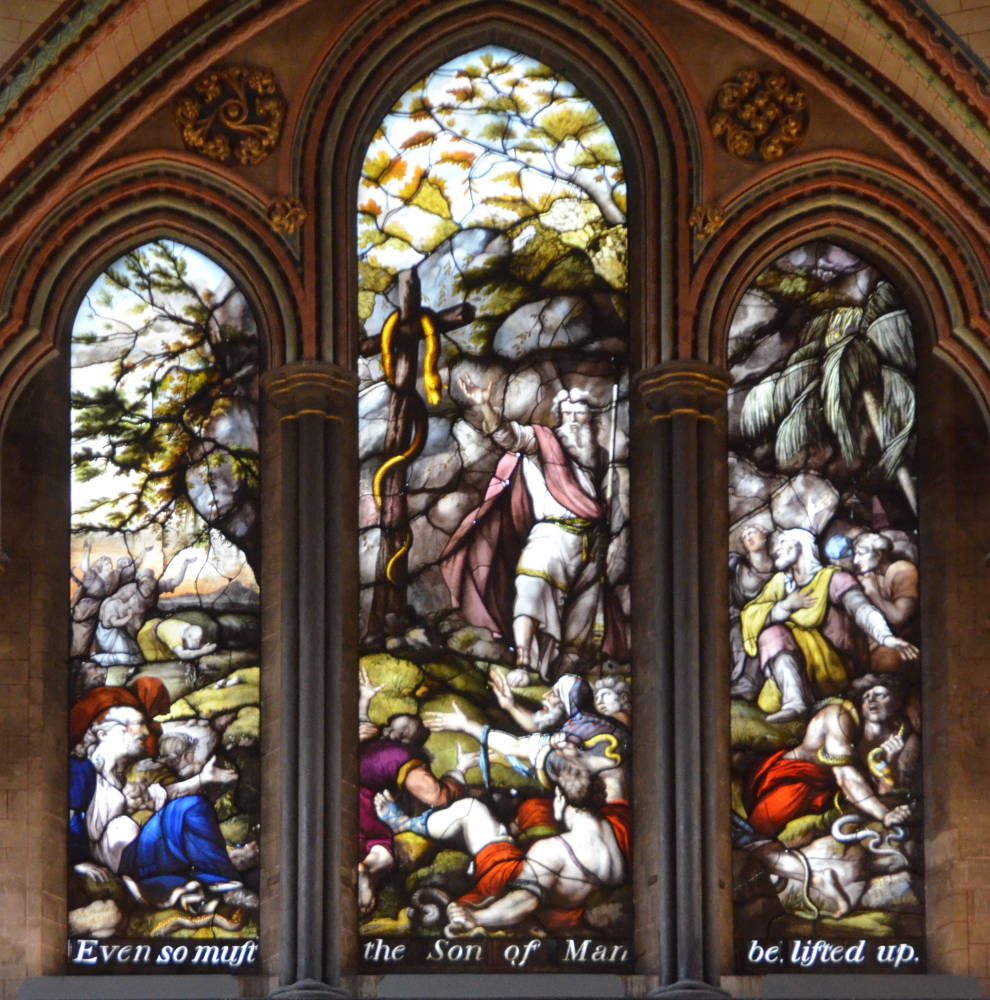 Left: The right upper companion of Suffer little children. Right: The brazen serpent from Exodus read in the New Testament as a divinely intended prefiguration of Christ: Even so must the Son of Man be lifted up.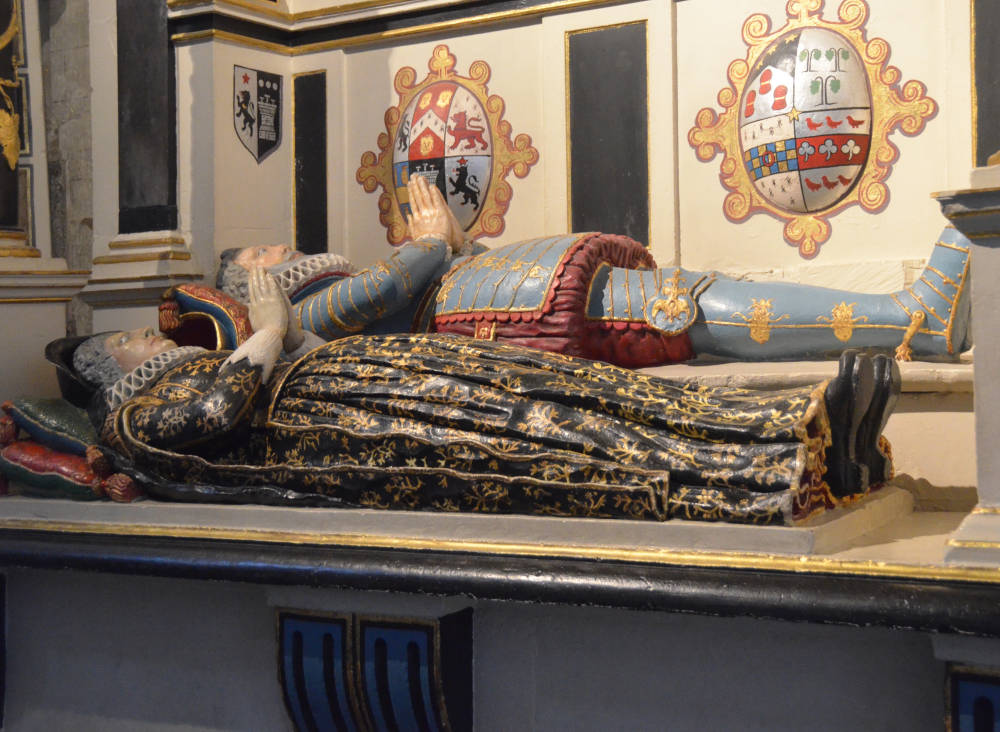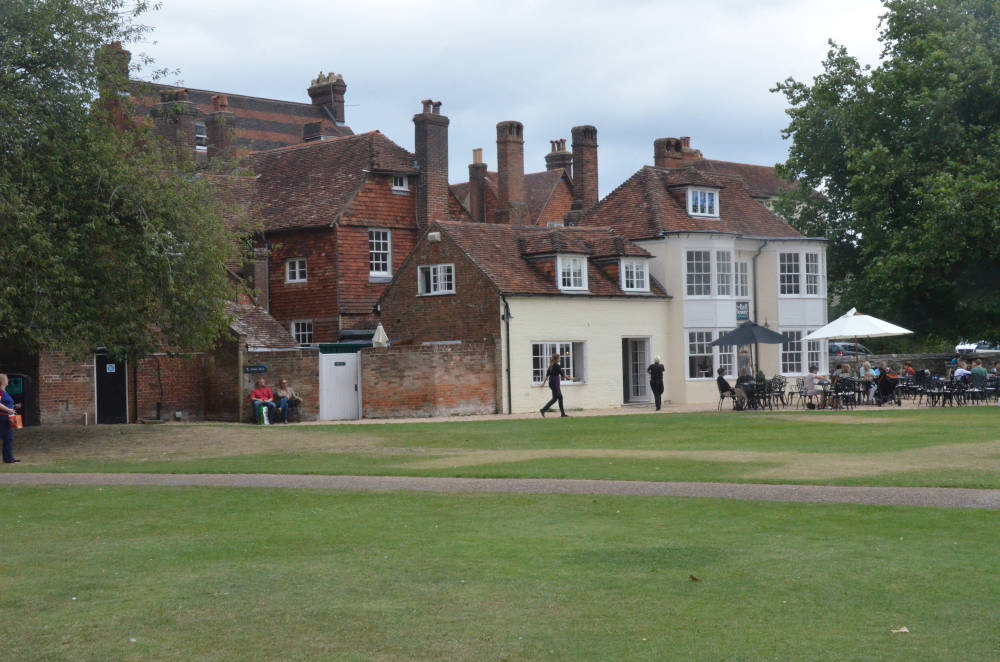 Left: The tomb of two once Very Important People that shows that much medieval and Renaissance sculpture was painted, though this paint job is a Victorian or modern restoration. Right: The houses facing the wide green lawn surrounding the cathedral.
Related material
Bibliography
Blackie, Walker Graham. The Imperial Gazetteer: A General Dictionary of Geography, Physical, Political, Statistical and Descriptive. 4 vols. London: Blackie & Son, 1856. Internet Archive online version of a copy in the University of California Library. Web. 7 November 2018.
Fletcher, Banister, and Banister F. Fletcher. A History of Architecture on the Comparative Method for the Student, Craftsman, and Amateur. 5th ed. London: B. T. Batsford, 1905.
---
Last modified 7 November 2018