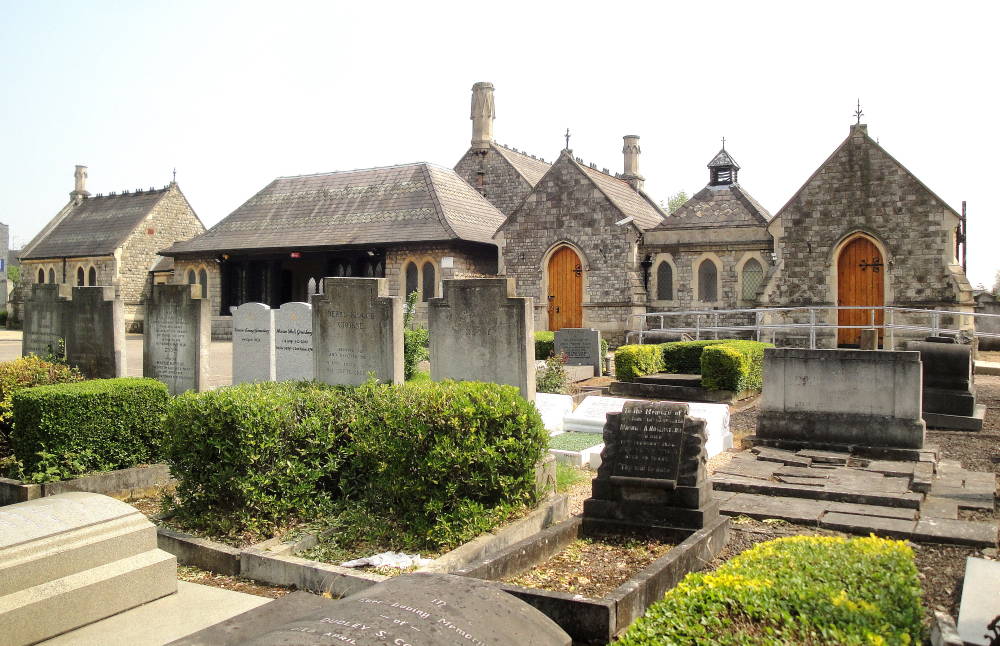 Nathan Solomon Joseph (1834-1909) was the son of a well-to-do city merchant; his mother was known for her charity work in the East End. Like so many Anglo-Jewish boys of his generation, he attended University College, London, after having been tutored at home. But then, much less typically, he chose a career in architecture. In 1853 he was articled to Daniel Addington Cobbett, becoming his principal assistant, before travelling in Europe and then setting up his own practice in the city, at East India Chambers, Leadenhall Street, in 1860. In partnership first with George Pearson (1846-1934), he was "the most prominent of the first generation of Anglo-Jewish synagogue architects" (Cohen), particularly known for designing or co-designing some of the great synagogues of these years, such as the Great Victoria Street Synagogue in Belfast (1870), and the Garnethill Synagogue in Glasgow (1878). He also designed the United Synagogue Cemetery at Willesden, where so many famous Victorian Jews were buried.
However, his work ranged much more widely than that: he was a social reformer, and, while some of his patrons were very wealthy, some of the people he designed for were very poor indeed:
From its foundation he was architect to the Guinness Trust and the [Jewish-owned] Four per Cent Industrial Dwellings Company, and did similar work for the London County Council, and for Westminster and Chelsea councils, building a reputation as perhaps the leading designer of what we now call "social housing." [Cohen]
He was also the architect of the original Jews' Free School buildings in Bell Lane in the East End (1883), then the largest school in the world. He became a Fellow of the Royal Institute of British Architects in 1890 ("Nathan Solomon Joseph"). Here then was a "particularly good example of a successful Victorian Jew who combined an active life as a self-confident Jew with considerable success in English society" (Jacobs 172) — and made a substantial contribution to the wider community as well.
In these respects he had much in common with one of the architects who proposed him for associateship of the RIBA, Edward Salomons of Manchester, with whom he had worked on the Bayswater Synagogue early in his career (1862-63; since demolished). But whereas Salomons later became a Unitarian, Joseph fully retained his Jewish identity and faith. Indeed, his Religion, Natural and Revealed (1879), made up of some of the religious tracts he had written, became a standard text book for the Jewish faith. Amongst his many philanthropic activities, he was a member of the Jewish Board of Guardians, a life member of the council of the United Synagogue, and vice-president of the Jews' Hospital and Orphan Asylum in Norwood (1897). In 1902 he founded what was later called the Liberal Jewish Movement.
Joseph continued to work until 1904, by now in partnership with Charles James Smithem (d. 1937), and his son Charles Sampson Joseph (1872-1948). Like other important Jews of the time, Joseph was part of a distinguished family network. For example, his brother-in-law was the Chief Rabbi, Hermann Adler (1839-1911), and his nephew was the architect Delissa Joseph (1859-1927), who in turn married the sister of the artist Solomon J. Solomon (1860-1927). Another of Joseph's sons, Ernest Martin Joseph (1877-1960), entered his practice as well. — JB.
Works
Sources
Brodie, Antonia. Dictionary of British Architects 1834-1914. Vol. 2, L-Z. London: Continuum, 2001. Print.
Cohen, Colin. "Sitters: The Joseph Families." MissingPortraits.info. Web. 13 July 2013.
Jacobs, Joachim. Houses of Life: Jewish Cemeteries of Europe. London: Frances Lincoln, 2008. Print.
Kadish, Sharman. "The 'Cathedral Synagogues' of England." Jewish Historical Studies, Vol. 39 (2004): 45-77. Accessed via JSTOR. Web. 13 July 2013.
_____. "Joseph, Nathan Solomon (1834-1904)." Oxford Dictionary of National Biography. Online ed. Web. 13 July 2013.
"Nathan Solomon Joseph." Dictionary of Scottish Architects. Web. 13 July 2013.
Pearson, Lynn F. Discovering Famous Graves. Princes Risborough: Shire, 1988. Print.
Rutherford, Sarah. The Victorian Cemetery. Botley, Oxford: Shire, 2008. Print.
---
Last modified 15 July 2013