Biography
Edward Salomons (1828-1906) was the sixth of the fourteen or so children of Henry Moses Salomons, a German-Jewish cotton merchant, and his British-born wife Priscilla (sources differ as to the exact number). At any rate, in 1828, his father took his big family north to one of the major hubs of the cotton industry, settling them in Plymouth Grove, Chorlton-on-Medlock, now very much part of the city of Manchester. Plymouth Grove was "the main pivot of Jewish settlement" in the area (Williams 74); Elizabeth Gaskell and her husband, who later moved into the same street, welcomed to their "substantial house" there many Jewish as well as non-Jewish friends (Uglow 84; see also 88, 160-1).
Tutored at home and perhaps also attending school in Manchester, young Salomons soon graduated from working in his father's warehouse to studying architecture, entering the Manchester School of Design in 1850. In the very first year he came to notice for his work on a lavish "Cosmorama" held in the old Free Trade Hall, reported in the Manchester Times of 15 June 1850 as having pilasters "richly decorated in allegorical designs," the whole being the work of the "principle students in the Manchester School of Design," with Salomons' name (see note below) at the head of the list. One of the hallmarks of his work was to be his love of "surface decoration" (Hartwell 148).
The aspiring architect was then exposed to both the major trends of the time: in the following year he was articled to the Scottish-born John Edward Gregan (1813-55), best known for his Italian-style warehouses, then, like his contemporary in Manchester, the architect Thomas Worthington, he entered the office of Henry Bowman (1814-1883), becoming a draughtsman for Bowman and his partner Joseph Stretch Crowther (1832-1893) in 1852. Along with Worthington, he provided a number of the illustrations for the partners' two-volume Churches of the Middle Ages (subtitled, "being select specimens of early and middle pointed structures"). Although he never developed a passionate enthusiasm for Gothic, he did become known for his versatility and eclecticism.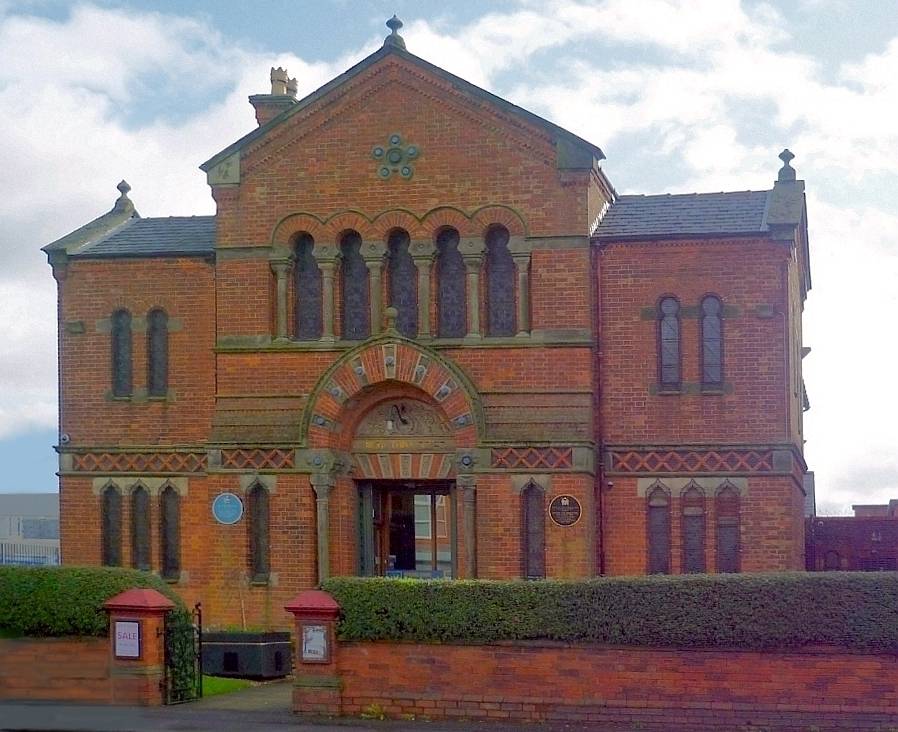 The Spanish and Portuguese Synagogue, Cheetham Hill Road (1873-74). Click on this and the following image for a large picture and more information.
Salomons helped found and indeed designed the Manchester Reform Synagogue (1857-58), and later designed the Manchester Jews School (1868-69), and the Spanish and Portuguese Synagogue (1873-74), now the Jewish Museum, situated on Cheetham Hill Road. He collaborated with Nathan Joseph Solomon (1834-1909) on the Bayswater Synagogue (1862-63) in London, too. Nevertheless, he gradually moved away from his roots and into the mainstream of Manchester society. Indeed, after collaborating on the Bayswater project he developed his London connections too, first with the Irish architect John Philpot Jones (acitve 1840-72), then with Ralph Selden Wornum (1847-1910) running the London office from 1873-88 (see "Edward Salomons"), while his partner for most of that time in Manchester was John Ely (1848-1915).
Congenial and clubbable, Salomons worked happily alongside various other architects, not only developing partnerships with several of them, but also playing his part on the council of RIBA, of which he had been elected a fellow in 1860. He twice served as President of the Manchester Society of Arts, which he had also helped to found. In addition, he took prominent roles in the Royal Manchester Institution and the Manchester School of Art, and was on the City Art Gallery Committee (see Kadish). Almost as keen and talented an artist as an architect, he exhibited his topographical scenes at the Royal Academy as well as locally, and was a member of the Savage Club, and one of the Leighton circle, when in London (see "Edward Salomons").
Reform Club, Manchester, Election Time. Here Salomons collaborated with John Philpot Jones.
Salomons's work can be seen throughout Manchester, where he built many commercial premises, particularly warehouses, but also banks, shops, clubs and so on. Most notable among these is the Reform Club of 1870-71, which displays to the full his love of external decoration. He also designed two theatres each in Manchester (the Princes and the Queens) and Liverpool (the Prince of Wales and the Alexandra), galleries for Agnew's both in London's Old Bond Street and in Liverpool (1876 and 1877 respectively) and, increasingly, town and country villas "extending as far as Amsterdam, Brussels and Biarritz" ("Edward Salomons"). These tended to be in comfortably Tudorbethan or "Old English" in style, with exposed timbers and hung tiling. Perhaps the most prominent was Caen Wood Towers (1870-71) with Jones, later called Athlone House, in Highgate, the planned redevelopment of which has long been a source of controversy.
Salomons lost his first wife and (later, tragically) both his grown-up sons by her, who died of typhoid in 1894. One of the sons, no doubt inspired by his father's passion for the theatre, was already making his name as an actor. He died on Christmas Day, his death being reported as a matter of great regret in the Era, under "Theatre Gossip," where he was described as "the son of the well-known Manchester architect" (29 Dec. 1894). It must have been a terrible blow, even though Salomons, who by all accounts was not a man who could have lived alone, had a second family by then. A little more than a year after this second marriage he had a visitor, no doubt one of many, from London. Anthony Trollope tells two different correspondents at this time that he will be going north, and staying with "Mr Salomons the architect" at 31, South King Street, Manchester (see Hall 800, 801) — something to set against criticisms of this author as anti-Semitic. It is tempting to wonder if any of the Jewish characters in Trollope's novels is based on him, but since Salomons and his then partner Ely were both remembered by their assistant as "delightful people" (qtd. in Kadish), this seems rather unlikely.
Like the wealthy Manchester calico-printer and benefactor, Adolf Schwabe, Salomons became a Unitarian later in life. He was cremated at the southern cemetery, Manchester, for which he and his last partner, Alfred Steinthal, had designed the Romanesque crematorium completed in 1892. He had travelled too far from his Jewish background to be much mourned by the Jewish community (see both Beenstock 94-95 and Parkinson-Bailey 86). He was certainly happy to fulfil commissions for this community, but was gregarious by nature, and had married "out" both times. There was only a brief announcement of his death in the Jewish Chronicle (see Kadish). But he was a fine example of the contribution of Manchester Jewry to the artistic and social life of the city, and indeed of the country. It should be noted that the Times also had only a short death notice, on 15 May 1906. Local papers and professional journals, however, did him full justice (see Beenstock 94). Gerald, the youngest son of Salomons' second marriage, took up his father's profession, changing his surname to Sanville and becoming perhaps best remembered for his photography (see "Gerald Sanville"). — Jacqueline Banerjee
Note on Salomons' name
Both Moses Henry and his son Edward are on record as "Salomon" in the listing of founder members of the Manchester Congregation of British Jews, 1856-58 (see Williams 350). But Edward's surname already has a final "s" in the Manchester Times article of 1850, and he married his first wife as well as the second as "Salomons." His father and mother also died, in 1874 and 1886 respectively, as "Salomons" (according to genealogical records on the FreeBMD website).
Related Material
Works
Bibliography
Beenstock, Rhona. "Edward Salomons — A Sociable Architect." MCRH (Manchester Centre for Regional History, at Manchester Metropolitan University). Web. 2 October 2012.
"Cosmorama." The Manchester Times, 15 June 1850, issue 169. 19th Century British Newspapers (British Library). Web. 2 October 2012.
"Edward Salomons." "Gerald Sanville." National Archives. Web. 2 October 2012.
Hartwell, Clare. Manchester. Pevsner Architectural Guides. London: Penguin, 2001. Print.
Kadish, Sharman. "Salomons, Edward (1828-1906)." Oxford Dictionary of National Biography. Online ed. Web. 2 October 2012.
Parkinson-Bailey, John J. Manchester: An Architectural History. Manchester: Manchester University Press, 2000. Print.
"Theatrical Gossip." The Era, 5 January, 1895, issue 2937. 19th Century British Newspapers (British Library). Web. 2 October 2012.
Trollope, Anthony. Letters, Vol. II: 1871-1882. Ed. N. John Hall. Stanford: Stanford University Press, 1983. Print.
Uglow, Jenny. Elizabeth Gaskell: A History of Stories. London: Faber, 1993. Print.
Williams, Bill. The Making of Manchester Jewry. Manchester: Manchester University Press, 1985.
---
Last modified 8 November 2012