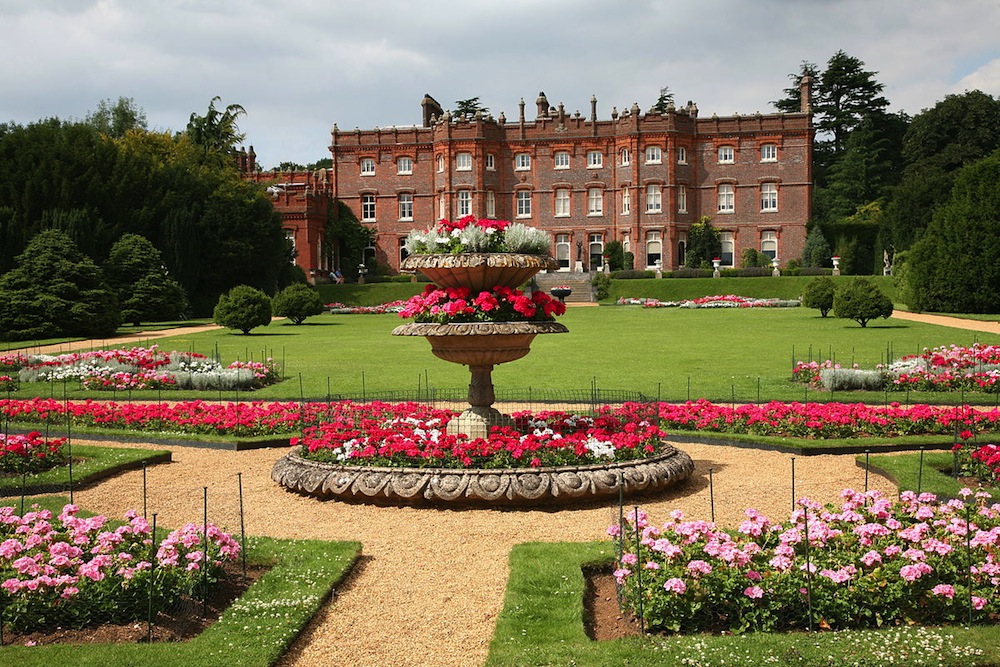 Hughenden Manor is a Grade I listed building in the Chilterns. Benjamin Disraeli purchased the original stuccoed Georgian house, extended from an earlier medieval manor, in 1848. Once he had the resources, he had the building completely remodelled in 1860-63 by Edward Buckton Lamb (1806-69). The listing text describes the resultant large, imposing country home in this way: "Red and vitreous brick, slate roofs, diagonal brick chimney shafts with cogged pyramidal caps." Now a National Trust property, Hughenden Manor is in the Chilterns at Hughenden Park, High Wycombe, Buckinghamshire. Disraeli lived here until 1881, and he and his wife are buried close to the house, in the family tomb adjoining Hughenden Church, St Michael and All Angels.
The Disraelis' family tomb next to the east wall of St Michael and All Angels', Hughenden. The medieval flint church, restored by Arthur Blomfield, lies in Hughenden Park on the way to the manor.
Disraeli clearly felt that a substantial country estate was necessary for someone with his political aspirations (see Dixon and Muthesius 30). He wanted it to look not only more imposing, but more fashionable. The remodelling was therefore undertaken with a view to updating it a Gothic Revival stye. The "rogue Gothicist" Lamb was the ideal choice for making this kind of statement, and Disraelis' biographer Daisy Hay explains that the work was all done "in a way that combined his [Lamb's] and their [Disraeli and his wife Mary Anne's] tastes," telling us that "Lamb added crenellations and gave the house a new façade, and Mary Anne scattered Ds throughout its stonework" (151). The result looks rather institutional, even off-putting, now. It was sharply criticised in the Pevsner Buildings of England series: Lamb's "details are excruciating, everything sharp, angular, aggressive" (Pevsner and Williamson 406). But the gardens that Disraeli's wife created help to soften it, and inside there are evidently still some reminders of earlier times that give a sense of the house's history, both before and after it became the Disraelis' home. Looking at the large south-facing sunny sitting-room and the private apartments above it, Hay is able to conclude, "It is a large house but an intimate one" (152).
Main photograph by Hans A. Rosbach, originally posted on Wikipedia and licensed for reuse under the Creative Commons Attribution-Share Alike 3.0 Licence; photograph of the tomb © Rob Farrow, originally posted on the geograph website, and licensed for reuse under the Creative Commons Attribution-Share Alike 2.0 Licence. Thanks to both for kindly making their work available to others. Commentary by Jacqueline Banerjee.
Related Material
References
Dixon, Roger, and Stefan Muthesius. Victorian Architecture. 2nd ed. London: Thames and Hudson, 1985. Print.
Hay, Daisy. Mr & Mrs Disraeli, A Strange Romance. London: Chatto & Windus, 2015.
"Hughenden Manor, Hughenden." British Listed Buildings. Web. 30 March 2015.
Pevsner, Nikolaus, and Elizabeth Williamson. The Buildings of England: Buckinghamshire. 2nd ed. London: Penguin, 1994.
---
Created 31 March 2015