Photographs taken and kindly contributed by Michael Critchlow. Commentary and formatting by Jacqueline Banerjee. You may use these images without prior permission for any scholarly or educational purpose as long as you (1) credit the photographer and (2) link your document to this URL in a web document or cite it in a print one. [Click on the images to enlarge them.]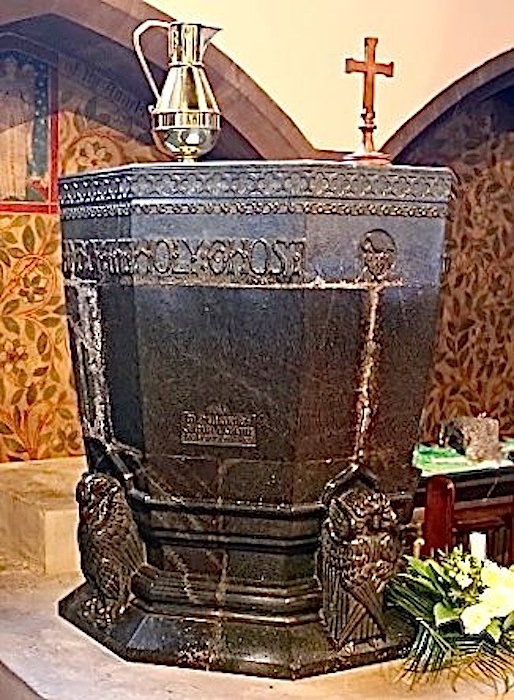 Font designed by William Lethaby (1857-1931) for the interior of Richard Norman Shaw's All Saints Church, Leek. Lethaby was still Shaw's chief assistant at this time. The font dates to about 1886 (see Rubens 93), and stands against the west wall. Though conventionally placed and conventionally octagonal, it is unusual in its solidity, rather matching the outside of the church in this respect. The listing text describes it thus: "green marble, a heavy, austere octagonal basin with lettering in low-relief in a band towards the top, and symbols of the evangelists at the cardinal points at the base." St Matthew can be seen in the front here, as the figure of a winged man or angel with folded wings, and St John at the side, as an eagle. The words "Holy Ghost" can be seen on the band at the top. It is, for Lethaby, a characteristic mix of this kind of solidity and fine detail. According to his biographer Godfrey Rubens, it "foreshadows the coming popularity of the neo-Byzantine style that Lethaby helped, unwittingly, to bring about" (86). Indeed, these were just the qualities that William Morris picked out first when talking about this style: "simplicity of structure and outline of mass; amazing delicacy of ornament."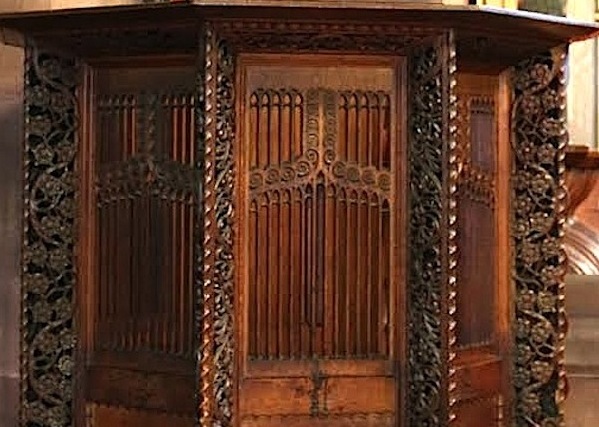 The pulpit in All Saints is attributed to Lethaby too, and presumably dates from the same time. It has less of a presence, but is still a handsome piece of work. It has a low stone base with wood above, again in an octagonal form, and with "projecting ribs" at the angles "intricately carved with foliate openwork" (listing text). Pevsner too talks about its "fine freely Gothic pierced work" (169). The design nicely matches that of the frieze in the chancel. The canopy above is the sounding board which helped the priest's voice to carry into the body of the church.
Related Material
References
Morris, William. "Gothic Architecture." The William Morris Archive Online Edition (University of Iowa). Web. 13 November 2015.
"Parish Church of All Saints, Leek." British Listed Buildings. Web. 13 November 2015.
Pevsner, Nikolaus. The Buildings of England: Staffordshire. New Haven and London: Yale University Press, 2002.
Rubens, Godfrey. William Richard Lethaby: His Life and Work. 1857-1931. London: The Architectural Press, 1986.
---
13 November 2015