Text and photographs at upper and lower left by Jaqueline Banerjee, with additional comments by George P. Landow and additional photographs by Robert Freidus [You may use these images without prior permission for any scholarly or educational purpose as long as you (1) credit the photographer and (2) link your document to this URL in a web document or cite the Victorian Web in a print one. ]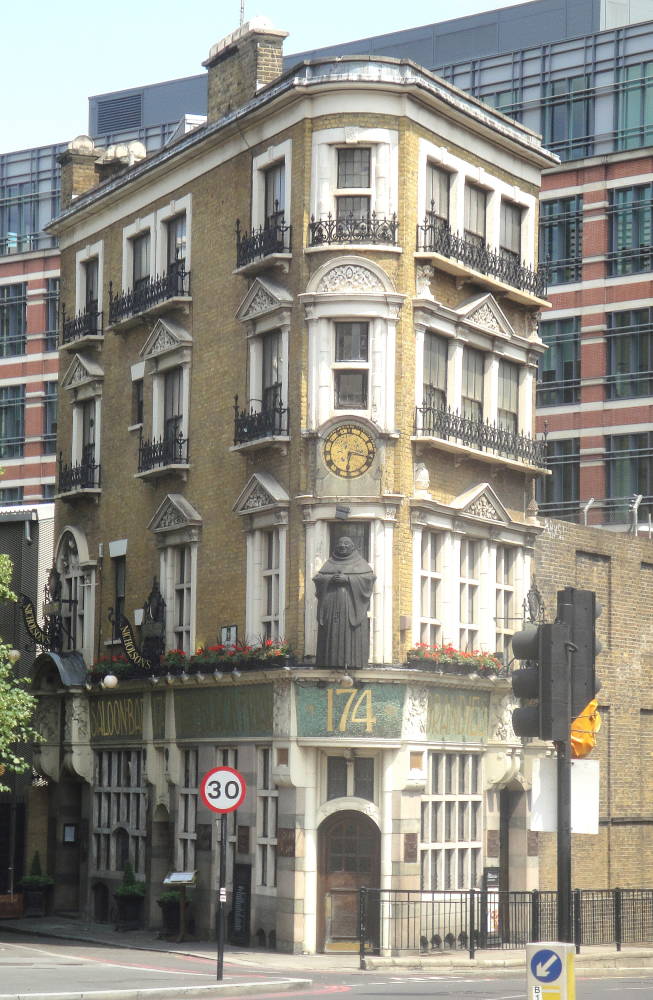 The Black Friar Pub. Post-1903 work by Herbert Fuller-Clark (b.1869, d. after 1912). Original building 1875. Remodelled in several stages beginning 1903, 1914, and 1925. 174 Queen Victoria Street, London EC4. Individual sculptures by Nathaniel Hitch, Frederick Callcott, Henry Poole, and Farmer and Brindley. According to Philip Ward-Jackson,
Hitch was responsible for the stonework grotesques on the exterior, and for a considerable amount of similar work in wood in the interior. Callcott created the pattern for the larger copper relief scenes, representing the day to day activities of the friars. . . . It seems probable that Callcott went on working on those reliefs until shortly before his death in 1925, when the rather more prestigious Henry Poole took over, to produce the relief work in the Small Saloon Bar. One of Callcott's frieze-like panels, entitled Saturday Afternoon, was to be repeated on the screen wall, separating the Luncheon Bar from the Small Saloon Bar, although it looks quite different in its new form, because the figures are much more widely spaced out, and the coloured marbles in the second rendering give it more depth. [311]
Of these artists, Hitch (1841-1935), deserves to be better known. Following an apprenticeship to Farmer and Brindley, he had a very long and distinguished career as a sculptor: his work can be found at Cardiff Castle, suggesting that he was probably a member of William Burges's workforce there, and also in many churches and cathedrals including Truro Cathedral and Westminster Abbey. He was particularly associated with the architects W. D. Caröe and J. L. Pearson.
It is worth noting that the popular London Encyclopaedia disagrees about the dates and artists involved here, stating simply that the building was "erected in 1875, the ground floor being remodelled in 1905 by H. Fuller Clark. The outside is covered with mosaics and carved figures by Henry Poole (1903)." However, Ward-Jackson's considerably longer discussion is clearly more to be trusted. The figure of the Black Friar himself was certainly added later: Ward-Jackson thinks it was probably in 1983.
Whoever created the various parts of Fuller-Clark's redesign of the Black Friar, it provides a delightful antidote to the idea that the Arts and Crafts movement was all rather earnest. This wedge-shaped building narrowly squeezed into a junction by Blackfriars Bridge was built on a site once occupied by the Blackfriars Monastery. When the interior was remodelled, multi-coloured marble was installed, along with mosaics, copper reliefs of jolly-looking monks, and decorative touches such as the elaborate fire-basket with goblin ends. The monks are shown singing carols, collecting fish and eels for their meatless days, and so on. One is just about to boil an egg. An extension to the main saloon is lined with marble and alabaster with more copper reliefs and mosaics, and mottoes such as "Haste is Slow" and "Industry is All." [Compare to another wedge-shaped pub: Bittles Bar in Belfast.]
Both Poole and Clark were committed members of the Arts and Crafts movement, and really went to town (or, rather, city) over this fabulous little pub. Despite its distinctly medieval feel, the decor is also sometimes classified as Art Nouveau. While not one of the new breed of gastropubs, The Black Friar can also be recommended for its food, especially its pies!
Other Views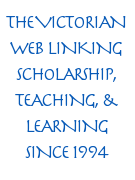 Sources
Curl, James Stevens. "Fuller-Clark, Herbert (1869-after 1912)." A Dictionary of Architecture and Landscape. 2000. Web. 25 July 2011.
History provided on The Blackfriars menu.
Speel, Bob. Henry Poole, R.A. (1873-1928). Web. 25 July 2011.
Ward-Jackson, Philip. Public Sculpture of the City of London. Liverpool: Liverpool University Press, 2003.
Weinreb, Ben, and Christopher Hibbert, eds. The London Encyclopaedia. London: Macmillan, rev. ed. 1992.
White, Gavin. Nathaniel Hitch — Sculptor. All Saints' Church, St Andrews. Web. 25 July 2011.
---
Last modified 24 July 2007