Text by Jacqueline Banerjee. The third (recent) photograph, slightly modified from its original on the Geograph website, is by Hywel Williams, who generously allows its reuse under the Creative Commons licence. Other pictures kindly supplied by conservation engineer Jon Avent BSc(Hons) CEng MIStructE IHBC, the internal views originating with Mike Johnson, who operated the Exchange as an entertainment venue until it was closed by the Council. [You may use these without prior permission for any scholarly or educational purpose as long as you credit the source and link your document to this URL in a web document or cite it in a print one. Click on them for larger images.]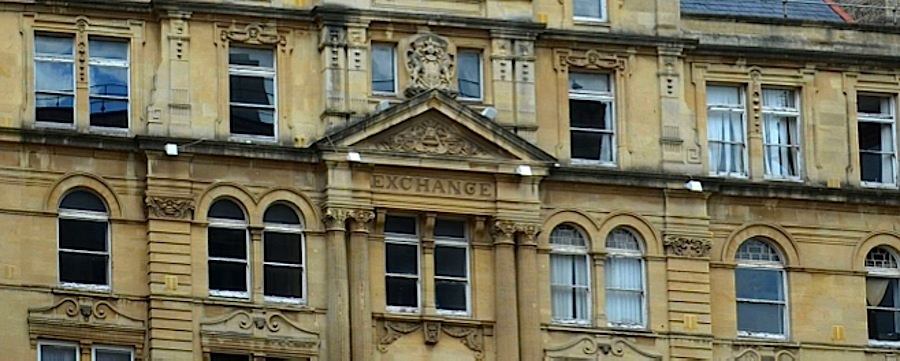 The iconic Cardiff Coal and Shipping Exchange is a Grade II* listed building designed by Cardiff's premier architect, Edwin Seward (1853-1924). Built 1883-86, it was opened 1 February 1886, with the architect and his wife in attendance. Though in evident need of restoration, it still looks imposing, with its Bath stone and dressy neo-Renaissance style marking it out as an important piece of built heritage. It has three storeys plus basement and attics, and is open to the south, spreading into side wings "with complex canted projections" to make a U-shaped complex — a "huge building" that "completely occupied" the centre of Mount Stuart Square close to the Bute Docks (Newman 271).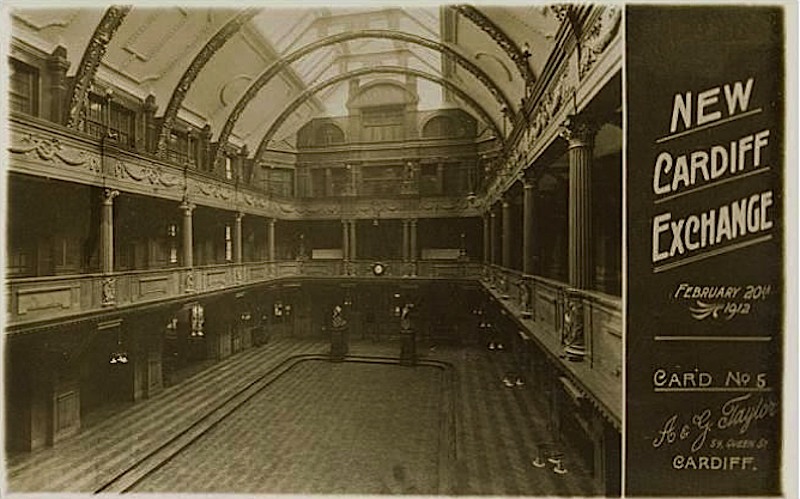 Then and now. Left: Postcard showing the central hall in the very early twentieth century. Right: The Exchange in recent years.
In its heyday, Cardiff could be advertised as "the First Port in the United Kingdom for shipping cleared to Foreign Countries and British Possessions, and the Premier Port in the World for the Shipment of Coal" (Davies ii). This building therefore was the setting for major financial dealings by shippers and the mine-owners and managers running the lucrative South Wales coal industry. A contemporary described it as a hive of activity, noisy with the clicking of typewriters, "where fortunes are made, telephone bells ring, and telegraph boys run to and fro like ants on an ant heap. For here the great business of the City centres... (Fletcher 76). More recently, Jon Avent tells us that around eight or nine thousand people used to pass through it every day, with the high point for trading being reached between noon and 1 pm. The Exchange is also on record as having been the first place where a £1 million deal was struck, an amount which would be over £100 million now. In those closing years of the Victorian period, it was, he adds, "where every businessman with pretensions of grandeur and success needed to be seen."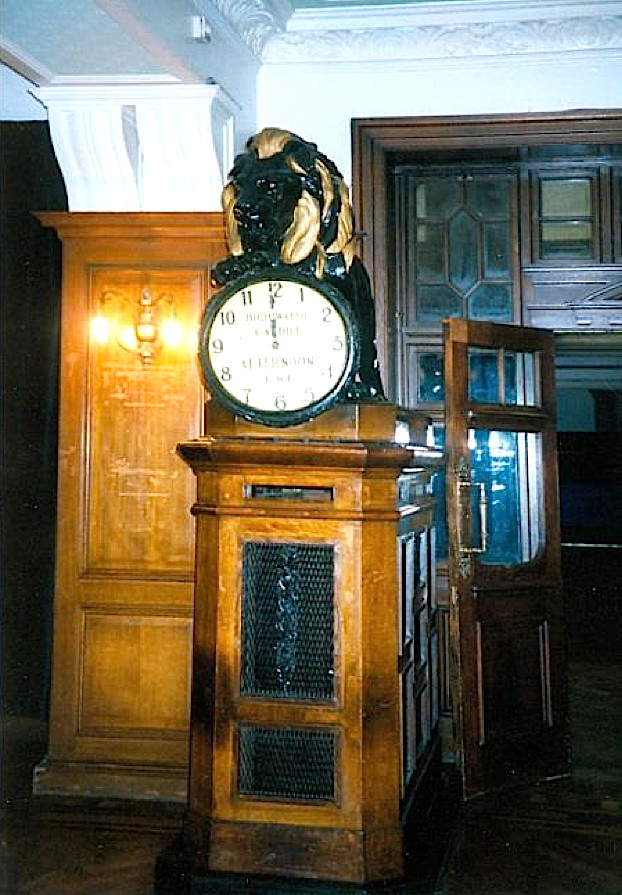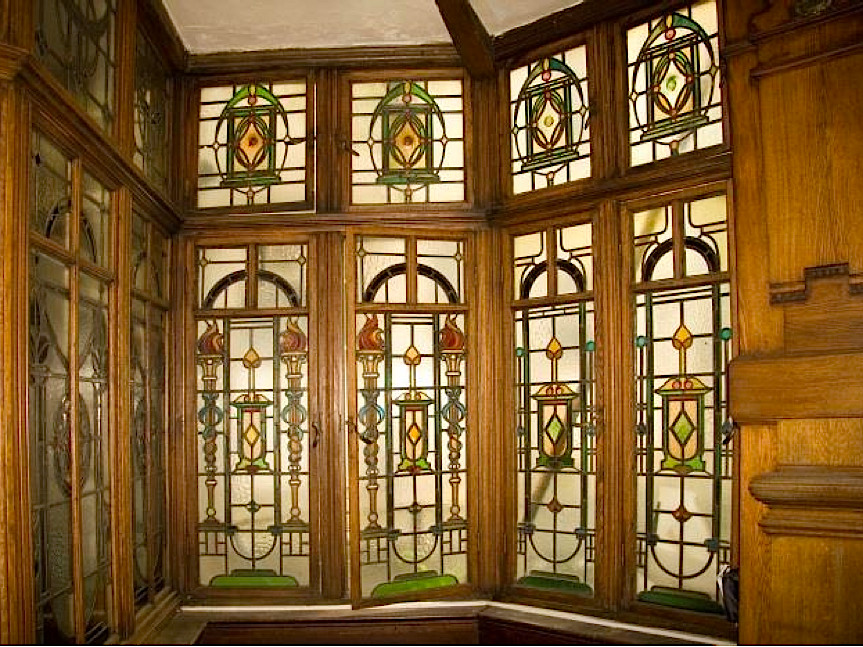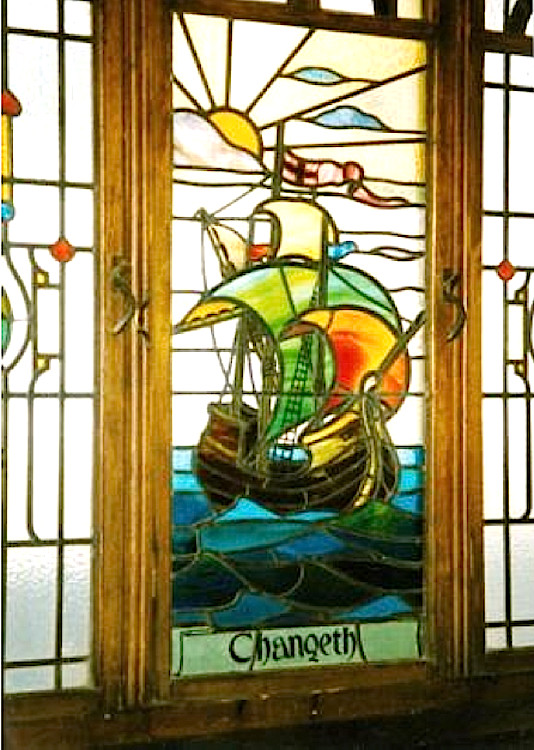 Left to right: (a) One of the two great lions showing the times of the high tides at the doorway into the main hall. (b) Stained glass windows, wood panelling and exposed beams. (c) A window with a stained glass galleon design.
In 1911-12, Seward himself "sumptuously reworked the interior" (Newman 271), and clearly much of his work remains intact. However, as the text under the galleon windows says, in full, "Ye olde order changeth." Sadly, the building is no longer needed for its original function.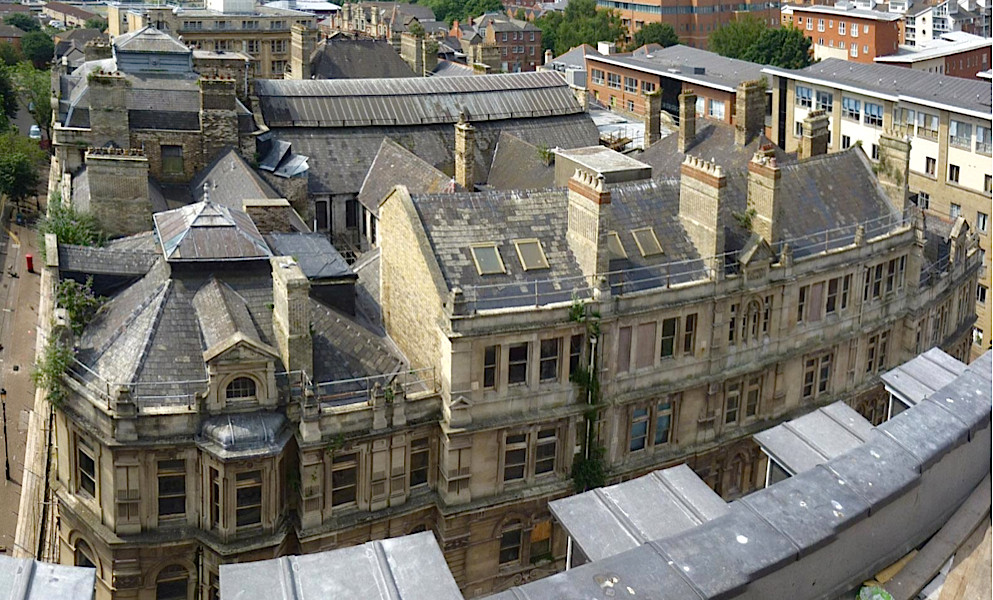 Recent photograph from above.
This bird's-eye view gives an idea of the grand scale and generally sound condition of the building, the future of which has long been in contention. In particular, says Avent, it shows that the roof areas are "predominantly intact." Along with its key role in Cardiff's heritage, and the outcry against the current plans to preserve only its façade, this gives grounds for hope that one of Seward's major works can still be usefully restored. But, since hoping alone may not be enough, at the time of writing a petition has been started on behalf of the building: see last item listed below. It would be wonderful if this landmark building could play as great a part in Cardiff's future as it did in its past.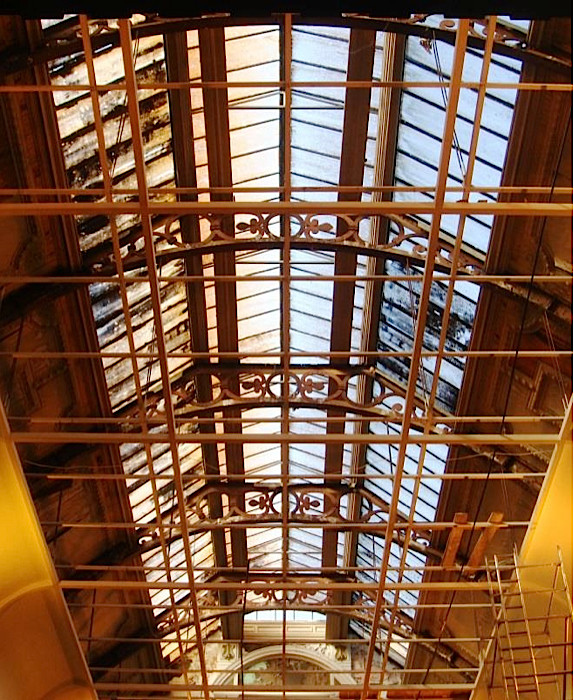 Part of the "complex roof structure" to which John Newman refers (271), giving an idea of what the building could look like if really returned to its former glory.
Sources
Avent, Jon. Cardiff Coal Exchange — A National Treasure about to be demolished?" Council for British Archaeology. Web. 26 February 2014.
Davies, Joseph, ed. The South Wales Coal Annual for 1908. Cardiff: Joseph Davies, 1908.
Fletcher, J. Kyrle. Cardiff. Notes: Picturesque and Biographical. Western Mail, [1917]. Internet Archive. Web. 26 February 2014.
Newman, John. Glamorgan (The Buildings of Wales series). London: Penguin, 1995.
Petition for Seward's Coal and Shipping Exchange. Web. 26 February 2014.
---
Last modified 26 February 2014.