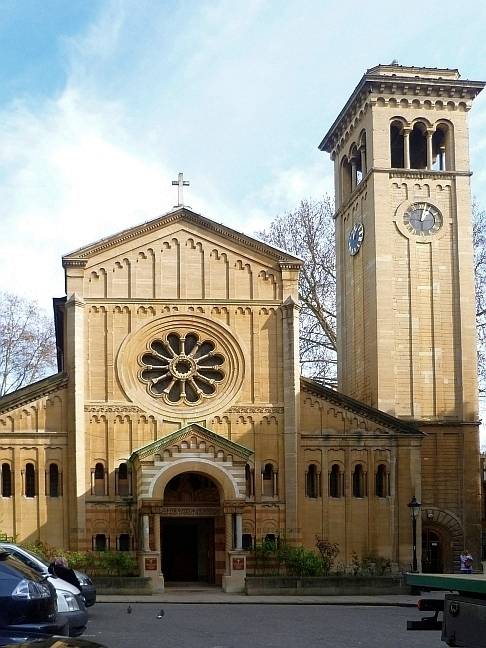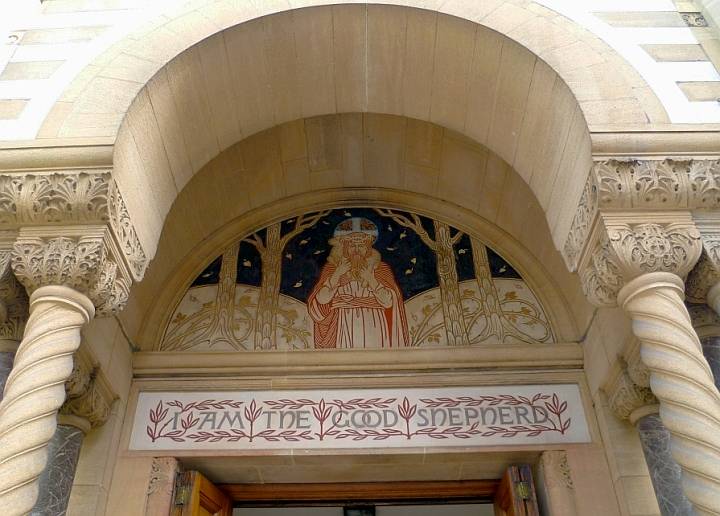 (Former) All Saints, Ennismore Gardens, Kensington, SW7. West front and entrance by Charles Harrison Townsend (added with other extensions, 1851-1928), with beautiful, finely detailed and unconventional stone-carving, and sgraffito with gold mosaic on the tympanum by George Heywood Sumner (1853-1940). Original building by Lewis Vulliamy, 1848-49; campanile to Vulliamy's original design, c.1860; sgraffito and other decoration, including stained glass, by Heywood Sumner, 1896-1903. Photographs, captions, and commentary by Jacqueline Banerjee, 2011. [You may use these images without prior permission for any scholarly or educational purpose as long as you (1) credit the photographer and (2) link your document to this URL in a web document or cite it in a print one.]
The former All Saints, Kensington, is now the Russian Orthodox Cathedral of the Dormition of the Mother of God and All Saints. But it was never a typical Anglican house of worship. If the Ecclesiologist was right, when it was first designed in the 1830s, it heralded "the short-lived vogue for the Lombardic style, generally held to have arrived fully armed in England in 1840 with Wyatt & Brandon's St Mary and St Nicholas at Wilton" (Greenacombe). Interestingly, the Wilton church had a prior Russian connection, its style having been chosen by the Russian-born dowager Countess of Pembroke and her son (see Jenkins 850). Based on a different tradition, then, the interior of All Saints was like a basilica, "with a nave flanked by lower, lean-to aisles, and an apse at the east end," a plan complemented by a west front not dissimilar to the one Townsend would add later, but less bold, with a high small wheel window (Greenacombe). Construction of the campanile, part of Vulliamy's original design, was delayed simply for financial reasons. This was apt to happen with spires as well, as A. W. N. Pugin, whose Gothic Revivalism gained a much wider following, discovered. Perhaps for financial reasons too, the interior of Vulliamy's church was rather plain, except where his former pupil, Owen Jones, had (typically) cheered it up by painting gold stars against a blue background on the ceiling of the apse.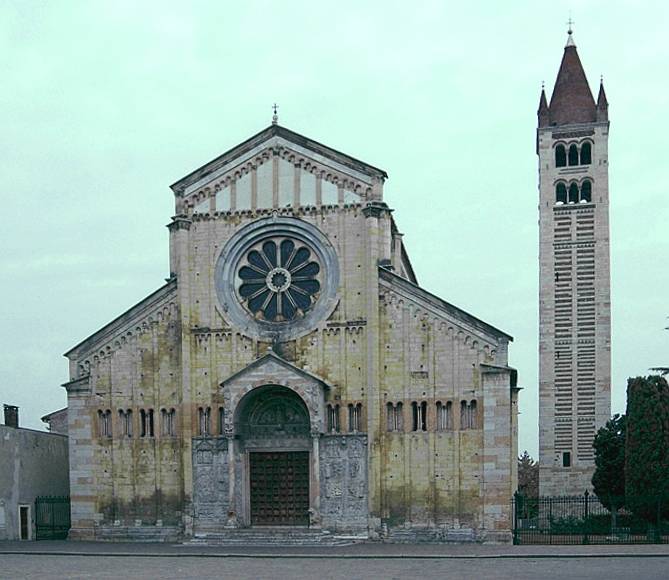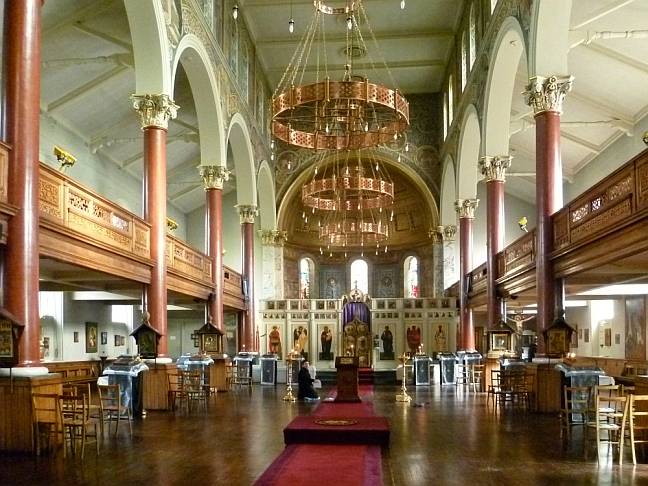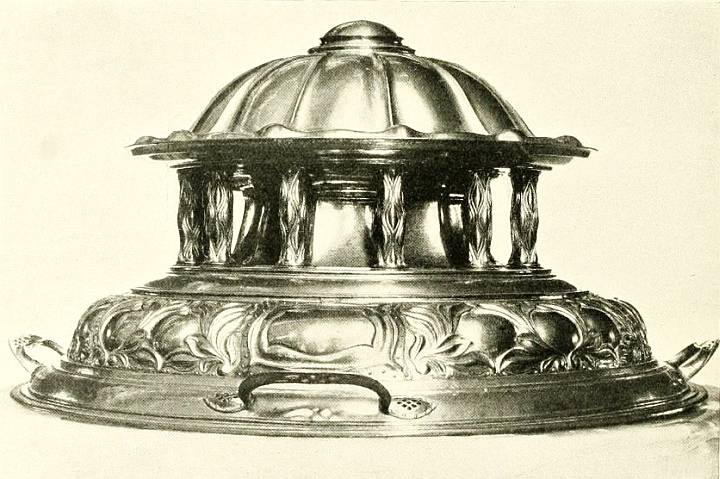 Left to right: (a) The church of San Zeno Maggiore, Verona (with thanks to Lo Scaligero at Wikimedia Commons; cropped and with perspective corrected). (b) The interior of the Kensington church today. (d) Font cover in hand-beaten copper designed by Townsend, executed by Llewellyn Rathbone, and installed in 1896 (from "Studio-Talk," 118; thanks to Sarah Sullivan for drawing my attention to this article). [Click on these and the following thumbnails for larger images.]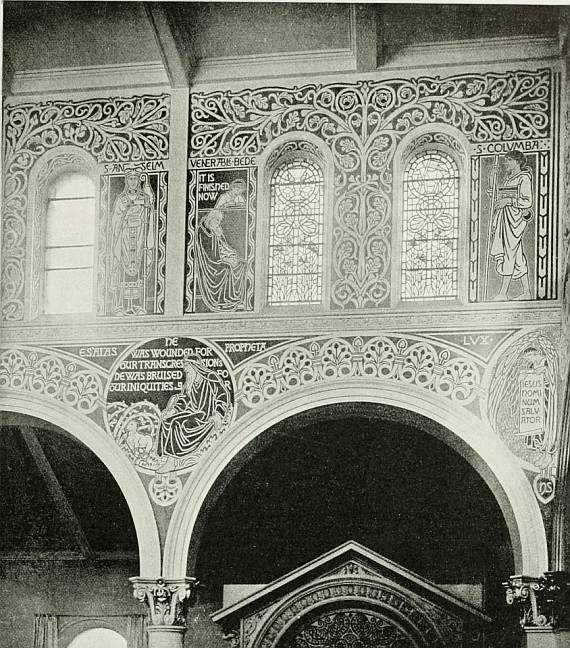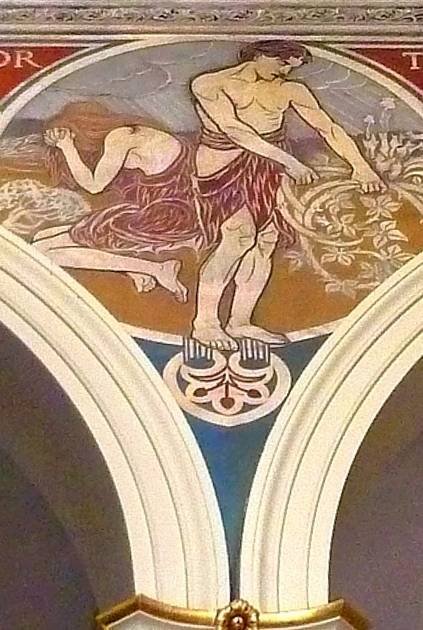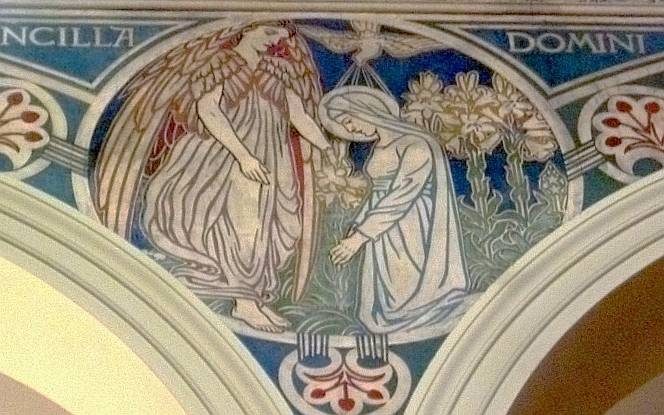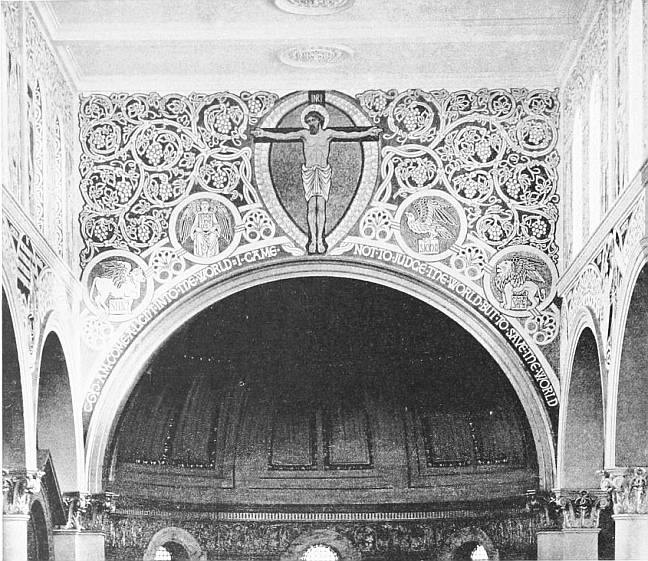 Left to right: (a) Sgraffito decoration inside the church (from White 155), showing St Anselm, the Venerable Bede, and St Columba in rectangular panels above, and the prophet Isaiah and an angel with a scroll in roundels below. (b) "Labor Terrae": Adam and Eve after the Fall, in the spandrel above two arches in the north nave arcade. (c) "Ancilla Domini": the Annunciation in another spandrel, in the south nave arcade. (d) "Christus Consummator" with mother of pearl surrounds (from White 156).
Townsend's west front was based on that of the medieval church of S. Zeno Maggiore in Verona, which he is known to have visited (Greenacombe). But there are signs of his own stylistic preferences too, in the deep rounded arch over the recessed door, a shape repeated over the smaller windows; and in the stylized leaf design of the capitals at the entrance. As for the arches, the arch round the door to Vulliamy's campanile (just visible in the extreme lower right-hand corner of the main picture of the church, above) is a feature that may have influenced Townsend not only here — where he would have wanted his new west entrance to harmonise with it — but in his subsequent work as well. For the interior of the church, Townsend designed various new fittings, like the hand-beaten copper font cover (cf. the hand-beaten copper mantelpiece he describes in Cliff Towers). Only his altar front remains now, overshadowed by the rather fine icon screen. The most attractive feature of the interior is still Sumner's sgraffito scheme, or rather schemes. One is a series of scenes from the scriptures, the other, in the clerestory, is a series of saints, with the Venerable Bede and the Holy Innocents. These scenes and figures, whether in panels (above) or roundels (below), are linked with foliage and patterning. In front of the apse is the climactic "Christus Consummator," which in typical Arts and Crafts fashion uses another material to heighten the effect — two bands of mother of pearl.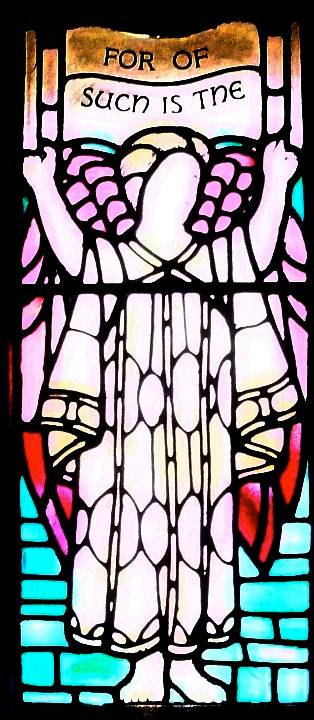 One of the lower west front windows, deemed to be "slightly sentimental" in Greenacombe).
Sumner also designed the new windows, including a splendid wheel window with twelve angels around the Lamb of God, "plant and tree forms" in the clerestory stained glass (Eberhart) and the small west front windows with angel heads above, and child figures holding up parts of the text, "Suffer little children, and forbid them not, to come unto me, for of such is the kingdom of heaven" (Matthew 19, 14), below. Gleeson White praises the collaborative effort in The Studio, saying that the effect of Sumner's sgraffito "is greatly helped by the wood work and other fittings designed by Mr C. Harrison Townsend" (155).
Related Material
Sgraffito by Heywood Sumner in St Mary's Church, Sunbury (includes more information about this artist and his technique)
References
Eberhart, Robert. Stained glass windows at Assumption & All Saints (Rsn Orth) (fmly All Saints)." Church Stained Glass Windows site. Web. 18 April 2011.
Greenacombe, John, ed. "Princes Gate and Ennismore Gardens: The Kingston House Estate: Russian Orthodox Cathedral, Ennismore Gardens (formerly All Saints' Church)." Survey of London. Vol. 45: Knightsbridge (2000).186-190. Web. 18 April 2011.
Jenkins, Simon. England's Thousand Best Churches. London: Penguin, 2009.
"Studio-Talk." Studio International, Vol. 12. 118-19. Internet Archives. Web. 18 April 2011.
White, Gleeson. The Work of Heywood Sumner — Sgraffito decorations." Studio International, Vol 13. 153-163. Internet Archives. Web. 18 April 2011.
---
Last modified 24 April 2011