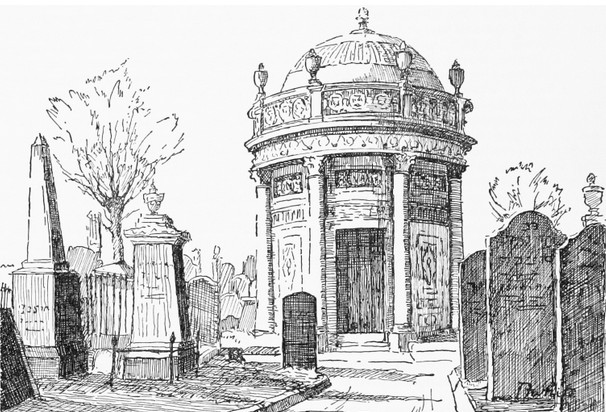 The Rothschild Mausoleum, West Ham. Matthew Digby Wyatt, 1866. Signed T. F. White. Source: Powell. The Jews Cemetery here was opened in 1858, and it was where the heartbroken Ferdinand de Rothschild (1839-1898) buried his wife Evelina (1839-1866). She was the Baron's cousin — the younger daughter of Charlotte and Lionel Rothschild. "Although neither as clever nor as beautiful as her mother and sister Leonora, she seems to have had a particularly sweet nature" ("Rothschild Mausoleum").  Ferdinand married her in July 1865, but she died late in 1866 after a stillbirth. The tragedy was deeply felt: her grief-stricken widower never remarried. Something of his grief can felt from the inscription based on Psalm 139, on the wall of the mausoleum, in English as well as Hebrew: "If I ascend up into Heaven / thou art there / if I lie down in the grave / Behold I find thee / Even where thy hand leads me / And thy right hand supports me" (qtd. in "Rothschild Mausoleum").
Wyatt has been described as "perhaps the most prestigious architect ever to have been commissioned to work for the Jewish community, and a master of the 'free' classical style" (Kadish 82). It may be significant that he had the young Jewish architect, Lewis Solomon (1848-1928), in his office at this time. Solomon overlooked the plans for him, and superintended their execution (see Kadish 82). The result was a fine, elaborate domed structure: John Martin Robinson called it "sumptuous" (252). Sadly, it has been vandalised since then (in 2005) and is now difficult to visit.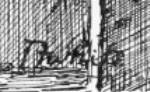 Larger image of the artist's signature.
Image download and text by Jacqueline Banerjee. Every effort has been made to trace the owner of the drawing's copyright, because in the list of illustrations in the printed book it is dated 1966. But neither the present author nor British History Online has been able to find out more details.
Bibliography
Kadish, Sharman. "Jewish Funerary Architecture in Britain and Ireland since 1656." Jewish Historical Studies 43 (2011): 59-88.
Powell, W. R., ed. "West Ham: Roman Catholicism, Nonconformity and Judaism." A History of the County of Essex: Volume 6. Ed. W R Powell. London: 1973). 123-141. British History Online. Web. 24 July 2019].
Robinson, John Martin. The Wyatts: An Architectural Dynasty. Oxford: Oxford University Press, 1979.
"Rothschild Mausoleum." The Mausolea & Monuments Trust. Web. 24 July 2019.
---
Created 24 July 2019