Among the several important architectural dynasties of the nineteenth century, such as the lines started by Thomas Hardwick Senior, Charles Barry, A. W. N. Pugin and George Gilbert Scott, the Wyatt family stands out for the extent and variety of its contributions to our built environment. It included among its members some painters and sculptors too. What makes it extraordinary is the sheer number of family members who followed the same or related professions, and the fact that so many achieved eminence in those professions. When the sculptor Matthew Cotes Wyatt (1777-1862) died, a sizable part of his obituary in the Art Journal was taken up with comments on his relatives.
The first Wyatt to become involved with building work was Benjamin Wyatt (1709-1772), "farmer, timber merchant, building contractor and sometime architect" (Allinson 132). Thereafter, the same talents for design and draughtsmanship seemed to run in the family, perhaps partly as a result of a great many marriages between cousins (over twenty in all, eight in the third generation alone (Robinson, The Wyatts, vi; Waterhouse and Robinson, "Wyatt, Thomas Henry"). Moreover, family members often worked together, making them a force to be reckoned with, particularly in the architectural world of their time. The main figures who followed this eighteenth-century paterfamilias were as follows.
Samuel Wyatt (1737-1807)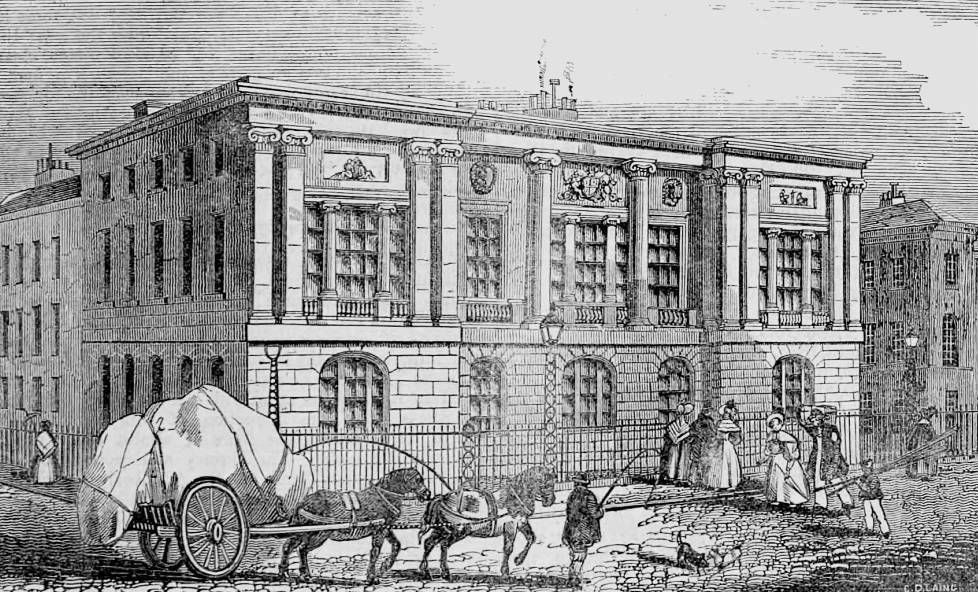 The last word in Georgian elegance: Samuel Wyatt's Trinity House on Tower Hill, London. Engraving from the Saturday Magazine of April 1834, p. 165. [Click on this image and those below to enlarge them.]
Samuel Wyatt was Benjamin's third son. Nicknamed "Chip" because he had trained and worked as a carpenter, Samuel Wyatt was as able an architect as his more famous younger brother James (below), and better able to manage his career — he made a fortune (see "Great British Architects"). His forte was designing lighthouses, model farms, and the less ostentatious kind of country mansion, though he also worked on his brother's project of Kedleston Hall, a very grand country house in Derbyshire. He was similalry involved with his brother in building the Pantheon in Oxford Street, London, designed by James in 1769. Moreover, he was an engineer of some repute. In this connection, he was surveyor to Trinity House and designed its headquarters on Tower Hill, one of his finest works. "Chip" Wyatt also built harbour buildings at Ramsgate, and several lighthouses.
James Wyatt (1746-1813)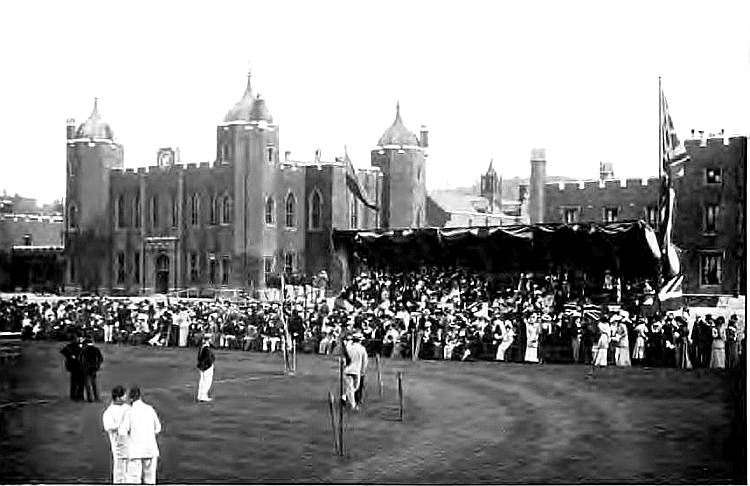 James Wyatt's Gothic (or, rather, fanciful "Gothik") Royal Military Academy, Woolwich, seen in an old photograph as a backdrop to "The Sports 1900" (Guggisberg, facing p. 213).
James Wyatt was Benjamin's sixth son, and thus one of Samuel's younger brothers. He was an even more important figure. Amongst his prestigious public appointments (in 1782) was that of Surveyor-General. He also became briefly the President of the Royal Academy (1804). He has been praised both as "the successor to Robert Adam as England's most fashionable architect in the classical idiom" (Turnor 3), and for his "mastery of the Gothic style" (Robinson, "Wyatt, Benjamin") in later years. In the latter style, for example, he designed the impressive Royal Military Academy at Woolwich (1805), originally for gunnery cadets from the Woolwich Arsenal, now a Grade II* listed building converted to residential use. At the time it was seen as "a handsome and commodious structure" (Grant 41); more recently, Nikolaus Pevsner has called it "one of the most important pieces of military architecture in the country" (qtd. in "Woolwich Coomon"). But James Wyatt is rather controversial, because he is also taken to task for having followed fashions in a superficial way, and to Pugin he was "a monster of architectural depravity" for his insensitive work on cathedrals (qtd. in Hill 118).
Charles Wyatt (1758-1819)
The Raj Bhavan, Kollkata, by Charles Wyatt, that set the tone for Kolkata during the Raj.
Charles Wyatt (1758-1819) was one of the original Benjamin Wyatt's grandchildren, the son of his eldest son William, and hence a nephew of Samuel and James. He is not as well-known in England as some of the other Wyatts. This is because he joined the army in 1780 and went out to India in 1782. But his career flourished out there. By 1803 he had become Superintendent of Public Works. His main achievement was to design the majestic and (for Kolkata) influential Raj Bhavan or Government House (1799). This was inspired by, though not simply modelled on, his uncle Samuel's design for Kedleston Hall in Derbyshire (Davies 64).
Sir Jeffry Wyattville (1766-1840)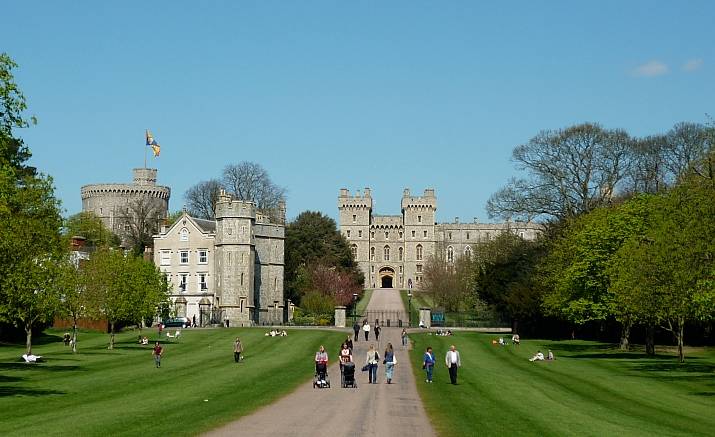 Windsor Castle from the Long Walk, for whose work on which Jeffry Wyattville earned a knighthood.
Sir Jeffry Wyattville, another nephew of Samuel and James. Most of his work consisted of remodellings of and additions and improvements to existing country estates, but these were among the grandest in the land — they included Longleat in Wiltshire, Wollaton Hall in Nottinghamshire and Chatsworth in Derbyshire. His clientele included as many as seventeen Earls (see Allinson 131), as well as four sovereigns. He was knighted for his work for the Queen at Windsor Castle.
Benjamin Dean Wyatt (bap.1775, d.1852)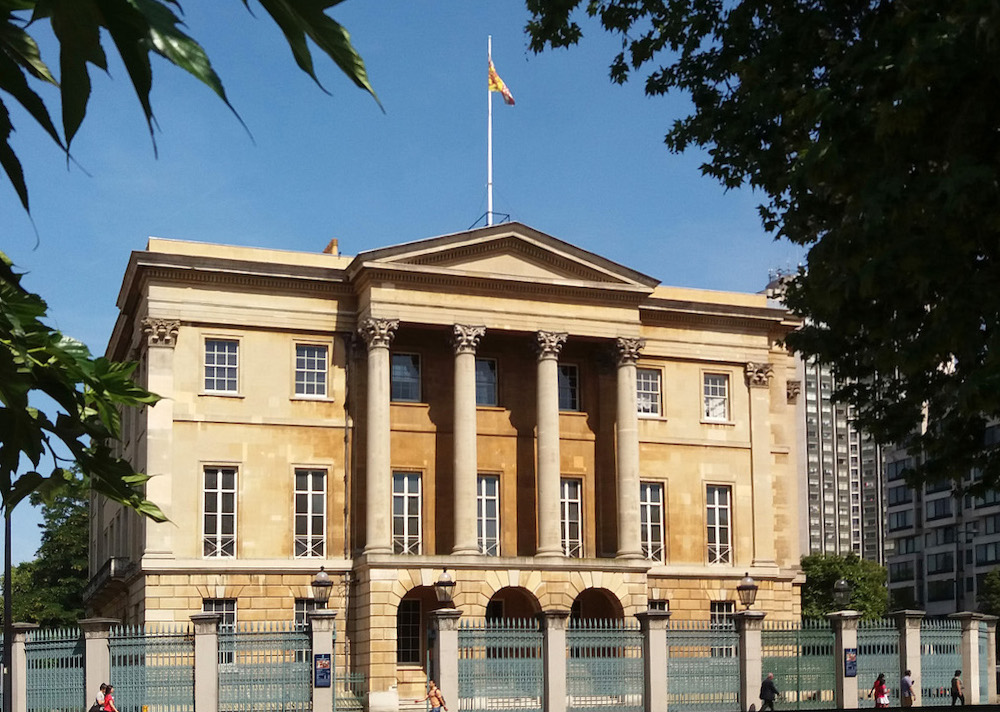 Apsley House, Hyde Park Corner, London, originally built by Robert Adam, but later enlarged, refaced and given its Corinthian portico by Benjamin Dean Wyatt (completed 1828).
Benjamin Dean Wyatt was the eldest son of James Wyatt. Like Charles, he went to India, and worked in the East India Company's Secrets Department in Calcutta (present-day Kolkata). Returning after several years, he first acted as an assistant to his father, then became private secretary to Sir Arthur Wellsley (later the Duke of Wellington). This helped him when he finally devoted himself to the family profession. His chief works were the Theatre Royal in Drury Lane (1812); the remodelling of Apsley House for the Duke (1828); and what is now called Lancaster House, near St James's Palace, where he created the kind of lavish Louis XIV interior for which he and his younger brothers Philip and Matthew Cotes Wyatt were particularly known (for the latter, see further down). He also built the column for the Duke of York in Waterloo Place (1831-34). As well as working with his brothers (especially Philip), he was helped by an able pupil, John Harper.
Lewis Wyatt (1777-1853)
Lewis Wyatt was the son of Benjamin's fourth son, also called Benjamin, so yet another nephew of Samuel and James Wyatt. Like Wyattville, therefore, he was a cousin of Benjamin Dean Wyatt. He was apprenticed to Samuel and then went into James' office before opening an independent country house practice. This flourished. He was noted for his "marked stylistic eclectisism" (Leach).
Matthew Cotes Wyatt (1777-1862)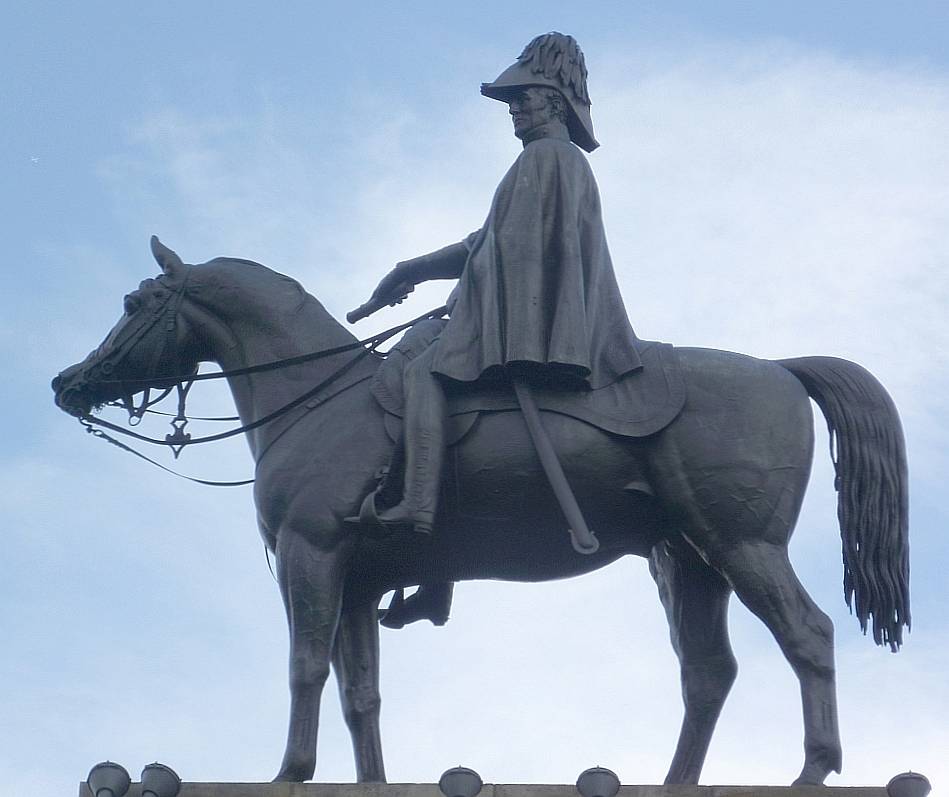 Matthew Cotes Wyatt's Wellington Monument (1828), originally on top of the Wellington Arch, now in the garrison town of Aldershot.
Matthew Cotes Wyatt was Benjamin Dean Wyatt's younger brother. He was a painter and sculptor. Perhaps he is best known for his Wellington Monument, which originally crowned the Wellington or Constitution Arch at Hyde Park Corner, but was ousted and transported rather ignominiously to the garrison town of Aldershot. His equestrian statue of George III (1836) in Cockspur Street, London, SWI, is still in place, though generally.surrounded by traffic.
Henry Wyatt (1794-1840)
Henry Wyatt was the son of Joseph Wyatt, a cousin of the "architectural" Wyatts, and a portrait and subject painter of "considerable popularity" (Nicholson and Waggoner).
R. J. Wyatt (1795-1850)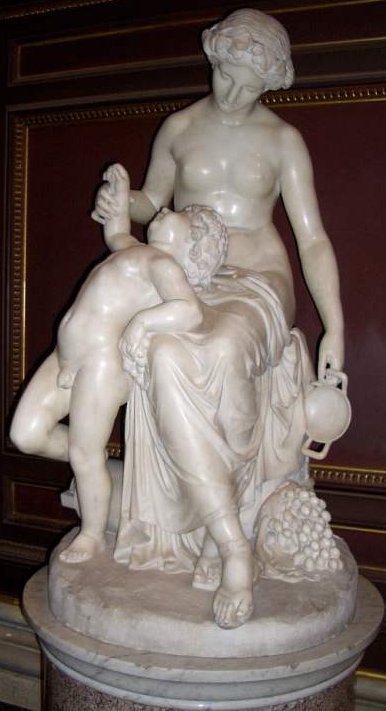 R. J. Wyatt's sculpture of the Nymph Ino and the Infant Bacchus (c.1834-36) in the Fitzwilliam Museum, Cambridge.
Richard James Wyatt was the son of Edward Wyatt, James Wyatt's first cousin once removed. He settled in Rome but exhibited regularly at the Royal Academy and was very well represented, and a medal-winner, at the Great Exhibition of 1851.
Thomas Wyatt (bap.1795-1859)
Thomas Wyatt, younger brother of Henry Wyatt, above, and so another cousin of the "architectural" Wyatts. A successful portrait painter — and photographer — he became secretary to the Birmingham Society of Artists.
Thomas Henry Wyatt (1807-1880)
Thomas Henry Wyatt was great grandson of the original Benjamin Wyatt's elder brother William. He became President of the RIBA 1870-73, and among his larger enterprises was (for example) the southern part of the Brompton Hospital (1879-82).
Sir Matthew Digby Wyatt (1820-1877)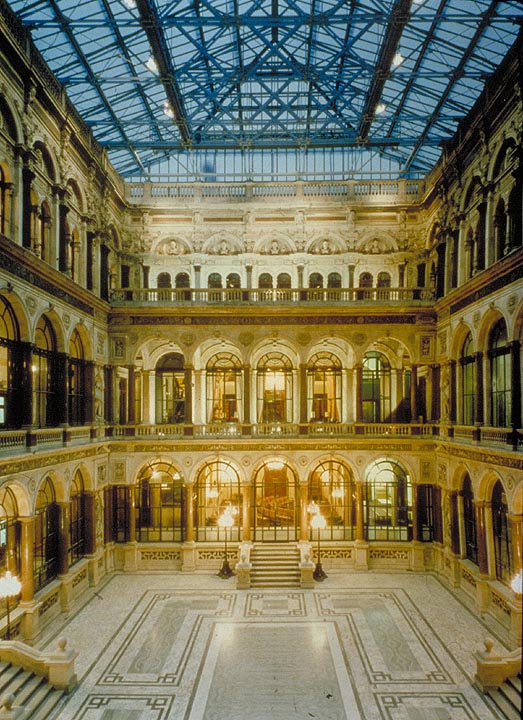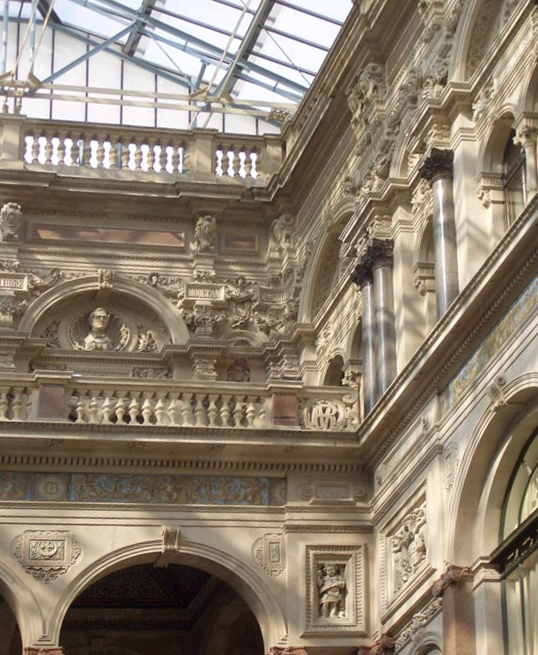 Sir Matthew Digby Wyatt's exotic and atmospheric courtyard — the Durbar Hall — at the Foreign Office, Whitehall (1867).
Sir Matthew Digby Wyatt (1820-1877) was Thomas Henry's youngest brother. He was Secretary of the Great Exhibition, and collaborated with Brunel on Paddington Station (1852-54), where his scheme "introduced a Moresque note" (Curl 210). As Surveyor of the East India Company, he also collaborated with Sir George Gilbert Scott on the India Office, designing, for example, its magnificent courtyard (1867) — "a tour de force of Italian Renaissance architecture and Minton's majolica" ("Wyatt, Sir Matthew Digby"). He was much influenced by Owen Jones. Amongst others, he designed the Jewish Cemetery at West Ham. In 1869 he was appointed the first Slade Professor of Fine Art at Cambridge. He became Vice-President of the RIBA, and is perhaps the best known of the Wyatts of his time.
References
Allinson, Kenneth. Architecture and Architects of London. London: Architectural Press, 2008. Print.
Art-Journal. Vol. I (1862). Google Books. Web. 8 February 2013.
Curl, James Stevens. Victorian Architecture. Newton Abbot: David & Charles, 1990. Print.
Davies, Philip. Splendours of the Raj: British Architecture in India, 1660-1947. London: Penguin, 1987. Print.
Grant, John, ed. A Guide to Woolwich. Woolwich: John Grant. 1841. Google Books (free book). Web. 8 February 2013.
"Great British Architects: Samuel Wyatt (1737-1807)." Web. 13 February 2013.
Guggisberg, Captain F. G. "The Shop": The Story of the Royal Military Academy. London: Cassell, 1900. Internet Archive. Web. 8 February 2013.
Hill, Rosemary. God's Architect: Pugin and the Building of Romantic Britain. London: Penguin, 2007. Print.
Leach, Peter, rev. "Wyatt, Lewis William (bap.1777, d.1853)." Oxford Dictionary of National Biography. Online ed. Web. 8 February 2013.
Mee, Arthur. The Book of London. The King's England series. London: Hodder and Stoughton, 1937. Print.
Nicholson, Albert, rev. Diane Waggoner. "Wyatt, henry (1794-1840)." Oxford Dictionary of National Biography. Online ed. Web. 8 February 2013.
Robinson, John Martin. "Wyatt, Benjamin Dean (bap.1775, d. 1855)." Oxford Dictionary of National Biography. Online ed. Web. 8 February 2013.
_____. The Wyatts: An Architectural Dynasty. Oxford: Oxford University Press, 1979. Print.
Saturday Magazine. Supplement of April 1834. Articles on the Port of London and Trinity House, 165-67. Internet Archive. Web. 8 February 2013.
Turnor, Reginald. Nineteenth Century Architecture in Britain. London: Batsford, 1950. Print.
Waterhouse, Paul, rev. by John Martin Robinson. "Wyatt, Sir Matthew Digby (1820-1877)." Oxford Dictionary of National Biography. Online ed. Web. 8 February 2013.
_____. "Wyatt, Thomas Henry (1807-1880)." Oxford Dictionary of National Biography. Online ed. Web. 8 February 2013.
"Woolwich Common Conservation Area Appraisal." June 2011. Web. 8 February 2013.
---
Last modified 8 February 2013