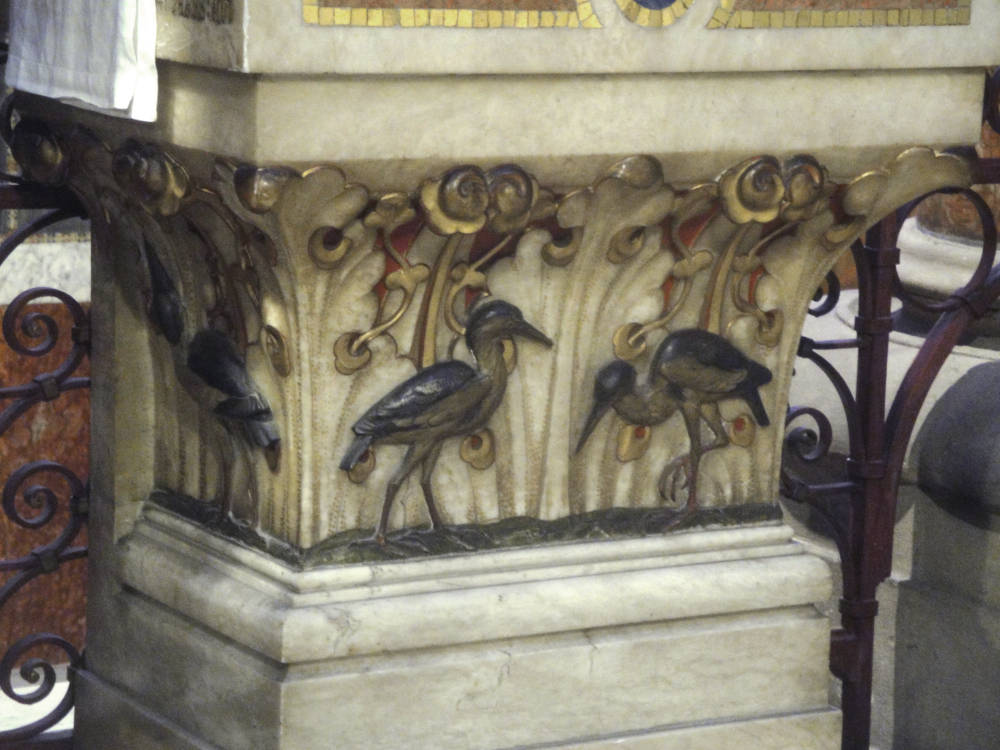 Assorted metalwork in the cathedral interior. Designer: William Burges (1827-1881). Even the smallest of the Cathedral's fixtures and fittings are highly wrought works of art: Burges employed his imaginative and often quirky ideas, ignoring the outlay in both time and money. This is the base of the marble and alabaster credence table (a small side table, covered as here with a white cloth, on which items for Holy Communion are placed when not in use). It is "inlaid with gold mosaic and lapis lazuli, and decorated with four storks in high relief, their plumage coloured au naturel" (Crook 177). [Click on images to enlarge them.]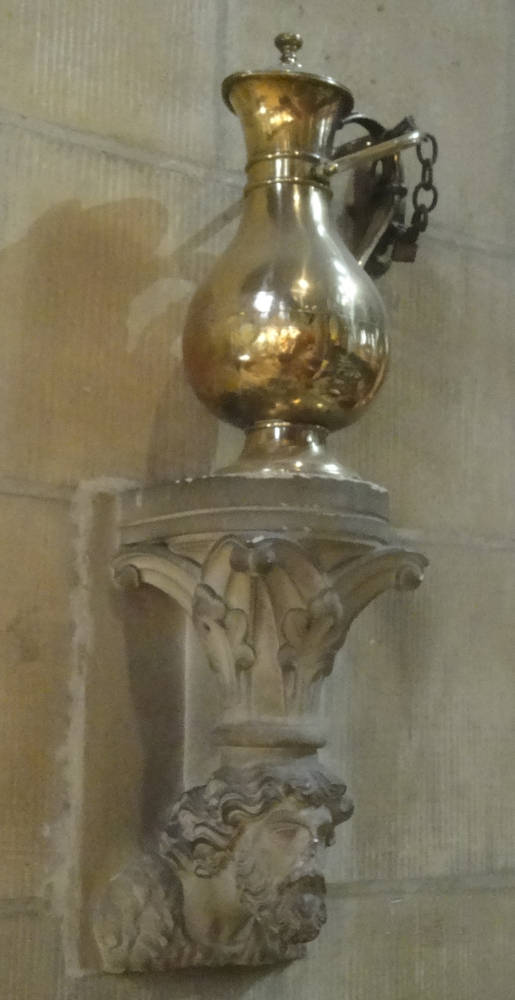 Left: Baptismal jug on its own special, carved ledge close to the font, an example of elegant ecclesiastical brassware. Right: A highly wrought gas bracket of 1869 (see Crook 174).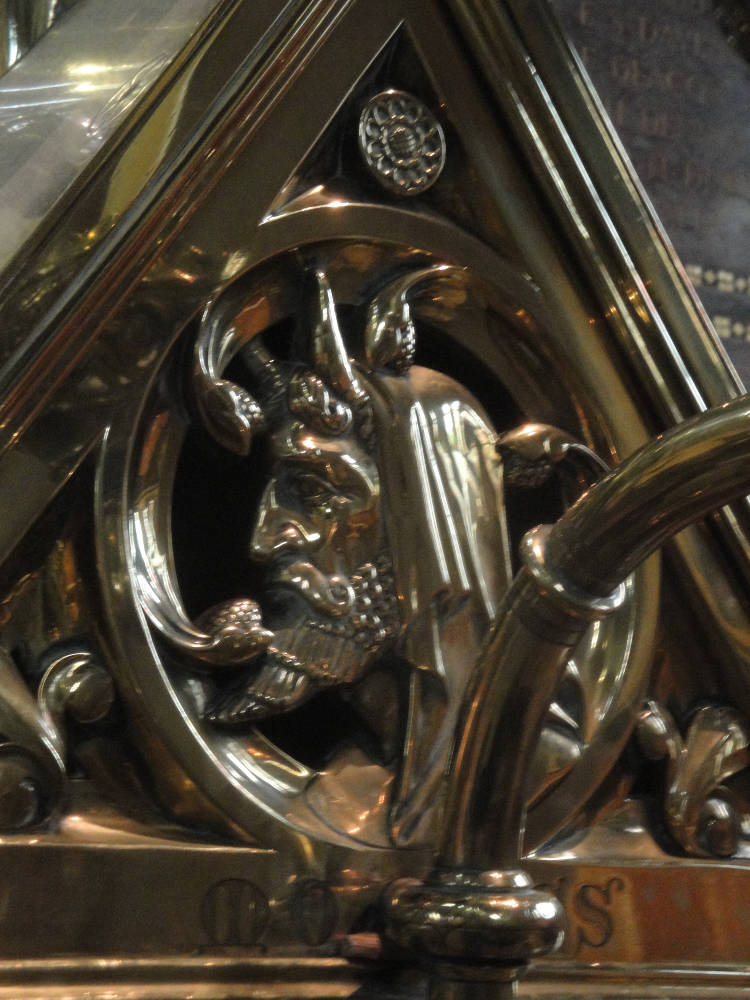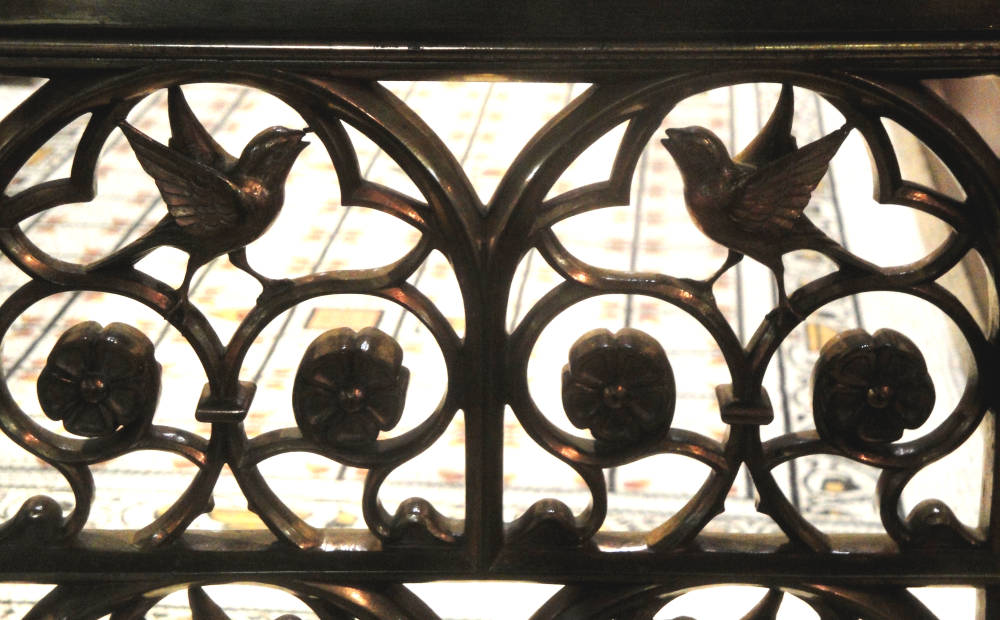 Left: The side of the minutely detailed, ornate lectern, based on Burges's competition design for Lille in 1856, made up here by Jones and Willis in 1877 (Crook 171). This side celebrates Moses, whose name is written at the base of the triangle (the other side pays tribute to King David). Right: Singing birds and open flowers in the pattern of a screen or altar in the chancel (note the chancel mosaics seen though the metalwork). Design details by Burges would be bound to include birdlife.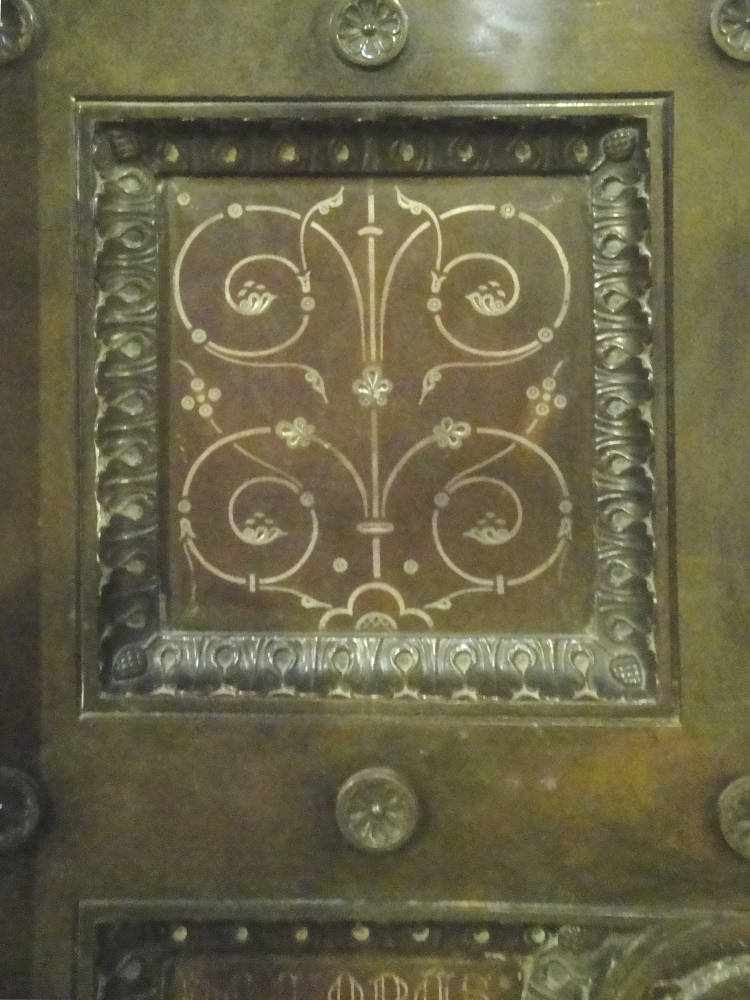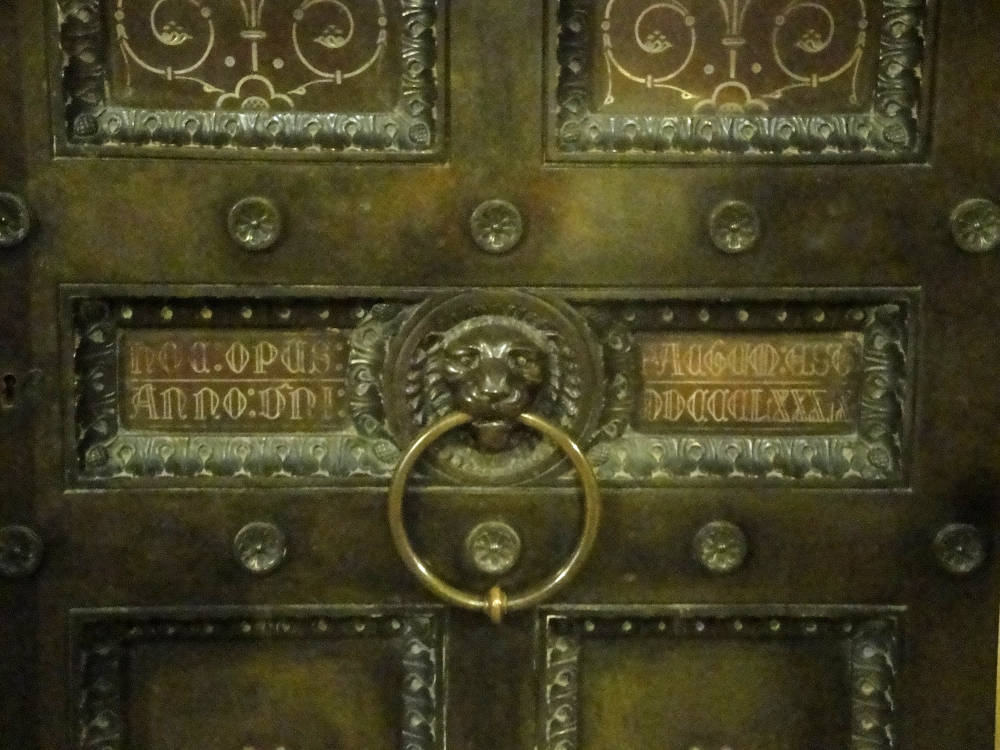 The David door (note David playing his harp in the tympanum relief). According to Joseph Mordaunt Crook: "Cast in bronze by Hatfield, inlaid with silver by Barkentin and Krall; marble and masonry carved by [Robert] Macleod and [Thomas] Nicholls. 'Sicilian in inspiration: a Moorish exaggeration of an Italian prototype'" (171). Crook gives the door two dates, 1878 and 1889, indicating that it was started but not finished in Burges's lifetime. Indeed, Burges suspected that he would not live to see all his work on the Cathedral carried through, and, as Richard Wood tells us, "left a book of designs for furniture, fittings and paintwork (and another for the windows), so that 'future piety,' as he termed it, could carry the work to completion" (13).
Photographs by Robert Freidus, formatting and image correction by George P. Landow, and text by Jacqueline Banerjee. You may use these images without prior permission for any scholarly or educational purpose as long as you (1) credit the photographer and (2) link your document to this URL in a web document or cite the Victorian Web in a print one. [Click on the images to enlarge them.]
Bibliography
Crook, J. Mordaunt . William Burges and the High Victorian Dream. Revised and Enlarged Edition. London: Francis Lincoln, 2013. [Review]
Searching for the New Jerusalem: The Iconography of St Fin Barre's Cathedral, with a Foreword by the Very Revd Nigel Dunne, Deane of Corke, and Michael Murphy, President, University College Cork, and "Searching for the New Jerusalem," an essay by Richard Wood. Cork: Lewis Glucksman Gallery and the University of Cork, 2013. [Review]
---
Lawt modified 15 November 2019