In the following passage from the first edition of his memoirs, Hunt mentions the furniture he designed for his home while still at work on The Finding of the Saviour in the Temple, a work upon whose ethnographic and archeological accuracy he placed great importance. The artist later painted a portrait of himself in middle-eastern garment for a variety of reasons, probably the most important of which was to present himself as one who had personally experienced the setting of the biblical scenes he painted. The chair, whose design he based upon (or just copied) from one in the British Museum, is therefore another aspect of Hunt's self-presentation as https://babel.hathitrust.org/cgi/imgsrv/image?id=njp.32101074880798;orient=0;size=175;seq=476;num=468experienced traveler — really a pilgrim — in the service of art and religion.
At the same time his choice of the Egyptian style for the chair embodies this idea of himself as visitor to difficult and dangerous places (something he emphasizes in Pre-Raphaelitism and the Pre-Raphaelite Brotherhood), it also presents Hunt as a pioneer in furniture design. Remember, Hunt tells us he had the chair made for him while he was working on his painting of Christ and the rabbis in the temple, which was exhibited in 1860. Morris & Co., on the other hand, was only founded the following year. Hunt does not explicitly stake a claim to priority as pioneer in Pre-Raphaelite design, but the implicit claim is there. Interestingly, the photograph and discussion of the chair occur immediately after Hunt narrates the way Dante Gabriel Rossetti "avoided Millais, Woolner, and myself" and claimed, Woolner told him, that he was "the originator or head of the Brotherhood" (II. 134) — George P. Landow.
In furnishing my new house I was determined, as far as possible, to eschew the vulgar furniture of the day. Articles for constant practical use were somewhat regulated by necessity; but in the living rooms I could exercise control. For ordinary seats Windsor chairs satisfied me, but I kept these in countenance by a handsome arm-chair of old English form, and devised an ornamental scroll and shield, with my monogram to give it individuality.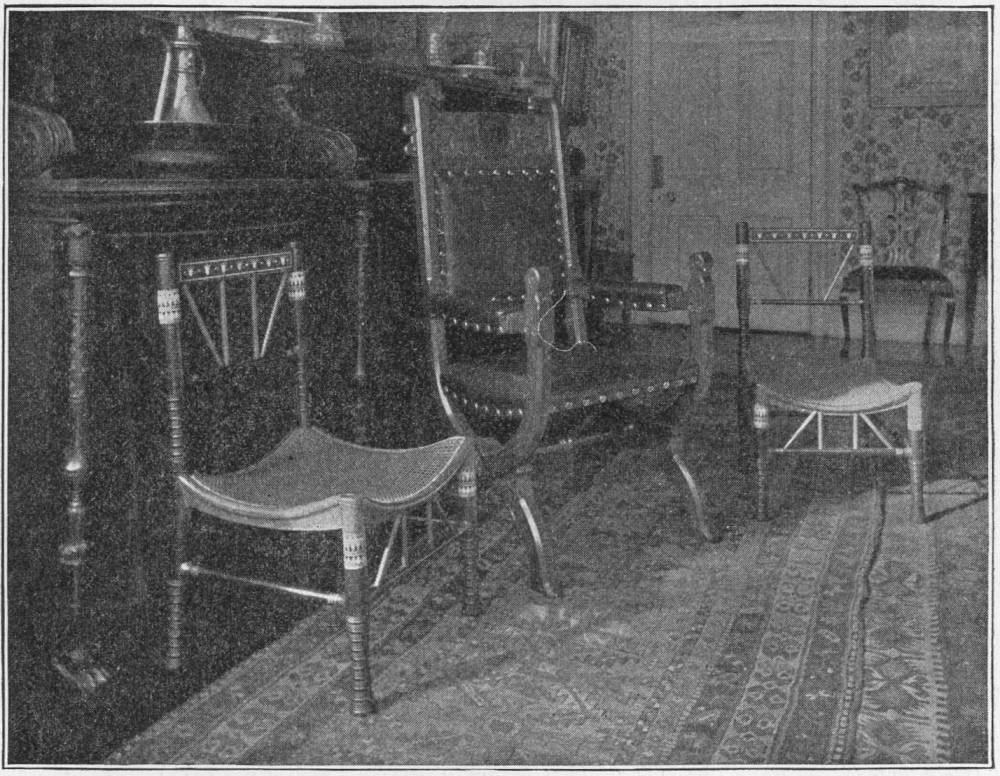 Chairs. William Holman Hunt, designer. Crace & Co., Manufacturer. Source: Pre-Raphaelitism and the Pre-Raphaelite Brotherhood. Click on image to enlarge it.
A more independent effort was the designing of a chair, based on the character of an Egyptian stool in the British Museum, to serve as a permanent piece of beautiful furniture. All these were excellently made by Messrs. Crace; to these was added the sideboard given by my generous friend, Augustus Egg, in recognition of my love of pure form in furniture. In course of time I added to these a Portuguese cabinet and a Spanish one for my studio. I had here to restrain further expenditure, still, I had done as much as I could to prove my theory that the designing of furniture is the legitimate work of the artist. When I showed my small group of household joys to my P.R.B. friends the contagion spread, and Brown, who idolised the Egyptian chairs, set a carpenter to work to make some of similar proportions. In showing them he proposed to introduce his newly-found carpenter to me as a much more economical manufacturer than my own, able to make me a sadly-needed table. He offered his own excellent design for one, which, with a few substantial modifications, I gratefully accepted. After this the rage for designing furniture was taken up by others of our circle until the fashion grew to importance. [II, 134, 136]
Related material
You may use this image without prior permission for any scholarly or educational purpose as long as you link your document to this URL in a web document or cite the Victorian Web in a print one.]
Bibliography
Hunt, William Holman. Pre-Raphaelitism and the Pre-Raphaelite Brotherhood. 2 vols. London: Macmillan, 1905.
---
Last modified 15 July 2016