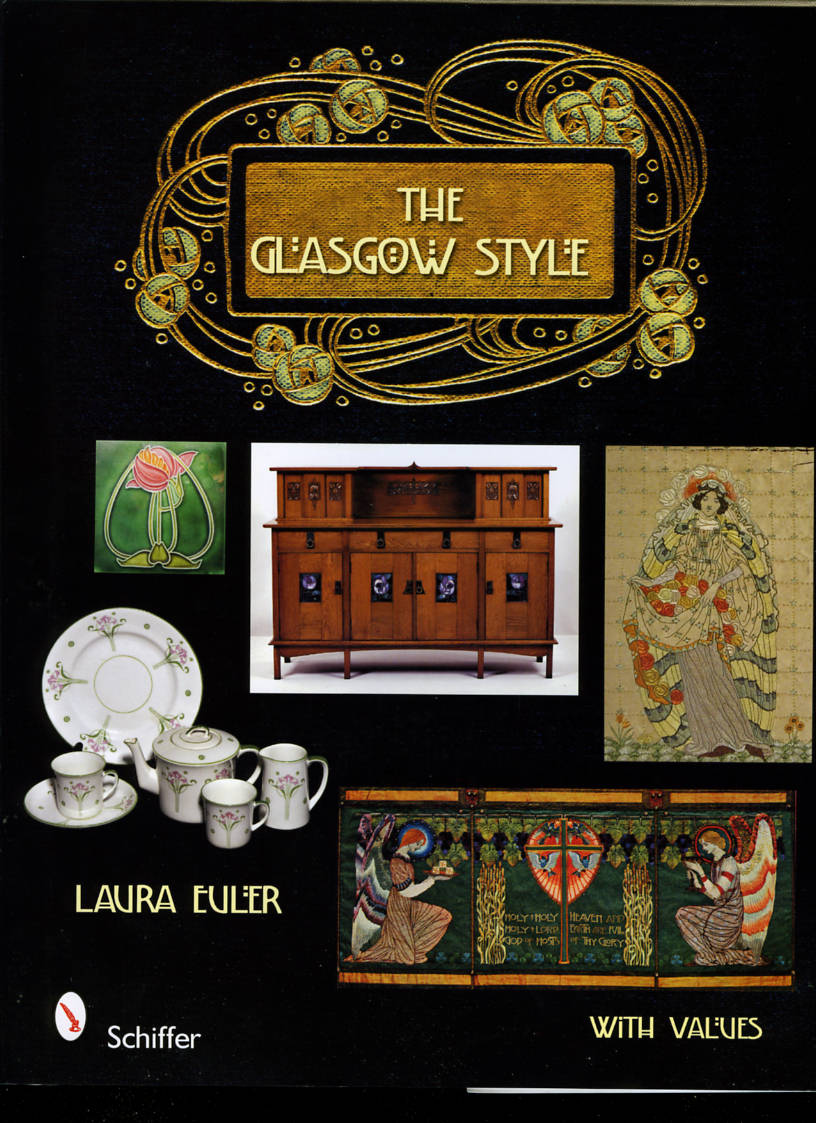 Both art historians and collectors will find much of value in this lavishly illustrated volume, which John P. Creek has well designed, making fine use of the beautiful photographs that distinguish it. Both the book jacket and cover, though not the title page, add "with values" thus indicating one of its several audiences — the collector who will find useful recent sale prices of various objects.
The Glasgow Style's introduction and nineteen chapters, a few of which are only one or two pages long, cover a wide range of topics, and although the organization might seem more than a little eccentric, it sometimes justifies itself by its utility. The introduction has five brief sections — "Glasgow Style Design," "The Glasgow School of Art," "The Four" (Macintosh, Taylor, and the MacDonald sisters) "Patrons and Tea Rooms," and "Glasgow Mocked" — that usefully set the stage for what follows. The abundantly illustrated first chapter, "Motifs," lists ten of them: Glasgow roses, rose trees, peacocks, female figures, bulb or teardrop shapes, butterflies, hearts, squares, and Celtic patterns.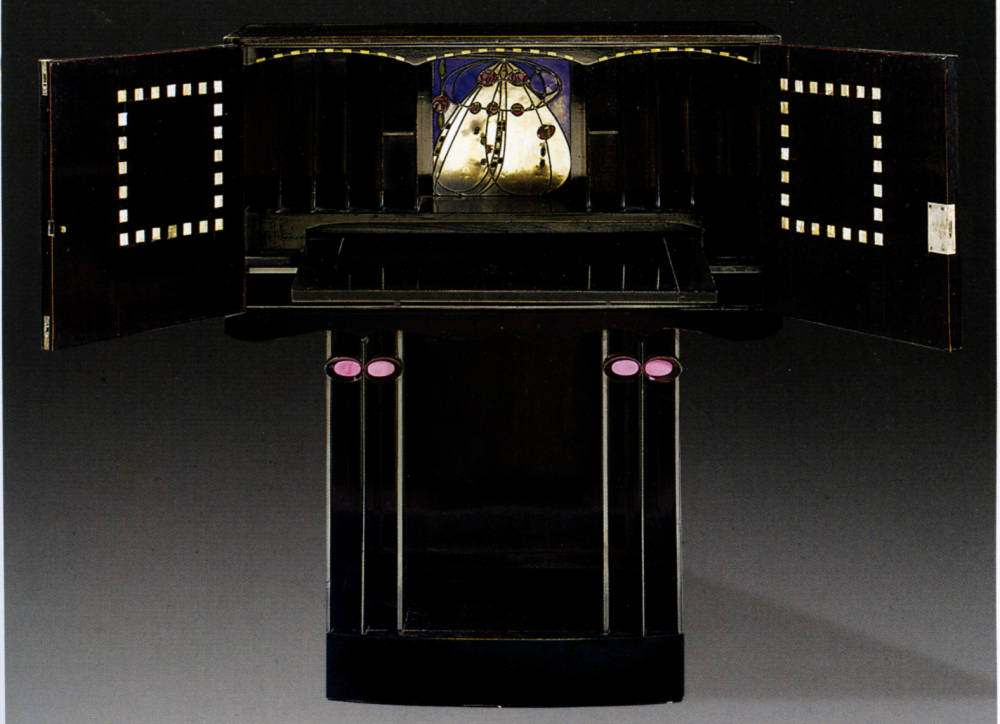 Examples of Glasgow Style motifs from the book under review. Left to right: (a) A Mackintosh writing cabinet with teardrop shapes and squares. (b) A Talwin Morris book design with birds, Glasgow roses, and rose trees. (c) A Mackintosh pewter panel with peacocks. [Click on these images for larger pictures.]
The next chapter, "Interior Design," consists largely of contemporary photographs culled from The Studio and similar publications, and this volume's eccentric organization (or disorganization) appears in the fact that "Interior Design," is followed by several chapters that one might think obviously belonged inside it, such as "Fireplaces" (chapter 3), "Wall Designs;" (chapter 4), "Furniture" (chapter 6) and "Textiles" (chapter 12). "Furniture" has sections on writing cabinets and desks, bookcases, sideboards, cabinets, tables, chairs, bedrooms, and accessories, the last of which includes photographs of a clock, two screens, a stool, a collector's cabinet, and a hallstand. The chapter on furniture is preceded by one on a single manufacturer, Wylie & Lochhead, and followed by chapters about metalware, jewelry, embroidery, textiles, dress, stained glass, glass, and pottery. Interspersed with these are chapters on marketing and on women. Next comes a four-part chapter on graphic arts, which subdivides into sections on illustration, bookplates, book design, and lettering. Chapter 18 contains useful artists' capsule biographies with photographs, and the main text closes with a one-page chapter entitled "The End of the Style," after which Euler includes a bibliography.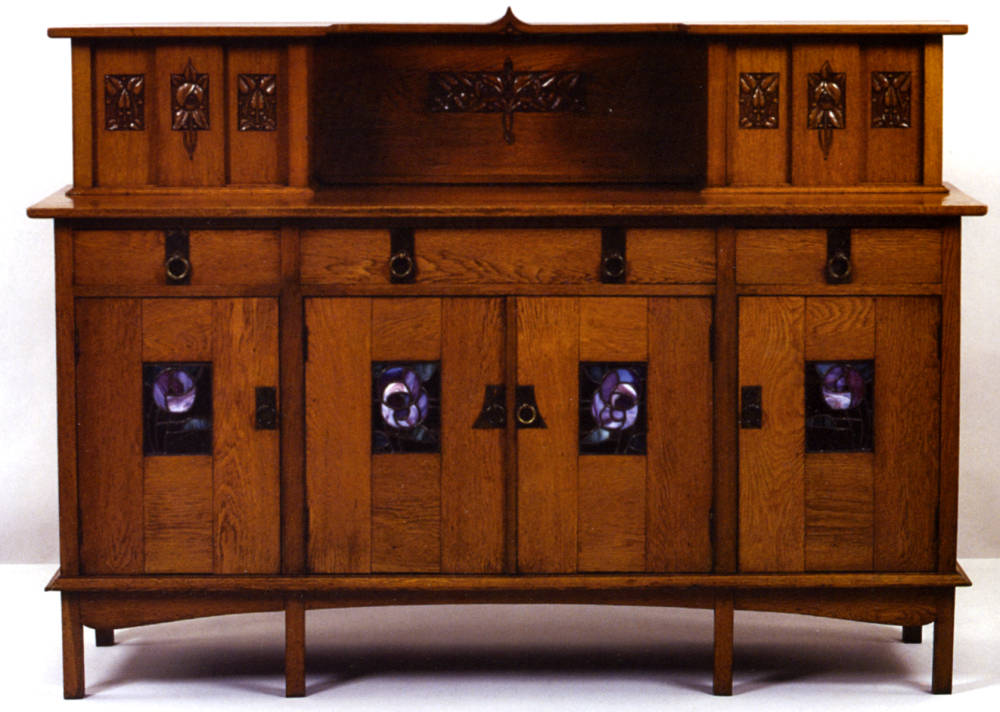 Left to right: (a) . (b) Liberty gold and pearl necklace designed by Jessie M. King. (c) The Glasgow Style woman in a drawing by King. [Click on these images for larger pictures.]
Throughout number of examples of individual categories tend to be uneven. Thus, in "Book Design" Euler includes 20 chapter headings by Talwin Morris, none by other designers, doesn't mention page layout, and only briefly touches upon typeface in a discussion of lettering, much of which concerns embroidery, not book design. By far the largest part of this chapter — 20 of 28 pages — takes the form of 26 example of Morris's cover designs and, taken together, a similar number by Archie Campbell, Ethel Larcombe, Charles Rennie Macintosh, Jesse M. King, and others — all beautifully illustrated by excellent color photographs. It's wonderful to have so many beautiful color images of Glasgow School work gathered in one pace, though of course in the past few years the Internet Archive has made available online both monochrome and color images from The Studio and similar publications. Nonetheles, one of the delightful aspects of The Glasgow Style is its inclusion of so many book bindings by designers associated with the school.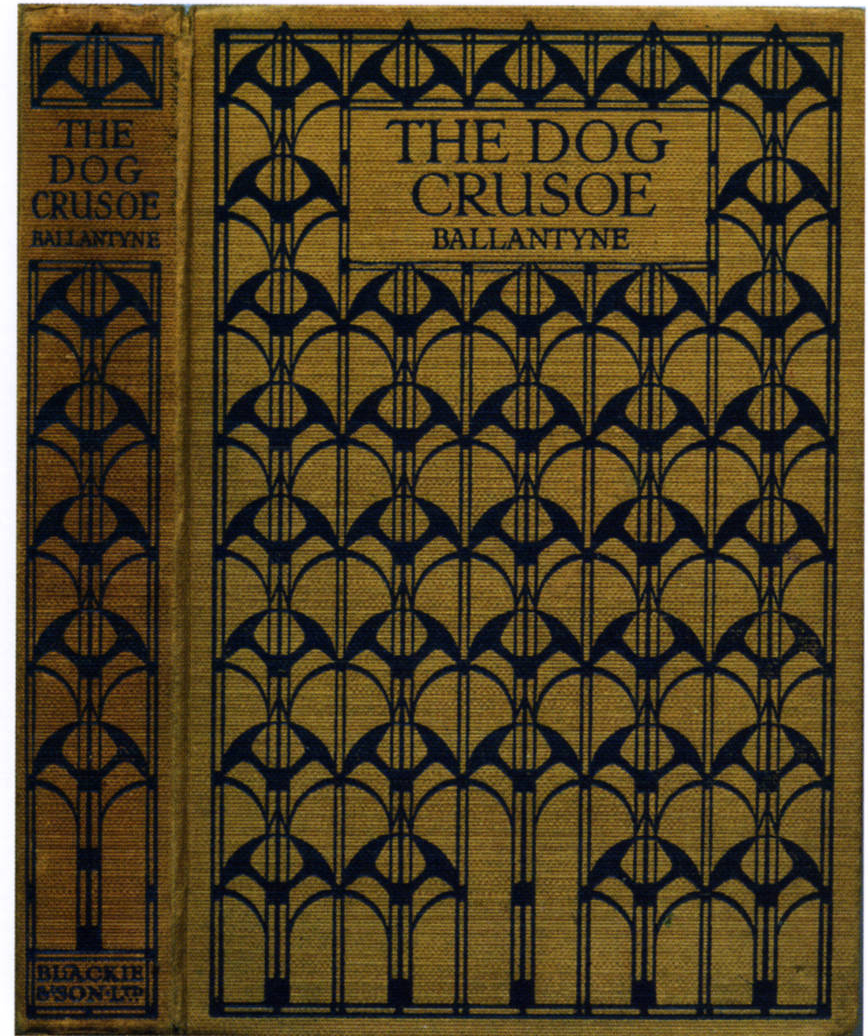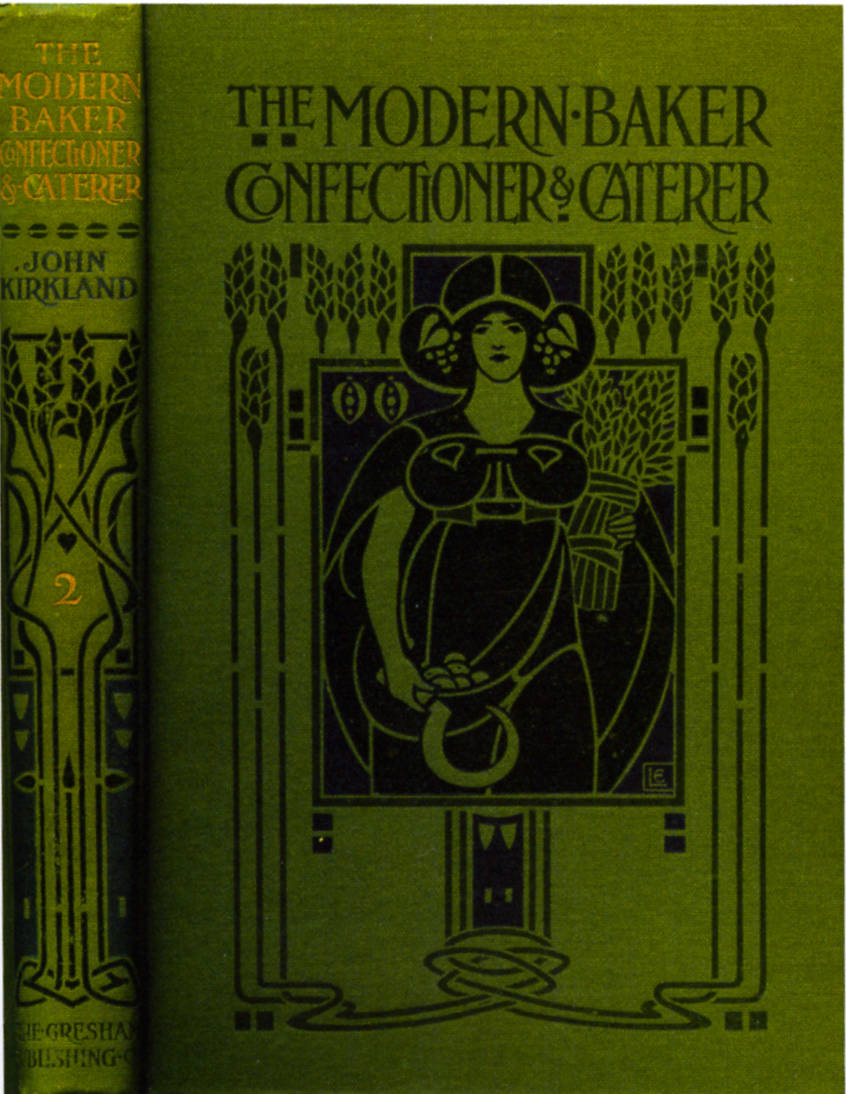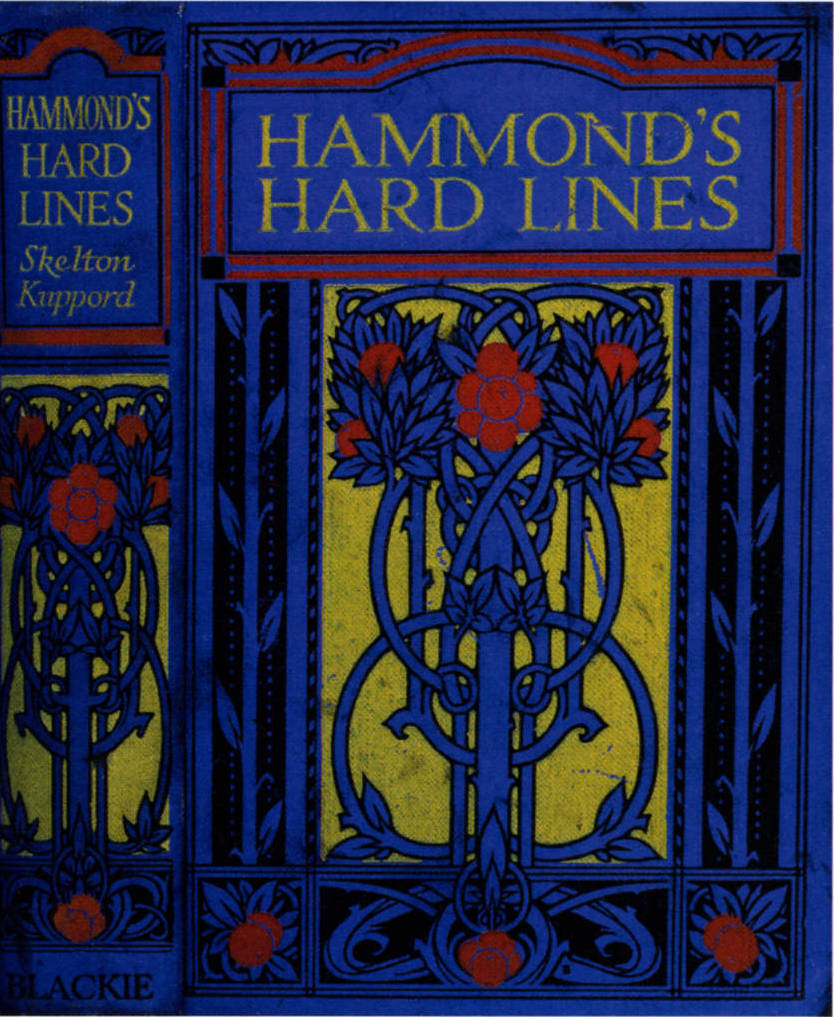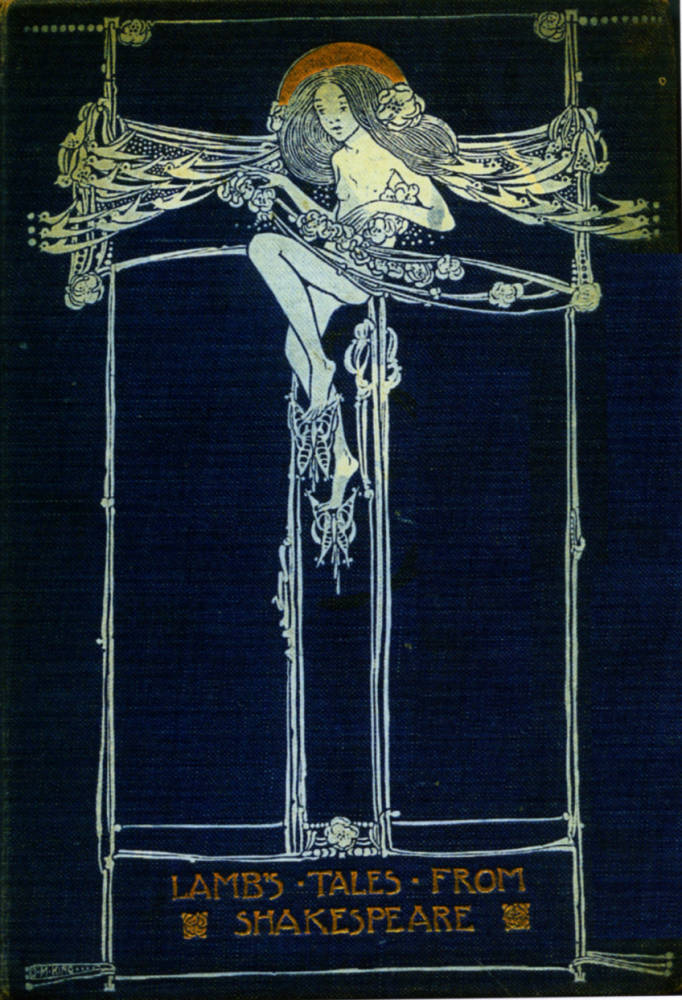 Bindings by five practitioners of the Glasgow Style. Left to right: (a) Charles Rennie Mackintosh. (b) Talwin Morris. (c) Ethel Larcombe, (d) Archie Campbell, and (e) Jesse M. King. [Click on these images for larger pictures.]
Wonderful as it is to have such material, one would like a little more on clothing and textiles, and one certainly needs more in the way of the sale prices promised on the binding and book jacket. Still, it's not nice to be greedy, and we should be grateful for such a useful book.
Related Materials
Bibliography
Euler, Laura. The Glasgow Style. Atglen, Pennsylvania: Schiffer, 2008.
---
Last modified 2 January 2011