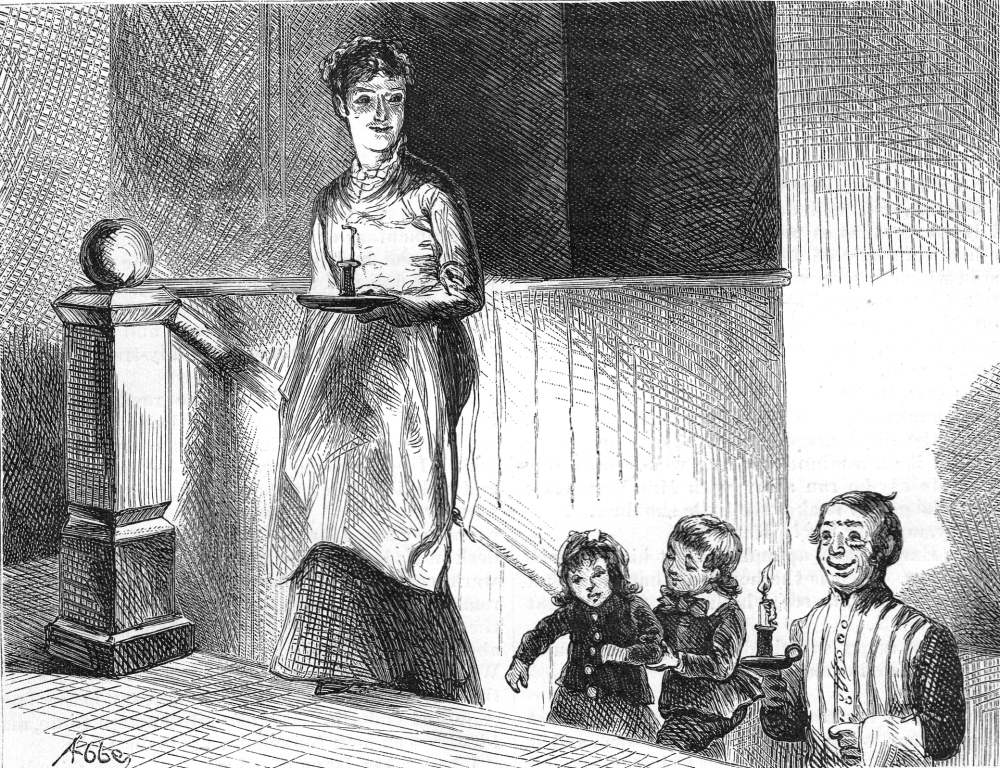 "There's Love Lane" by E. A. Abbey. 10 x 13.3 cm framed. From the Harper and Brothers Household Edition (1876) of Dickens's Christmas Stories, p. 283. The sentimental frame tale involving the chief narrator, benighted on Christmas Eve in the middle of a Yorkshire blizzard, and the story-telling "Boots" of the inn has a certain nostalgic charm as Dickens recalls hostelries and transportation from the days before railways (as when, as a young reporter, Dickens raced about the country in coaches to follow events preceding the passage of the Great Reform Bill of 1832. Dickens himself provided just the introduction, a short story — the subject of Abbey's illustration — and the brief epilogue, leaving production of the other four pieces to his stable of staff writers. The much larger "Holly-Tree Inn" originally appeared without illustration in the sixth Extra Christmas number of Household Words, on 15 December 1855. Perhaps because only Dickens's contributions have been widely reprinted, posterity has lost sight of the other tales in the sequence, although these were penned by some of the mid-nineteenth-century's more popular writers of journalistic short fiction: William Howitt, Wilkie Collins, Adelaide Proctor, and Harriet Parr, the last three of whom got their start as professional writers on the staff of Household Words. [Click on the image to enlarge it.]
Passage Illustrated
Boots withdrew in search of the required restorative, and, when he brought it in, the gentleman handed it to the lady, and fed her with a spoon, and took a little himself; the lady being heavy with sleep, and rather cross. "What should you think, sir," says Cobbs, "of a chamber candlestick?" The gentleman approved; the chambermaid went first, up the great staircase; the lady, in her sky-blue mantle, followed, gallantly escorted by the gentleman; the gentleman embraced her at her door, and retired to his own apartment, where Boots softly locked him in.
Boots couldn't but feel with increased acuteness what a base deceiver he was, when they consulted him at breakfast (they had ordered sweet milk-and-water, and toast and currant jelly, over-night) about the pony. It really was as much as he could do, he don't mind confessing to me, to look them two young things in the face, and think what a wicked old father of lies he had grown up to be. Howsomever, he went on a-lying like a Trojan about the pony. He told 'em that it did so unfortunately happen that the pony was half clipped, you see, and that he couldn't be taken out in that state, for fear it should strike to his inside. But that he'd be finished clipping in the course of the day, and that to-morrow morning at eight o'clock the pheayton would be ready. Boots' view of the whole case, looking back on it in my room, is, that Mrs. Harry Walmers, Junior, was beginning to give in. She hadn't had her hair curled when she went to bed, and she didn't seem quite up to brushing it herself, and its getting in her eyes put her out. But nothing put out Master Harry. He sat behind his breakfast-cup, a-tearing away at the jelly, as if he had been his own father.
After breakfast Boots is inclined to consider they drawed soldiers — at least he knows that many such was found in the fireplace, all on horseback. In the course of the morning Master Harry rang the bell — it was surprising how that there boy did carry on — and said, in a sprightly way, "Cobbs, is there any good walks in this neighborhood?"
"Yes, sir," says Cobbs. "There's Love Lane."
"Get out with you, Cobbs!" — that was that there boy's expression — "you're joking."
"Begging your pardon, sir," says Cobbs, "there really is Love Lane. And a pleasant walk it is, and proud shall I be to show it to yourself and Mrs. Harry Walmers, Junior."
"Norah, dear," says Master Harry, "this is curious. We really ought to see Love Lane. Put on your bonnet, my sweetest darling, and we will go there with Cobbs." [282-283]
As the above except makes clear, the title of Abbey's illustration ("There's Love Lane") has little to do with the maid's lighting Mr. and Mrs. Harry Walmers, Junior, up the stairs to their room in the second of seven selections (including a poem) about a Yorkshire Inn, perhaps based on the well-known George and New Inn at Greta Bridge. Retelling what he has been told by Cobbs, the "Boots" (that is, the hotel employee who, like Sam Weller in The Pickwick Papers of 1836-37, cleans boots and is the general factotum for a coaching inn), Dickens narrates the tale of the asexual attraction of two precocious children, Norah and Harry, who plan to elope to Gretna Green in Scotland. The humour of the story lies in the children behaving like adults, a strategy that Dickens would employ again in A Holiday Romance in Our Young Folks in 1867. When called upon by the traveller for a tale, the loquacious Cobbs recalls when, as the under-gardener to Mr. Walmers at Shooter's Hill, about seven miles from London, he had watched young Master Harry and Norah play in the garden, and goes on to narrate how the trajectory of their romance led to their being guests at the Holly Tree Inn in Yorkshire. Without the four contributions of Dickens's collaborators, the piece was often reprinted as "Boots at The Holly-tree Inn," the second of "The Holly-Tree: Three Branches." Cobbs's narrative as retailed by traveller (a first-person narrative at one remove, so to speak, for Dickens's focal character of the frame remains in charge of telling the story, although quoting Cobbs liberally) gives Dickens the opportunity to lapse into dialect and to offer a unique class perspective on the antics of the two charming, privileged children and their idyllic but ephemeral existence as a "couple" at the inn. The inn-keeper himself (the "guv'nor") is absent in York, trying to locate the children's relatives, and so has ordered Cobbs to find pretexts effectively preventing their departure for Gretna Green. Hence, Cobbs offers Master Harry one of the village's few attractions, "Love's Lane." In Abbey's illustration, both the maid and Cobbs are amused by Harry's attitude as they escort a sleepy Norah up to her room by candlelight.
The American Household Edition of The Holly Tree Inn, the remnant (as it were) of the mixed genre frame-tale for the 1855 Extra Christmas Number of Household Words contains only those components which Dickens himself wrote, so that (as in the later Oxford Illustrated Dickens) the multi-part frame-tale is reduced to just three chapters: "First Branch: Myself," "Second Branch: The Boots," and "Third Branch: The Bill."
Harry French's illustration of the genial Cobbs, watering can in hand, and a much larger Master Harry,"The Holly Tree Inn" realizes an earlier moment in Cobbs's account, when, instead of serving as a boots at a remote inn in the English north, he was under-gardener to Mr. Harry Walmers, Senior, on his estate at Shooter's Hill. Harry's father makes a reappearance at the conclusion of the story as Harry Jr.'s misrule comes to an abrupt end, and prosaic adult order restored. Since the filtering consciousness of the "Boots" account, Cobbs, is such an important aspect of the first-person narrative of the abortive attempt of Master Harry Walmers, Junior, to run off with Norah to be married at Gretna Green, it is unfortunate that in his illustration Harry and Norah, the maid and Cobbs Abbey has focussed on the attitude of the maid (left). In contrast, Harry French has elected to describe the affable Cobbs in his previous incarnation as a gardener, and therefore does not depict the chief characters in the story's principal setting. Although Abbey realizes a scene at the Holly Tree Inn, the American illustrator gives the reader no sense of the interior of the posting inn; indeed, the staircase is totally undistinguished, and the child actors not particularly engaging. Abbey's Norah seems surly, sleepy, and generally unattractive. Thus, Abbey's illustration fails to communicate the charm of Dickens's original narrative with respect to either the setting, or Harry, or Cobbs.
Scanned image and text by Philip V. Allingham. Formatting, color correction, and linking by George P. Landow. [You may use these images without prior permission for any scholarly or educational purpose as long as you (1) credit the photographer and (2) link your document to this URL in a web document or cite the Victorian Web in a print one.]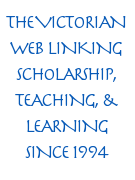 References
Davis, Paul. Charles Dickens A to Z: The Essential Reference to His Life and Work. New York: Facts On File, 1998.
Dickens, Charles. Christmas Stories. Il. Edward Dalziel, Harry French, F. A. Fraser, James Mahoney, Townley Green, and Charles Green. The Oxford Illustrated Dickens. Oxford, New York, and Toronto: Oxford U.P., 1956, rpt. 1989.
Dickens, Charles. Christmas Stories. Il. E. A. Abbey. The Household Edition. New York: Harper and Brothers, 1876.
Thomas, Deborah A. Dickens and The Short Story. Philadelphia: U. Pennsylvania Press, 1982.
---
Last modified 14 January 2013