Edwin Austin Abbey (1852-1911), painter and illustrator, worked in the idiom of the English Pre-Raphaelites, painting such mediaevalist oils as Castle of Maidens (1895) and King Lear's Farewell (1898). Much of his work is preserved in the Brandywine River Museum in Chester County, North Carolina, although his most famous painting, The Quest for the Holy Grail, is the freize in the Boston Public Library, for which he painted a series of murals in the 1890s. Born in Philadelphia, he studied art at the Pennsylvania Academy of Fine Arts under Christian Schuessele.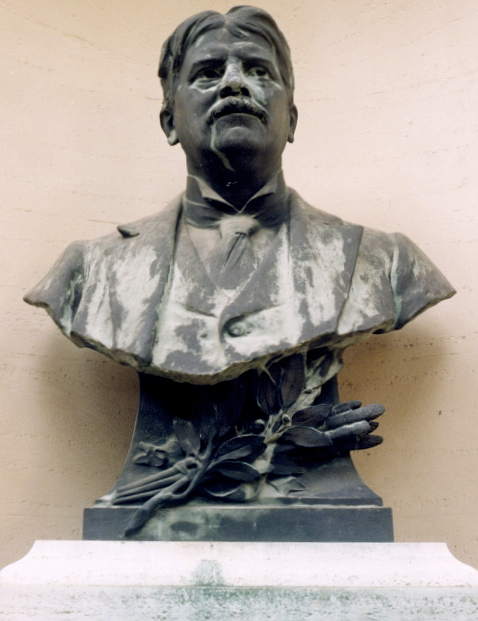 Bust of E.A. Abbey by Thomas Brock
He provided illustrations for both Harper's Weekly (1871-1874) and Scribner's Magazine. In 1878, he moved to England, becoming a member of the Royal Academy in 1898. There, undoubtedly his most prestigious commission was the 1902 coronation portrait of King Edward VII, which hangs in Buckingham Palace. In order to retain his American citizenship, however, in 1907 Abbey had to decline a knighthood. He died of cancer in 1911 in the midst of executing a vast commission for the Pennsylvania State Capitol in Harrisburg, where one may still see his allegorical medallions of Science, Art, Justice, and Religion. His mural Reading of the Declaration of Independence was completed by his assistant Ernest Board and his friend John Singer Sargent.
Criticism
Christmas Carol
The Chimes
The Cricket on the Hearth
The Battle of Life
The Haunted Man Illustrations
Miscellaneous Illustrations
---
Last modified 3 January 2013