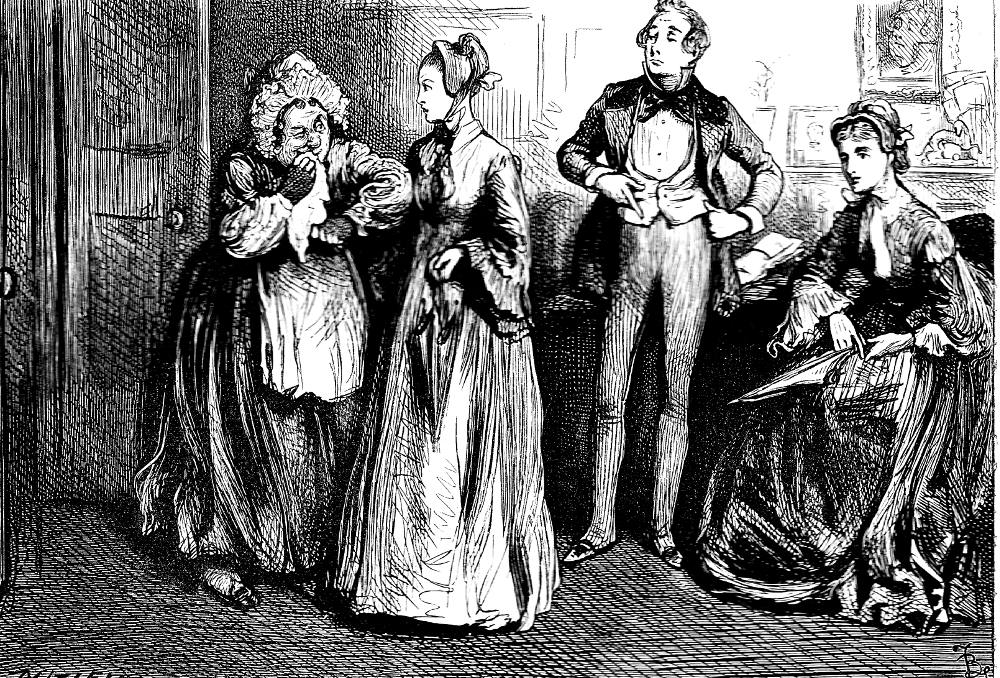 She made no sound of laughter; but she rolled her head as she smiled and made a silent appeal to Caddy with her elbow — forty-first illustration by Fred Barnard in the Household Edition (1873). 9.4 cm high by 13.7 cm wide (3 ⅝ by 5 ⅜ inches), framed, p. 269. Chapter 38. Running head: "Mr. Guppy Again and Again" (273). [Click on the image to enlarge it.]
Text Illustrated
To the Old Street Road we went and there inquired at Mrs. Guppy's residence for Mrs. Guppy. Mrs. Guppy, occupying the parlours and having indeed been visibly in danger of cracking herself like a nut in the front-parlour door by peeping out before she was asked for, immediately presented herself and requested us to walk in. She was an old lady in a large cap, with rather a red nose and rather an unsteady eye, but smiling all over. Her close little sitting-room was prepared for a visit, and there was a portrait of her son in it which, I had almost written here, was more like than life: it insisted upon him with such obstinacy, and was so determined not to let him off.
Not only was the portrait there, but we found the original there too. He was dressed in a great many colours and was discovered at a table reading law-papers with his forefinger to his forehead.
"Miss Summerson," said Mr. Guppy, rising, "this is indeed an oasis. Mother, will you be so good as to put a chair for the other lady and get out of the gangway."
Mrs. Guppy, whose incessant smiling gave her quite a waggish appearance, did as her son requested and then sat down in a corner, holding her pocket handkerchief to her chest, like a fomentation, with both hands.
I presented Caddy, and Mr. Guppy said that any friend of mine was more than welcome. I then proceeded to the object of my visit.
"I took the liberty of sending you a note, sir," said I.
Mr. Guppy acknowledged the receipt by taking it out of his breast-pocket, putting it to his lips, and returning it to his pocket with a bow. Mr. Guppy's mother was so diverted that she rolled her head as she smiled and made a silent appeal to Caddy with her elbow.
"Could I speak to you alone for a moment?" said I.
Anything like the jocoseness of Mr. Guppy's mother just now, I think I never saw. She made no sound of laughter, but she rolled her head, and shook it, and put her handkerchief to her mouth, and appealed to Caddy with her elbow, and her hand, and her shoulder, and was so unspeakably entertained altogether that it was with some difficulty she could marshal Caddy through the little folding-door into her bedroom adjoining. [Chapter XXXVIII, "A Struggle," 271-272]
Related Material, including Other Illustrated Editions of
Bleak House
Scanned image, colour correction, sizing, caption, and commentary by Philip V. Allingham. [You may use this image without prior permission for any scholarly or educational purpose, as long as you (1) credit the person who scanned the image, and (2) link your document to this URL in a web document or cite the Victorian Web in a print one.]
Bibliography
"Bleak House — Sixty-one Illustrations by Fred Barnard." Scenes and Characters from the Works of Charles Dickens, Being Eight Hundred and Sixty-six Drawings by Fred Barnard, Gordon Thomson, Hablot Knight Browne (Phiz), J. McL. Ralston, J. Mahoney, H. French, Charles Green, E. G. Dalziel, A. B. Frost, F. A. Fraser, and Sir Luke Fildes. London: Chapman and Hall, 1907.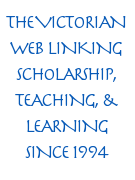 Collins, Philip. Dickens and Crime. London: Macmillan, 1964.
Davis, Paul. Charles Dickens A to Z: The Essential Reference to His Life and Work. New York: Facts On File, 1998.
Dickens, Charles. Bleak House. Illustrated by F. O. C. Darley and John Gilbert. The Works of Charles Dickens. The Household Edition. New York: Sheldon and Company, 1863. Vols. 1-4.
_______. Bleak House. Illustrated by Sol Eytinge, Jr, and engraved by A. V. S. Anthony. 14 vols. Boston: Ticknor & Fields, 1867. VI.
_______. Bleak House, with 61 illustrations by Fred Barnard. Household Edition. London: Chapman and Hall, 1873. IV.
_______. Bleak House. Illustrated by Harry Furniss [28 original lithographs]. The Charles Dickens Library Edition. Vol. 11.​ London: Educational Book, 1910.
_______. Bleak House, ed. Norman Page. Harmondsworth: Penguin, 1971.
Hammerton, J. A. "Chapter 18: Bleak House." The Dickens Picture-Book. The Charles Dickens Library Edition. London: Educational Book, 1910. XVII, 366-97.
Vann, J. Don. "Bleak House, twenty parts in nineteen monthly instalments, October 1846—April 1848." Victorian Novels in Serial. New York: The Modern Language Association, 1985. 69-70.
---
Created 18 March 2021