"Miss Summerson," said Mr. Vholes, very slowly rubbing his gloved hands, . . . ." This was an ill-advised marriage of Mr. C.'s." — fifty-sixth illustration by Fred Barnard in the Household Edition (1873). 10.7 cm high by 13.9 cm wide (4 ¼ by 5 ½ inches), framed, p. 405. Chapter 60. Running head: "Mr. C's Interests and Affairs" (411). [Click on the images to enlarge them.]
Passage Illustrated: A Dour rather than Satirical Portrait
He stood behind me with his long black figure reaching nearly to the ceiling of those low rooms, feeling the pimples on his face as if they were ornaments and speaking inwardly and evenly as though there were not a human passion or emotion in his nature.
"Mr. Woodcourt is in attendance upon Mr. C., I believe?" he resumed.
"Mr. Woodcourt is his disinterested friend," I answered.
"But I mean in professional attendance, medical attendance."
"That can do little for an unhappy mind," said I.
"Just so," said Mr. Vholes.
So slow, so eager, so bloodless and gaunt, I felt as if Richard were wasting away beneath the eyes of this adviser and there were something of the vampire in him.
"Miss Summerson," said Mr. Vholes, very slowly rubbing his gloved hands, as if, to his cold sense of touch, they were much the same in black kid or out of it, "this was an ill-advised marriage of Mr. C.'s."
I begged he would excuse me from discussing it. [Chapter LX, "Perspective," 410]
Commentary: Vholes as the Most Scurrilous of Dickens's Lawyers
Although Dickens does not disparage the intellectual capacity of such lawyers as Tulkinghorn in Bleak House, Jaggers in Great Expectations, and Sydney Carton in A Tale of Two Cities, he is often critical in his portraits of the members of the legal profession (whether barristers or solicitors) in Great Britain. Among his more unflattering portraits are Stryver in TTC and Vholes in BH. Some stories such as David Copperfield feature multiple lawyers, but very rarely does a member of the profession receive unalloyed praise from the writer who as a young man worked in law offices and in 1829 became a court reporter for the Court of Chancery. From the first  novel he published, The Posthumous Papers of the Pickwick Club, he was highly critical of lawyers such as those two shady operators in the Bardell v. Pickwick breach-of-promise-of-marriage action, Dodson and Fogg, and that shrewd master of realpolitik, the solicitor Mr. Perker. Of the professional cavalcade in his dozen novels, however, attorney Vohles stands out — as the most scurrilous, deceitful, and money-grubbing of Dickens's many lawyers — and certainly one of the most sanctimonious.  Even the names "Vohles," "Jaggers," and "Stryver" are hardly suggestive of strong authorial admiration. Dickens introduces Richard Carstone's solicitor in the matter of Jarndyce v. Jarndyce memorably in chapter 37. In the Household Edition, Barnard applies the tenets of realistic portraiture to what should be a satirical squib, for Dickens (describing the lawyer's behaviour and manner through the knowing lens of Esther Summerson) does not wish his readers to take Vholes' professed concern for his client's welfare seriously.
Other Series' Illustrations of Richard Carstone's devious solicitor (1853 through 1910)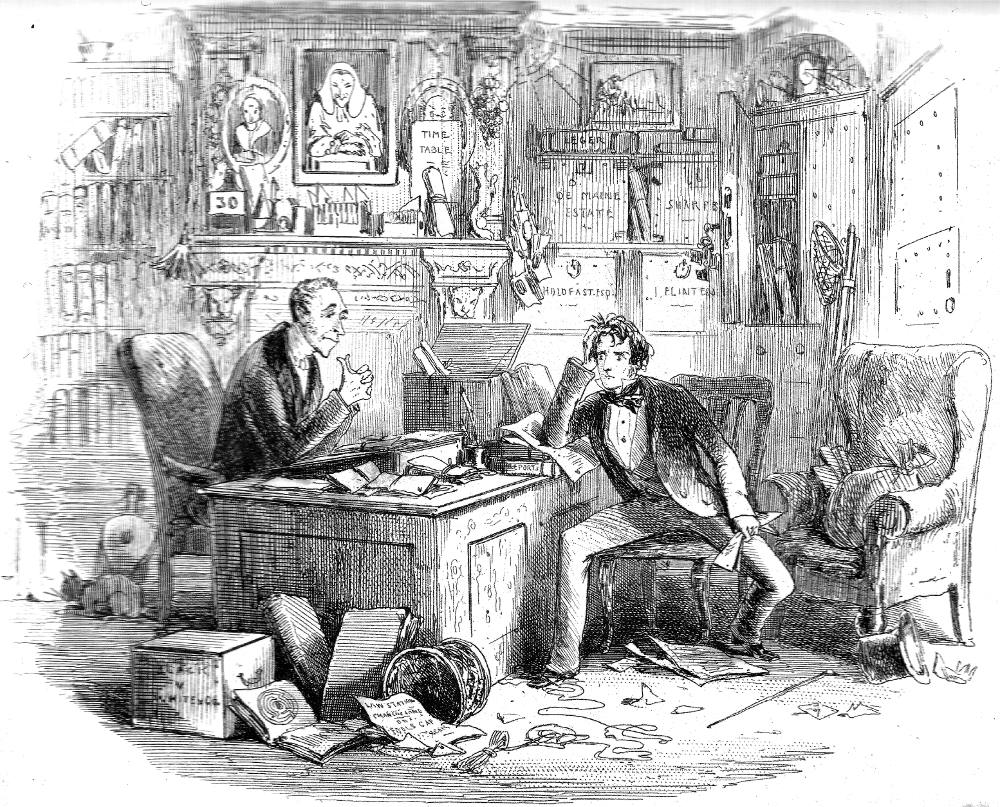 ​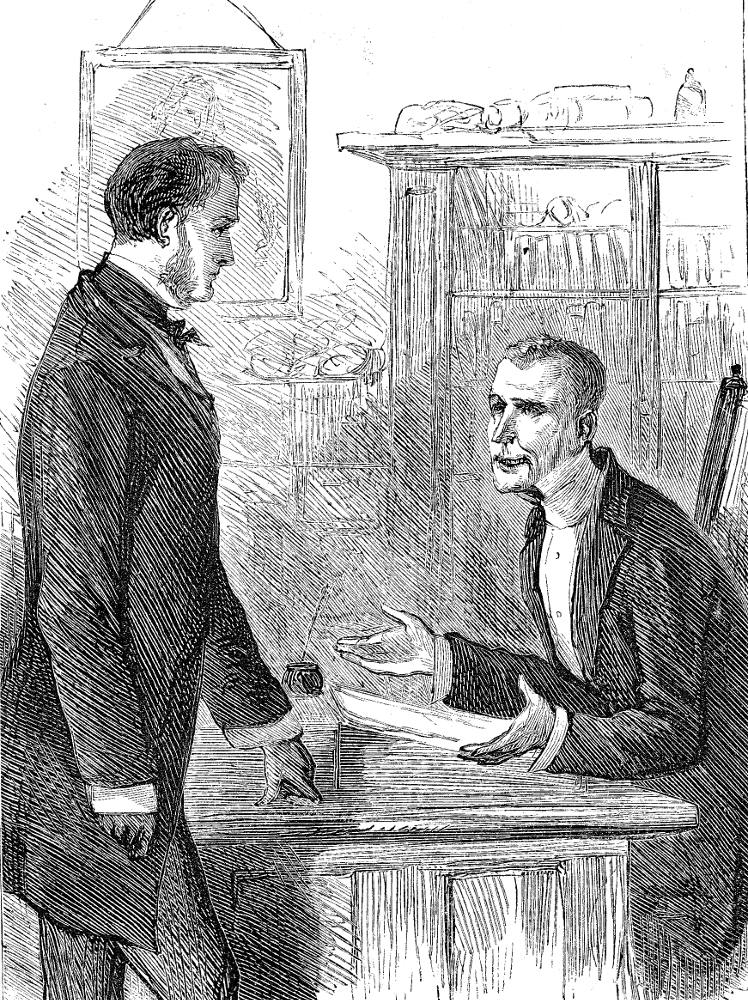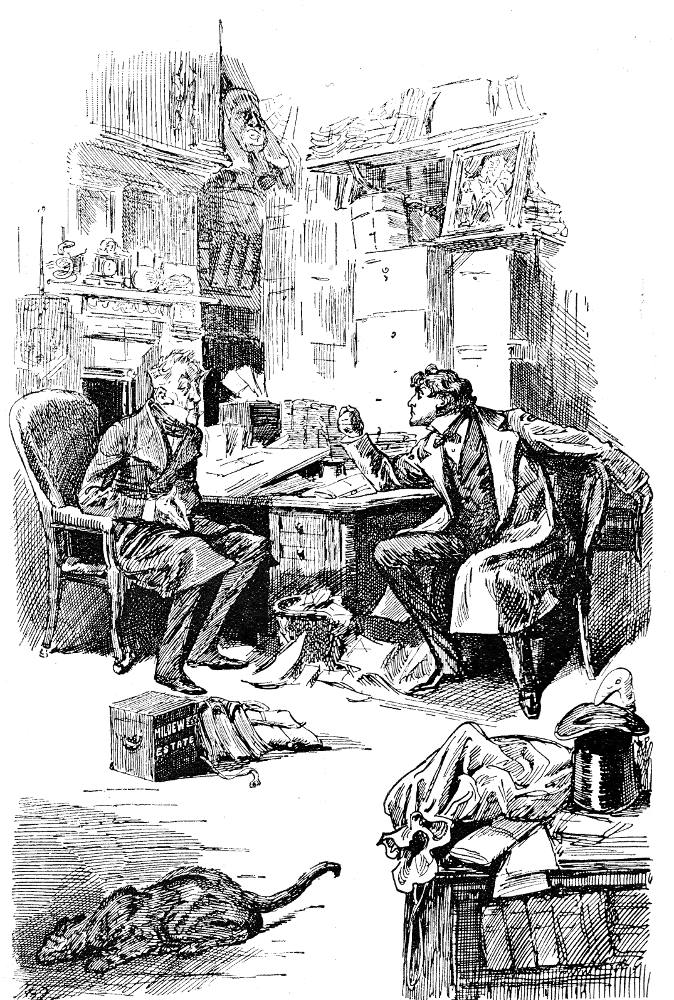 ​
Left: The initial serial depiction of the lawyer Vholes: Attorney and Client: Fortitude and Impatience (Chapter 39, "Attorney and Client," March 1853). Centre: Sol Eytinge, Jr.'s dual portrait of a different pairing: Mr. Woodcourt and Vholes (1867). Right: Harry Furniss's satirical portrait of the unscrupulous lawyer: Mr. Vholes and Richard (1910).
Related Material, including Other Illustrated Editions of
Bleak House
Scanned image, colour correction, sizing, caption, and commentary by Philip V. Allingham. [You may use this image without prior permission for any scholarly or educational purpose, as long as you (1) credit the person who scanned the image, and (2) link your document to this URL in a web document or cite the Victorian Web in a print one.]
Bibliography
"Bleak House — Sixty-one Illustrations by Fred Barnard." Scenes and Characters from the Works of Charles Dickens, Being Eight Hundred and Sixty-six Drawings by Fred Barnard, Gordon Thomson, Hablot Knight Browne (Phiz), J. McL. Ralston, J. Mahoney, H. French, Charles Green, E. G. Dalziel, A. B. Frost, F. A. Fraser, and Sir Luke Fildes. London: Chapman and Hall, 1907.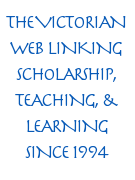 Collins, Philip. Dickens and Crime. London: Macmillan, 1964.
Davis, Paul. Charles Dickens A to Z: The Essential Reference to His Life and Work. New York: Facts On File, 1998.
Dickens, Charles. Bleak House. Illustrated by F. O. C. Darley and John Gilbert. The Works of Charles Dickens. The Household Edition. New York: Sheldon and Company, 1863. Vols. 1-4.
_______. Bleak House. Illustrated by Sol Eytinge, Jr, and engraved by A. V. S. Anthony. 14 vols. Boston: Ticknor & Fields, 1867. VI.
_______. Bleak House, with 61 illustrations by Fred Barnard. Household Edition. London: Chapman and Hall, 1873. IV.
_______. Bleak House. Illustrated by Harry Furniss [28 original lithographs]. The Charles Dickens Library Edition. Vol. 11.​ London: Educational Book, 1910.
_______. Bleak House, ed. Norman Page. Harmondsworth: Penguin, 1971.
Hammerton, J. A. "Chapter 18: Bleak House." The Dickens Picture-Book. The Charles Dickens Library Edition. London: Educational Book, 1910. XVII, 366-97.
Vann, J. Don. "Bleak House, twenty parts in nineteen monthly instalments, October 1846—April 1848." Victorian Novels in Serial. New York: The Modern Language Association, 1985. 69-70.
---
Created 26 March 2021