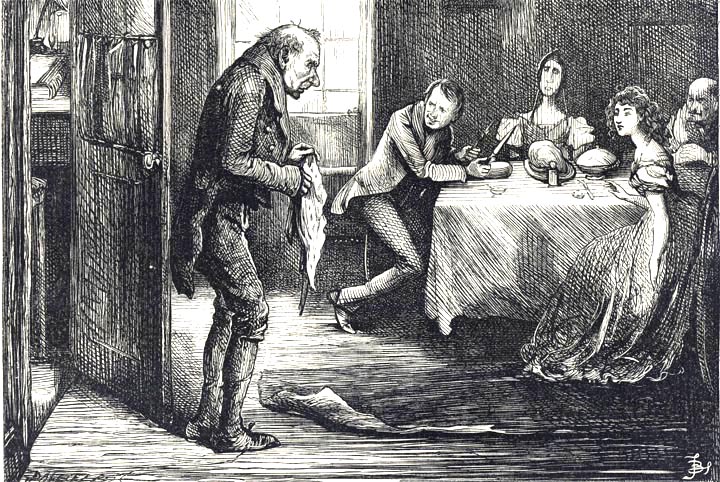 "The door of a small glass office, which was partitioned off from the rest of the room, was slowly opened, and a little blear-eyed, weazen-faced, ancient man came creeping out." — Fred Barnard's fifteenth regular illustration for Dickens's Martin Chuzzlewit, (Chapter XI), page 89. [The Pecksniffs meet Anthony Chuzzlewit's confidential clerk, Chuffey.] 9.3 cm x 13.7 cm. Scanned image and text by Philip V. Allingham. [You may use this image without prior permission for any scholarly or educational purpose as long as you (1) credit the person who scanned the image and (2) link your document to this URL.]
Passage Realised
"I've lost my glasses, Jonas,' said old Anthony.
"Sit down without your glasses, can't you?" returned his son. "You don't eat or drink out of 'em, I think; and where's that sleepy-headed old Chuffey got to! Now, stupid. Oh! you know your name, do you?"
It would seem that he didn't, for he didn't come until the father called. As he spoke, the door of a small glass office, which was partitioned off from the rest of the room, was slowly opened, and a little blear-eyed, weazen-faced, ancient man came creeping out. He was of a remote fashion, and dusty, like the rest of the furniture: he was dressed in a decayed suit of black; with breeches garnished at the knees with rusty wisps of ribbon, the very paupers of shoe-strings; on the lower portion of his spindle legs were dingy worsted stockings of the same colour. He looked as if he had been put away and forgotten half a century before, and somebody had just found him in a lumbercloset.
Such as he was, he came slowly creeping on towards the table, until at last he crept into the vacant chair, from which, as his dim faculties became conscious of the presence of strangers, and those strangers ladies, he rose again, apparently intending to make a bow. But he sat down once more without having made it, and breathing on his shrivelled hands to warm them, remained with his poor blue nose immovable about his plate, looking at nothing, with eyes that saw nothing, and a face that meant nothing. Take him in that state, and he was an embodiment of nothing. Nothing else.
"Our clerk," said Mr. Jonas, as host and master of the ceremonies: "old Chuffey."
"Is he deaf?" inquired one of the young ladies.
"No, I don't know that he is. He an't deaf, is he, father?"
"I never heard him say he was," replied the old man.
"Blind?" inquired the young ladies.
"N-no. I never understood that he was at all blind," said Jonas, carelessly. "You don't consider him so, do you, father?"
"Certainly not," replied Anthony.
"What is he, then?"
"Why, I'll tell you what he is," said Mr. Jonas, apart to the young ladies, "he's precious old, for one thing; and I an't best pleased with him for that, for I think my father must have caught it of him. He's a strange old chap, for another," he added in a louder voice, `and don't understand any one hardly, but him!" He pointed to his honoured parent with the carving-fork, in order that they might know whom he meant. — Chapter 9, "Wherein a certain gentleman becomes particular in his attentions to a certain lady; and more coming events than one, cast their shadows before," p. 92-93.
References
Bentley, Nicolas, Michael Slater, and Nina Burgis. The Dickens Index. New York and Oxford: Oxford U. P., 1990.
Dickens, Charles. The Life and Adventures of Martin Chuzzlewit. Il. Hablot Knight Browne. London: Chapman and Hall, 1844.
_____. Martin Chuzzlewit. Works of Charles Dickens. Household Edition. 55 vols. Il. F. O. C. Darley and John Gilbert. New York: Sheldon and Co., 1863. Vol. 1 of 4.
_____. The Life and Adventures of Martin Chuzzlewit. Il. Sol Eytinge, Junior. The Diamond Edition. Boston: Ticknor and Fields, 1867.
_____. The Life and Adventures of Martin Chuzzlewit, with 59 illustrations by Fred Barnard. Household Edition, volume 2. London: Chapman and Hall, 1871-1880. The copy of the Household Edition from which this picture was scanned was the gift of George Gorniak, proprietor of The Dickens Magazine, whose subject for the fifth series, beginning in January 2008, was this novel.
_____. Life and Adventures of Martin Chuzzlewit. Illustrated by Harry Furniss. The Charles Dickens Library Edition. 18 vols. London: Educational Book, 1910. Vol. 7.
Steig, Michael. "Martin Chuzzlewit's Progress by Dickens and Phiz. Dickens Studies Annual 2 (1972): 119-149.
---
Last modified 21 July 2016