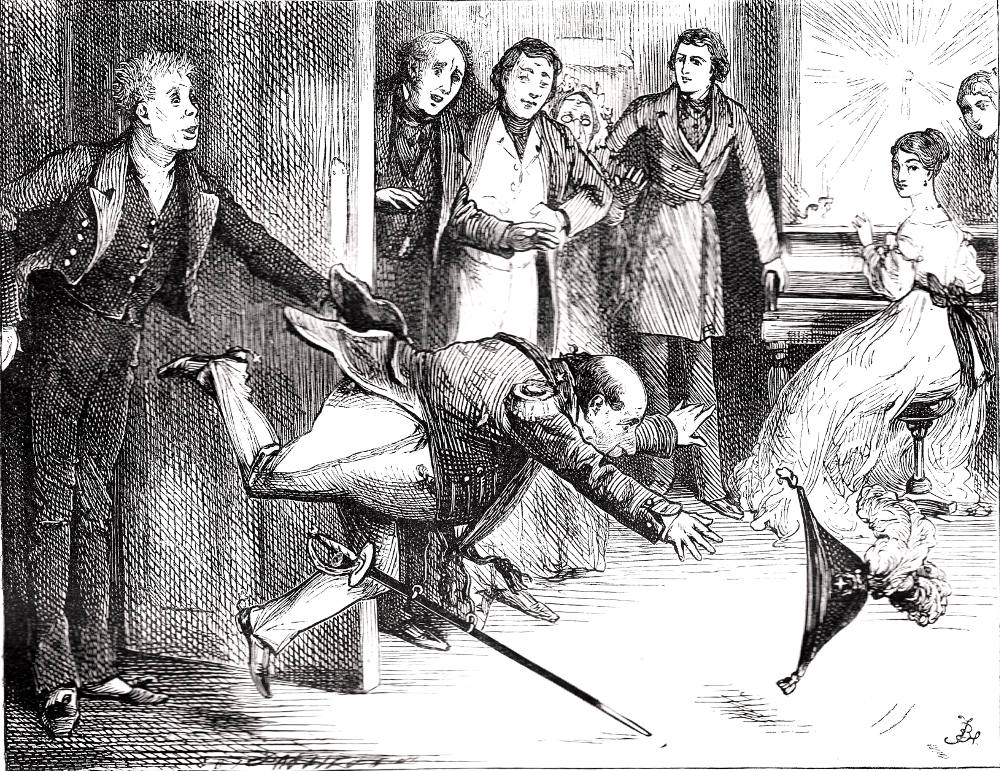 "Jiniral Fladdock!" (1872). — Fred Barnard's twenty-third regular illustration for Dickens's Martin Chuzzlewit, (Chapter XVII), page 145. [Martin meets the cream of New York society, including the ridiculous general, who is a great friend of the snobbish Norrises.] 10.6 cm x 13.8 cm. Scanned image and text by Philip V. Allingham. [You may use this image without prior permission for any scholarly or educational purpose as long as you (1) credit the person who scanned the image and (2) link your document to this URL in a web document or cite the Victorian Web in a print one. ]
Passage Illustrated
Martin felt his reason going: and as a means of saving himself, besought the other sister (seeing a piano in the room) to sing. With this request she willingly complied; and a bravura concert, solely sustained by the Misses Noriss, presently began. They sang in all languages — except their own. German, French, Italian, Spanish, Portuguese, Swiss; but nothing native; nothing so low as native. For, in this respect, languages are like many other travellers; ordinary and commonplace enough at home, but specially genteel abroad.
There is little doubt that in course of time the Misses Norris would have come to Hebrew, if they had not been interrupted by an announcement from the Irishman, who flinging open the door, cried in a loud voice:
"Jiniral Fladdock!"
"My!"​cried the sisters, desisting suddenly. "The general come back!"
As they made the exclamation, the general, attired in full uniform for a ball, came darting in with such precipitancy that, hitching his boot in the carpet, and getting his sword between his legs, he came down headlong, and presented a curious little bald place on the crown of his head to the eyes of the astonished company. Nor was this the worst of it: for being rather corpulent and very tight, the general being down, could not get up again, but lay there writing and doing such things with his boots, as there is no other instance of in military history.
Of course there was an immediate rush to his assistance; and the general was promptly raised. But his uniform was so fearfully and wonderfully made, that he came up stiff and without a bend in him like a dead clown, and had no command whatever of himself until he was put quite flat upon the soles of his feet, when he became animated as by a miracle, and moving edgewise that he might go in a narrower compass and be in less danger of fraying the gold lace on his epaulettes by brushing them against anything, advanced with a smiling visage to salute the lady of the house.​— Chapter 17, "Martin enlarges his circle of acquaintance; increases his stock of wisdom; and has an excellent opportunity of comparing his own experiences with those of Lummy Ned of the Light Salisbury, as related by his friend Mr. William Simmons," p. 148.
Commentary
The text juxtaposes the Humpty-Dumpty figure of the operetta general, Fladdock, with the Americans of no title or rank, both pro=abolitionists, the snobbish Mr. Norris and the genuine Mr. Bevan, both of whom are critical of their society and appraise it with the cool skepticism of Martin Chuzzlewit, the outsider and observer of American morals and mores. Although Barnard foregrounds the awkward military man, he includes the fashionably dressed Miss Norrisses, singing at the upright piano, and, beside them, the ever-observant Martin.
References
Bentley, Nicolas, Michael Slater, and Nina Burgis. The Dickens Index. New York and Oxford: Oxford U. P., 1990.
Dickens, Charles. The Life and Adventures of Martin Chuzzlewit. Illustrated by Hablot Knight Browne. London: Chapman and Hall, 1844.
_____. Martin Chuzzlewit. Works of Charles Dickens. Household Edition. 55 vols. Il. F. O. C. Darley and John Gilbert. New York: Sheldon and Co., 1863. Vol. 2 of 4.
_____. The Life and Adventures of Martin Chuzzlewit. Illustrated by Sol Eytinge, Junior. The Diamond Edition. Boston: Ticknor and Fields, 1867.
_____. The Life and Adventures of Martin Chuzzlewit, with 59 illustrations by Fred Barnard. Household Edition, volume 2. London: Chapman and Hall, 1871-1880. The copy of the Household Edition from which this picture was scanned was the gift of George Gorniak, proprietor of The Dickens Magazine, whose subject for the fifth series, beginning in January 2008, was this novel.
_____. Life and Adventures of Martin Chuzzlewit. Illustrated by Harry Furniss. The Charles Dickens Library Edition. 18 vols. London: Educational Book, 1910. Vol. 7.
Kyd [Clayton J. Clarke]. Characters from Dickens. Nottingham: John Player & Sons, 1910.
Steig, Michael. "Martin Chuzzlewit's Progress by Dickens and Phiz. Dickens Studies Annual 2 (1972): 119-149.
---
Last modified 22 July 2016