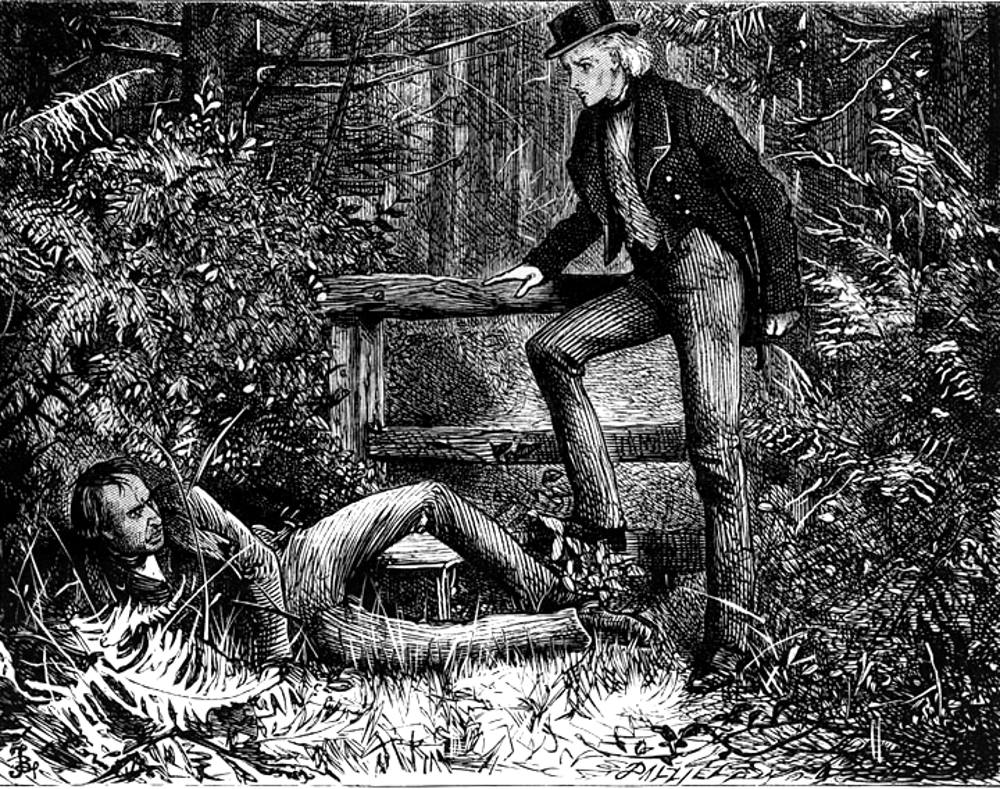 He flourished his stick over Tom's head; but in a moment it was spinning harmlessly in the air, and Jonas himself lay sprawling in the ditch. (1872). — Fred Barnard's twenty-ninth wood-engraving for Dickens's Martin Chuzzlewit, (Chapter XXIII), page 193. Scanned image and text by Philip V. Allingham. [You may use this image without prior permission for any scholarly or educational purpose as long as you (1) credit the person who scanned the image and (2) link your document to this URL in a web document or cite the Victorian Web in a print one.]
Passage Illustrated
As he approached the first stile, which was in a lonely part, made very dark by a plantation of young firs, a man slipped past him and went on before. Coming to the stile he stopped, and took his seat upon it. Tom was rather startled, and for a moment stood still, but he stepped forward again immediately, and went close up to him.
It was Jonas; swinging his legs to and fro, sucking the head of a stick, and looking with a sneer at Tom.
"Good gracious me!" cried Tom, "who would have thought of its being you! You followed us, then?"
"What's that to you?" said Jonas. "Go to the devil!"
"You are not very civil, I think," remarked Tom.
"Civil enough for you," retorted Jonas. "Who are you?"
"One who has as good a right to common consideration as another," said Tom mildly.
"You're a liar," said Jonas. "You haven't a right to any consideration. You haven't a right to anything. You're a pretty sort of fellow to talk about your rights, upon my soul! Ha, ha! — Rights, too!"
"If you proceed in this way," returned Tom, reddening, "you will oblige me to talk about my wrongs. But I hope your joke is over."
"It's the way with you curs," said Mr. Jonas, "that when you know a man's in real earnest, you pretend to think he's joking, so that you may turn it off. But that won't do with me. It's too stale. Now just attend to me for a bit, Mr. Pitch, or Witch, or Stitch, or whatever your name is."
"My name is Pinch," observed Tom. "Have the goodness to call me by it."
"What! You mustn't even be called out of your name, mustn't you!" cried Jonas. 'Pauper' prentices are looking up, I think. Ecod, we manage 'em a little better in the city!"
"Never mind what you do in the city," said Tom. "What have you got to say to me?"
"Just this, Mister Pinch," retorted Jonas, thrusting his face so close to Tom's that Tom was obliged to retreat a step. "I advise you to keep your own counsel, and to avoid title-tattle, and not to cut in where you're not wanted. I've heard something of you, my friend, and your meek ways; and I recommend you to forget 'em till I am married to one of Pecksniff's gals, and not to curry favour among my relations, but to leave the course clear. You know, when curs won't leave the course clear, they're whipped off; so this is kind advice. Do you understand? Eh? Damme, who are you,' cried Jonas, with increased contempt, 'that you should walk home with them, unless it was behind 'em, like any other servant out of livery?"
"Come!" cried Tom, "I see that you had better get off the stile, and let me pursue my way home. Make room for me, if you please."
"Don't think it!" said Jonas, spreading out his legs. "Not till I choose. And I don't choose now. What! You're afraid of my making you split upon some of your babbling just now, are you, Sneak?"
"I am not afraid of many things, I hope," said Tom; "and certainly not of anything that you will do. I am not a tale-bearer, and I despise all meanness. You quite mistake me. Ah!" cried Tom, indignantly. "Is this manly from one in your position to one in mine? Please to make room for me to pass. The less I say, the better."
"The less you say!" retorted Jonas, dangling his legs the more, and taking no heed of this request. "You say very little, don't you? Ecod, I should like to know what goes on between you and a vagabond member of my family. There's very little in that too, I dare say!"
"I know no vagabond member of your family," cried Tom, stoutly.
"You do!" said Jonas.
"I don't," said Tom. "Your uncle's namesake, if you mean him, is no vagabond. Any comparison between you and him" — Tom snapped his fingers at him, for he was rising fast in wrath — "is immeasurably to your disadvantage."
"Oh indeed!" sneered Jonas. "And what do you think of his deary — his beggarly leavings, eh, Mister Pinch?"
"I don't mean to say another word, or stay here another instant," replied Tom.
"As I told you before, you're a liar," said Jonas, coolly. "You'll stay here till I give you leave to go. Now, keep where you are, will you?"
He flourished his stick over Tom's head; but in a moment it was spinning harmlessly in the air, and Jonas himself lay sprawling in the ditch. In the momentary struggle for the stick, Tom had brought it into violent contact with his opponent's forehead; and the blood welled out profusely from a deep cut on the temple. Tom was first apprised of this by seeing that he pressed his handkerchief to the wounded part, and staggered as he rose, being stunned.
"Are you hurt?" said Tom. "I am very sorry. Lean on me for a moment. You can do that without forgiving me, if you still bear me malice. But I don't know why; for I never offended you before we met on this spot."
He made him no answer; not appearing at first to understand him, or even to know that he was hurt, though he several times took his handkerchief from the cut to look vacantly at the blood upon it. After one of these examinations, he looked at Tom, and then there was an expression in his features, which showed that he understood what had taken place, and would remember it. — Chapter 24, "Reports progress in certain homely matters of love, hatred, jealousy, and revenge," p. 199-200.
Commentary
Although a bully used to getting his own way, ironically Jonas Chuzzlewit proves unequal to the physical contest with mild-mannered Tom Pinch, heretofore something of a milquetoast. However, after he overhears his employer, Seth Pecksniff, attempting to woo Mary Graham, Tom becomes far more assertive; for example, after being discharged by Pecksniff, Tom stands up to the copper-and-brass manufacturer who employs his sister, Ruth, as a governess. In this scene, Tom's apologising to the uncouth Jonas if he has hurt him in defending himself adds insult to injury as far as Jonas is concerned.
To tighten up the composition, Barnard has placed the fallen Jonas at the base of the stile rather than in a ditch nearby, and emphasized the forest ("a plantation of young firs") backdrop so that scruffy, dark-haired Jonas exemplifies base instinct, whereas blonde, slender Tom, left fist clenched, standing above Jonas exemplifies north European, "civilised" man; however, the picture may also imply a Miltonic connection as the Satanic Jonas seethes with resentment at having been bested by the angelic Tom, as in William Blake's depiction of Satan exposed in his true form by the touch of the archangel Gabriel, in Paradise Lost, Book V, Adam and Eve Sleeping (1808).
Relevant Illustrations of Tom Pinch, 1843-1910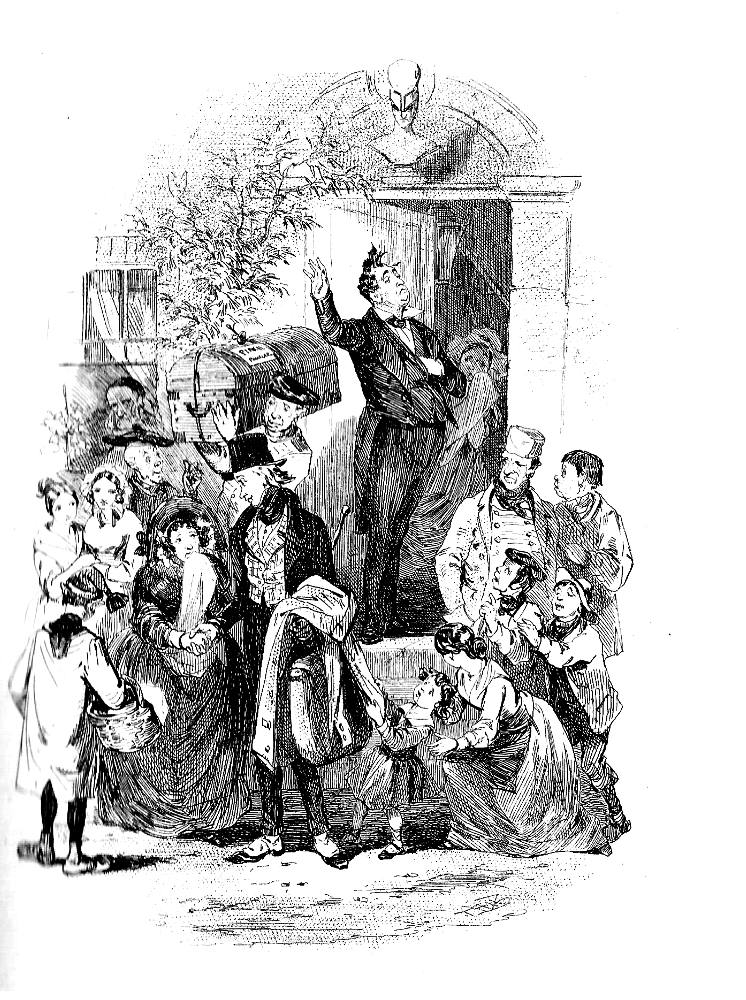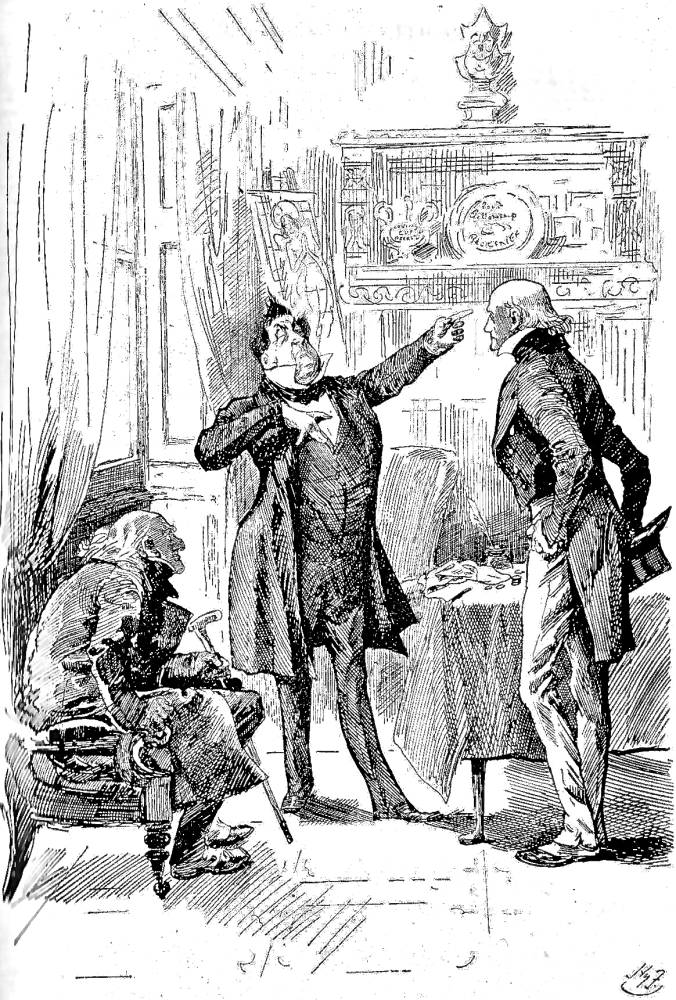 Left: Hablot Knight Browne's depiction of Tom Pinch's leaving Pecksniff's house, Mr. Pecksniff Discharges a Duty Which He Owes to Society (Chapter ​31, December 1843). Centre: Sol Eytinge, Jr.'s ​study of the virtuous clerk playing the organ, which he does both here and at the end of the book, Tom Pinch (1867). Right: Harry Furniss's interpretation of Tom's leaving Pecksniff's employ, The Dismissal of Tom Pinch (1910). [Click on the images to enlarge them.]
References
Bentley, Nicolas, Michael Slater, and Nina Burgis. The Dickens Index. New York and Oxford: Oxford U. P., 1990.
Dickens, Charles. The Life and Adventures of Martin Chuzzlewit. Illustrated by Hablot Knight Browne. London: Chapman and Hall, 1844.
_____. Martin Chuzzlewit. Works of Charles Dickens. Household Edition. 55 vols. Il. F. O. C. Darley and John Gilbert. New York: Sheldon and Co., 1863. Vol. 2 of 4.
_____. The Life and Adventures of Martin Chuzzlewit. Illustrated by Sol Eytinge, Junior. The Diamond Edition. Boston: Ticknor and Fields, 1867.
_____. The Life and Adventures of Martin Chuzzlewit, with 59 illustrations by Fred Barnard. Household Edition, volume 2. London: Chapman and Hall, 1871-1880. The copy of the Household Edition from which this picture was scanned was the gift of George Gorniak, proprietor of The Dickens Magazine, whose subject for the fifth series, beginning in January 2008, was this novel.
_____. Life and Adventures of Martin Chuzzlewit. Illustrated by Harry Furniss. The Charles Dickens Library Edition. 18 vols. London: Educational Book, 1910. Vol. 7.
Kyd [Clayton J. Clarke]. Characters from Dickens. Nottingham: John Player & Sons, 1910.
Steig, Michael. "Martin Chuzzlewit's Progress by Dickens and Phiz. Dickens Studies Annual 2 (1972): 119-149.
---
Last modified 24 July 2016