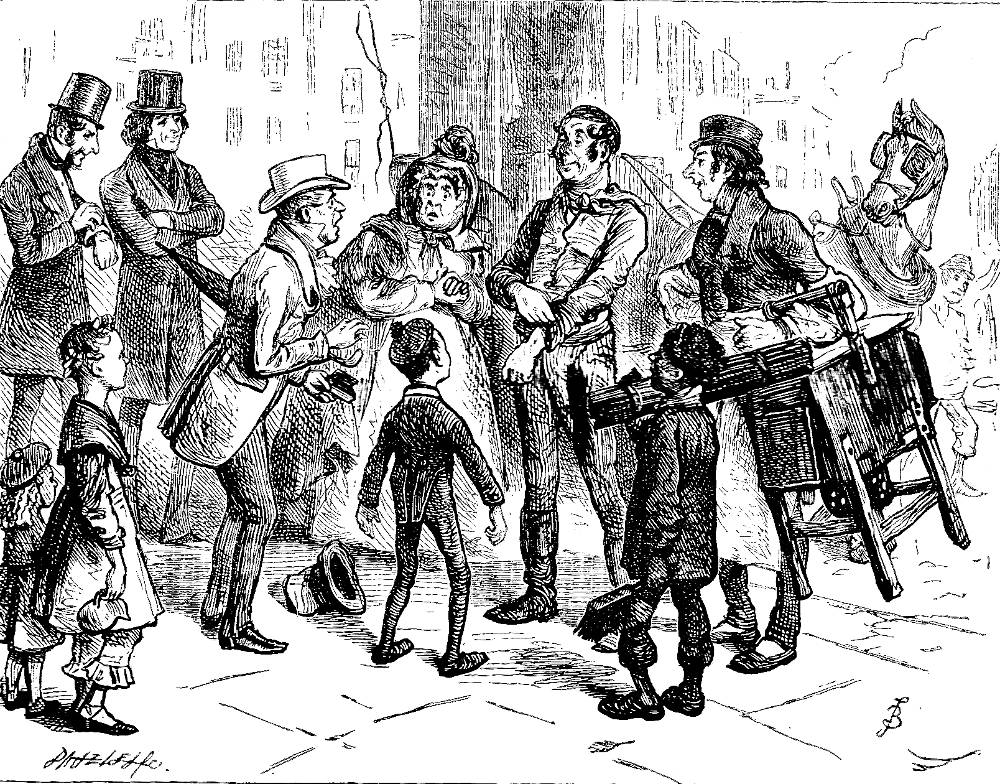 "You're in spirits, Tugby, my dear"
Fred Barnard
1878
13.8 x 10.8 cm.
[Click on image to enlarge it.]
Scanned image and text by Philip V. Allingham
[You may use this image without prior permission for any scholarly or educational purpose as long as you (1) credit the person who scanned the image and (2) link your document to this URL in a web document or cite it in a print one.]
In contrast to the sufferings of the lodger in the back-attic, Richard, the Tugbys are leading a life of comparative comfort. However, the husband lacks a soft spot in his heart for Richard and Margaret, unlike his wife, the former Mrs. Chickenstalker, who remembers them both as hopeful and attractive young adults — before the death of Trotty Veck nine years earlier. Mr. Tugby, formerly the porter of Sir Joseph Bowley, dispatches Margaret for unpaid rent as soon as her husband dies, leaving her destitute and with the burden of a young child. Barnard enjoys the grotesquerie of the Tugbys, depicting them as overfed and indifferent to the sufferings of the working poor. The full-page illustration, facing the section of text with the running head "Mr. Tugby's Back-Attic Going" (p. 69), shows the lower middle class, middle-aged couple seated comfortably before their fire; but around them, almost menacing their fireside ease, are deep shadows, through which we see a considerable accumulation of material possessions, including a grandfather clock (upper left) and plate (upper right), although in this "dark plate" (a style initiated by Phiz in Bleak House Barnard has deliberately obscured the background in order to accentuate the figures. The passage realised is this:
Fat company, rosy-cheeked company, comfortable company. They were but two, but they were red enough for ten. They sat before a bright fire, with a small low table between them; and unless the fragrance of hot tea and muffins lingered longer in that room than in most others, the table had seen service very lately. But all the cups and saucers being clean, and in their proper places in the corner-cupboard; and the brass toasting-fork hanging in its usual nook and spreading its four idle fingers out as if it wanted to be measured for a glove; there remained no other visible tokens of the meal just finished, than such as purred and washed their whiskers in the person of the basking cat, and glistened in the gracious, not to say the greasy, faces of her patrons.
This cosy couple (married, evidently) had made a fair division of the fire between them, and sat looking at the glowing sparks that dropped into the grate; now nodding off into a doze; now waking up again when some hot fragment, larger than the rest, came rattling down, as if the fire were coming with it. ["Fourth Quarter"; Household Edition, p. 67]
. . . Trotty had small difficulty in recognising in the stout old lady, Mrs. Chickenstalker: always inclined to corpulency, even in the days when he had known her as established in the general line, and having a small balance against him in her books.
The features of her companion were less easy to him. The great broad chin, with creases in it large enough to hide a finger in; the astonished eyes, that seemed to expostulate with themselves for sinking deeper and deeper into the yielding fat of the soft face; the nose afflicted with that disordered action of its functions which is generally termed The Snuffles; the short thick throat and labouring chest, with other beauties of the like description; though calculated to impress the memory, Trotty could at first allot to nobody he had ever known: and yet he had some recollection of them too. At length, in Mrs. Chickenstalker's partner in the general line, and in the crooked and eccentric line of life, he recognised the former porter of Sir Joseph Bowley; an apoplectic innocent, who had connected himself in Trotty's mind with Mrs. Chickenstalker years ago, by giving him admission to the mansion where he had confessed his obligations to that lady, and drawn on his unlucky head such grave reproach.
Trotty had little interest in a change like this, after the changes he had seen; but association is very strong sometimes; and he looked involuntarily behind the parlour-door, where the accounts of credit customers were usually kept in chalk. There was no record of his name. Some names were there, but they were strange to him, and infinitely fewer than of old; from which he argued that the porter was an advocate of ready-money transactions, and on coming into the business had looked pretty sharp after the Chickenstalker defaulters.
So desolate was Trotty, and so mournful for the youth and promise of his blighted child, that it was a sorrow to him, even to have no place in Mrs. Chickenstalker's ledger.
"What sort of a night is it, Anne?" inquired the former porter of Sir Joseph Bowley, stretching out his legs before the fire, and rubbing as much of them as his short arms could reach; with an air that added, "Here I am if it's bad, and I don't want to go out if it's good."
"Blowing and sleeting hard," returned his wife; "and threatening snow. Dark. And very cold."
"'I'm glad to think we had muffins," said the former porter, in the tone of one who had set his conscience at rest. "It's a sort of night that's meant for muffins. Likewise crumpets. Also Sally Lunns."
The former porter mentioned each successive kind of eatable, as if he were musingly summing up his good actions. After which he rubbed his fat legs as before, and jerking them at the knees to get the fire upon the yet unroasted parts, laughed as if somebody had tickled him.
"You're in spirits, Tugby, my dear," observed his wife.
The firm was Tugby, late Chickenstalker.
"'No," said Tugby. "No. Not particular. I'm a little elewated. The muffins came so pat!"
With that he chuckled until he was black in the face; and had so much ado to become any other colour, that his fat legs took the strangest excursions into the air. Nor were they reduced to anything like decorum until Mrs. Tugby had thumped him violently on the back, and shaken him as if he were a great bottle. ["Third Quarter"; Household Edition, p. 68-69]
Whereas the comfortable lives of the aristocratic Bowleys revolve around issues of property and money, the Tugbys seem excessively concerned with food, as their rotund forms and dialogue suggest. Fully aware of the inclement weather without, Tugby nevertheless determines to evict Margaret for non-payment of rent immediately following the death of her husband, despite Mrs. Tugby's protestations and sympathy for the renters based on her earlier experience of them as hopeful young people. There is no parallel to this illustration in the original (Dec., 1844) sequence by Leech, Doyle, Maclise, and Stanfield, but it serves to align the middle class here and upper class (the latter seen in "Sir Joseph Bowley's" and at the birthday banquet) in their callous, dismissive attitude towards the working poor. Barnard's sympathetic handling of the former Mrs. Chickenstalker is suggested by her benign smile and less substantial figure; on the other hand, Barnard prompts a less favourable response in the viewer for Mr. Tugby, the former Bowley functionary, by giving him a toothless laugh and a waistcoat whose buttons are visibly straining to contain his ample girth. The chair in which Tugby sits is reminiscent (although not precisely the same as) of that throne-like structure which he occupies in Leech's wood engraving "Sir Joseph Bowley's" suggesting that Barnard as the chief Household Edition illustrator had studied the original wood and steel engravings of 1844 and attempted to provide such details for the sake of continuity, aware, too, that many readers of the Household Edition volume would recall that original series.
References
Cohen, Jane Rabb. Charles Dickens and His Original Illustrators. Columbus: Ohio State U. P., 1980.
Cook, James. Bibliography of the Writings of Dickens. London: Frank Kerslake, 1879. As given in the Publishers' Circular The English Catalogue of Books.
Dickens, Charles. Christmas Books. Il. Fred Barnard. The Household Edition. London: Chapman and Hall, 1878.
Dickens, Charles. The Chimes: A Goblin Story of Some Bells That Rang an Old Year out and a New Year in. Il. John Leech, Richard Doyle, Daniel Maclise, and Clarkson Stanfield. Charles Dickens: The Christmas Books. Harmondsworth, Middlesex: Penguin, 1971. Rpt., 1978. Vol. 1: 137-266.
Hammerton, J. A. The Dickens Picture-Book. London: Educational Book, 1912.
Kitton, Frederic G. Dickens and His Illustrators. 1899. Rpt. Honolulu: U. Press of the Pacific, 2004.
Parker, David. "Christmas Books and Stories, 1844 to 1854." Christmas and Charles Dickens. New York: AMS Press, 2005. Pp. 221-282.
Patten, Robert L. Charles Dickens and His Publishers. University of California at Santa Cruz.: The Dickens Project, 1991. Rpt. from Oxford U. p., 1978.
Slater, Michael. "Notes to The Chimes." Dickens's Christmas Books. Harmondsworth, Middlesex: Penguin, 1971. Rpt., 1978. Vol. 1: 261-266.
Solberg, Sarah A. "'Text Dropped into the Woodcuts': Dickens' Christmas Books." Dickens Studies Annual 8 (1980): 103-118.
Thomas, Deborah A. Dickens and The Short Story. Philadelphia: U. Pennsylvania Press, 1982.
Welsh, Alexander. "Time and the City in The Chimes." Dickensian 73, 1 (January 1977): 8-17.
---

Victorian
Web

Illus-
tration

Christmas
Carol

Fred
Barnard

Next
Last modified 7 June 2012