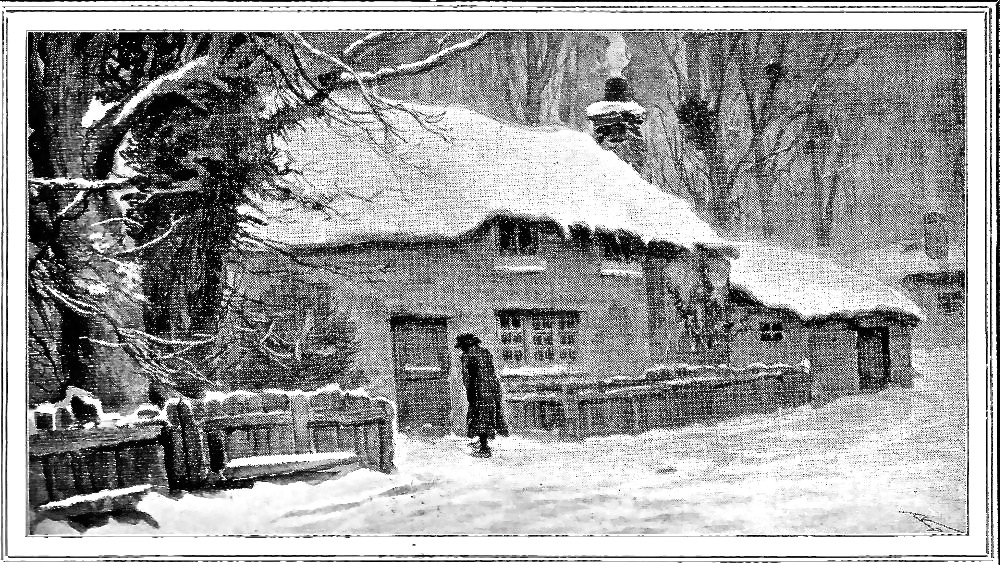 Tackleton Repents by Luigi Rossi (137). 1912. 8.1 x 15.2 cm, exclusive of frame. Dickens's The Cricket on the Hearth, A and F Pears.
Context of the Illustration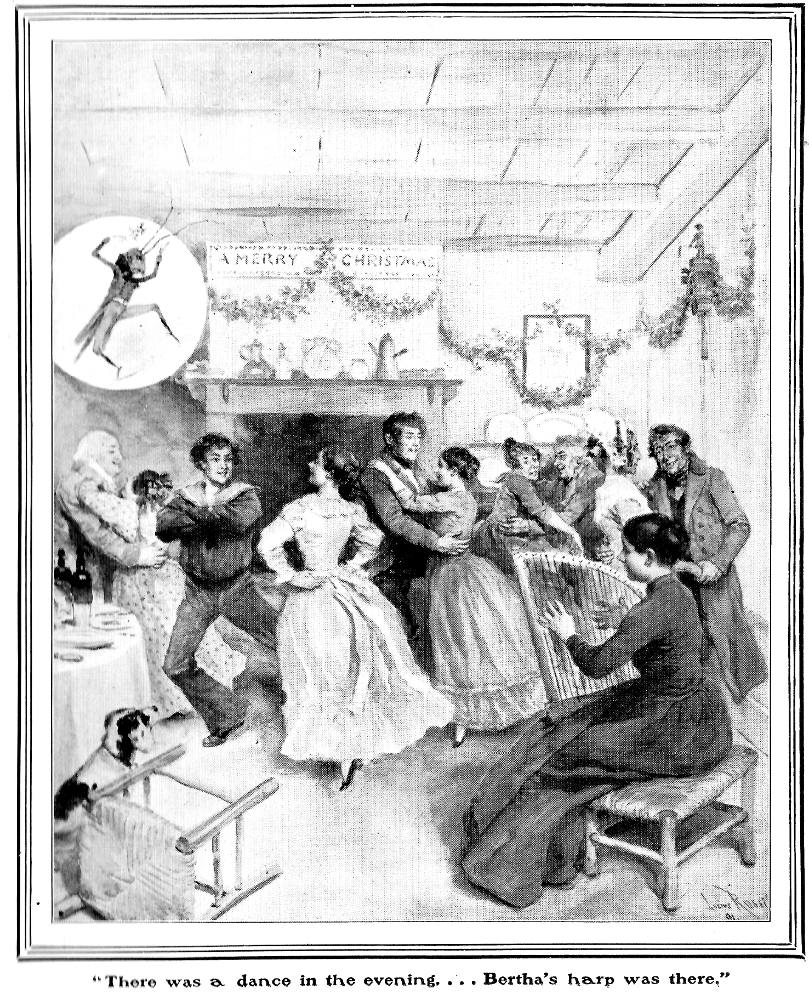 There was a tap at the door; and a man came staggering in, without saying with your leave, or by your leave, with something heavy on his head. Setting this down in the middle of the table, symmetrically in the centre of the nuts and apples, he said:
"Mr. Tackleton's compliments, and as he hasn't got no use for the cake himself, p'raps you'll eat it."
And with those words, he walked off.
There was some surprise among the company, as you may imagine. Mrs. Fielding, being a lady of infinite discernment, suggested that the cake was poisoned, and related a narrative of a cake, which, within her knowledge, had turned a seminary for young ladies, blue. But she was overruled by acclamation; and the cake was cut by May, with much ceremony and rejoicing.
I don't think any one had tasted it, when there came another tap at the door, and the same man appeared again, having under his arm a vast brown-paper parcel.
"Mr. Tackleton's compliments, and he's sent a few toys for the Babby. They ain't ugly."
After the delivery of which expressions, he retired again.
The whole party would have experienced great difficulty in finding words for their astonishment, even if they had had ample time to seek them. But they had none at all; for the messenger had scarcely shut the door behind him, when there came another tap, and Tackleton himself walked in. ["Chirp the Third," 136-38]
Commentary: The Reintegration of the Misanthrope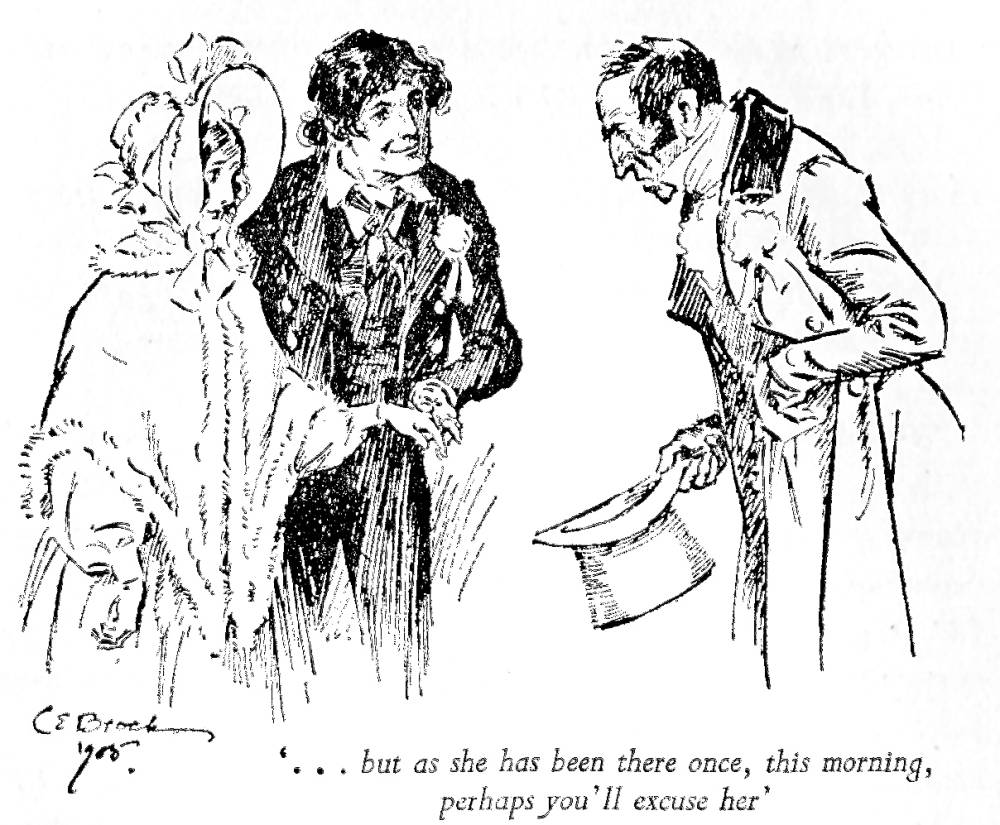 This is the final plates whose title in the "List of Illustrations" (11-12) does not correspond to the captions beneath the illustrations itself. Here, a quotation augments the short title, and points to the passage that Rossi has realised: "when there came another tap, and Tackleton himself walked in" (repeating a passage from the preceding page, 136). However, this second "tap" follows the initial tap by the man who delivers Tackleton's wedding-cake, presumably one of his employees. Rossi seems to be implying that Tackleton has been outside the whole time, mulling over whether he should enter.
Rossi responds with an illustration that reflects Dickens's intention to reintegrate the misanthrope socially, incorporating him into the final celebrations, precisely as in A Christmas Carol and The Haunted Man. Here, however, the illustrator shows the curmudgeon excluded, and contemplating, like Scrooge outside nephew Fred's, whether he should knock and gain admittance. In his decision to knock, then, Tackleton declares himself a member of this village society and rejects his previous identity as a social isolate. Rossi does not depict Tackleton thoroughly enjoying himself as in Leech's The Dance, nor having to confront his successful rival for May's hand, as in Harry Furniss's final illustration.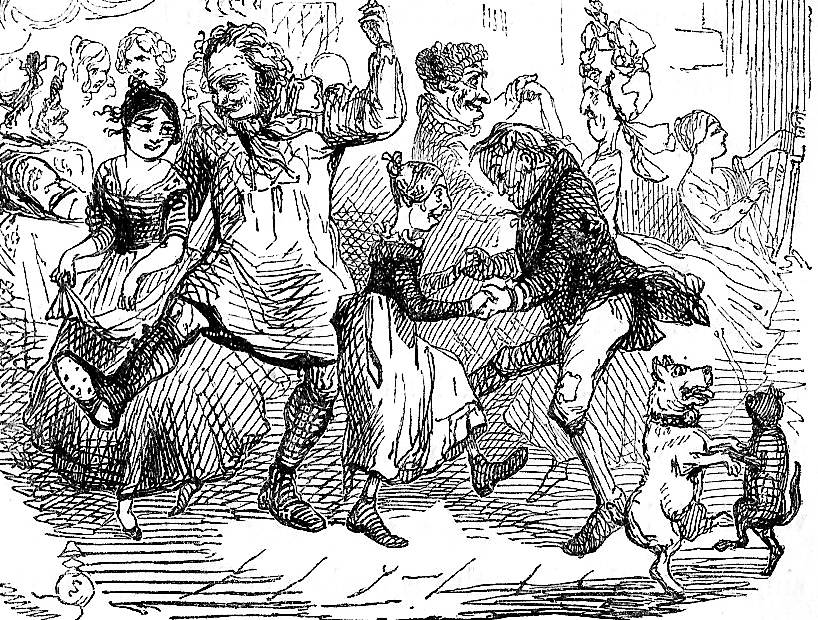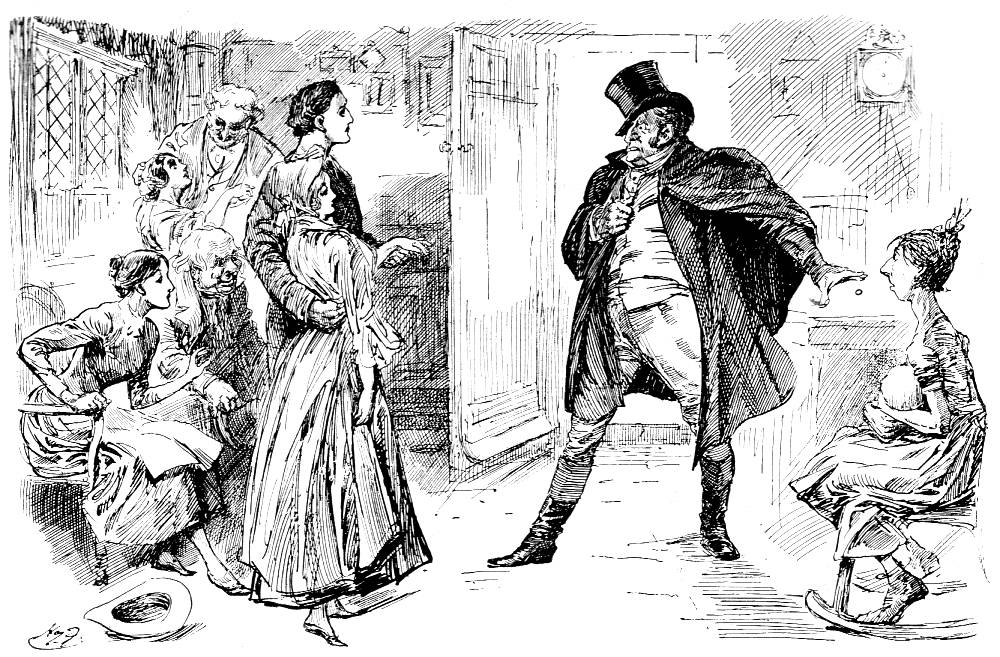 Left: detail from Leech's The Dance. Right: Harry Furniss's 1910 pen-and-ink drawing transferred to lithograph, Tackleton's Wedding Day! (1910).
Rossi shows Tackleton standing outside the Perrybingle cottage, in the snow, and no servant in sight, a situation which seems more consistent with the conclusion of the Boucuicault adaptation, when Tilly rather than a "man" announces that Tackleton has just dropped off his wedding-cake:
Enter Tilly with Cake.
Please, Mums, here's Mr. Tackleton come back and says if you please, as he hasn't got no use for this cake himself, perhaps you'll all eat it. And ple[a]se, he's got a few toys for babies, and they ain't ugly no ways.
Dot:
What does he mean? Come in, Man.
Tackleton:
It means that the village is empty, and all the folks are flocking here. My house is very lonely [61/62] today. I have not as much as a cricket on my hearth; don't be hard upon me, Neighbours, but let me join your happy party.
Dot:
Aye shall ye, for if we can make you happy you will become good and kind. [62]
In this penultimate illustration, Rossi is directing his readers back to the opening of the narrative-pictorial sequence to the full-page frontispiece, in which Tackleton appears to be dancing with Mrs. Fielding, the mother of his ex-bride who had momentarily suggested that Tackleton's wedding-cake was poisoned.
Illustrations for the Other Volumes of the Pears' Centenary
Christmas Books

(1912)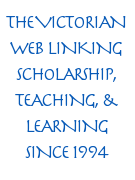 Each contains about thirty illustrations from original drawings by Charles Green, R. I. — Clement Shorter [1912]
Related Materials
Scanned image and text by Philip V. Allingham. [You may use this image without prior permission for any scholarly or educational purpose as long as you (1) credit the person who scanned the image and (2) link your document to this URL in a web document or cite the Victorian Web in a print one.]
Bibliography
Bolton, H. Philip. "The Cricket on the Hearth (1845)."Dickens Dramatized. London & Boston: Mansell & G. K. Hall, 1987. 273-95.
Boucicault, Dion. "Dot: A Drama in Three Acts. 10 April 1862. Add. MS. 53013 (E). Licensed 11/04/1859. The Lord Chamberlain's Manuscript Collection, The British Library, London.
Dickens, Charles. The Cricket on the Hearth. A Fairy Tale of Home. Illustrated by John Leech, Daniel Maclise, Richard Doyle, Clarkson Stanfield, and Edwin Landseer. Engraved by George Dalziel, Edward Dalziel, T. Williams, J. Thompson, R. Graves, and Joseph Swain. London: Bradbury and Evans, 1846 [December 1845].
_____. The Cricket on the Hearth. Illustrated by L. Rossi. London: A & F Pears, 1912.
Morley, Malcolm. "The Cricket on the Stage." Dickensian 48 (1952): 17-24.
---
Created 28 March 2020

Last modified 218 July 2020