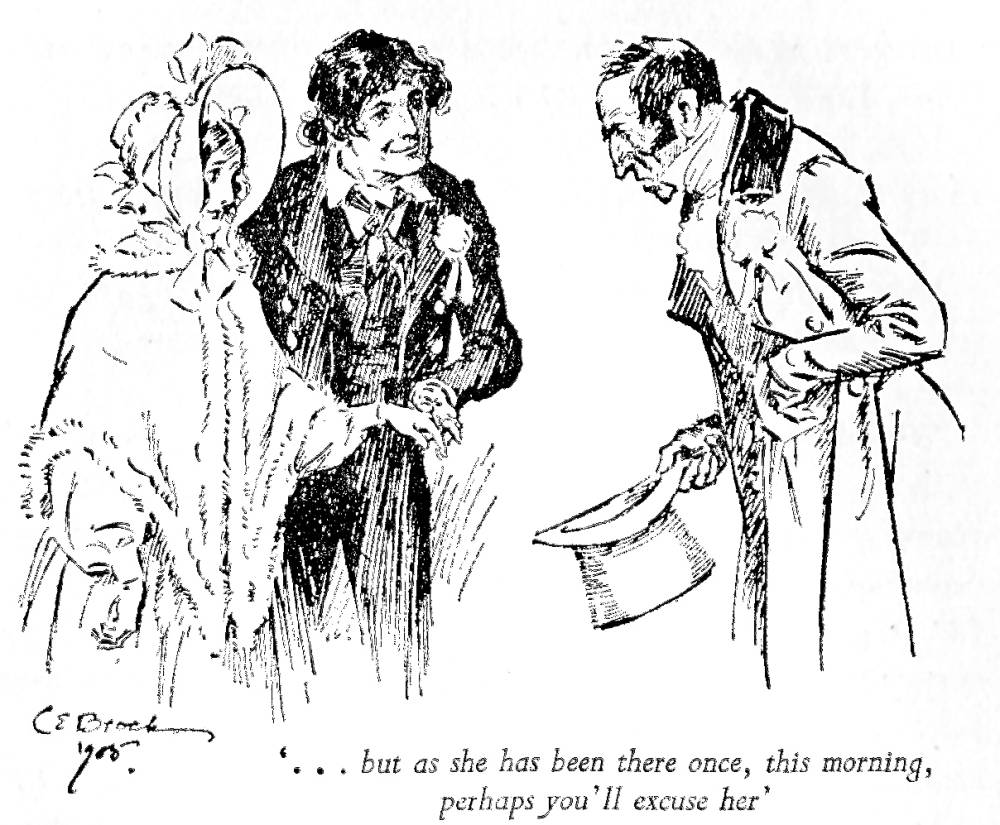 ". . . but as she has been there once, this morning, perhaps you'll excuse her" (1905), a half-page illustration for "Chirp the Third," 7 cm by 9.5 cm, vignetted (205), serves as Charles Edmund Brock's replacement for the final plate in the 1845 sequence, John Leech's The Dance (see below), which somewhat improbably brings all the characters back on stage for a curtain call, so to speak, in a scene that betrays Dickens's interest at the time in seeing his seasonal novellas produced on the London stage.
Passage Illustrated
But, now, the sound of wheels was heard again outside the door; and somebody exclaimed that Gruff and Tackleton was coming back. Speedily that worthy gentleman appeared, looking warm and flustered.
"Why, what the Devil's this, John Peerybingle!" said Tackleton. "There's some mistake. I appointed Mrs. Tackleton to meet me at the church, and I'll swear I passed her on the road, on her way here. Oh! here she is! I beg your pardon, sir; I haven't the pleasure of knowing you; but if you can do me the favour to spare this young lady, she has rather a particular engagement this morning."
"But I can't spare her," returned Edward. "I couldn't think of it."
"What do you mean, you vagabond?" said Tackleton.
"I mean, that as I can make allowance for your being vexed," returned the other, with a smile, "I am as deaf to harsh discourse this morning, as I was to all discourse last night."
The look that Tackleton bestowed upon him, and the start he gave!
"I am sorry, sir," said Edward, holding out May's left hand, and especially the third finger; "that the young lady can't accompany you to church; but as she has been there once, this morning, perhaps you'll excuse her." ["Chirp the Third," 204-205]
Commentary: Tackleton the Frustrated Bridegroom
C. E. Brock would not have found any previous illustrations involving Tackleton's learning that the long-lost Edward had just married May Fielding, robbing him of the young bride he expected to marry that morning. Subsequently, however, Harry Furniss provided a more theatrical interpretation of the culminating episode in the romantic comedy, Tackleton's Wedding Day! (see below). In Brock's simple line-drawing the dark-haired sailor, wearing a flower in his lapel to signify his role as bridegroom, but still in his nautical uniform, holds out May Fielding's hand to display the wedding ring. Tackleton stares at it and the happy couple with a mixture of shock and disgust. A masterful touch on Brock's part is giving May her own distinct reaction, perhaps fear at offending the curmudgeonly employer of her sister-in-law and father-in-law. Tackleton, too, wears a flower in his lapel, in preparation for the ceremony that now will not transpire. In contrast to Edward's abundant hair, having removed his hat to the woman he thought he was about to marry, Tackleton reveals thinning hair and a receding hairline indicative of advancing middle age and underscoring his unsuitability as the bridegroom for the young woman, despite his obvious signs of affluence, the coat and silk hat. And yet there is no display of hostility on either side as Edward, now victorious, smiles benignly at his erstwhile rival.
Related illustrations in Other Editions (1845-1910)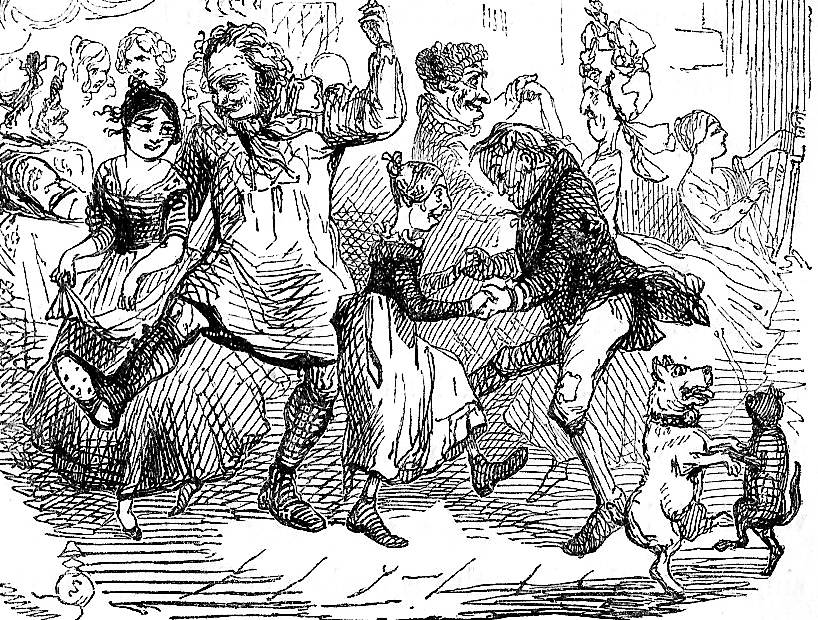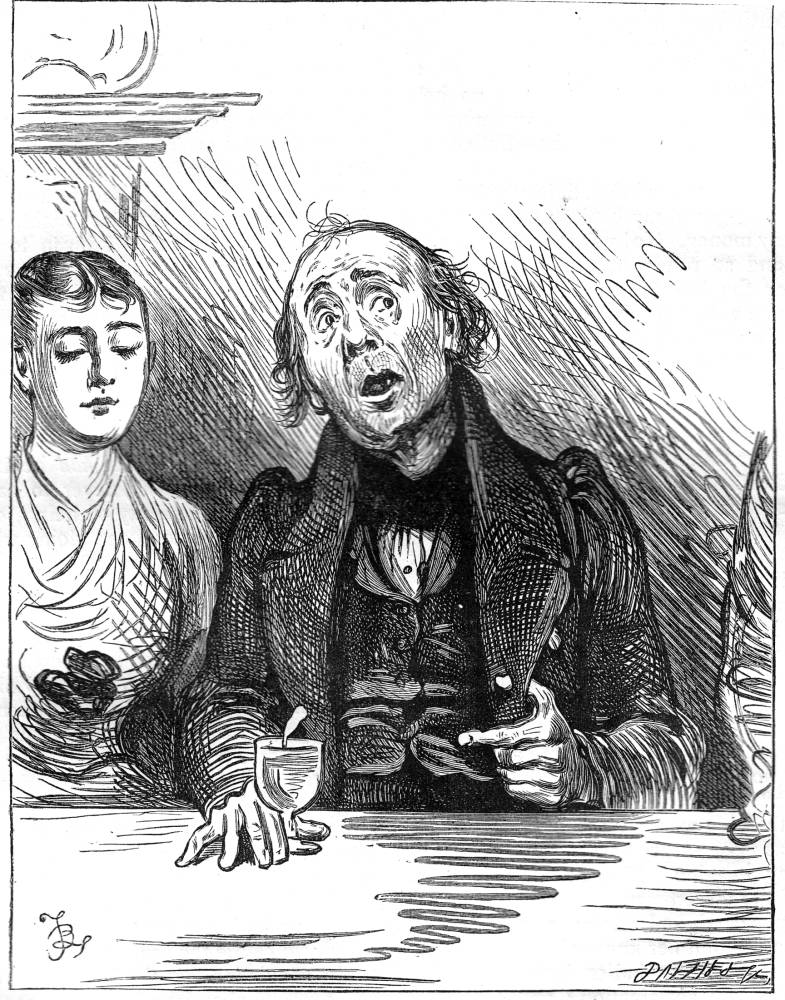 Left: detail from Leech's The Dance. Centre: Fred Barnard's After dinner, Caleb sang the song about the Sparkling Bowl(1878). Right: detail from Barnard's view of Tackleton in the Plummers' workshop.
Although they may well have been responding to different stage adaptations of the novella, both fin de siecle illustrators Brock and Harry Furniss may have been reflecting upon late-nineteenth or early twentieth-century productions of Dion Boucicault's Dot, a spectacular but unpublished stage adaptation which was popular throughout the last four decades of the nineteenth century on both sides of the Atlantic. The seasonal staging that coincides with the production of both sets of illustrations was that at London's Garrick Theatre in December 1903, which starred Lizzie Webster as Tilly and made the role of Dot a cross-dressing pantomime part featuring Arthur Bourchier. The concluding Furniss illustration in the 1910 is markedly theatrical in its composition, as if the illustrator is trying to capture a specific moment in a stage production.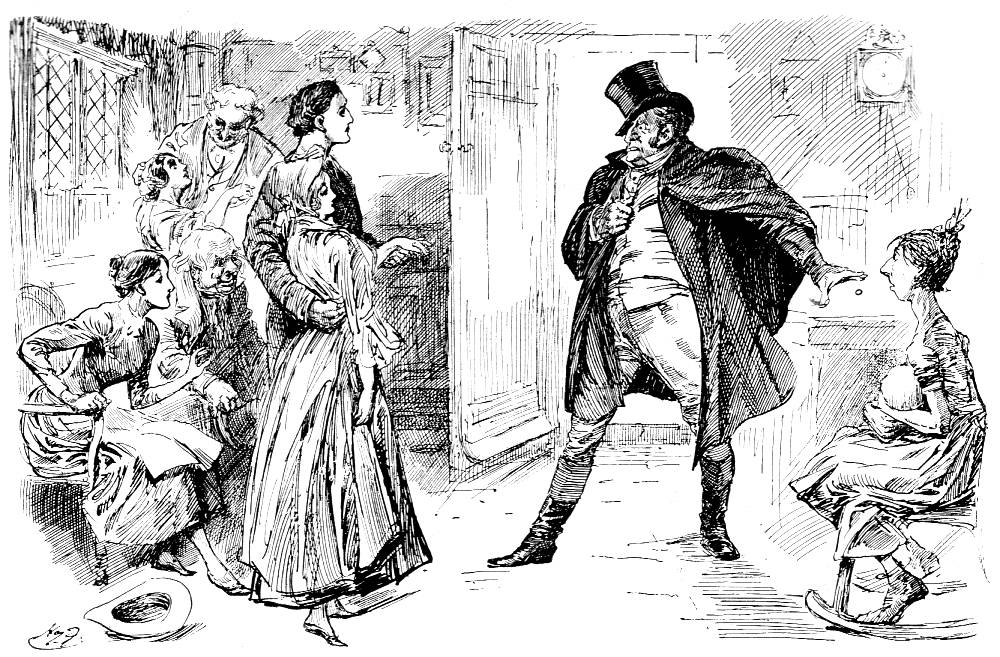 Above: Harry Furniss's 1910 pen-and-ink drawing transferred to lithograph, Tackleton's Wedding Day! (1910).
Other Illustrations for
The Cricket on the Hearth

(1845-1915)
Related Materials
Scanned image and text by Philip V. Allingham. [You may use this image without prior permission for any scholarly or educational purpose as long as you (1) credit the person who scanned the image and (2) link your document to this URL in a web document or cite the Victorian Web in a print one.]
Bibliography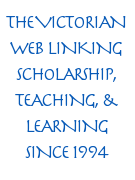 Bolton, H. Philip. "The Cricket on the Hearth (1845)."Dickens Dramatized. London & Boston: Mansell & G. K. Hall, 1987. 273-95.
Boucicault, Dion. "Dot: A Drama in Three Acts. 10 April 1862. Add. MS. 53013 (E). Licensed 11/04/1859. The Lord Chamberlain's Manuscript Collection, The British Library, London.
Dickens, Charles. Christmas Books, illustrated by Sol Eytinge, Jr. The Diamond Edition. Boston: Ticknor and Fields, 1867.
_______. Christmas Books, illustrated by Fred Barnard. Household Edition. London: Chapman and Hall, 1878.
_______. Christmas Books, illustrated by A. A. Dixon. London & Glasgow: Collins' Clear-Type Press, 1906.
_______. Christmas Books, illustrated by Harry Furniss. The Charles Dickens Library Edition. London: Educational Book, 1910.
_______. A Christmas Carol and The Cricket on the Hearth, illustrated by C. E. [Charles Edmund] Brock. London: J. M. Dent, 1905; New York: Dutton, rpt., 1963.
_______. Christmas Stories, illustrated by E. A. Abbey. The Household Edition. New York: Harper and Brothers, 1876.
_______. The Cricket on the Hearth: A Fairy Tale of Home. Illustrated by John Leech, Daniel Maclise, Richard Doyle, Clarkson Stanfield, and Edwin Landseer. London: Bradbury and Evans, 1845.
_______. The Cricket on the Hearth. Illustrated by L. Rossi. London: A & F Pears, 1912.
Morley, Malcolm. "The Cricket on the Stage." Dickensian 48 (1952): 17-24.
---
Created 19 October 2015

Last modified 12 July 2020